Isn't it interesting how sensory play helps children learn about their environment and develop their language skills? But it's not just kids who can benefit from sensory playtime. According to research, sensory play improves memory and reduces stress in adults too. Playdough kits, sensory toys like wooden teethers, and sensory bins for toddlers are just a few ideas for including sensory play into your baby or toddler's day.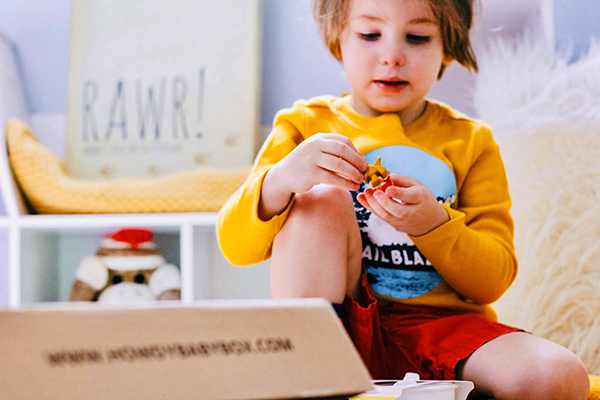 What is Sensory Play?
People often associate sensory play with feeling textures, but there's more to it than that. Sensory play also includes a wide range of activities that stimulate your little one's sense of sight, sound, taste, touch, and smell. This type of play helps children learn about the world around them as they grow.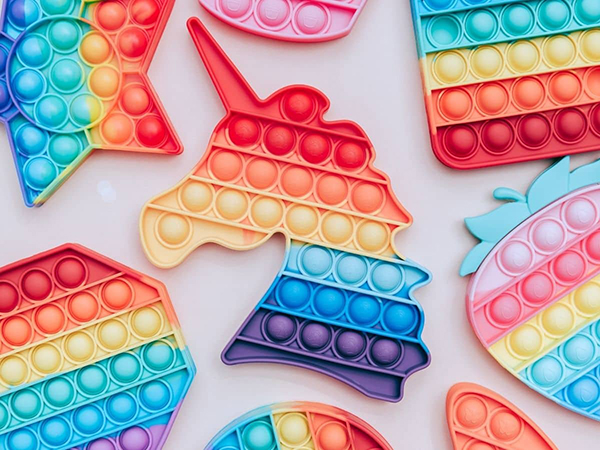 Why is Sensory Play Important?
A lot happens in the first three years of your child's life. From birth until preschool, kids soak up tons of information. Sensory play is important because it helps children understand more complex concepts. It also improves their ability to communicate, read, and write, as well as observe and think abstractly.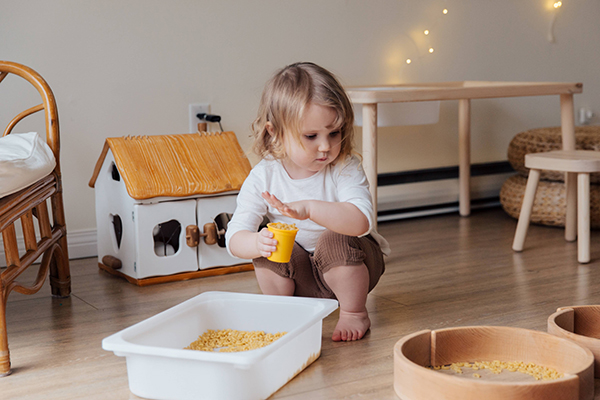 Sensory Development & Age Appropriate Experiences
Scheduling sensory playtime is important for your child's sensorial development in early childhood because children need to touch, smell, and taste to explore and make sense of the world around them.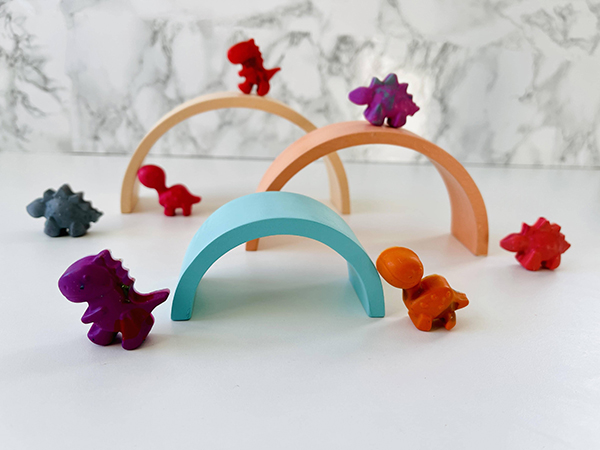 Activities & Ideas For Sensory Play - Babies, Toddlers, and Kids
When it comes to sensory play, the sky really is the limit but parents often have a hard time thinking up new ideas for activities that encourage sensory exploration. There are, however, a few general guidelines to follow when planning age-appropriate sensory play activities for your child. That's why we've put together a list of some great examples of ways that you can introduce sensory play into your child's daily routine based on their age.
Sensory Play for Babies
Sensory stimulation is an important way for babies to learn about their surroundings while also exploring their five senses and creativity. Watching bubbles float by, splashing their feet in the water, and crinkling up paper are just a few of the ways that babies are introduced to new sounds, and textures, and use their senses as they grow.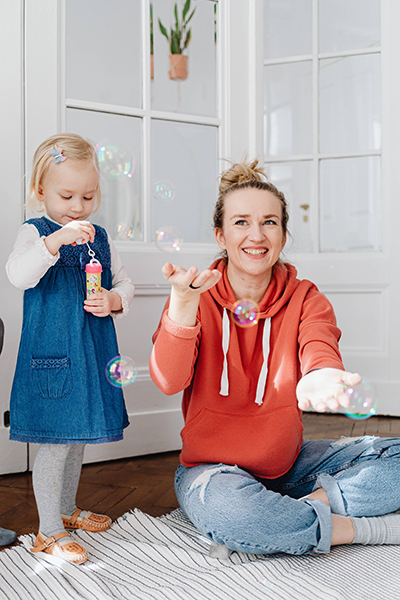 Sensory Play for Toddlers
Babies and toddlers who are 20 months and older are typically trying to become more independent and do things for themselves as their cognitive abilities develop. At this age, toddlers are also starting to understand concepts such as comparing and opposites. Sorting and matching activities are excellent for toddlers in this age group because they promote cognitive (mind) and motor (movement) development, as well as visual perception and hand-eye coordination.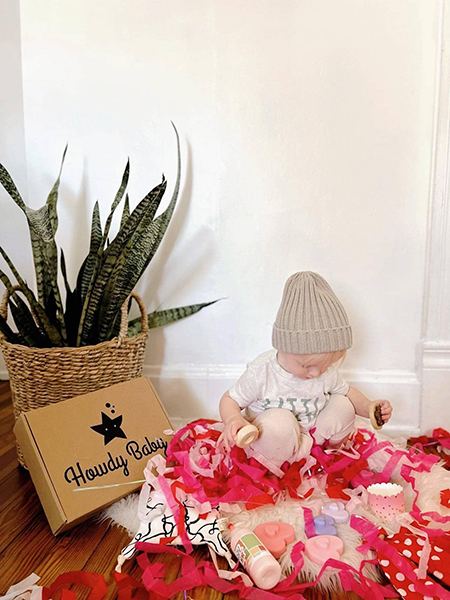 Sensory Play for Preschoolers
Sensory play is important because it helps preschoolers develop problem-solving and abstract thinking abilities. Your child will benefit from more advanced hands-on sensory play activities as they get older. Sensory playdough kits and water bead exploration are just two examples of sensory activities for preschool-aged children that will help them develop language and math skills as they become more independent learners.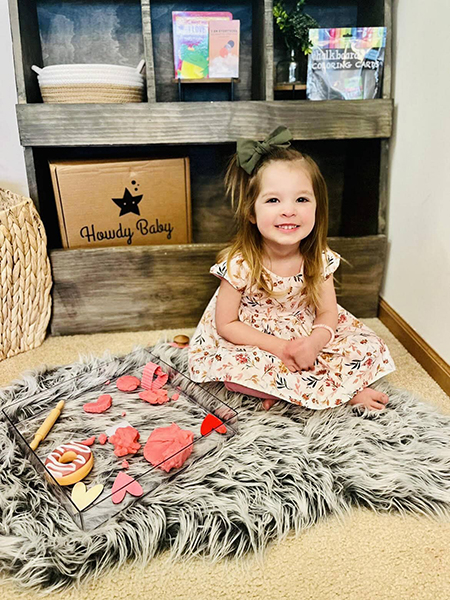 Sensory Play Ideas for Babies
Tummy Time
This activity occurs during the day when your baby is awake and on his or her tummy. Tummy Time' helps babies' motor, visual, and sensory development, and also strengthens the core muscles in their neck, back, and shoulders.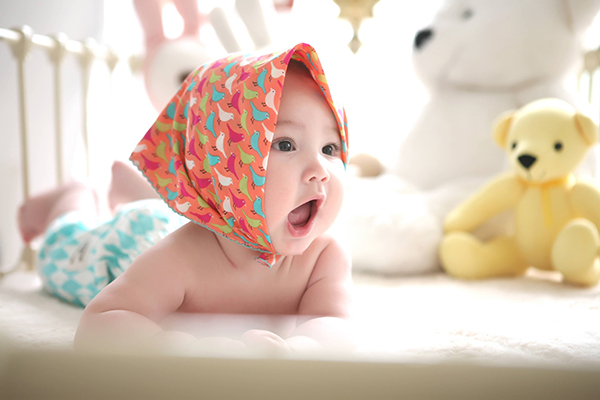 Skin To Skin Contact
Skin-to-skin contact is essential for infants, which is why gently rocking and holding your baby helps to improve their tactile sensory system.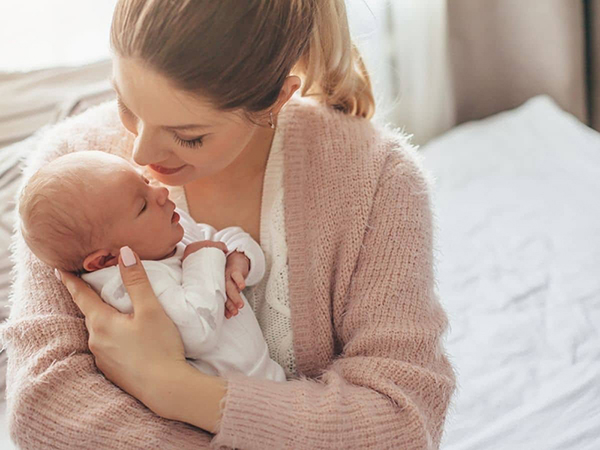 Singing Songs
Between the ages of 0-3, your little one's brain is developing at an exponential rate! Singing songs to your baby is a fantastic approach to help them develop their cognitive and sensory skills. Hearing you sing and trying to imitate you helps strengthen baby's listening skills. Singing songs also teaches infants concepts like tone and rhythm, which helps them develop their language skills at a young age.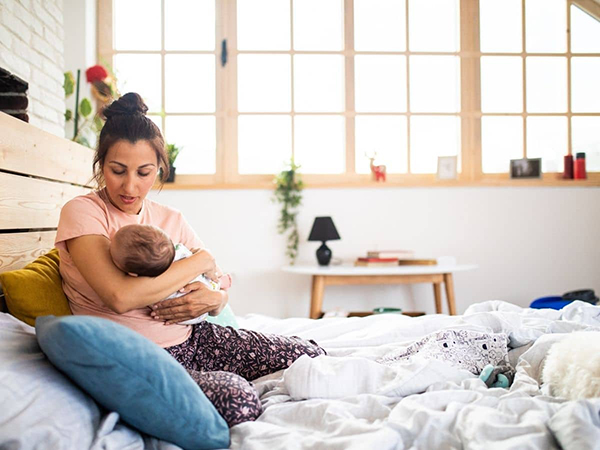 Texture Board
Sensory tools like texture boards are a great way to improve babies' fine motor skills and teach them how to use their hands while also allowing them to feel different textures for the first time. Texture boards help develop babies' hand-eye coordination as well as their finger and hand strength.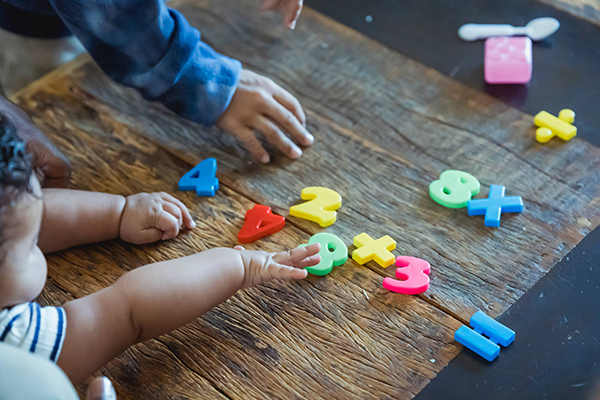 Messy Play With Food
When it comes to sensory play ideas, messy play is essential for your child's development from infancy through early childhood. Messy play allows babies and toddlers to explore their five senses and learn new skills as they experiment and create. Playing with food, for instance, encourages children to learn more about the food they eat and to approach new foods with an open mind.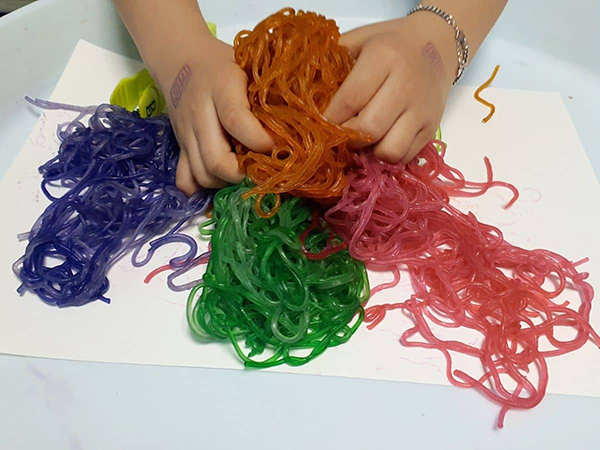 Experiment with different activities that encourage messy play and creative thinking by using foods such as yogurt, pudding, and oats. If you're worried about wasting food while playing with it, try using expired food, like rice, or foods that benefit nature, like birdseed. Look for projects and activities that teach your child about growing food and cooking to foster an appreciation for food and healthy eating.
Activity Gyms
Play gyms help to enhance baby's motor abilities and are essential for your child's cognitive development because they help little ones learn about patterns, colors, forms, noises, imagination, and self-discovery.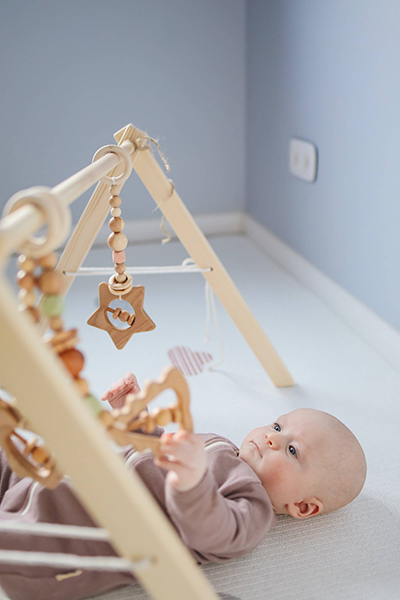 Sensory Play Ideas for Toddlers
Sensory Tables, Bins & Boxes
Sensory tables, bins, and boxes are an excellent way for babies, toddlers, preschoolers, to create and explore. A good sensory box or bin can keep kids busy for hours and they're wonderful because you can easily make them out of household items as well. Just be sure your sensory bin fillers are age-appropriate and safe for your child. Keep reading for sensory bin ideas broken down by age.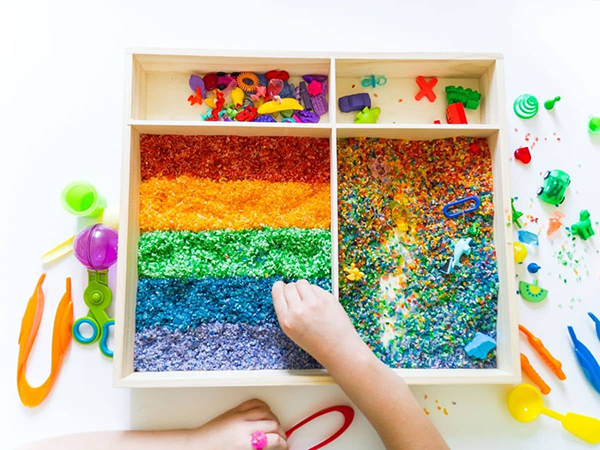 Finger Painting
Finger painting allows toddlers to feel and explore the squishy texture of the paint, as well as play with color and patterns, which is great for sensory development.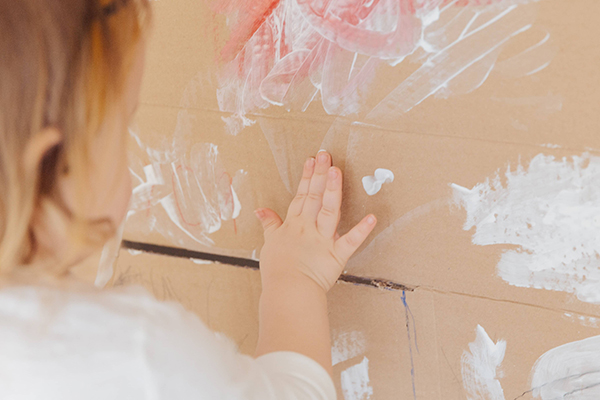 Sensory Bath Play
Sensory water play is a great way to bond with your toddler. Try adding a few sensory bath toys for baby to squeeze in the bath to help strengthen their fine motor skills. Teaching kids about different water temperatures also helps them improve their sense of touch. You may also want to explore different water sensory bins for toddlers.
Sandbox Time
Playing in the sandbox is excellent for getting your toddler outside to explore the environment. Simple tools like shovels and cups are fantastic for sparking your child's imagination and getting them to play!
Planting In The Garden
Digging in the dirt, sorting seeds, watering the grass, planting herbs, and smelling flowers are all activities that will stimulate your child's senses in a variety of ways. If you don't have a backyard, you can still do some of these activities indoors like planting seeds in the egg carton cups for example.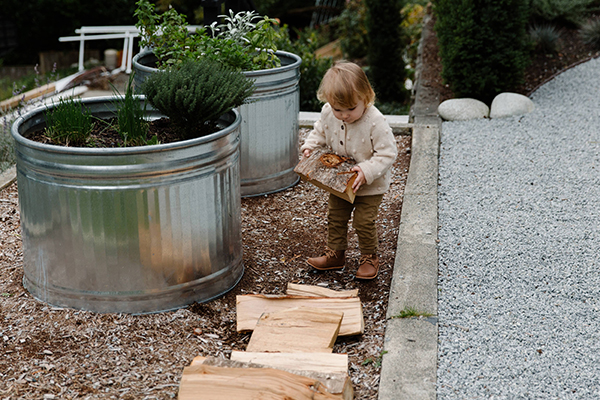 Sensorial Activities & Ideas for Preschoolers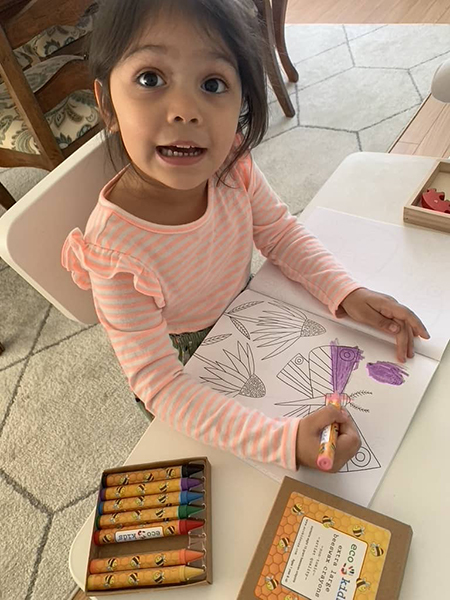 Craft Time
Crafting is another one of those simple and fun sensory play ideas for kids to develop their fine motor skills and become familiar with colors.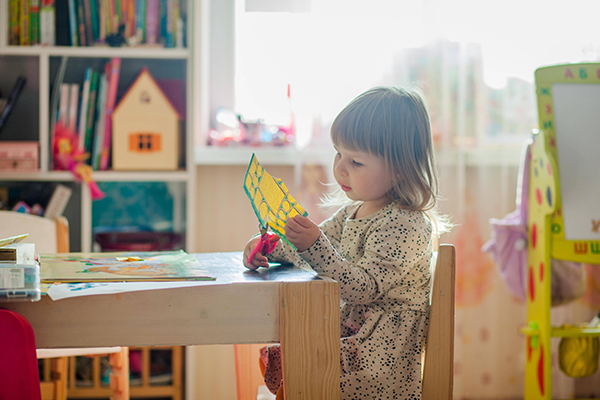 Playdough is an old childhood favorite that we all know and love. It is non-toxic, re-usable, an excellent stress reliever. The internet is packed with recipes for creating a variety of colorful and scented homemade doughs. However, if you're not up for making your own sensory dough, try purchasing a pre-made sensory playdough kit from a small local business. This way, you can still provide a DIY experience for your child without having to start from scratch.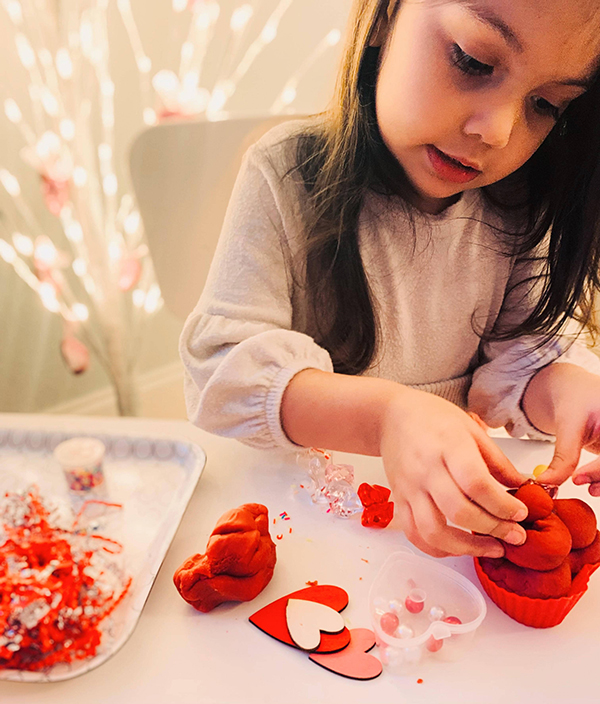 Although homemade sensory slime can be messy and time-consuming to make, it's a fun activity that your child will likely enjoy. Experimenting with slime is similar to playdough DIY because it helps kids engage all of their senses at once. They can observe how it looks, sounds, and smells. You can find recipes for glitter slime, edible slime, and rainbow slime on the internet, but if you're looking for a simple non-toxic way to make basic slime, check out my 3 ingredient slime tutorial.
You can find recipes for glitter slime, edible slime, and rainbow slime on the internet. But if you're looking for a simple non-toxic way to make basic slime, check out my 3 ingredient slime tutorial.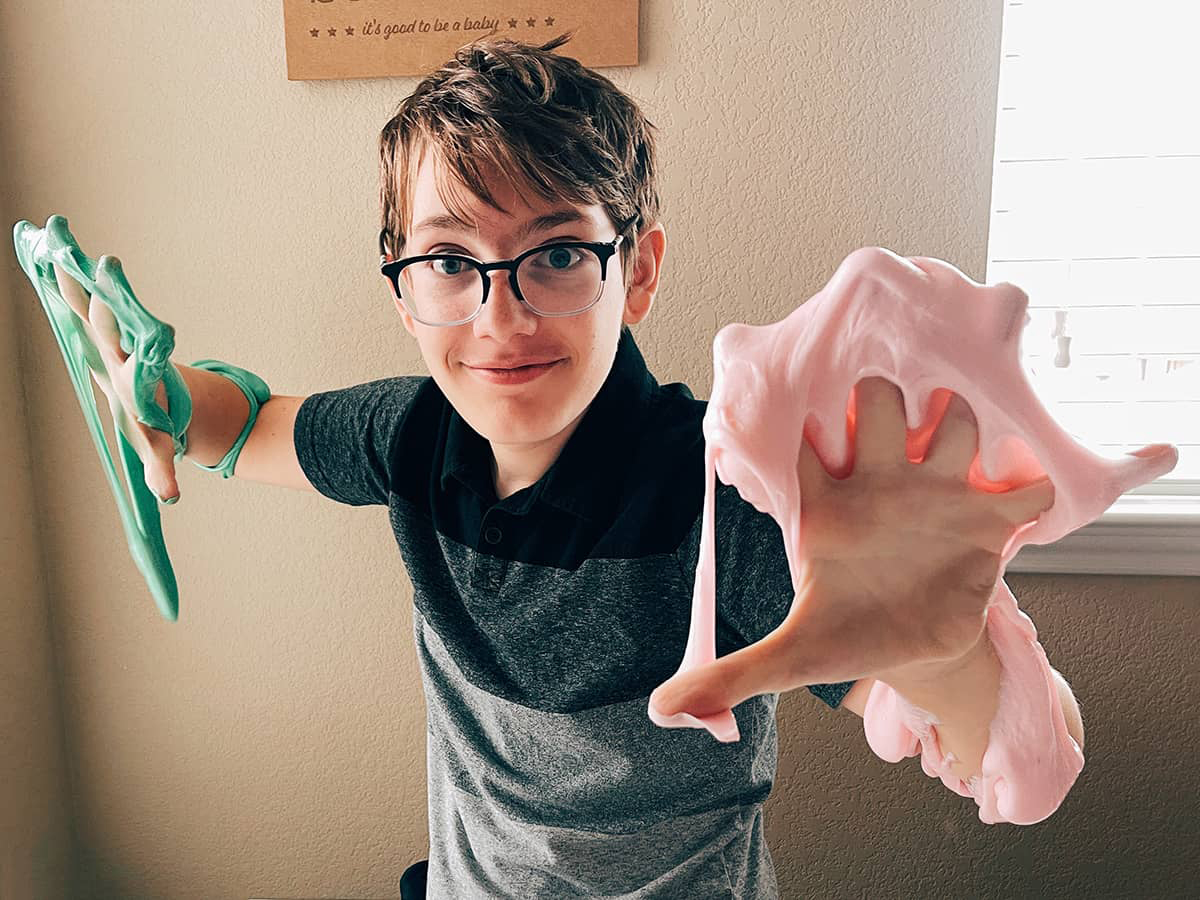 Creative Coloring Time
Coloring is a healthy form of self-expression that boosts creativity and relieves stress, anger, and anxiety. And I think we can all agree that crayons smell like childhood! Their waxy scent will stimulate your child's sense of smell — yet another type of sensory stimulation!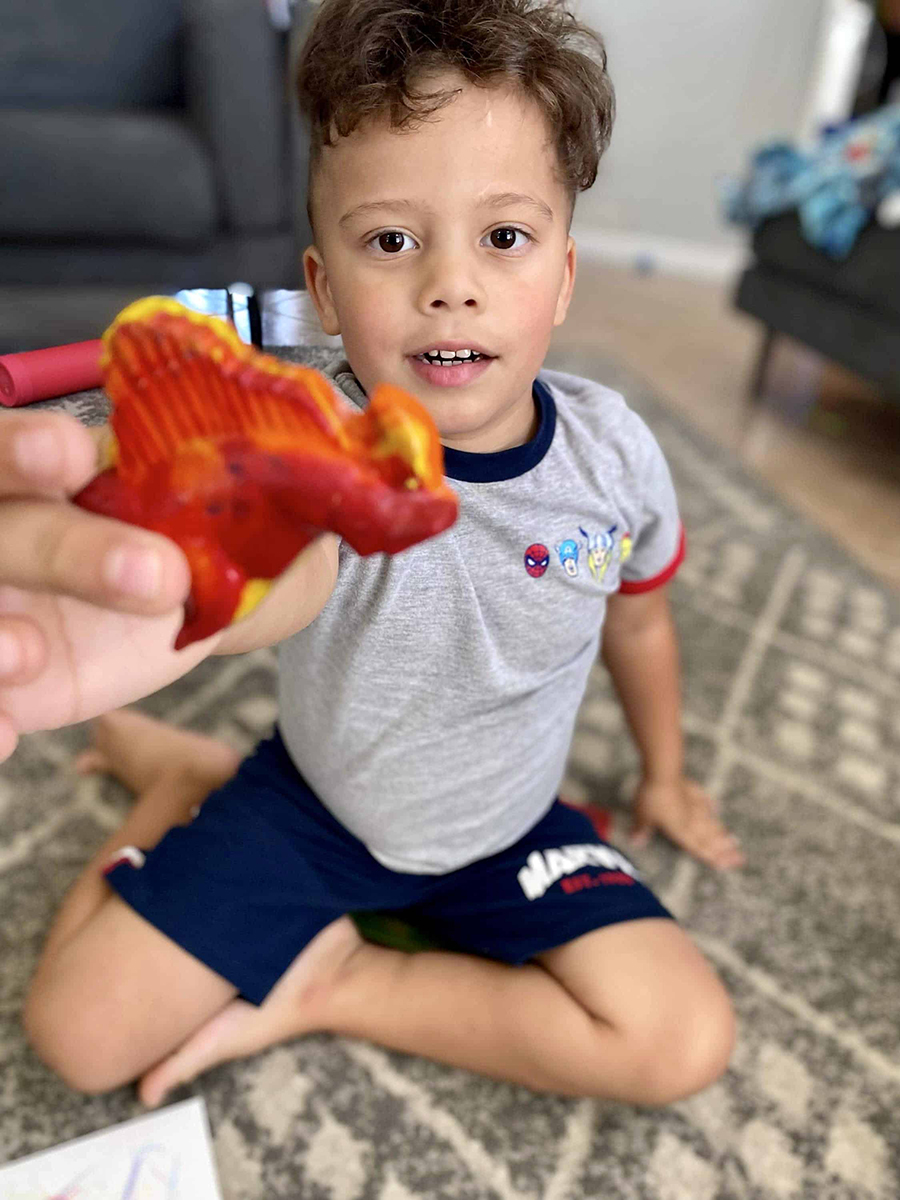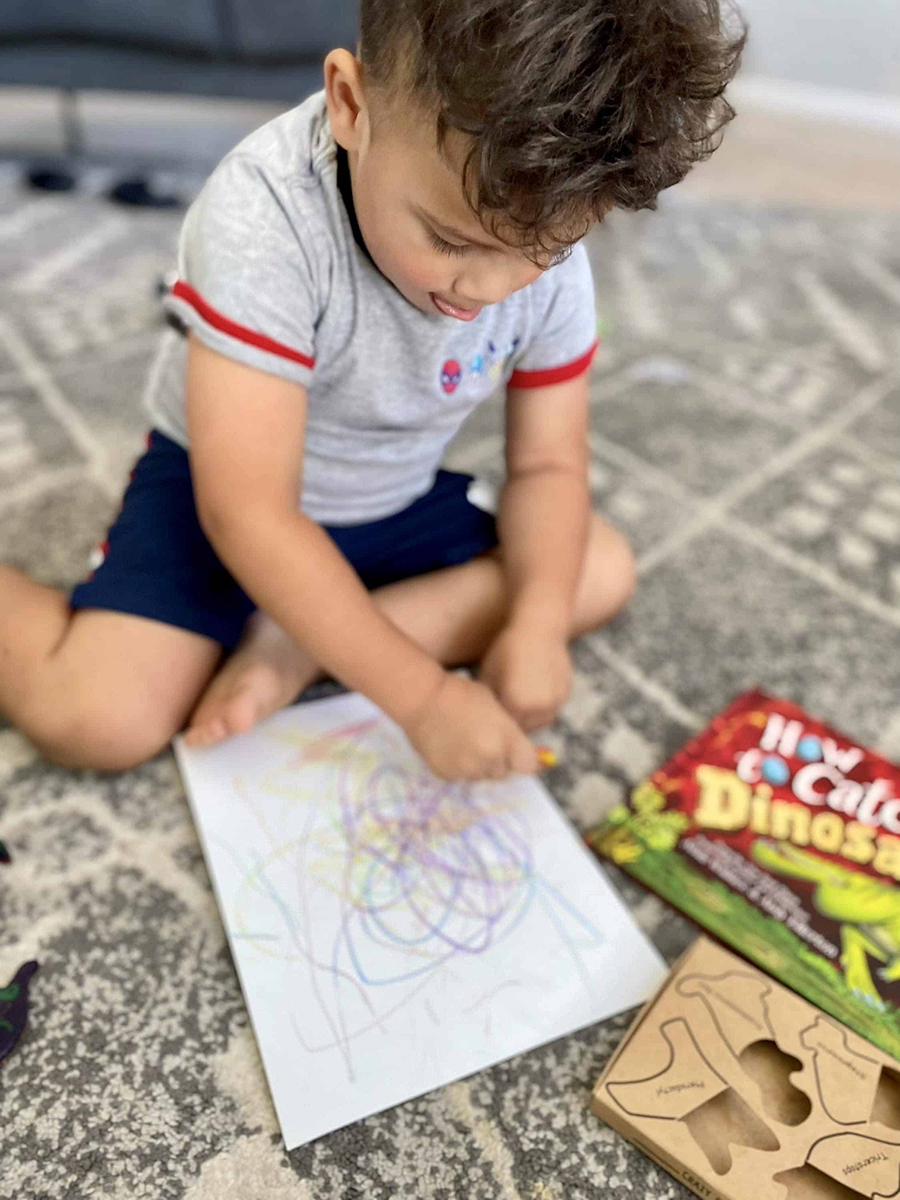 Sidewalk Chalk
Playing with sidewalk chalk is a great outdoor fine motor activity that encourages kids to use their imaginations while also helping them improve skills such as color recognition, sorting, and matching.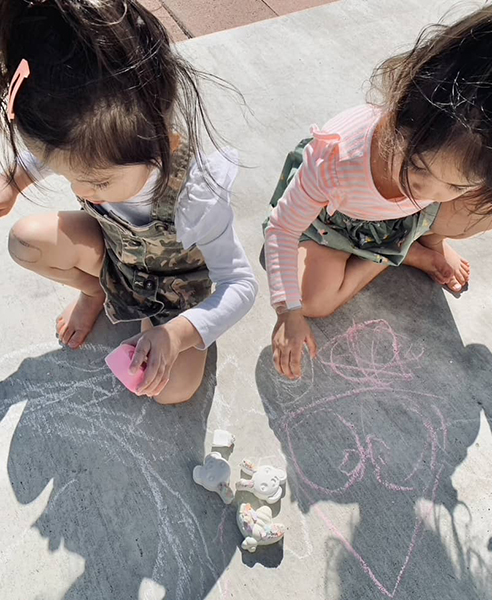 You may also like:
50 Creative & Easy Sidewalk Chalk Art Ideas
15 Creative Games to Play With Sidewalk Chalk
Sensory Toys for Babies & Toddlers



Silicone & Wooden Baby Teethers
Infants and toddlers put everything in their mouths to explore, learn, and understand their surroundings. You can introduce your baby to wooden teethers and similar sensory toys when your little one enters the teething stage (which can occur between 3 and 7 months of age, depending on the child).
When it comes to sensory toys for babies, this hilarious wooden teether for baby is the perfect size for your little one to grasp. These adorable wooden teethers also feature raised textures that gently and naturally soothe and massage baby's sore gums while also providing sensory stimulation.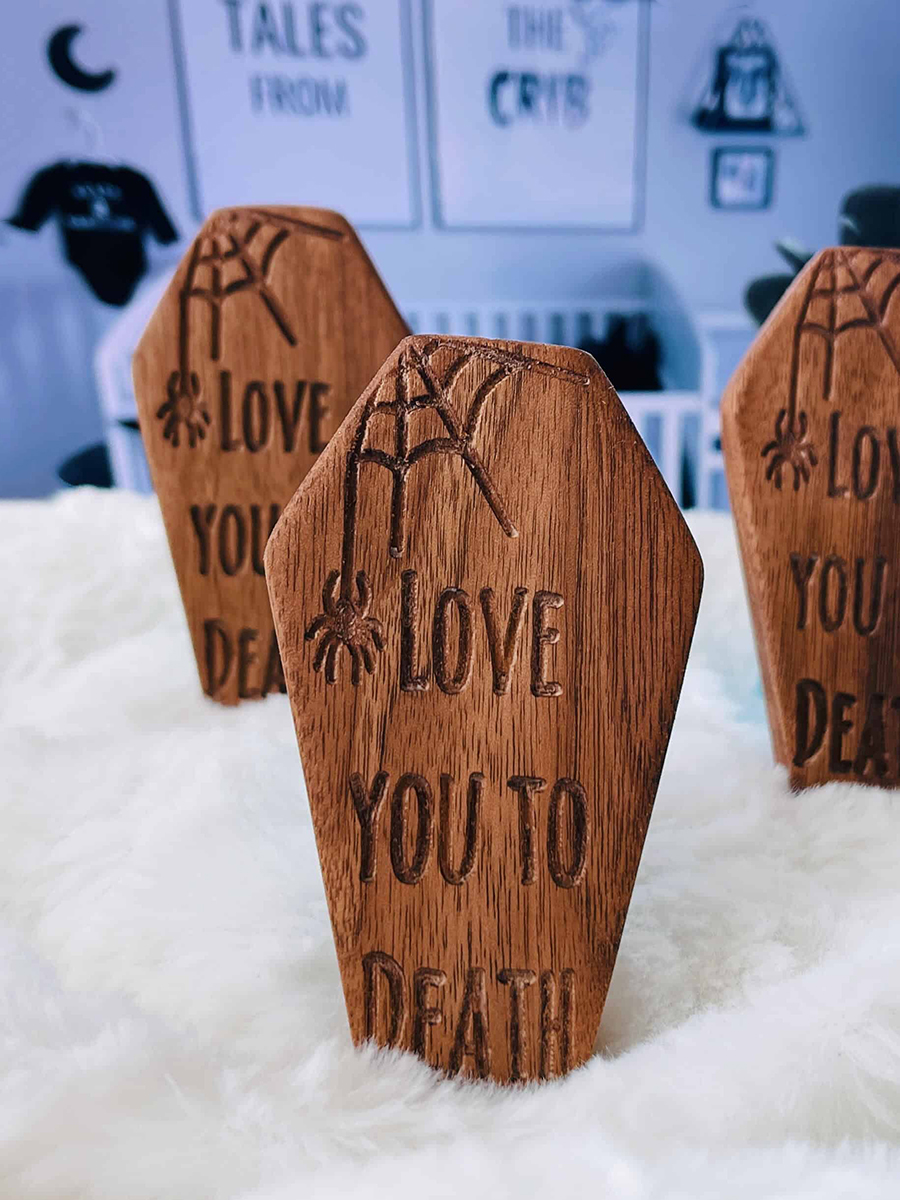 This wishbone-shaped wood baby teether will be a hit at your next family gathering and the hefty weighted wood will also provide mild counter pressure to baby's sensitive gums.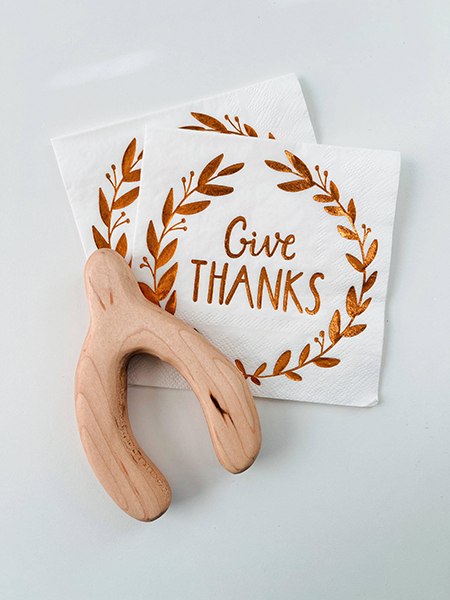 Sensory toy for babies like this wooden and silicone baby teether is an eco-friendly way to provide natural sensory stimulation.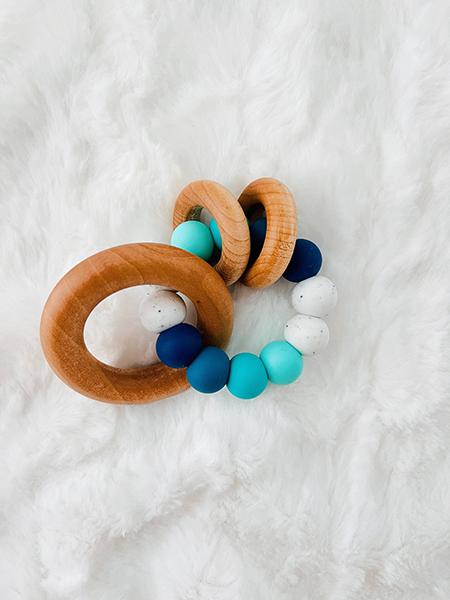 Textured Wooden Baby Teethers
Textured sensory toys for babies and wooden baby teethers, such as this one, have organic wood beads covered in crocheted cotton fabric to provide a stimulating sensory experience.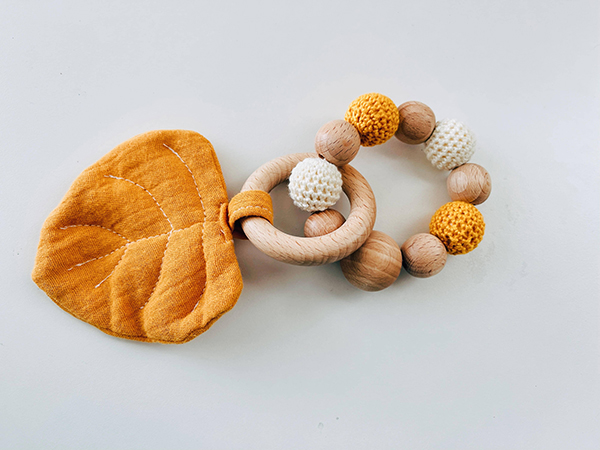 Wooden Baby Teethers with Bunny Ears
Babies love these wooden sensory bunny ear teethers because they help soothe irritated gums. The ring is made of natural beechwood, which makes it less prone to mold. It also has cotton fabric ties to improve baby's grip strength.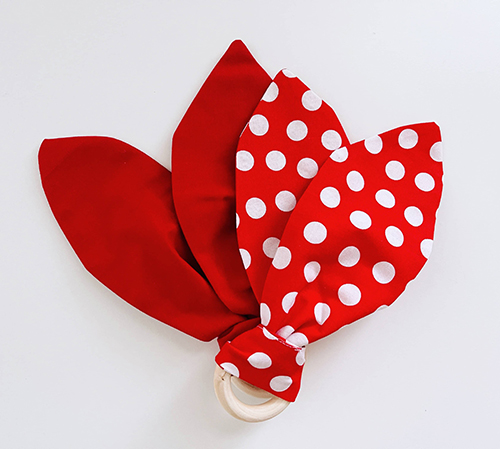 Sensory Play Rattles
Just like wooden baby teethers, rattles are also great toys for sensory development in infants because the moving and shaking actions help improve your baby's motor abilities. Toys with contrasting colors, patterns, and textures also help develop your baby's visual senses.
Soft sensory rattle toys for babies and wooden baby teethers are wonderful sensory play ideas. Your baby develops their motor skills as they grab and shake their new fuzzy buddy. Additionally, the rattle's sound stimulates your baby's auditory system and encourages infants to experiment with cause and effect.
This adorable sensory toy for babies is just too good to pass up on!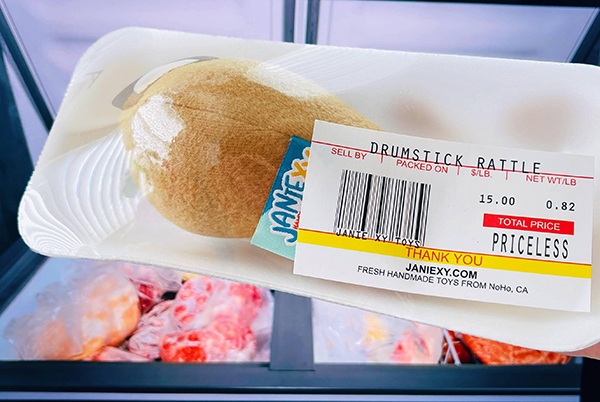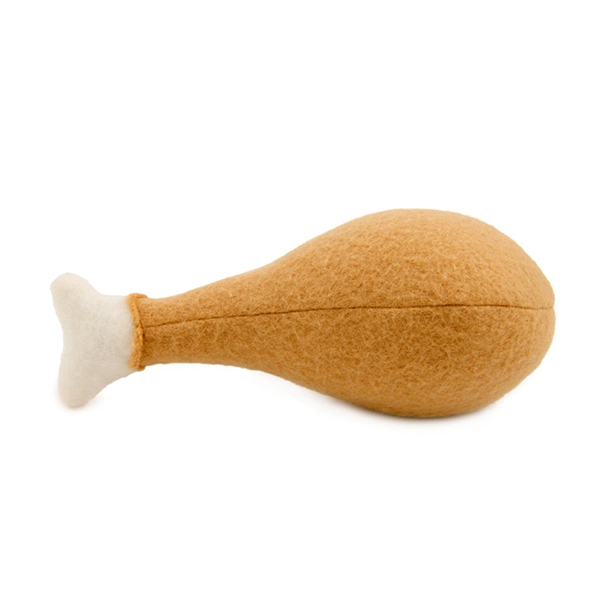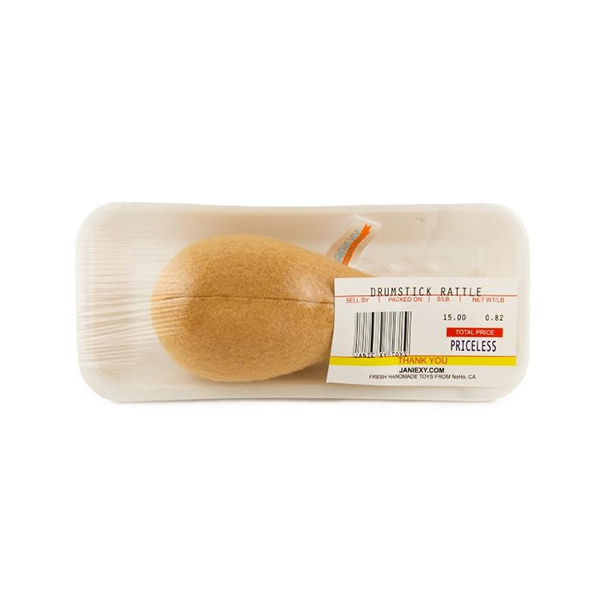 Baby Lovies
Like a security blanket, a baby lovey is typically a small blanket or soft sensory toy designed to keep babies company and make them feel safe and secure. Some lovies also have sensory tags or ribbons which provide babies and toddlers with an extra tactile component. Most infants bond with their lovey at about the 12-month mark because that's usually when they are able to form an attachment to an object.
This delightful grey bunny stuffed animal baby lovie is sure to steal your heart! His sweet character face and textures keep baby engaged.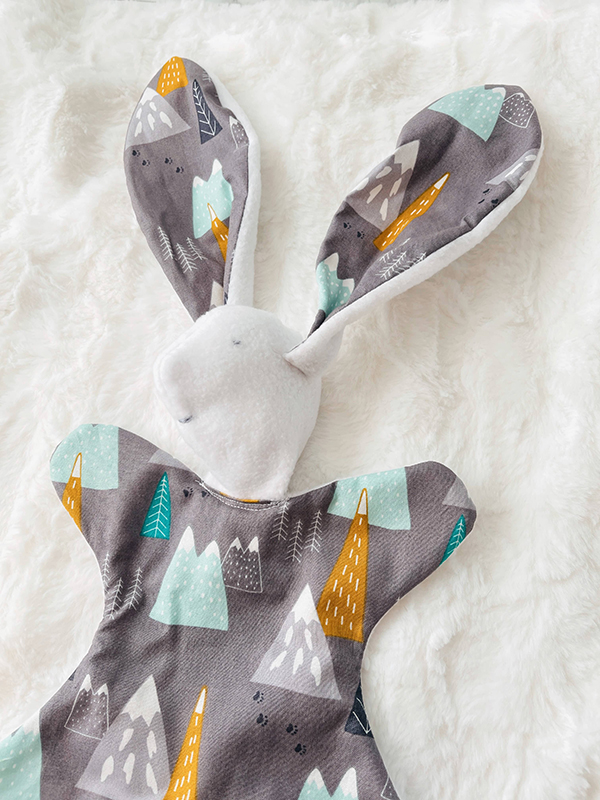 Ribbons The Cuddle Bunny
We featured Ribbons the cuddle bunny in our February 'Made With Love' new baby gift box. Ribbons the cuddle bunny features high contrast designs, taggy feet, designed to spark baby's curiosity. This little baby lovey toy is made of rich plush Sherpa material and GOTS certified organic cotton to relax and comfort your baby.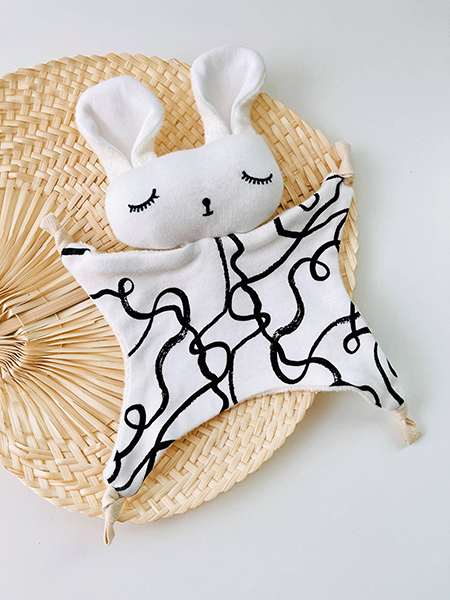 This plump cuddle pal is handcrafted using 100% acrylic yarn in Missouri, USA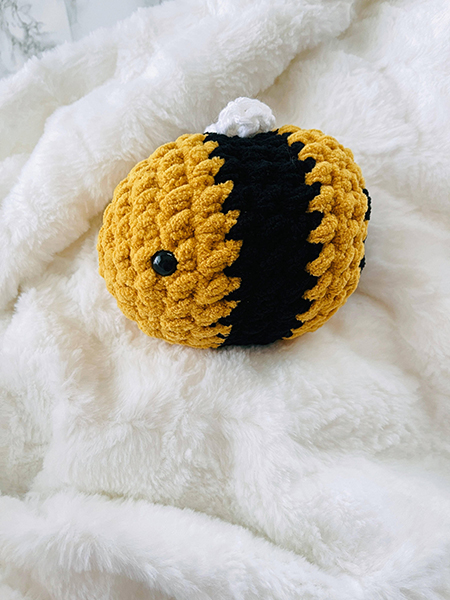 Stacking Toys & Blocks
Different types of blocks and stacking toys are excellent for helping babies improve their hand-eye coordination and brain development.
Heart Shaped Silicone Stacker Sensory Toy for Babies
These heart-shaped stacker blocks are sure to excite your baby's imagination! We featured them in our February new baby gift box because they're an excellent tool for teaching baby about colors and sizes.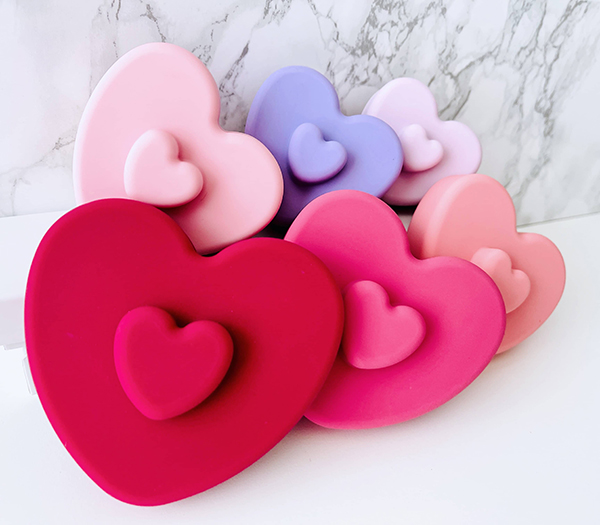 Sunshine Silicone Stacker Set
This silicone learning stacker toy is simple yet elegant. It strengthens baby's muscle groups in so many different ways, making it an excellent addition to our March Howdy Baby new mom subscription box.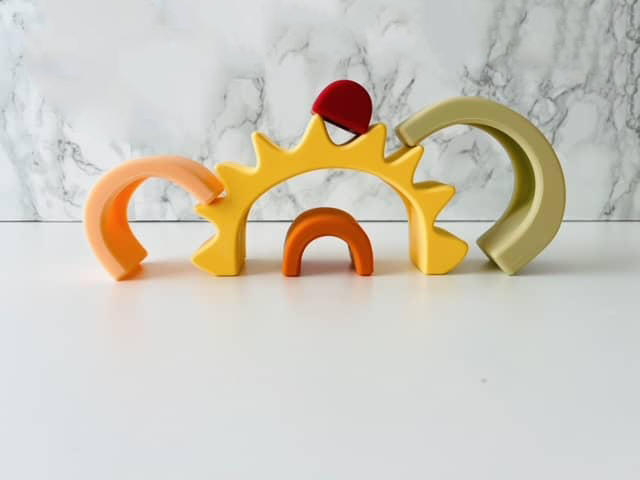 This 4-piece wooden puzzle blocks set is perfect for encouraging little ones to think creatively and for improving their problem-solving skills.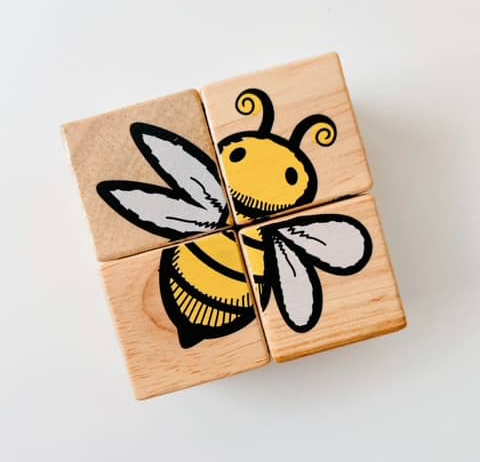 Slow Rising Squishy Toys
Stress balls and squishy toys like these are excellent for stimulating the senses, keeping kids engaged, and also relieving tension. Squeezing and sculpting these slow-rising donut squishy toys from our February Howdy Kids subscription box was a hit with kids. They were also scented, so the aroma of chocolate definitely added to the overall sensory experience! These also make a great addition to your toddlers sensory bin.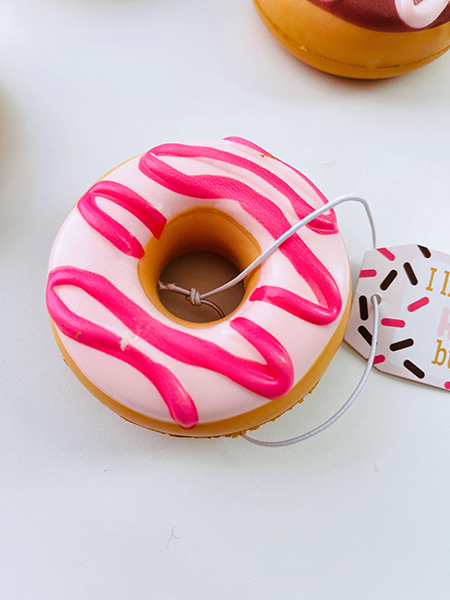 These spring themed stroller cards make an excellent sensory toy for babies. Perfect for walks or at home!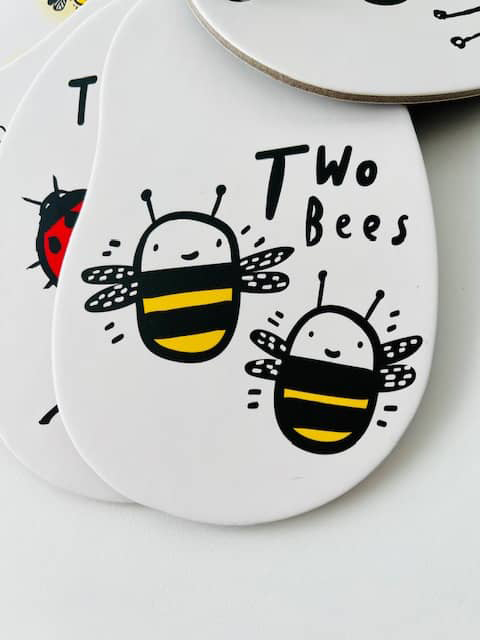 Textured Board Books
Touch and feel books typically include physical textures in the illustrations that engage baby's tactile senses and help to move the story along. They are excellent for introducing new words to babies, helping to develop their cognitive abilities, while stimulating their senses.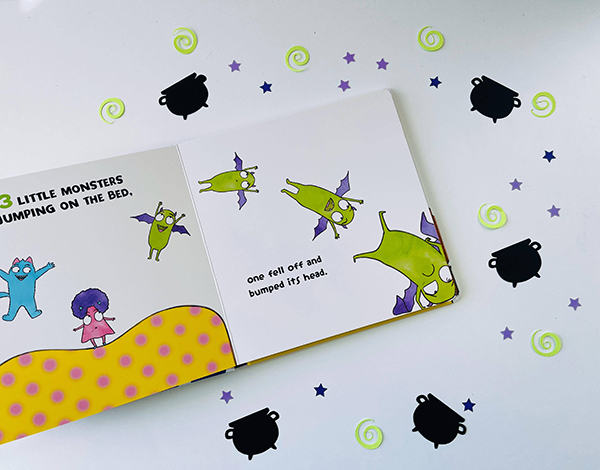 With a little bit of planning, messy playtime can be enjoyable for both you and your baby. Covering your child with a full-coverage smock like this baby bapron helps keep their clothes clean as they explore with messy play.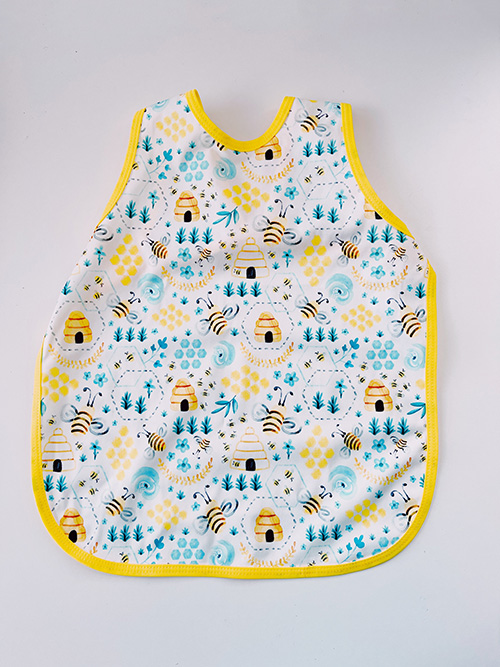 Travel Sized Scavenger Hunt
This travel-sized sensory bin for toddlers is ideal for keeping your youngster engaged on the road.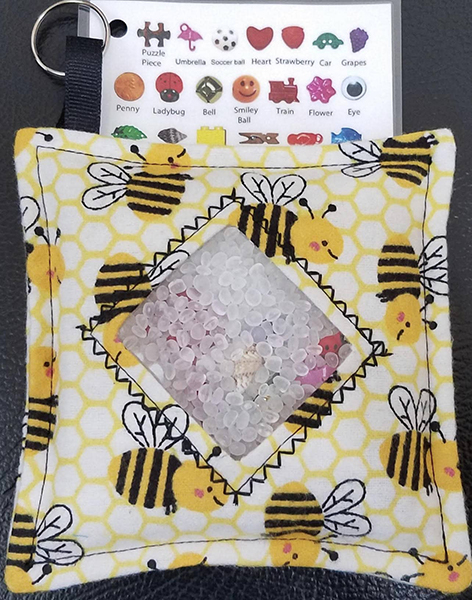 Types of Sensory Play Toys for Preschool Aged Kids
Pretend Play Food
Playing pretend with interesting food toys is an excellent approach for young kids to improve their cognitive abilities while using their imaginations.
This gorgeous felt cupcake is a delightful addition to any child's sensory toy collection and will keep your little one occupied for hours!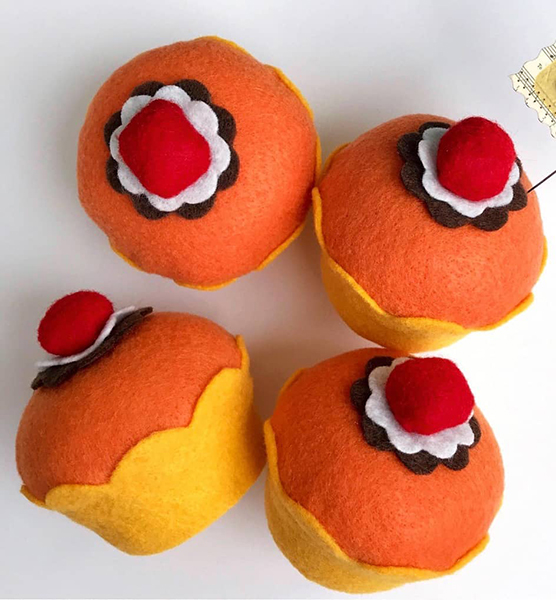 Wooden Donuts
These adorable wooden pretend play donuts from our February Howdy Baby Box will have your little one using their imagination as they develop their cognitive abilities.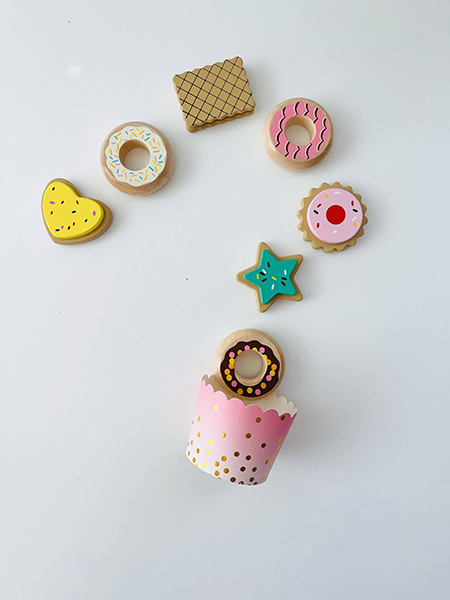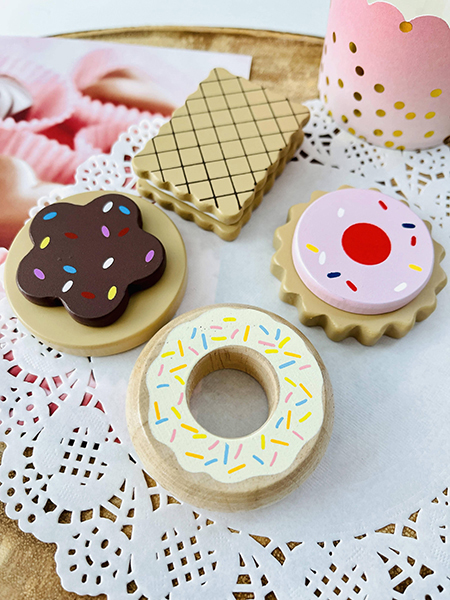 Craft Kits
Crafting activities allow your child to play creatively and experiment with all of their senses in a number of ways. Craft activities can improve preschoolers' mental health and wellbeing while also encouraging communication, listening, and paying attention. Crafting with your child allows you to connect with them on a more personal level too!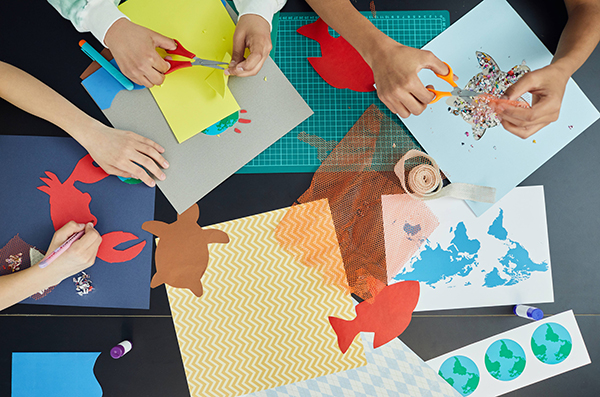 These Rainbow Mosaic Suncatcher comes with everything you need to design and make your own rainbow-themed suncatcher, including a large precut rainbow pattern and lots of brightly colored tissue paper.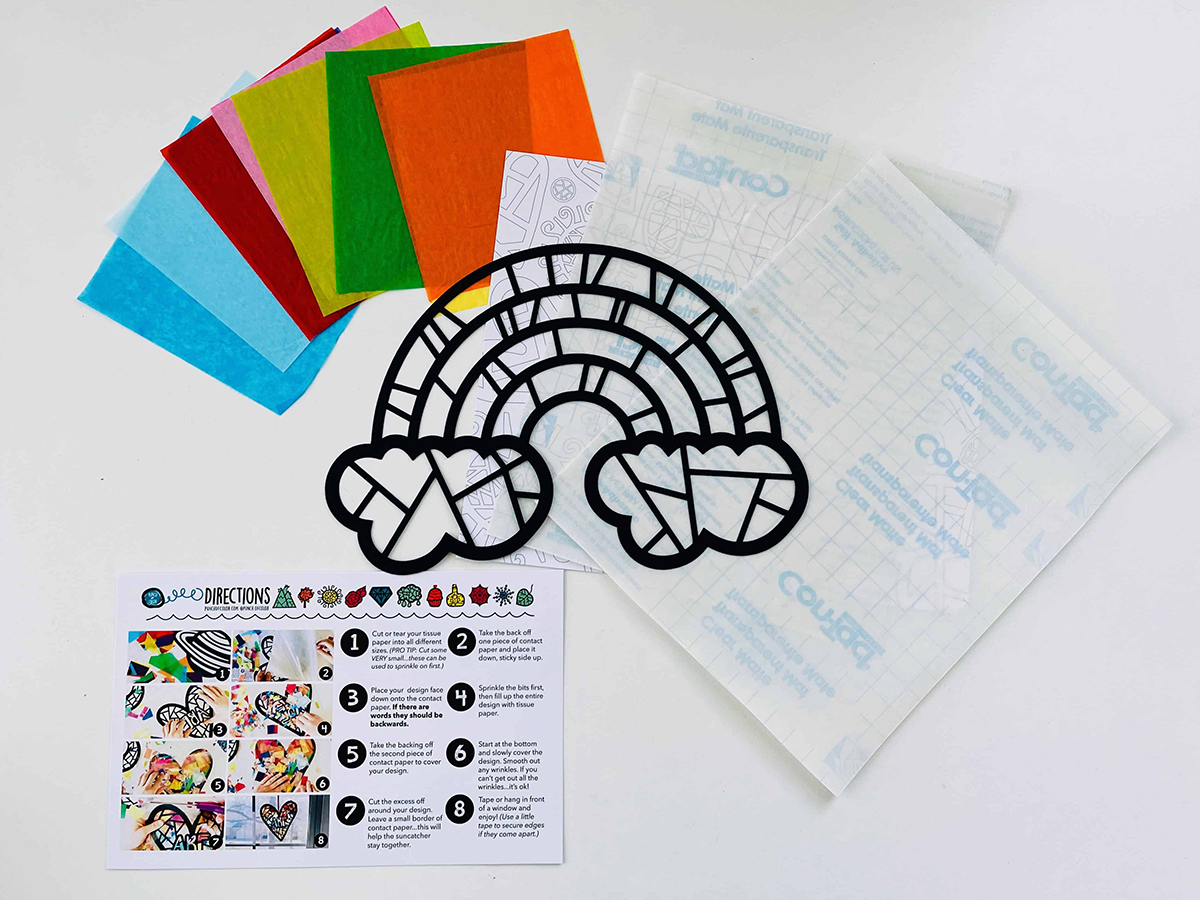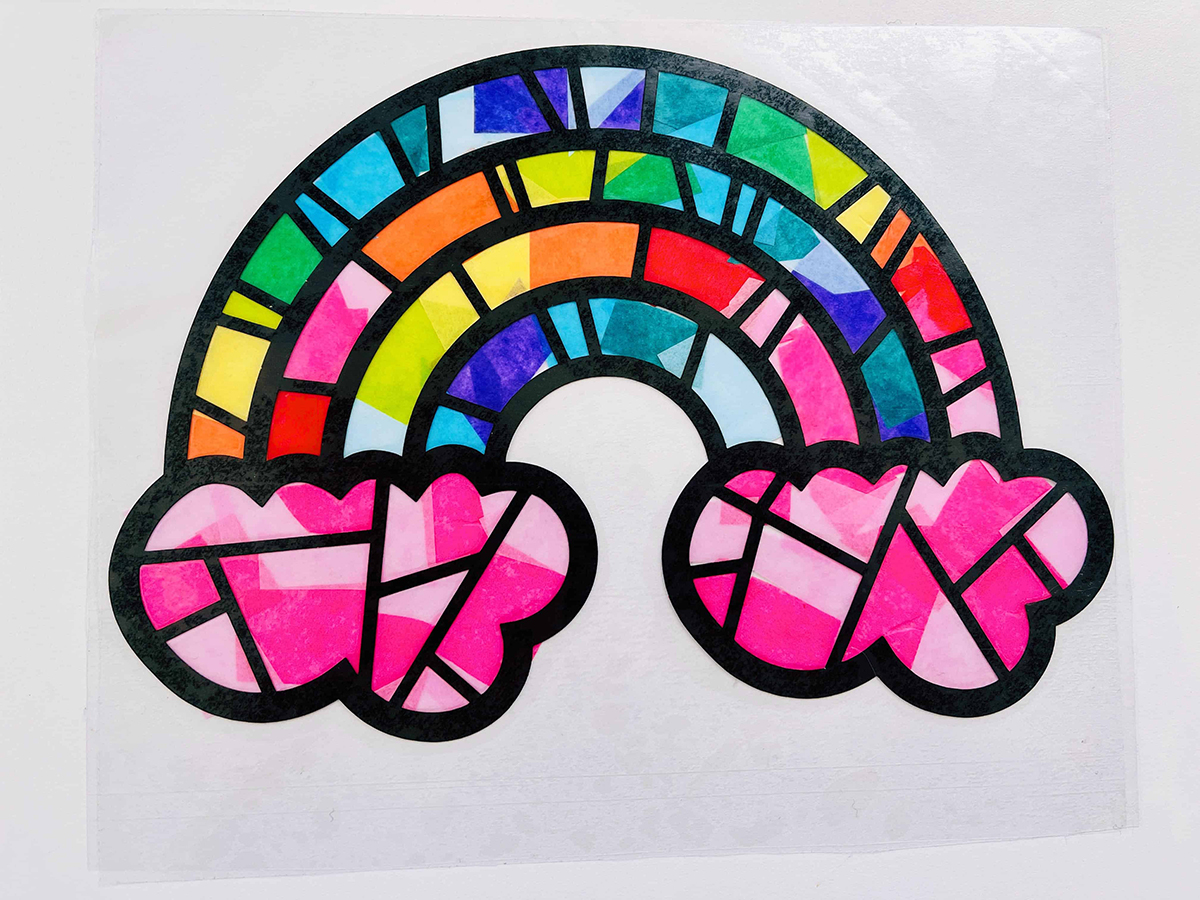 With this kids learning kit, your kids will have a blast learning about bees while planting beautiful honey bee blossoms. This kit includes a beautiful mix of 20 beautiful flower species known for their ability to attract honeybees.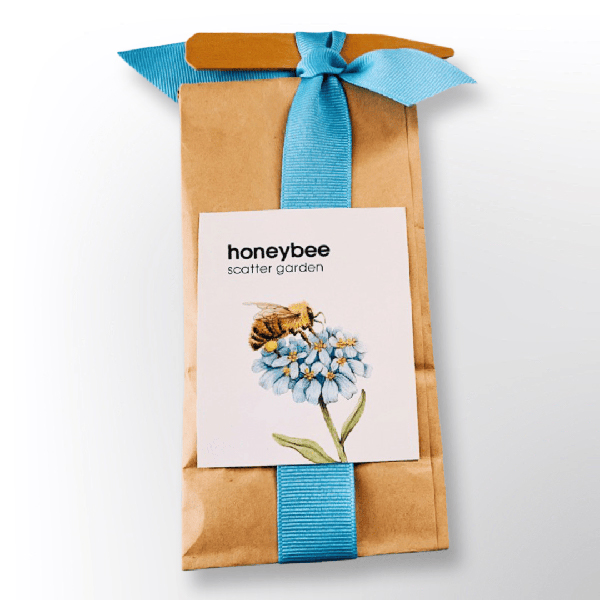 With this bird habitat garden kit, your kids will learn all about bird life as they plant lovely wildflowers and watch hummingbirds rush to their garden.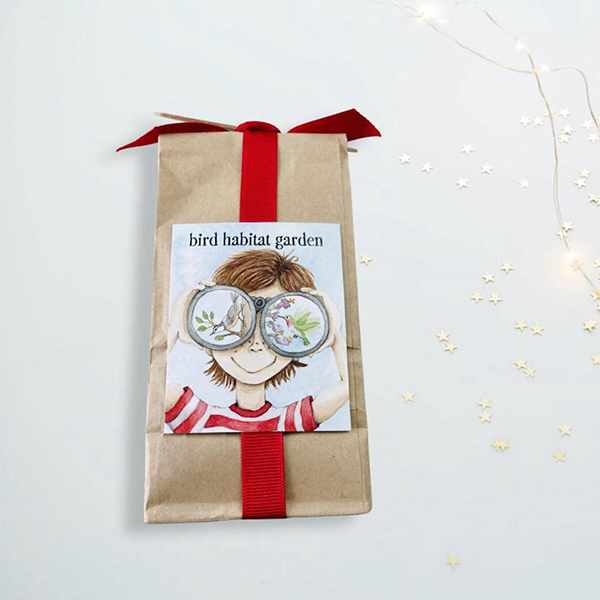 Whether you're a busy home school mom, need a gift, or looking for something creative to do, let this kit create a "buzz" in your child's heart today. This kit is perfect for kids ages 5-9.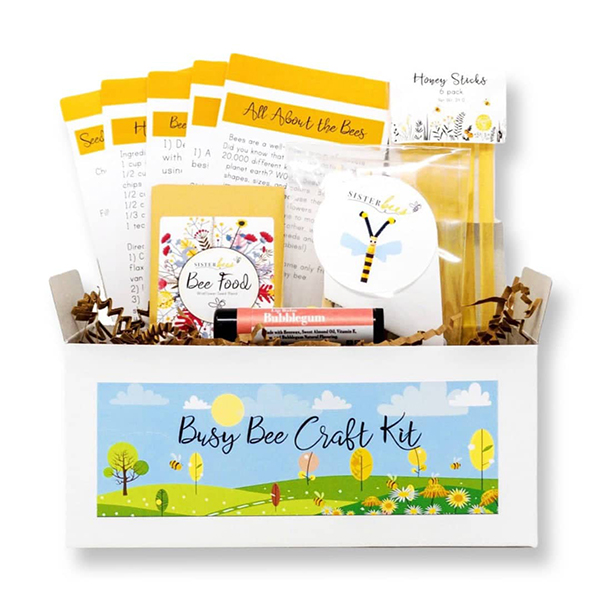 This kit includes 20 yards of eco-friendly, upcycled fabric for making scrunchies as well as 5 hair ties and an instruction manual. We love this product because part of the proceeds also go to charities committed to empowering young women.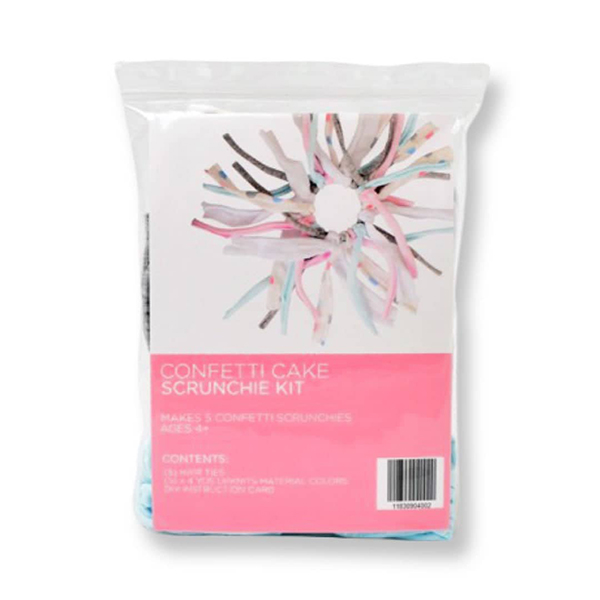 Make your own star ornament for the holidays! Printed on 100% recycled white paper.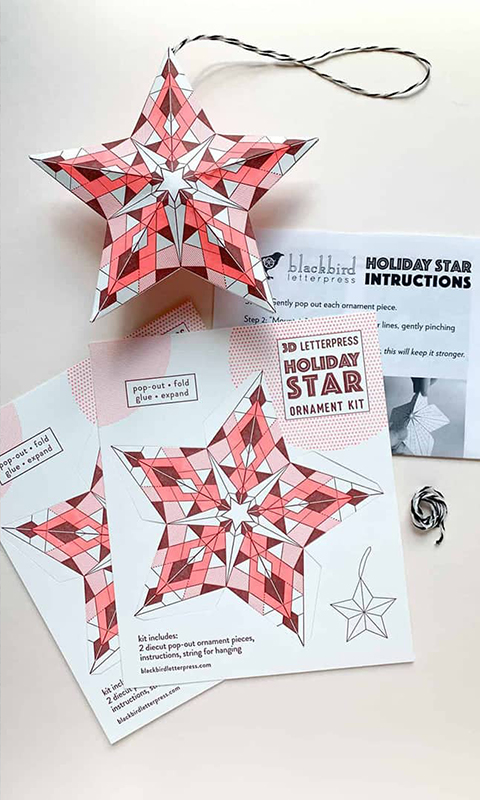 This adorable bundle of 12 assorted color-in create your own postcards is a great activity for kids of all ages. Color the front, then add a stamp and mail one to brighten someone's day!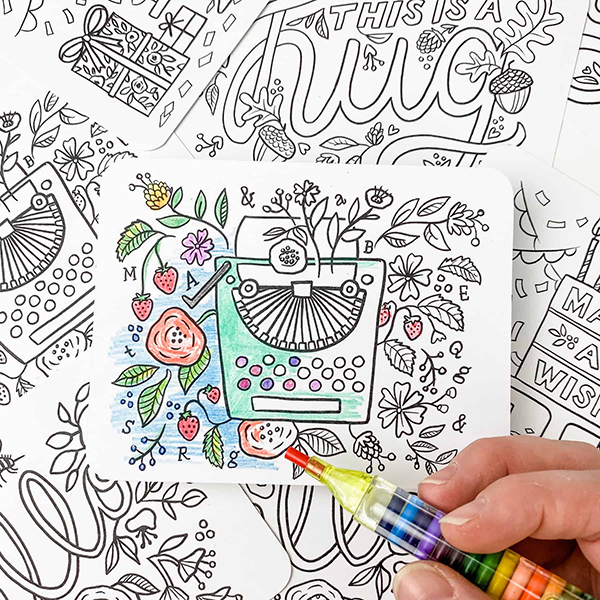 You and your child can get creative while learning about wool felting with this easy to use kit.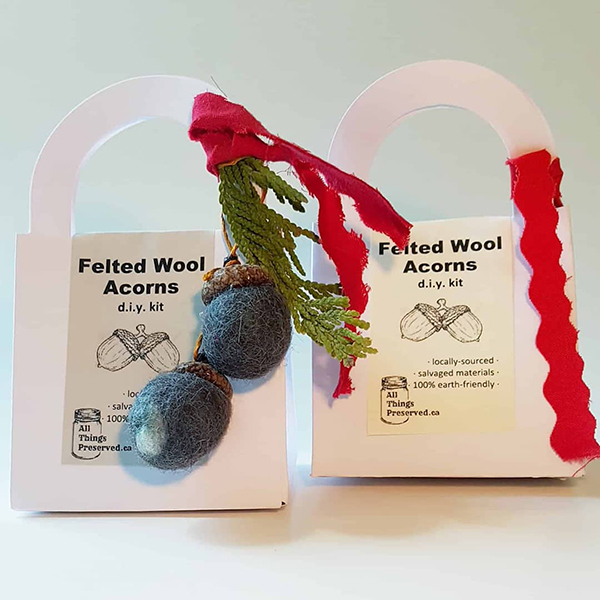 Sensory Bath Bombs & Bath Salts
Using different kinds of bath bombs and sensory salts are are great way to amp up your child's bath time sensory experience.
We featured these Unicorn Dust bath salts in our August Howdy Baby subscription box for children.
These Unicorn Dust bath salts make bath time magical! The rich vanilla berry scent and fizzy bubbles delight the senses, transforming bath time into a one-of-a-kind sensory experience for your child. These all-natural bath salts are specially formulated to not stain the tub and include two unique unicorn trinkets hidden inside.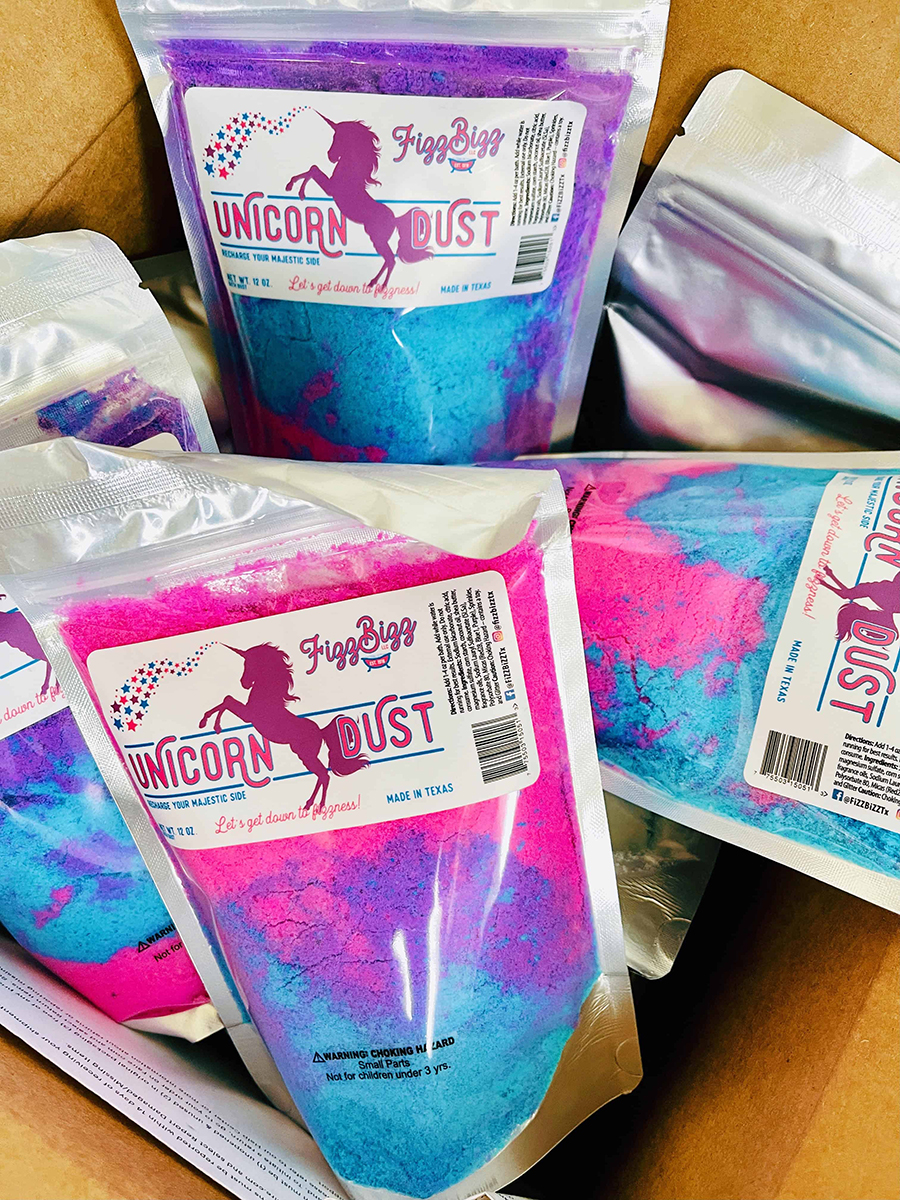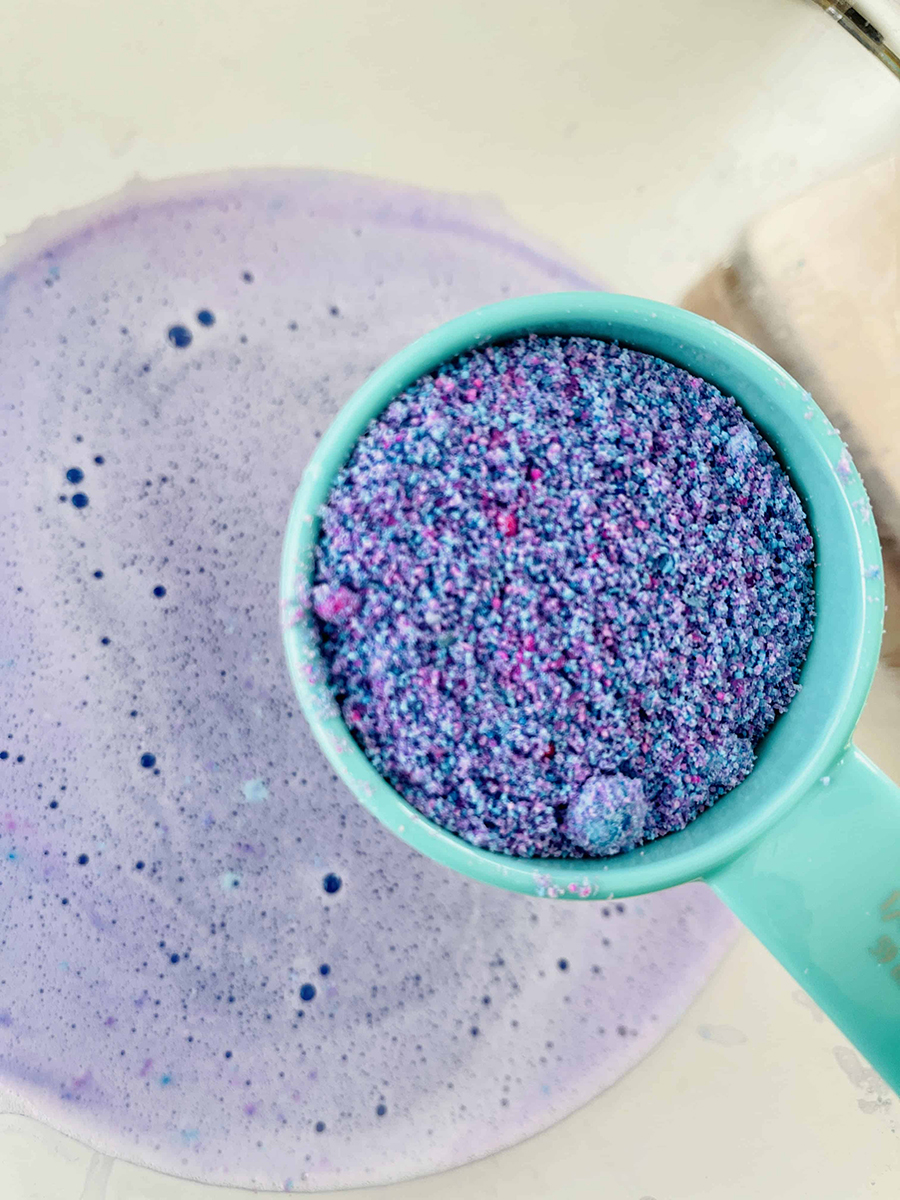 These rawr-some Dinosaur Dirt bath salts take bath time to the next level! Your child will love watching the pretty blue, yellow and green colors swirl around the tub and transform ordinary bathwater into an aquatic wonderland. These all-natural bath salts are specially formulated to not stain the tub and include two unique unicorn trinkets hidden inside.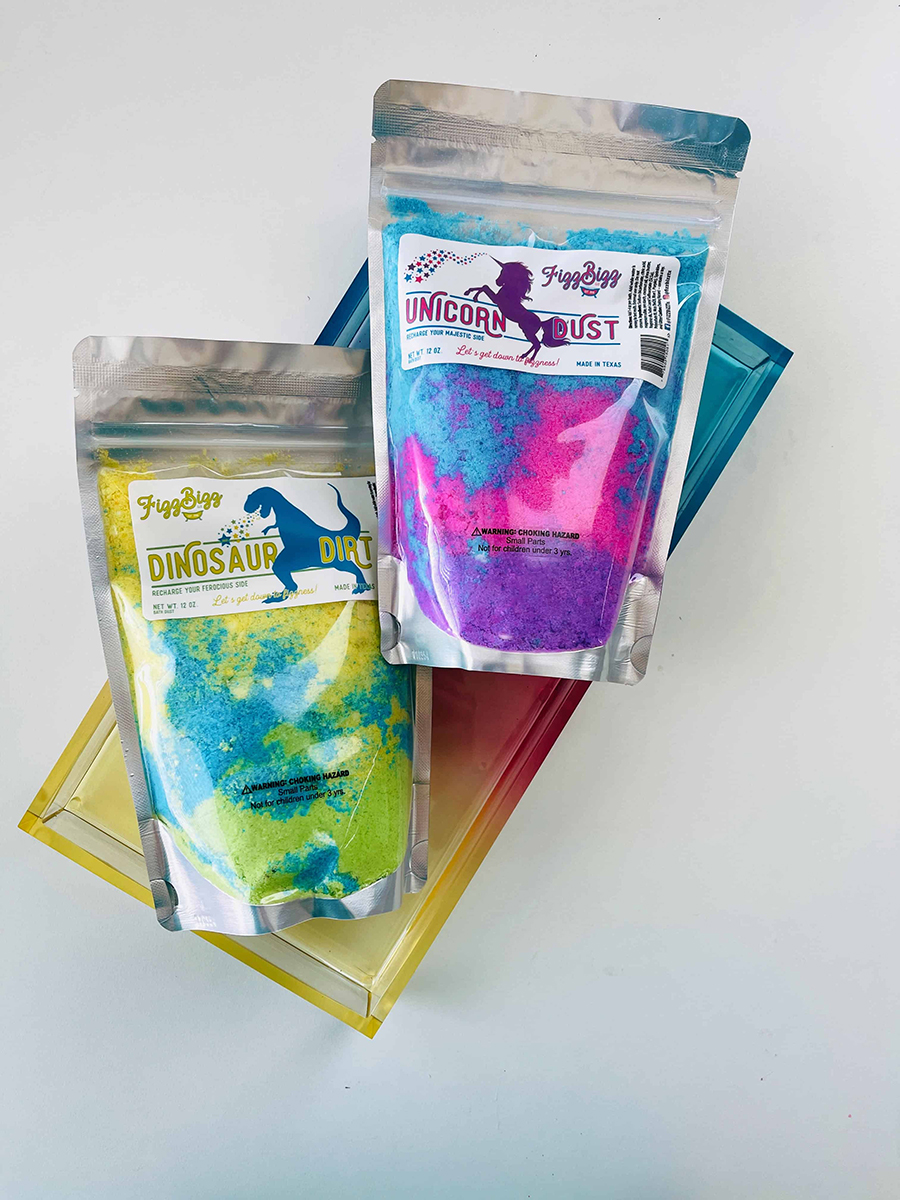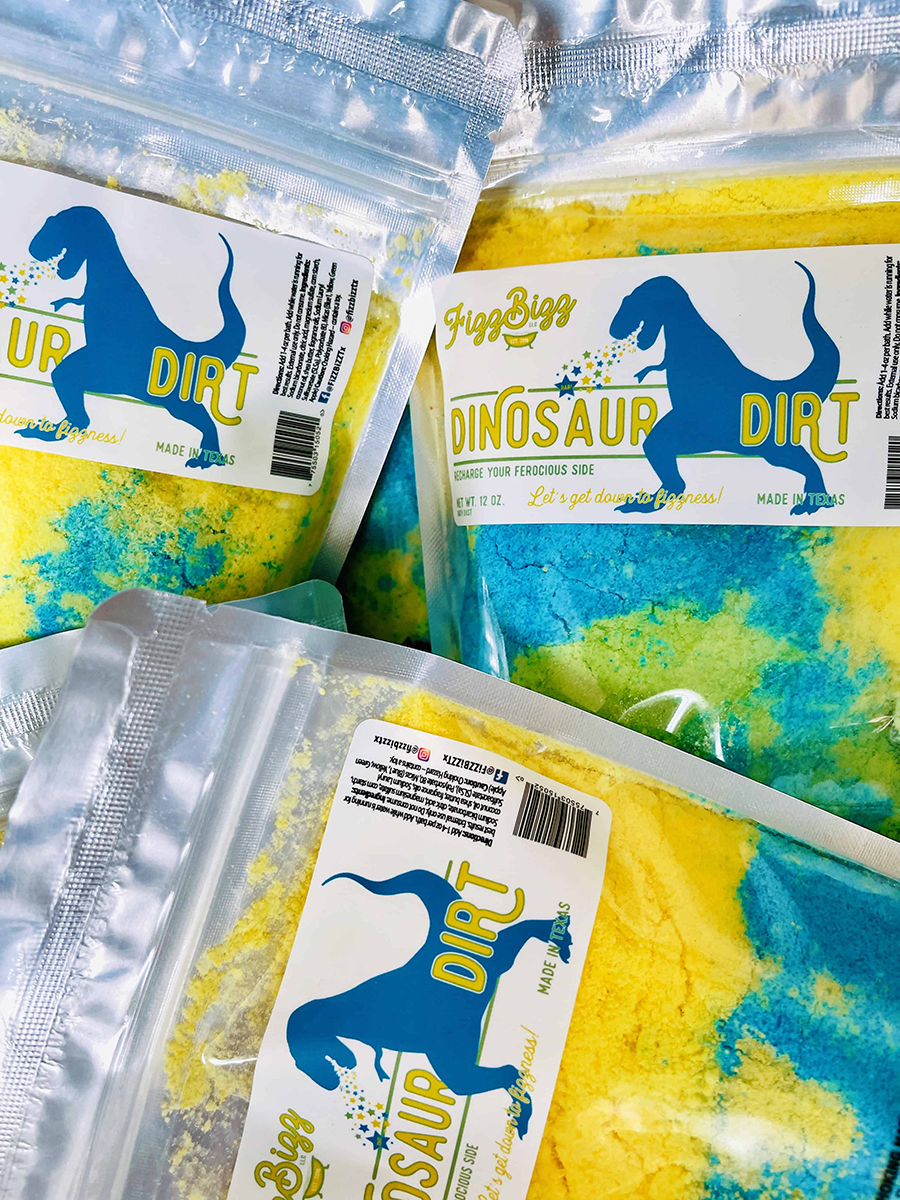 This fruit loops scented bathtub finger paint soap from our Howdy Kids February 'MADE WITH LOVE' subscription box is a super fun way to mix bath time with sensory playtime!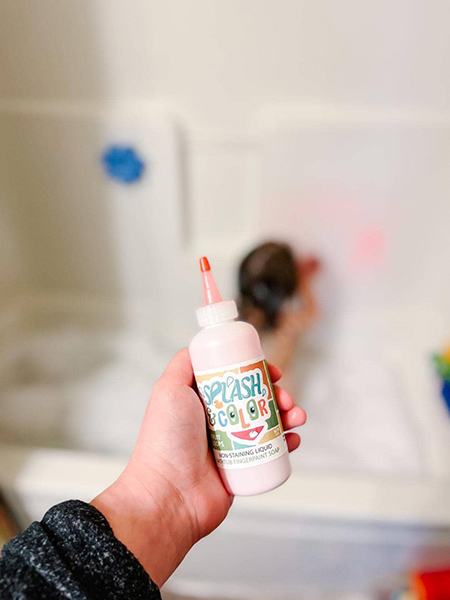 Witches Brew Sensory Bath Bomb
Witches Brew cauldron shaped bath bombs are sure to add some spooky fun to getting clean! These engaging sensory bath bombs were a hit with kids who loved seeing them bubble in the tub. Each one even had a miniature spider as an added sensory delight! Because these spooky bath bombs were an October Howdy Baby toddler box exclusive, they are no longer available.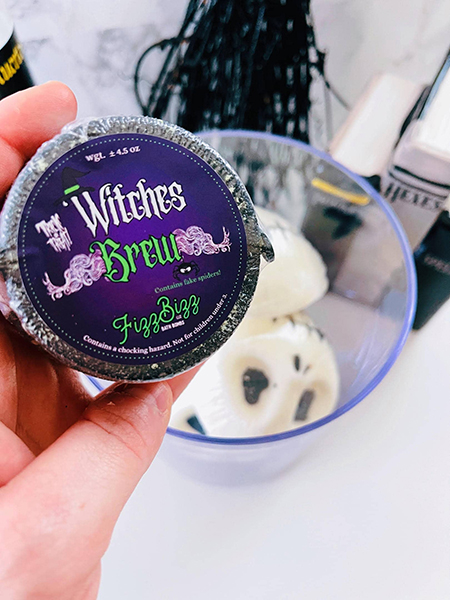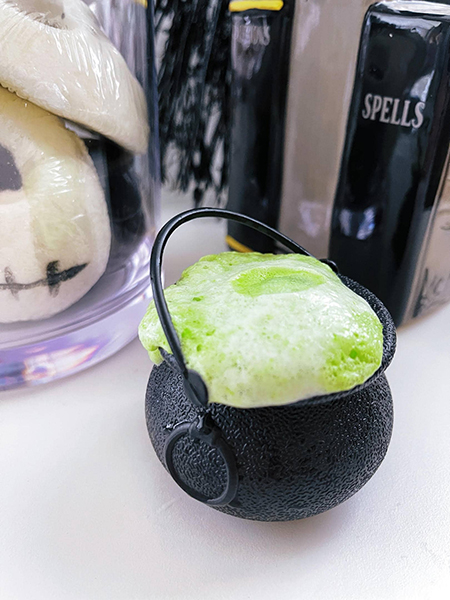 Jack Skellington Bath Bomb
These hand-crafted Jack Skellington bath bombs were the perfect addition to our October Howdy Baby Box. They're also incredibly simple to use: simply fill your child's tub with warm water, drop in a bath bomb, and let the aroma envelop your senses.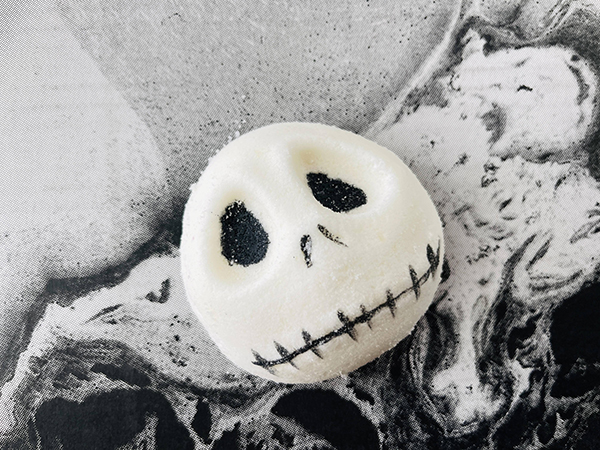 Coloring With Crayons
Crayons are perfect for teaching kids color recognition and color matching. They're also a great tool for helping your child improve their ability to use other tools like pencils, scissors, and utensils too!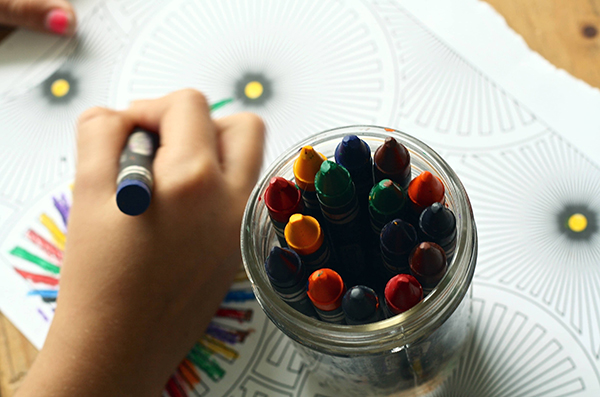 These non-toxic toddler crayons are ideal for the young dinosaur enthusiast in your life. They're the ideal size for tiny hands, and the unique dinosaur shapes are sure to spark your child's creativity. Each box contains 8 hand crafted dinosaur-shaped crayons in a variety of exciting colors.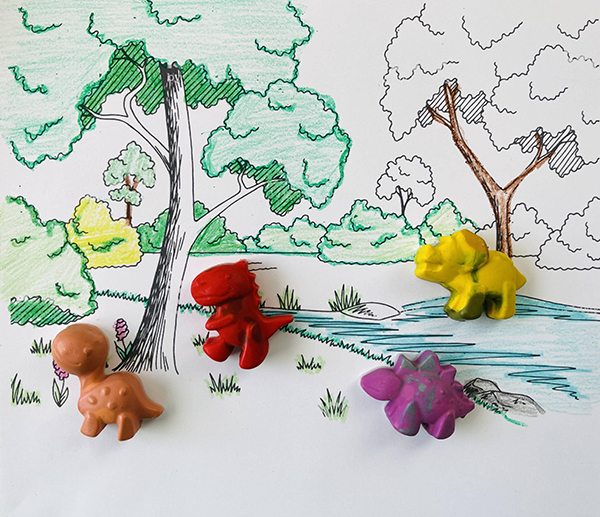 Not only is this pack of 8 extra large beeswax crayons these crayons safe for kids of all ages to use, but they are also renewable, eco-friendly, and beneficial for the environment.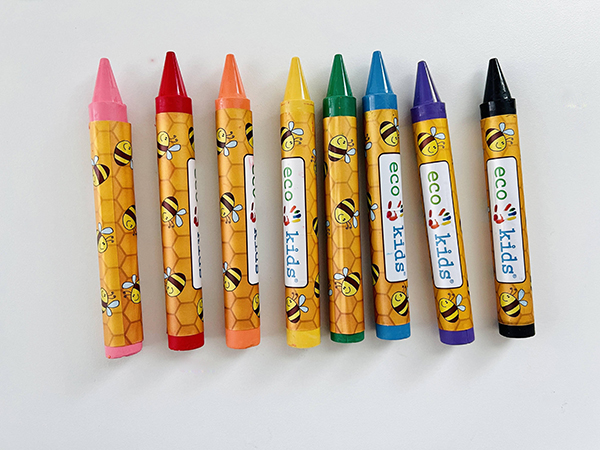 These adorable sparkle crayons have us unicorn-obsessed! They're completely non-toxic and the unicorn shapes also make it easy for small hands to hold. They can also be used in a themed sensory bin for toddlers too!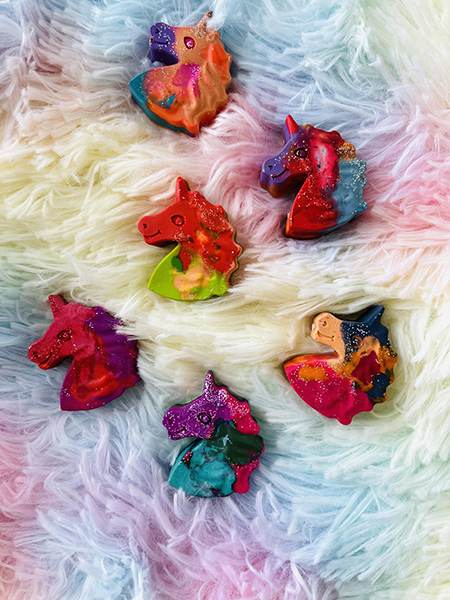 This set of 6 patriotic swirl crayons comes in 3 different styles. They are non-toxic and made entirely of recycled Crayola Crayons.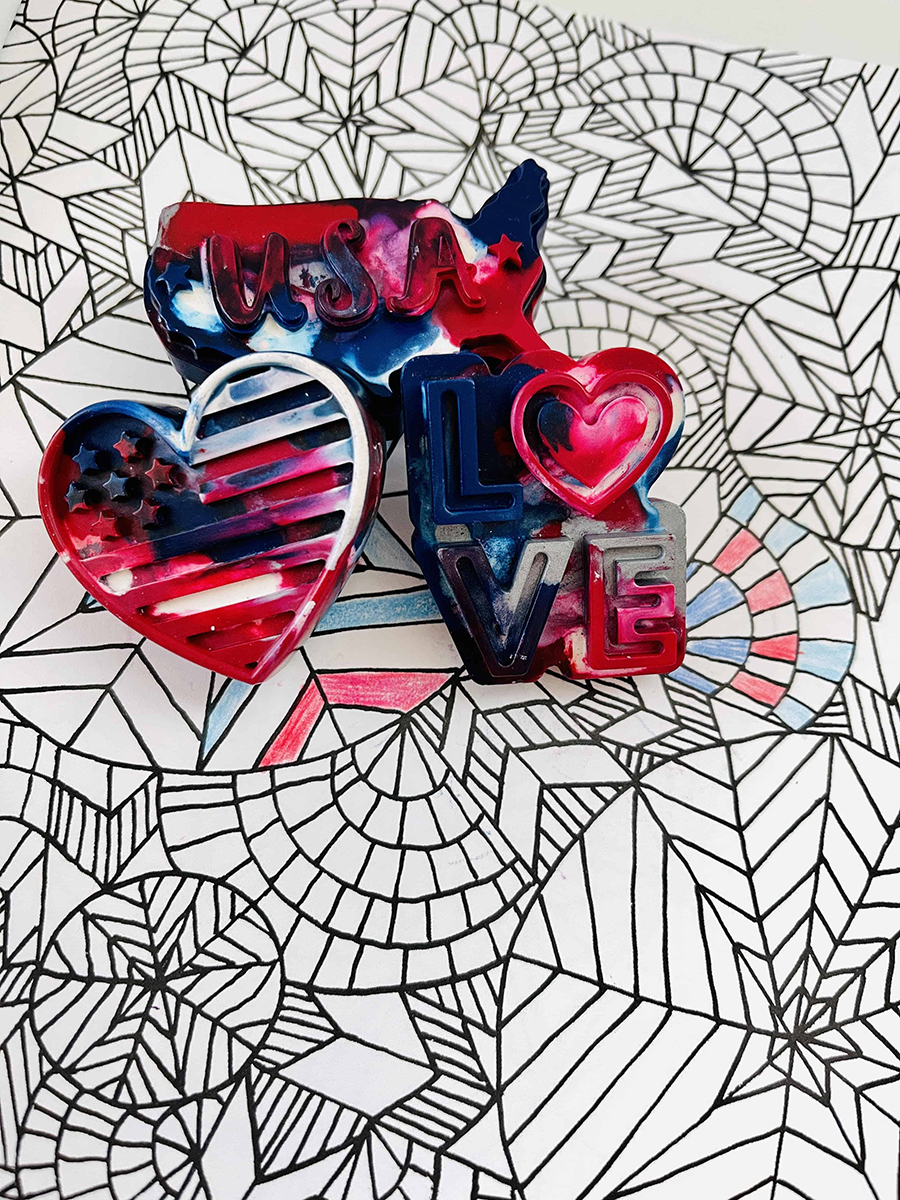 Earth Worm Crayons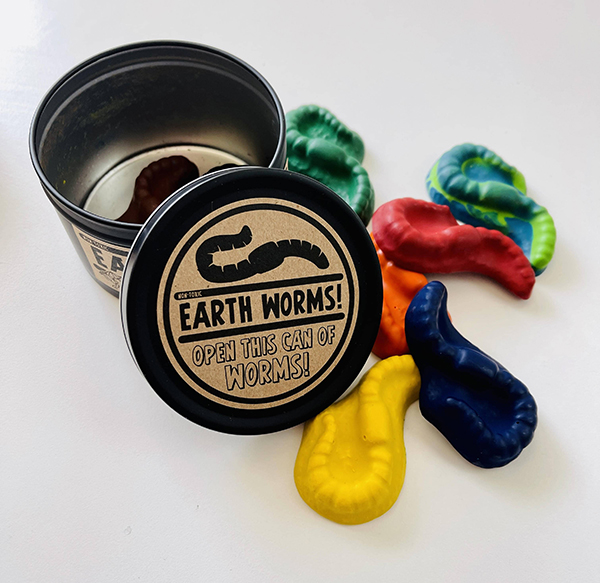 Sidewalk chalk is also an excellent sensory tool for teaching kids shapes, numbers, and letters.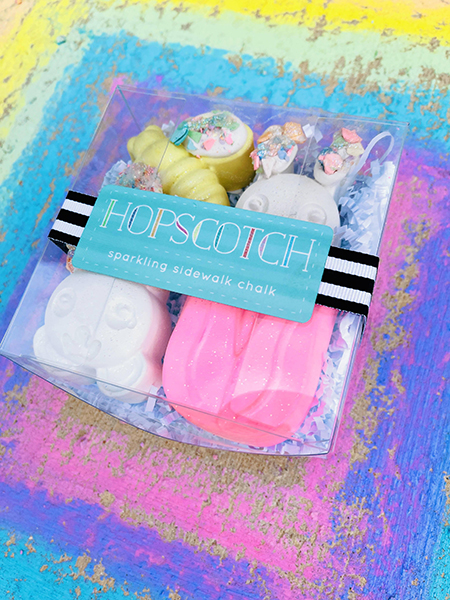 I scream, you scream... No matter your child's favorite ice cream flavor, this sidewalk chalk set is sure to please! This adorable set includes 3 sparkly ice cream cones decorated with a unique mix of "icing", "sprinkles", and sparkles. Their jumbo size is designed just for little hands.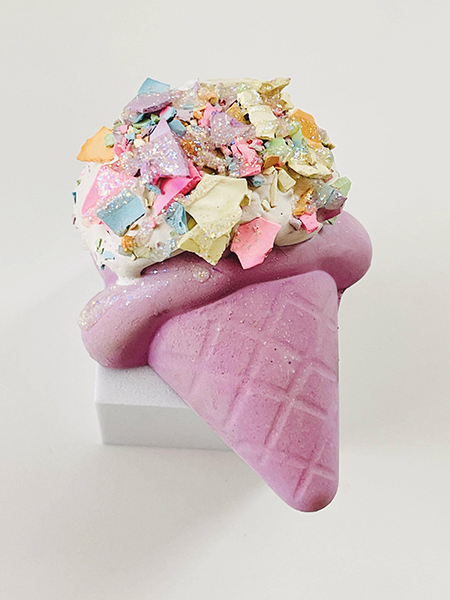 Playdough is an old childhood favorite that we all know and love. It is non-toxic, re-usable, an excellent stress reliever. The internet is packed with recipes for creating a variety of colorful and scented homemade doughs. However, if you're not up for making your own sensory dough, try purchasing a pre-made sensory playdough kit from a small local business. This way, you can still provide a DIY experience for your child without having to start from scratch.
Pre-made sensory playdough kits offer a safe and manageable approach for children to release their stress, anxiety, and other big feelings. After a few minutes of squishing and molding a mound of vividly colored playdough, it's difficult not to feel happier!
For example, the Dough Project's playdough DIY kit includes everything you need to whip up a homemade batch of dough right in your own kitchen! This all-in-one sensory kit contains an organic playdough mix composed entirely of natural ingredients. Ingredients include wheat flour, sea salt, cream of tartar, as well as turmeric for color.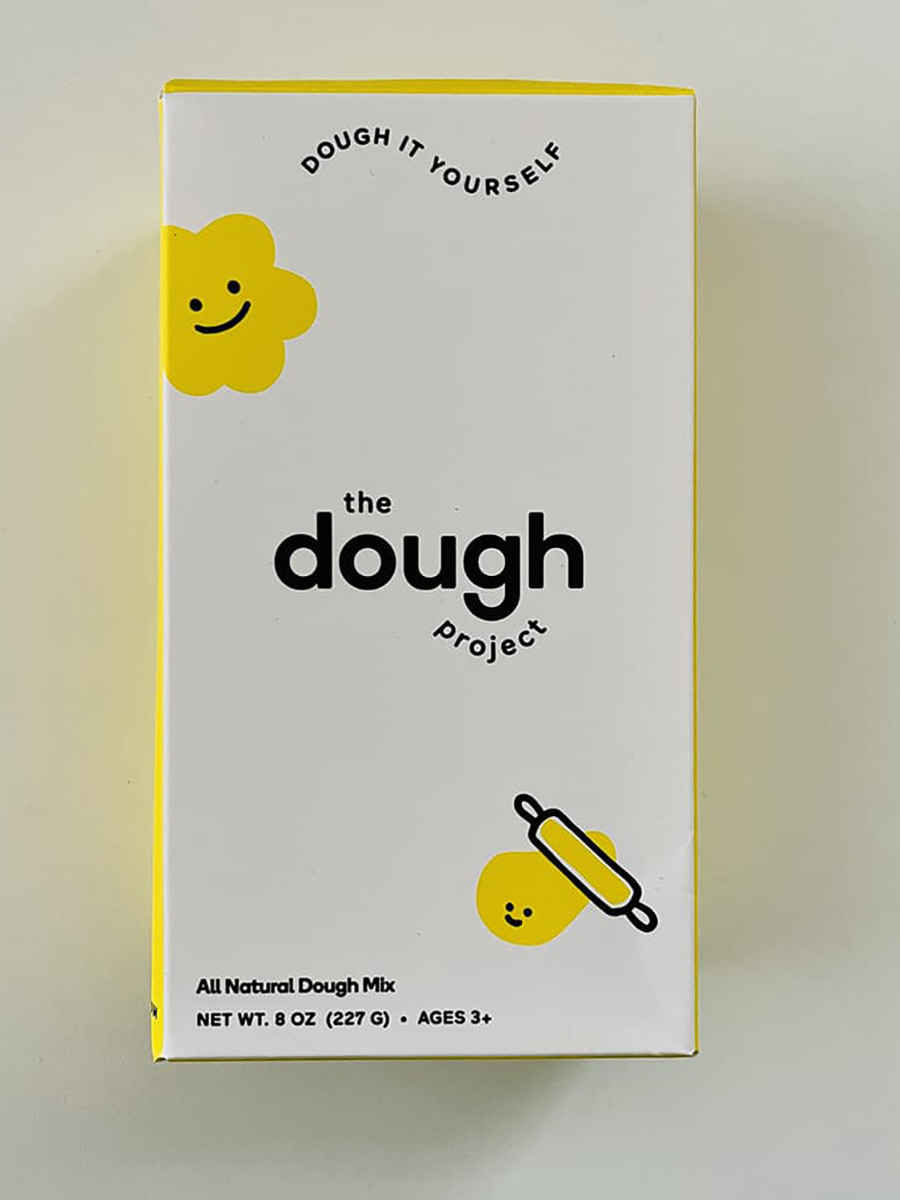 Halloween Themed Mini Dough Kit
Our October toddler box subscription featured these fun Halloween-themed mini sensory kits. These adorable mini sensory bin kits come with eerie playdough topped with a surprise treat inside. They're easily transportable and will keep both toddlers and older children entertained while traveling.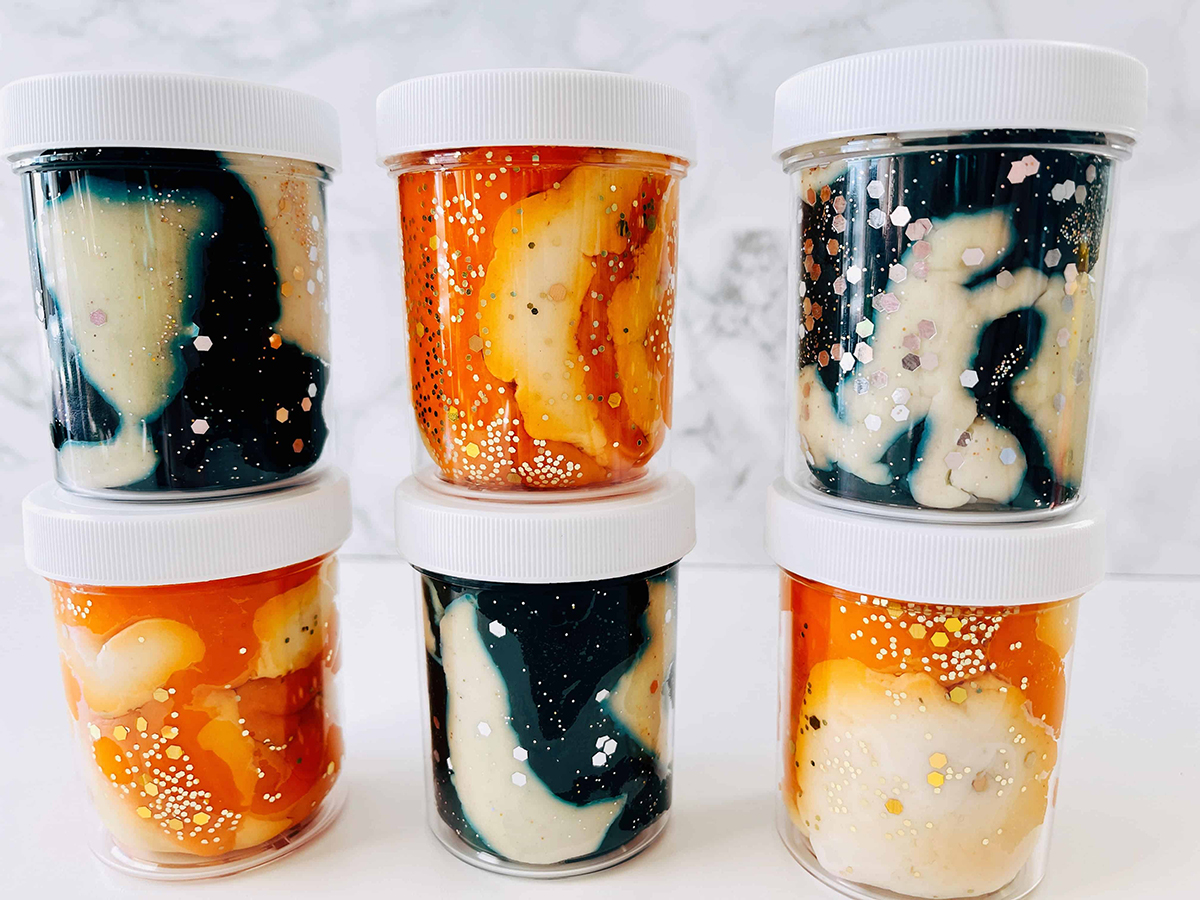 Bee Themed Mini Sensory Dough Kit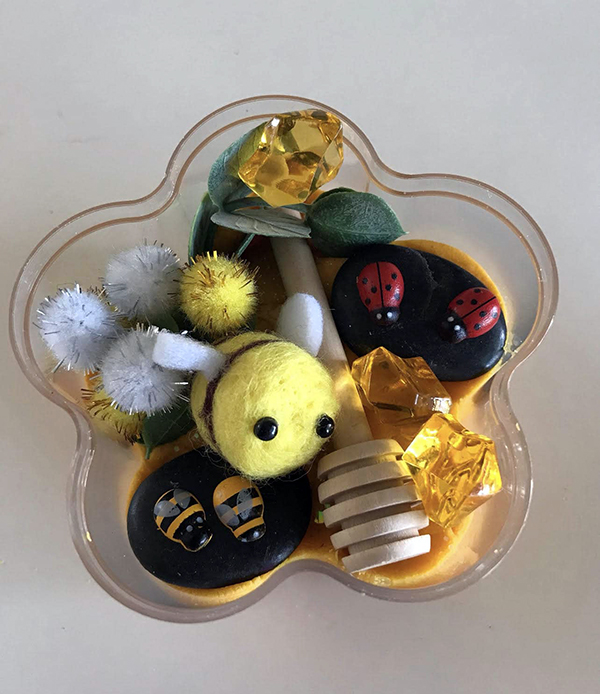 Toddlers and kids of all ages loved this mini snow person sensory playdough kit from our holiday children's gift box. Each kit came with homemade playdough and everything your child needs to build their very own snowman.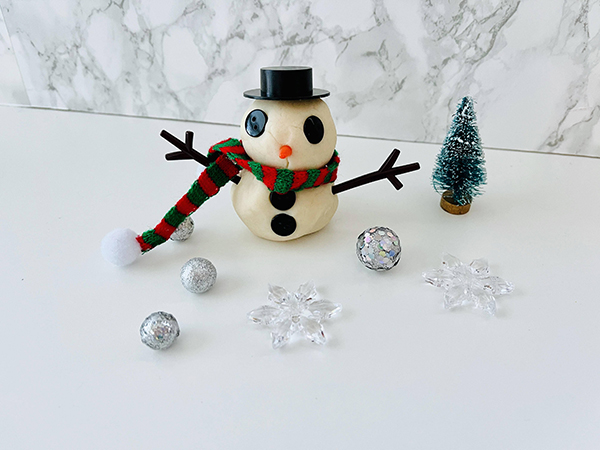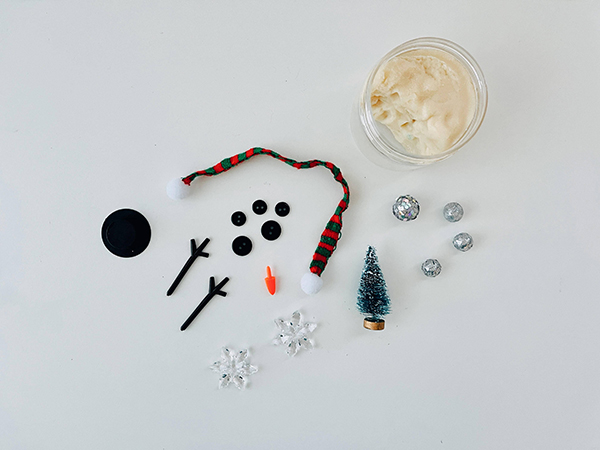 Made from wholesome, organic ingredients, this Unicorn multi-color play dough is handcrafted with plant-based colors, organic essential oils, and eco-friendly glitter and packaging. Children will delight in the whimsical designs, soft hand feel, and calming scent. You'll feel good knowing that beautiful, quality play dough doesn't have to be make-believe anymore.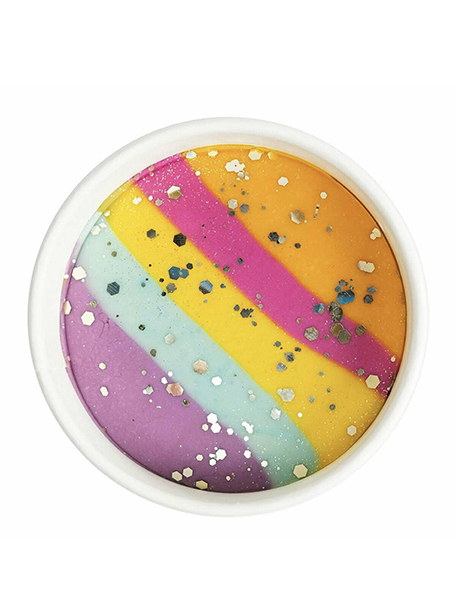 North Pole Sensory Snow Kit
This super fun snow kit from our December 'Sweater Weather' children's gift box has everything you need to make 16 cups of fluffy snow, all you have to do is add water!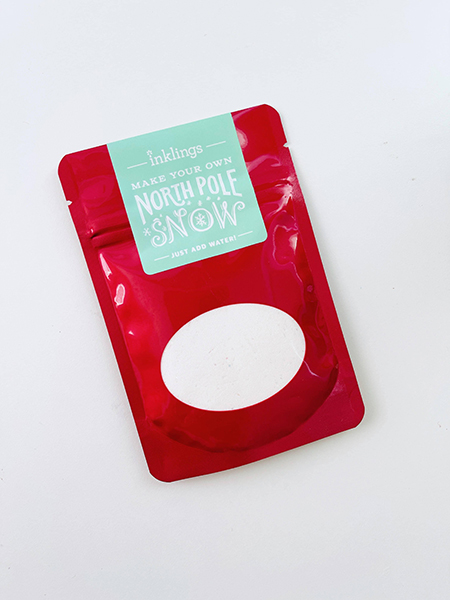 Fall Sensory Play Dough Kit for Toddlers
This sensory playdough kit for toddlers and kids was featured in our November Howdy Kids box. You can't go wrong with open-ended sensory sets like this one, they keep your child entertained and let their imaginations run wild.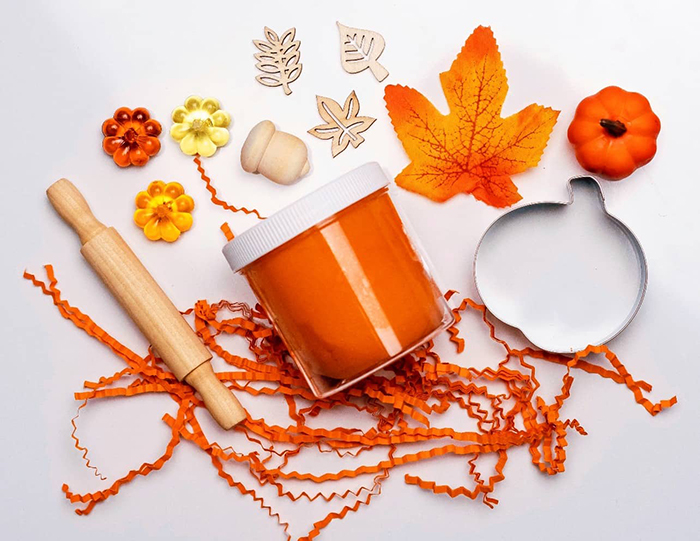 Hours of sensory small world play in a reusable zipper bag. These sensory playdough kits are FILLED to the brim with amazing items perfect for sensory play! These sensory dough kits are also great for combining with your sensory bins for toddlers and kids.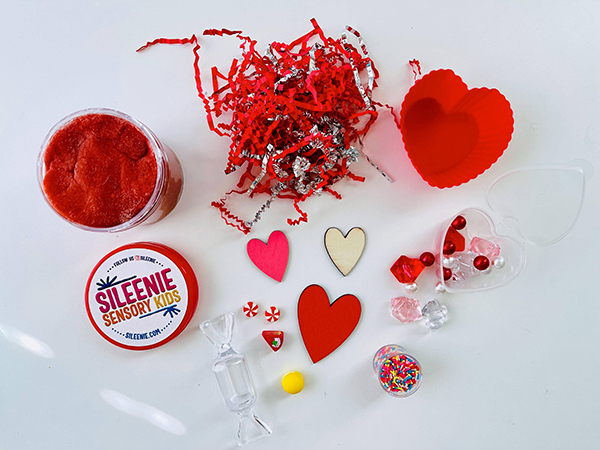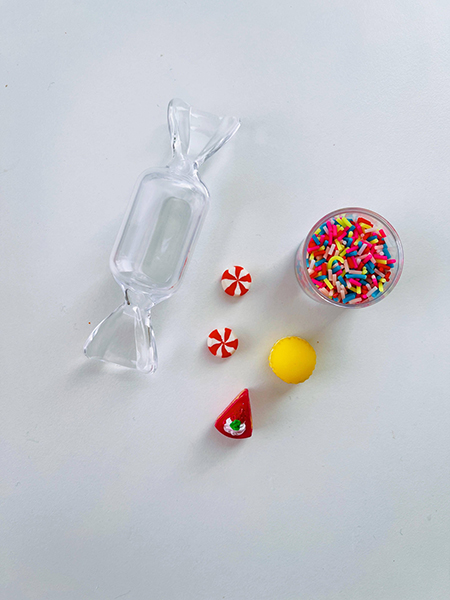 Ideas For Sensory Play - Exploring Sensory Tables, Boxes, & Bins
Sensory bins are essentially just containers filled with items that have different textures, shapes, and colors that babies, toddlers, and kids can play with. Hands-on sensory bin for toddlers play promotes learning through natural play materials such as rice, pasta, and beans. It's also an excellent way for children to engage in a variety of developmental tasks.
Sensory Bins for 1 Year Olds & Babies
When it comes to sensory bin playtime for 1 year olds, safety is always the top priority. The most important thing to remember is that sensory bins for one-year-olds should not include any little loose bits.
Cereal Sensory Bin
This sensory bin activity is suitable for babies as young as 6 months old. Simply fill a plastic bin with baby-safe cereal and place it on top of a large blanket, tablecloth, or shower curtain for easy clean-up later. You can add larger, age-appropriate objects that may spark your child's interest to the mix as well. Show your baby how to fill up and empty out the stacking cups and you can even add some scoops of different sizes.
Water Sensory Bin
It's amazing how a bowl filled with only a few inches of water can create a truly fantastic sensory toy experience, especially given how simple it is to prepare and how much babies love playing in it. Babies as young as a few months old will have a great time splashing their hands in a bowl of water. They'll enjoy kicking their feet while watching in awe as the water flows between their little fingers and toes. It should go without saying but make sure you supervise your child and play alongside them in the water to make sure they are safe at all times.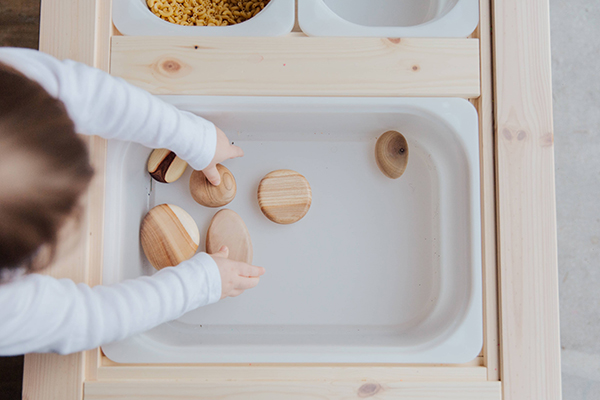 Dried Pasta Sensory Bin
This sort of sensory bin is a lot of fun because it allows baby to experiment with different textures and shapes. Fill your sensory bin with large pasta shells and add in age-appropriate objects that may spark your child's interest, such as larger toys and textured fabric. Always remember to supervise your infant during this activity to ensure the pasta shells do not break into smaller pieces.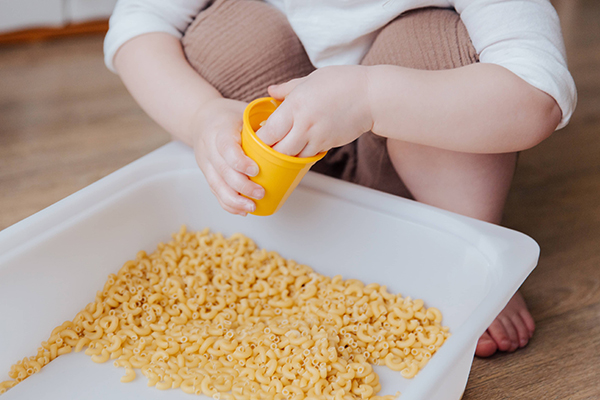 Flour Sensory Bin for Babies
One of the three activities was this one, set out a tray of flour to let your kids explore.
Sensory Bin Ideas For Sensory Play - Toddlers 20 Months & Older
When your child gets older, they'll learn that they shouldn't put everything in their mouth, and you will be able to play with more complex toddler sensory bin filler ideas. Here are some additional toddler sensory bin ideas to explore with your child as they become older.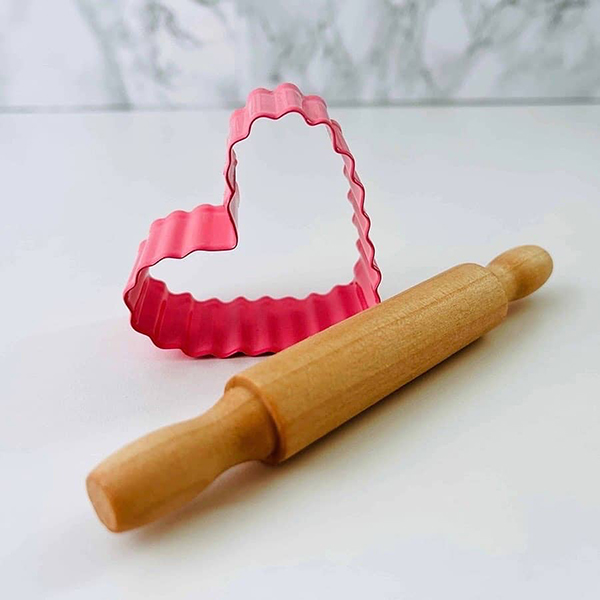 Rice Sensory Bin
Rice is a very common and super popular sensory bin filler. You and your little one can dye the rice together or you can pre-color it a day before playtime if your child is still a bit too young to be playing with paint. Click here for detailed instructions on how to make colorful rice, for your toddler's sensory bin.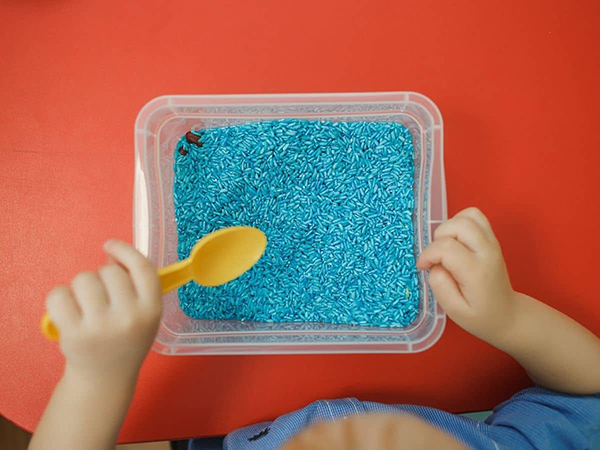 Chickpea Toddler Sensory Bin
Chickpea sensory bins are one of our favorite go-to activities. You can paint the chickpeas different colors and add in household items to create themed sensory bins. Anything goes, especially little figurines, poofy pom-pom balls, and any other sensory toys for toddlers.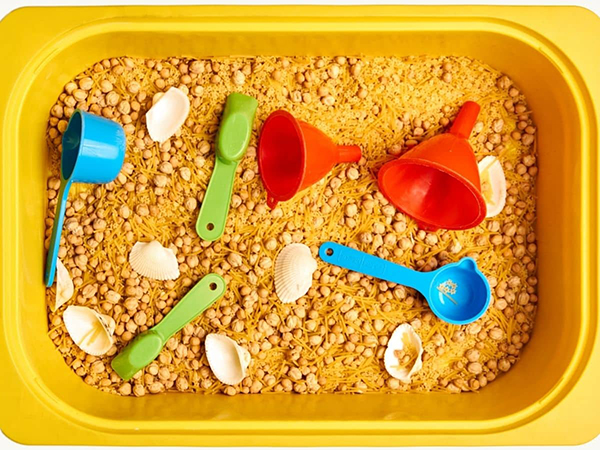 Sand Sensory Bins for Toddlers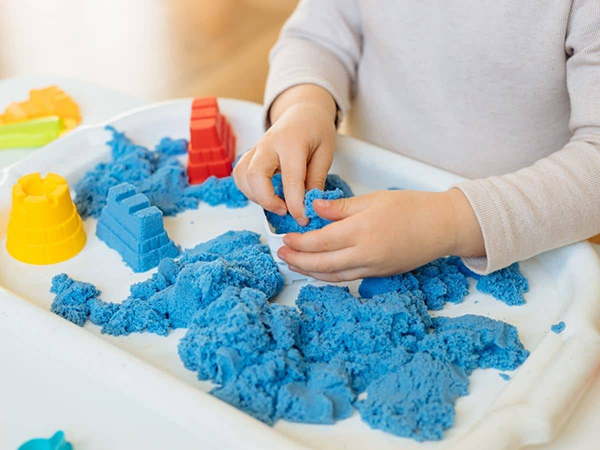 Preschool Sensory Bins - Ideas For Sensory Play
Hands-on sensory bin play is also an excellent idea for preschool-aged kids to engage in several different developmental tasks. You can create sensory bins to encourage hands-on learning through natural play materials such as rice, pasta, and beans. The best part about sensory bins is that they're so easy to change up, so your child won't get bored. They also grow with your child too!
Water Bead Sensory Bin
Sensory water beads are essentially gel balls that expand when they get wet. They also have a slimy, sticky texture and are a great sensory activity for kids.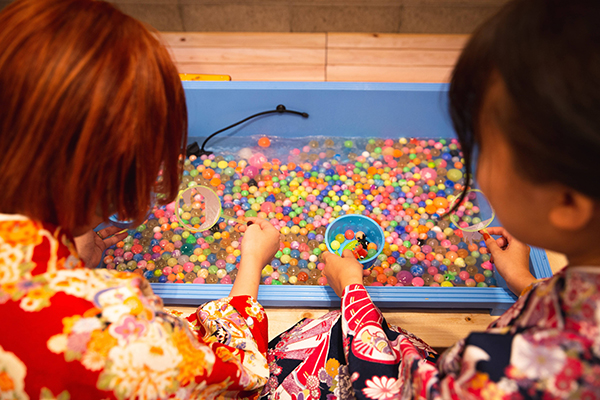 Aquarium Rock Sensory Bin
Aquarium gravel is perfect for sensory bins because it comes in a variety of colors ranging from neon bright to thoughtful neutrals.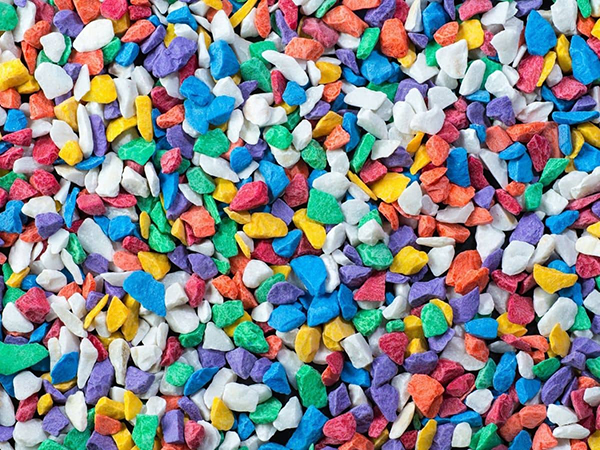 Sprinkle Sensory Bin
This is another interesting sensory bin filler that you can use instead of rice, chickpeas, or pasta. You can add scoops and funnels into your toddler's sensory bin to introduce concepts such as 'heavy and light' as well as 'full and empty'. Toddlers develop hand strength and coordination by swirling, scooping, digging, and pouring different items and materials in sensory bins. Tools like these also help children strengthen their grasp which is required for writing.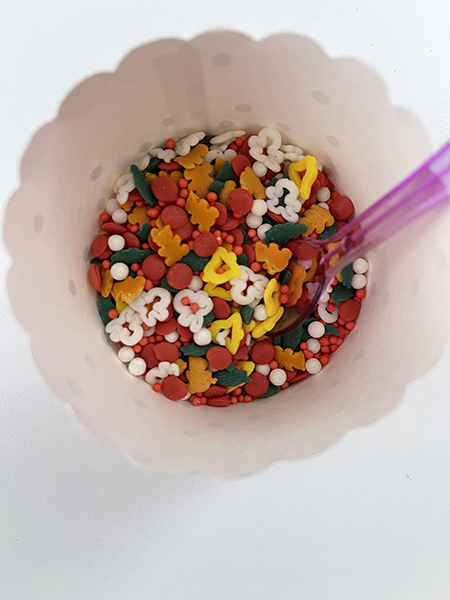 Gems & Pearls Sensory Bin
When it comes to sensory playdough kits, gems and pearls are a lot of fun to use, and they also make excellent additions to your child's sensory bins.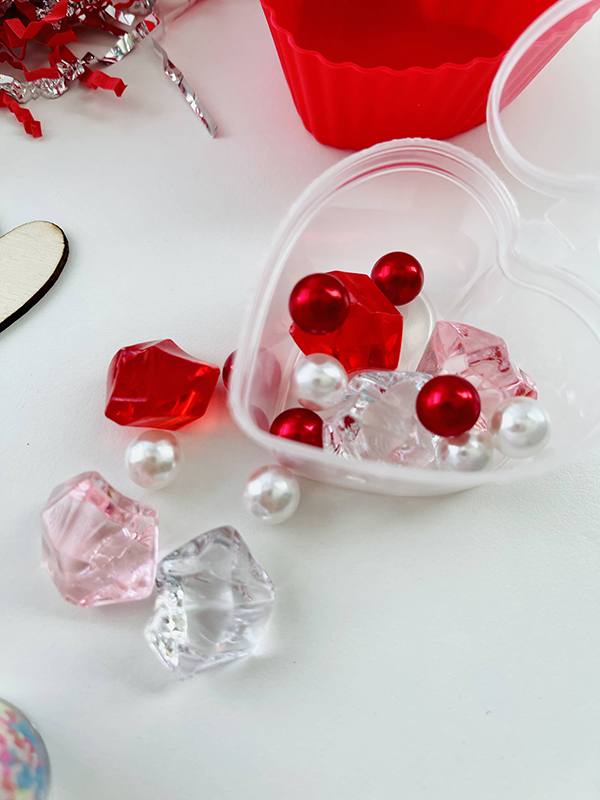 Themed Sensory Bin Ideas For Sensory Play
Another great thing about sensory bins for toddlers is that you can fill them with anything you like. We always enjoy making sensory bins for special holidays, so I wanted to leave you with a few sensory bin theme ideas that my kids and I have enjoyed making together in the past.
4th of July Themed Sensory Bin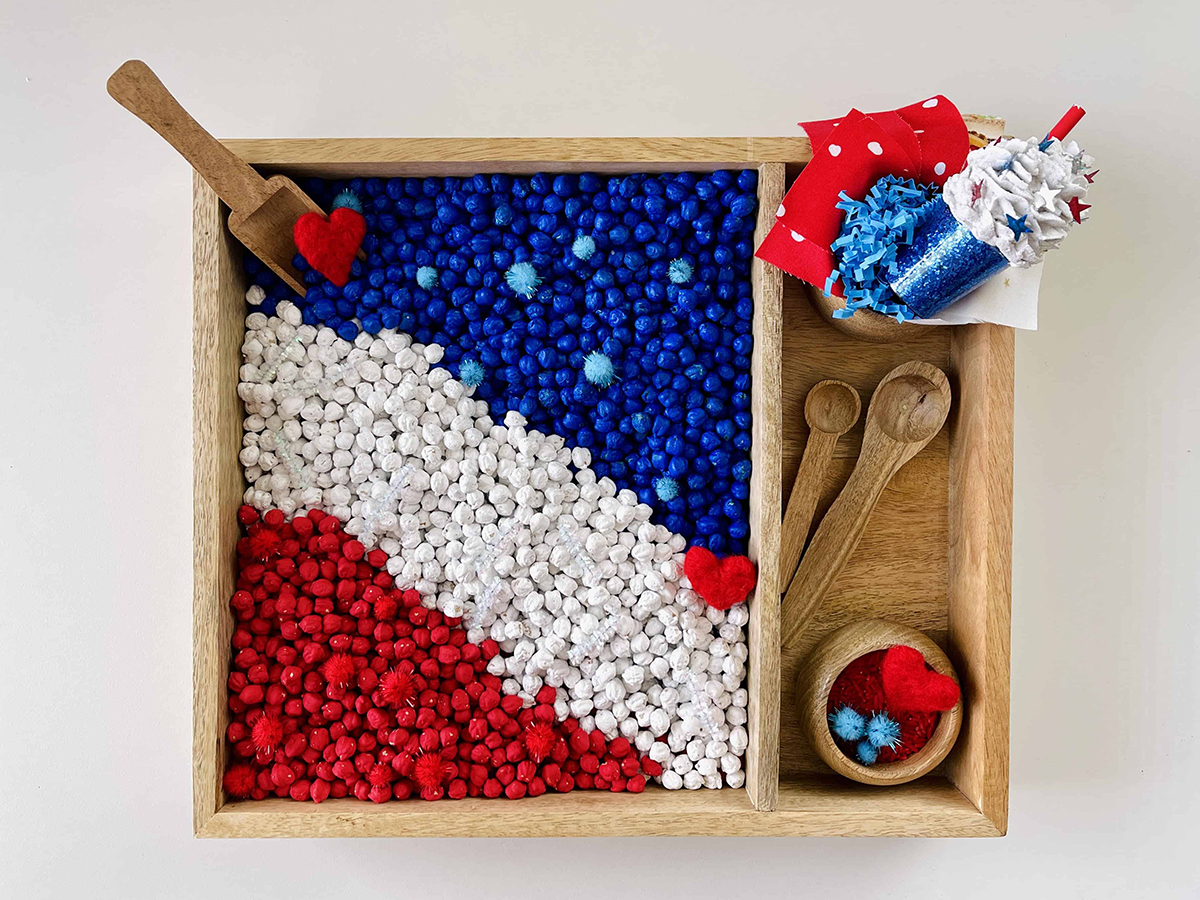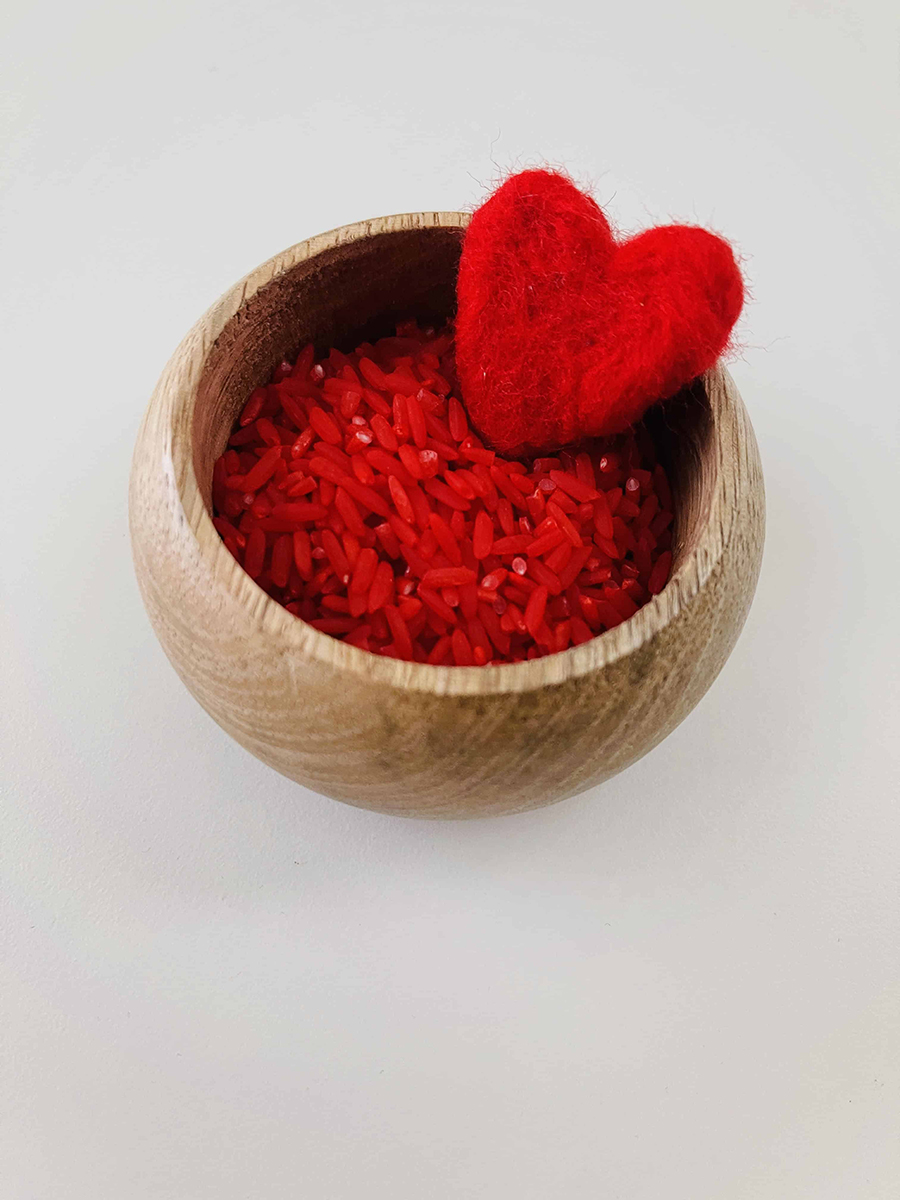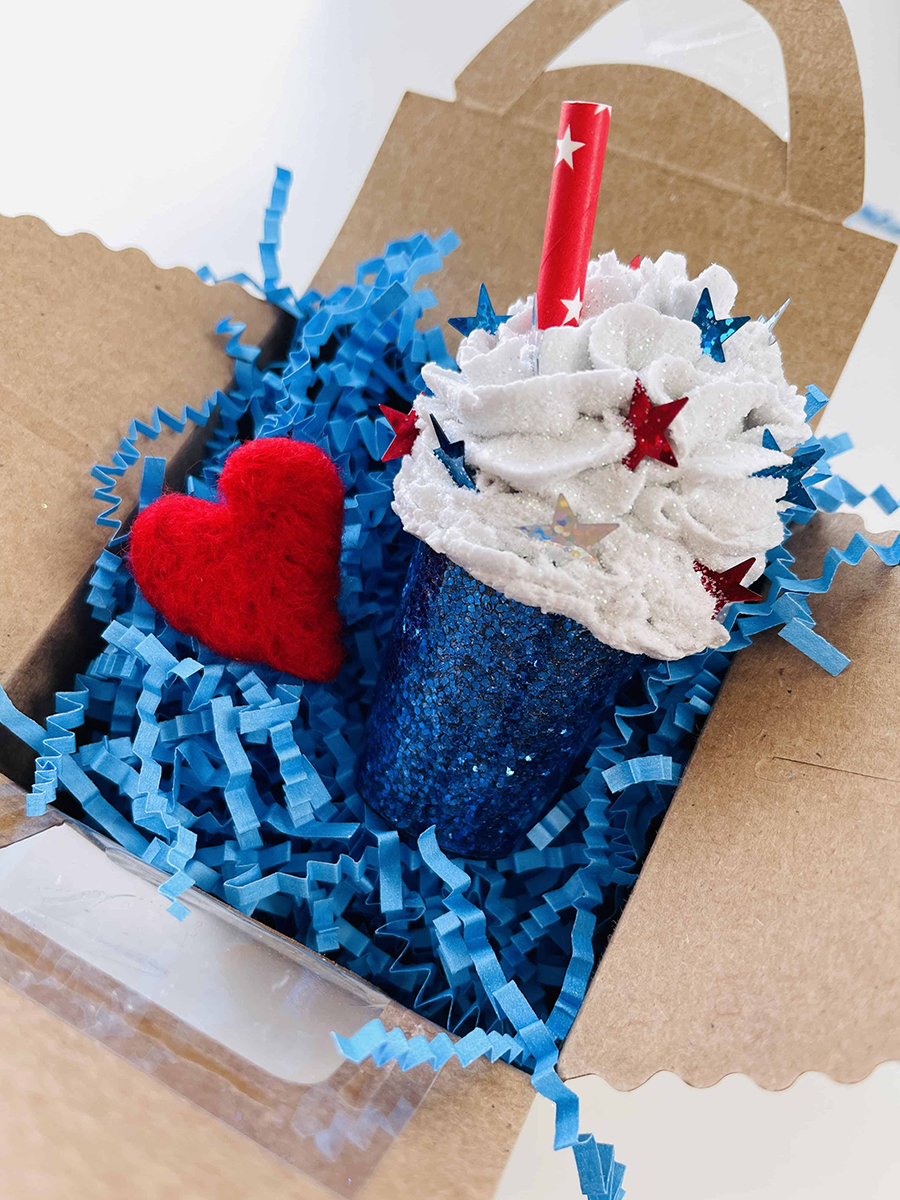 Bee Themed Sensory Bin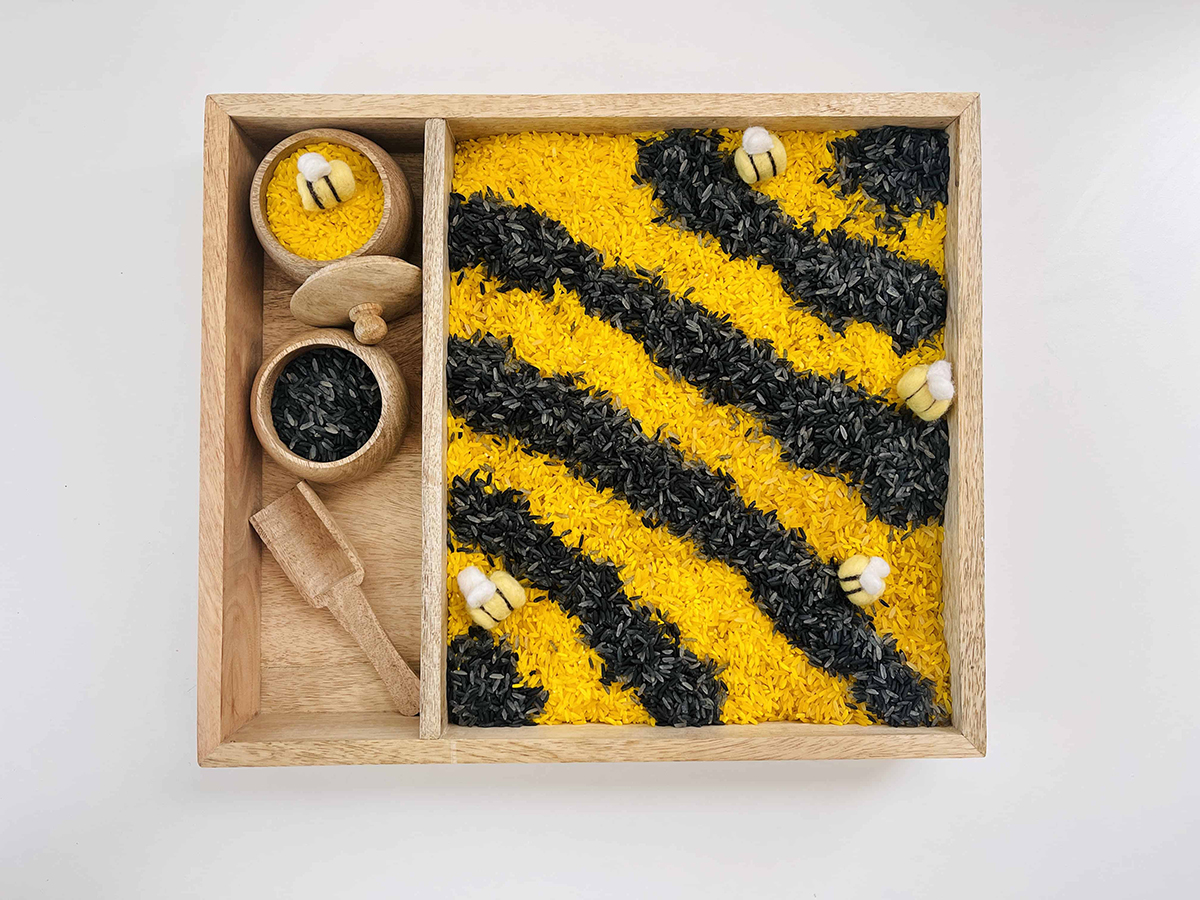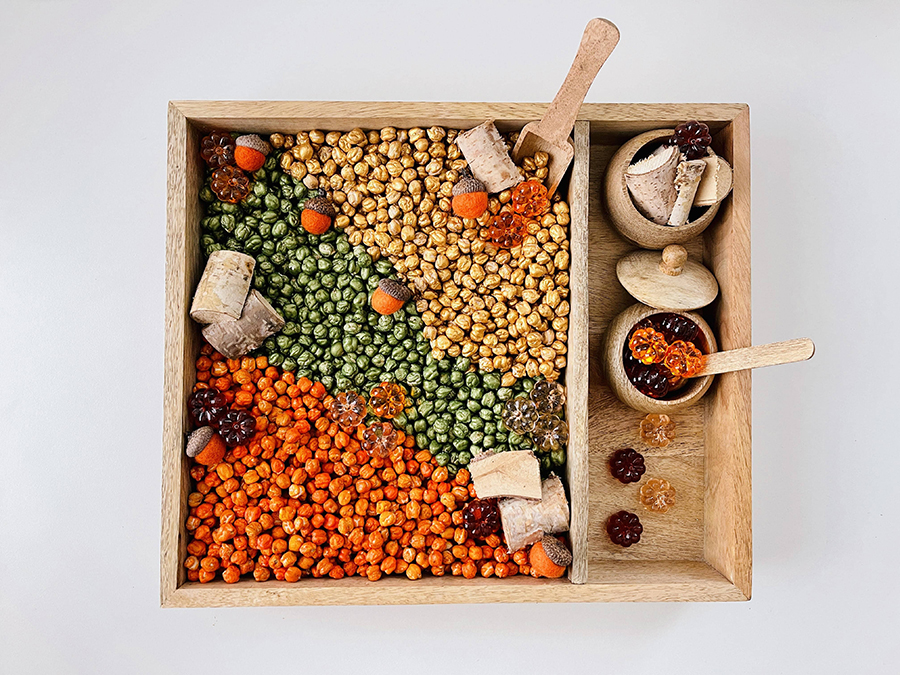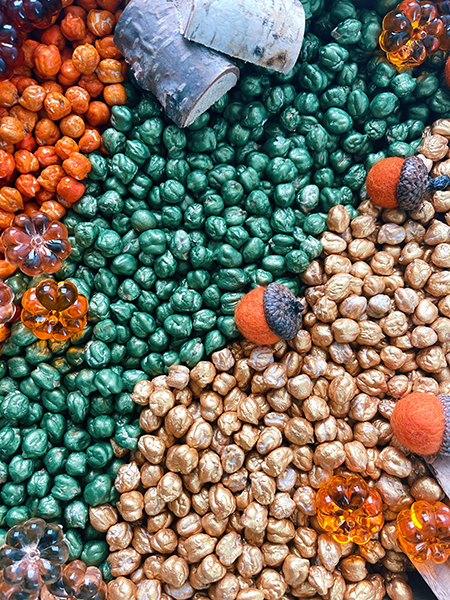 Bug Themed Sensory Bin for Toddlers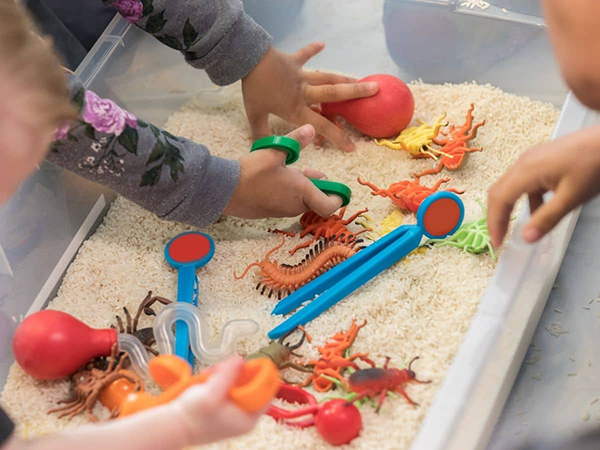 Rainbow Themed Sensory Bin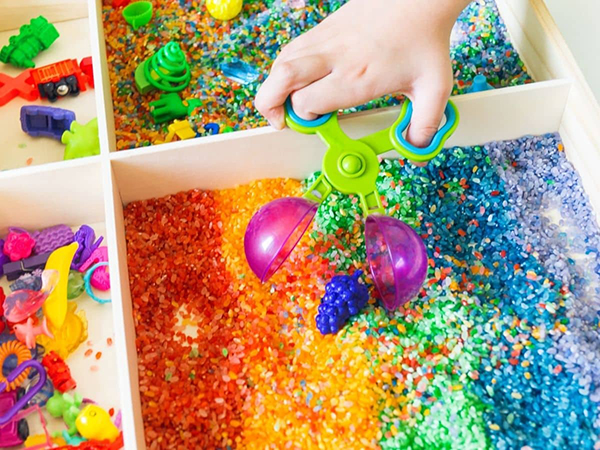 Spring Time Sensory Bin for Toddlers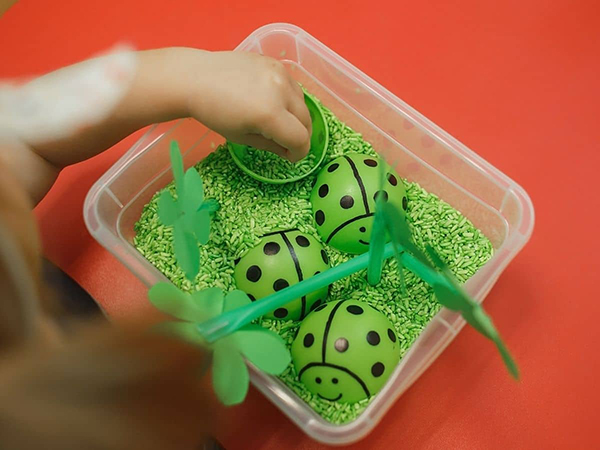 Ideas For Sensory Play - Final Thoughts
Sensory play doesn't have to be complicated to be fun! It might be a little messy at times, but it is really beneficial for your little ones learning and development. I hope these suggestions encourage you to explore different sensory play ideas to introduce into your child's daily routine.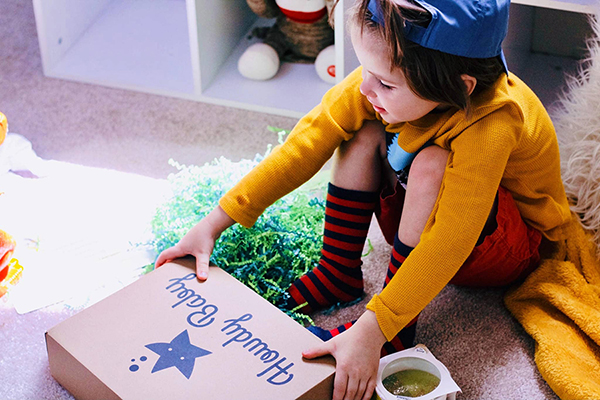 Check out our monthly baby and kid's subscription boxes where you'll discover more open-ended play ideas and fantastic family-friendly products from women-owned small businesses.