Ideas for sidewalk chalk art ideas have been popular ever since I can remember. Making amazing art with sidewalk chalk dates back to the days before screens became so popular among children and beginner artists alike. Even in today's tech-driven world, however, sidewalk chalk remains a favorite classic go-to activity.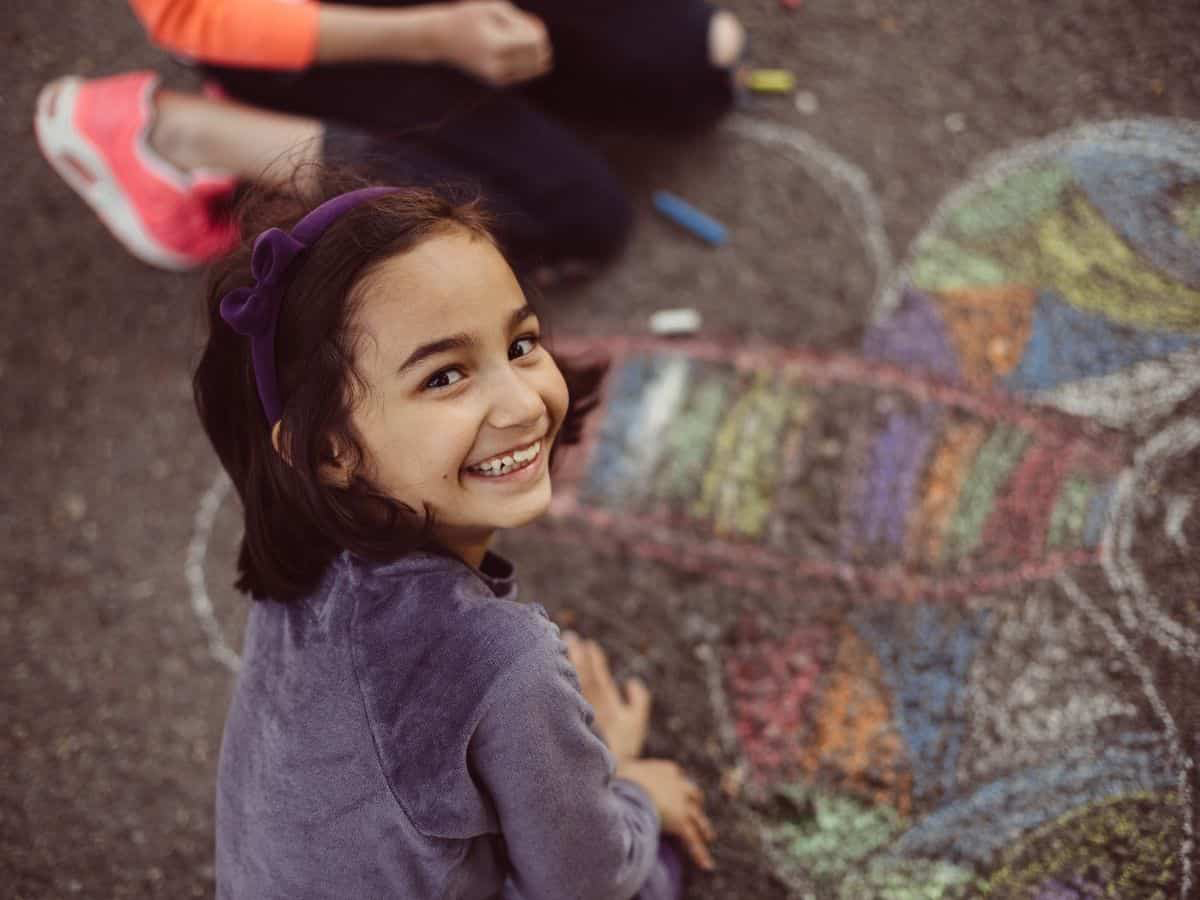 Sidewalk chalk has definitely come a long way since I was a kid in the 90's. There are so many different kinds of chalk available for kids these days. Including awesome new colors, sparkle chalk, and more!
There are entire sidewalk chalk drawing festivals dedicated to beautiful chalk art pieces created by modern street artists. We've also seen some incredible inspirational chalk signs and messages. It's no surprise that classic educational chalk games and activities like hopscotch and four square have evolved as well!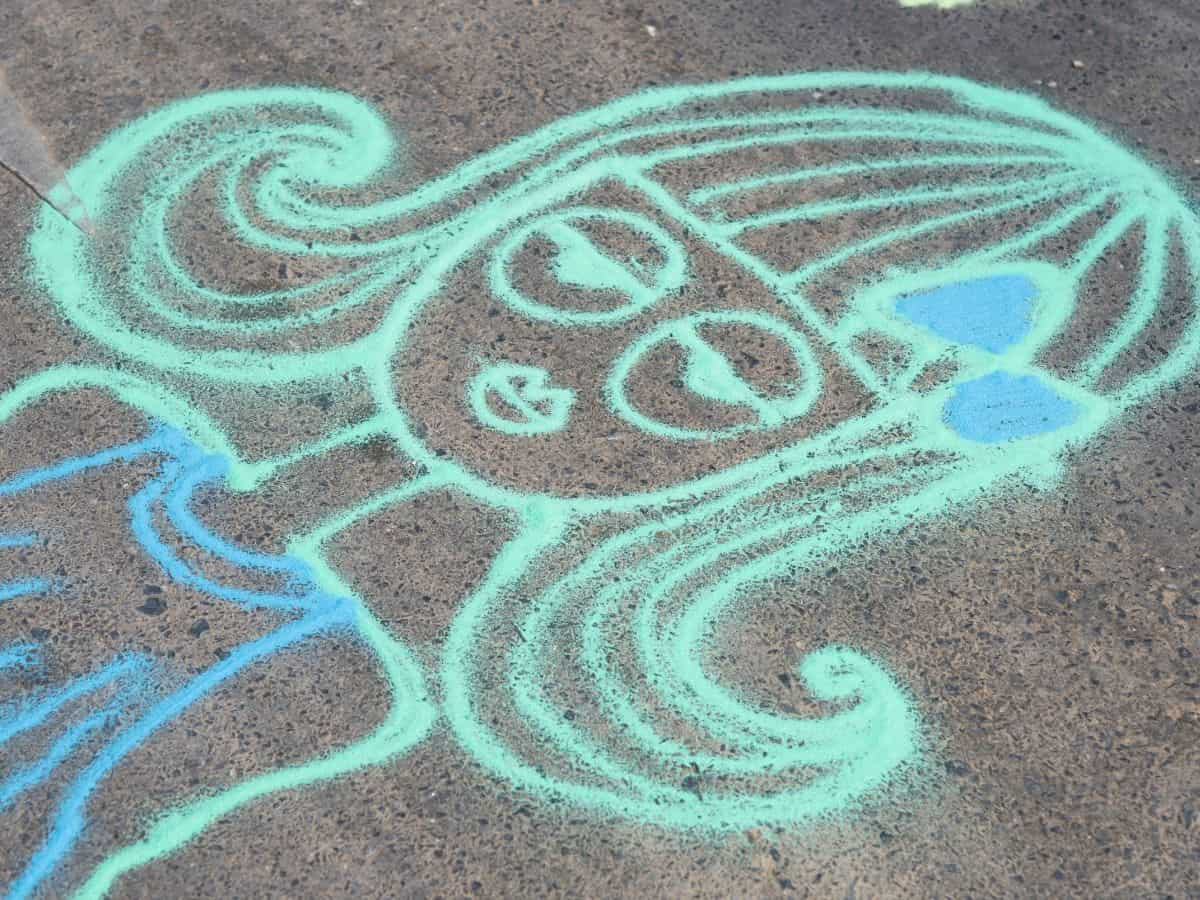 So, if you want to channel your inner artist, here are some awesome sidewalk chalk art ideas from some of our favorite bloggers, artists, and creatives! These simple creations are ideal for artists of all ages & skill levels and they're sure to bring a smile to anyone who passes by!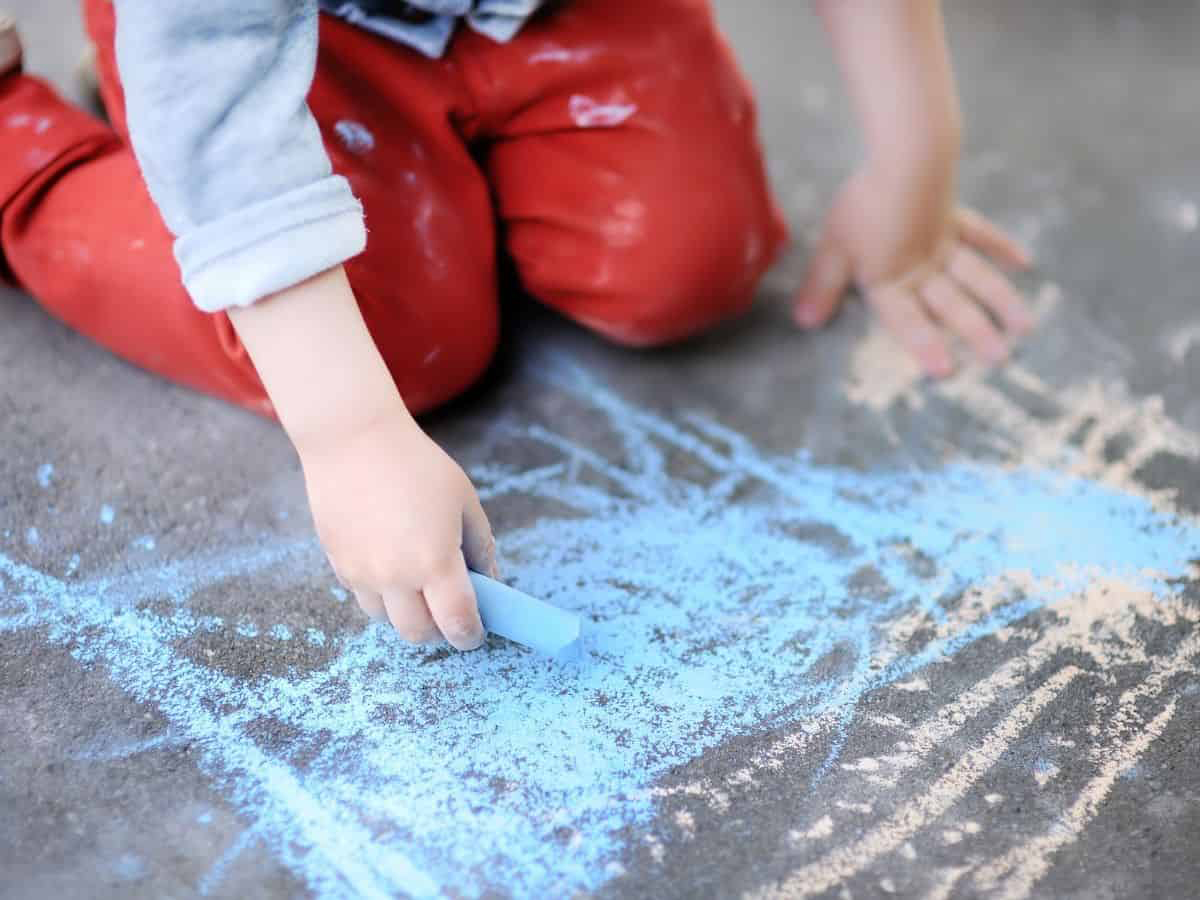 There are many ways to make your own Sidewalk chalk paint if you're up for the challenge. We like Amy Latta Creations' simple-to-follow tutorial.
What is Chalk Art?
Chalk art, in its most basic definition, is when you create visual art on a chalkboard, sidewalk, or similar surface, usually with chalk. It is often used to beautify the streets but has many other purposes as well. While chalk art dates all the way back to the Stone Age, the street art tradition began in 16th-century Italy, when wandering artists made their living by replicating Madonna images on the sidewalk.
In recent years, chalk art has commonly been used collaboratively, particularly during the pandemic, to boost neighborhood morale.
50 best sidewalk chalk art ideas to try this summer
You may also like: 15 Creative Games to Play With Sidewalk Chalk
1 - Stencil Affirmations
Affirmations are something we could all use a little more of, especially in these difficult times. There are a million different ways you can share positive affirmations with your neighborhood or community.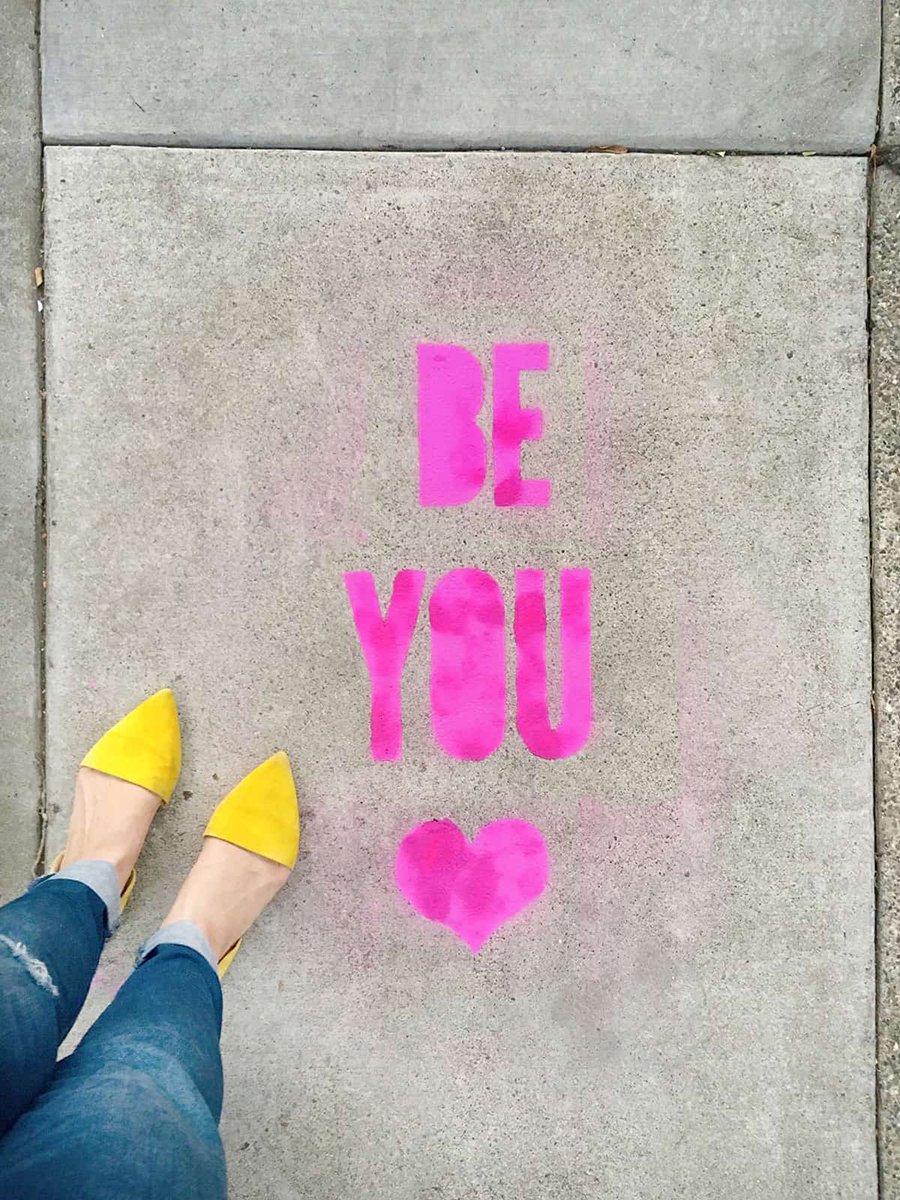 PHOTO CREDIT: LOVELY INDEED
Lovely Indeed's DIY stencil spray sidewalk chalk messages, for example, are a simple and quick way to brighten someone's day.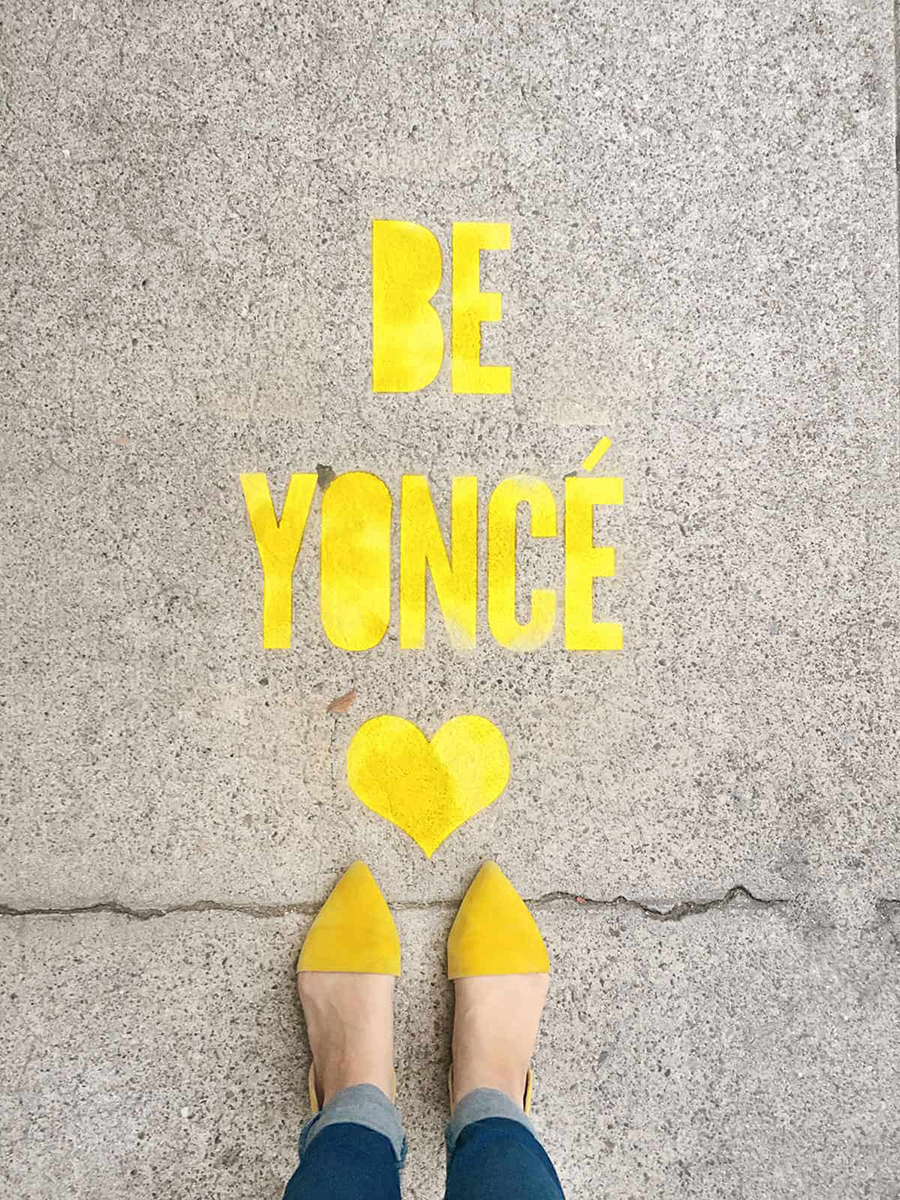 PHOTO CREDIT: LOVELY INDEED
2 - Always Look On The Bright Side Of Life
If your children are home for Spring Break or Summer vacation and you need some simple projects to keep them occupied and away from screens, you can have them create inspiring sidewalk chalk messages for passers-by. Positive sayings like this one are springing up all over our area, and they're always fun to look at when walking around the block!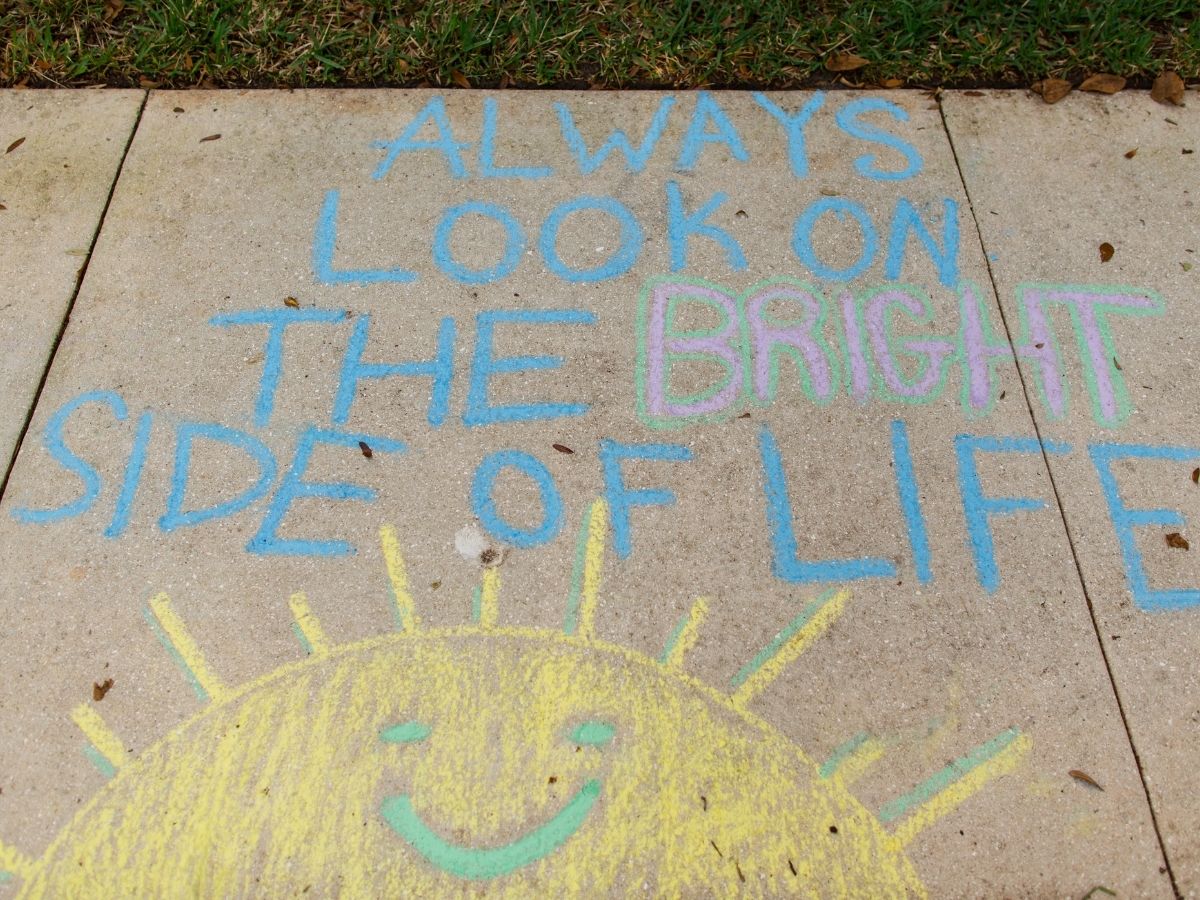 3 - Hang On To Hope Mural
This is a simple but heartwarming statement that can brighten anyone's day. It's also quite simple to replicate! Who knows whose day you could brighten with an inspiring little message like this one.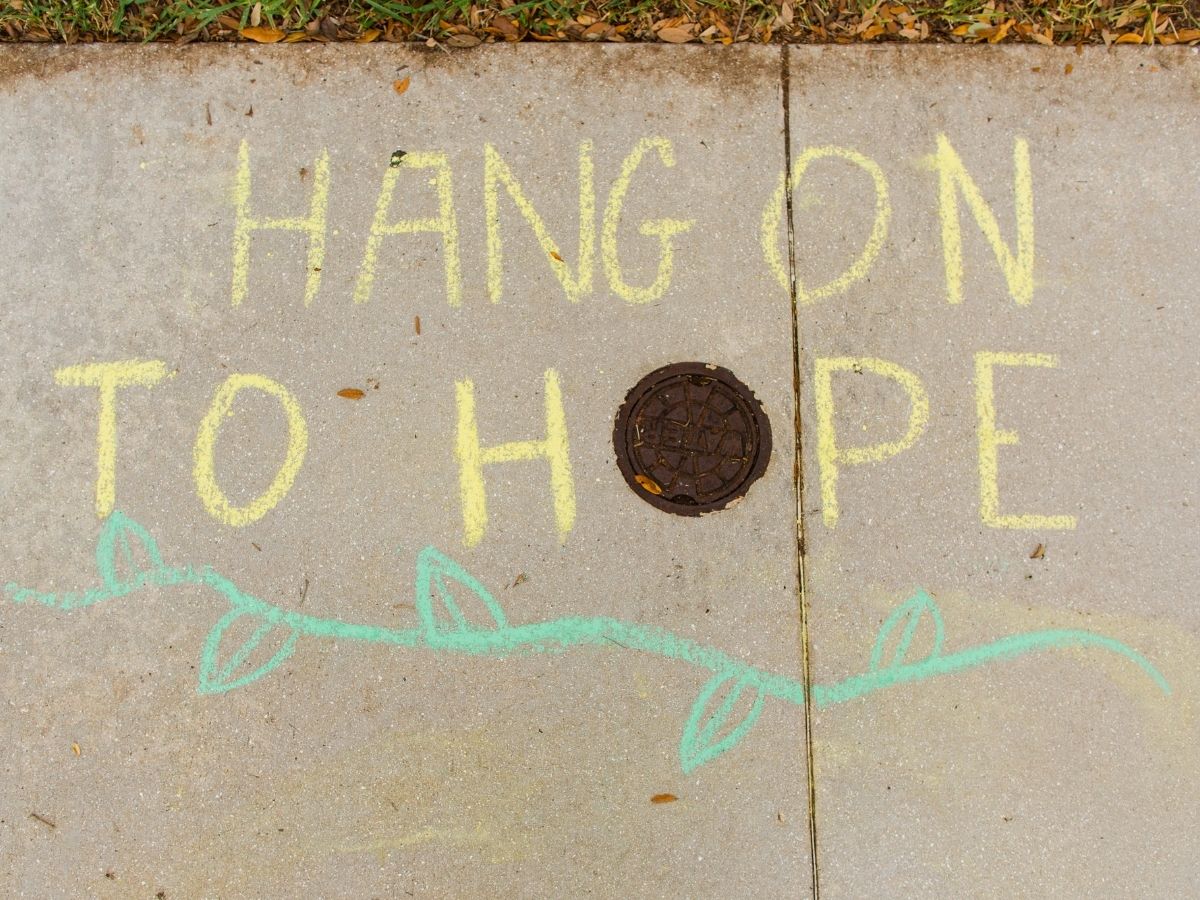 4 - Spring Time Critters
Cute Spring and Summer inspired critters like bees and snails make super easy beginner sidewalk chalk art. They're also a lot of fun to draw! Take a look at how simple these are to recreate.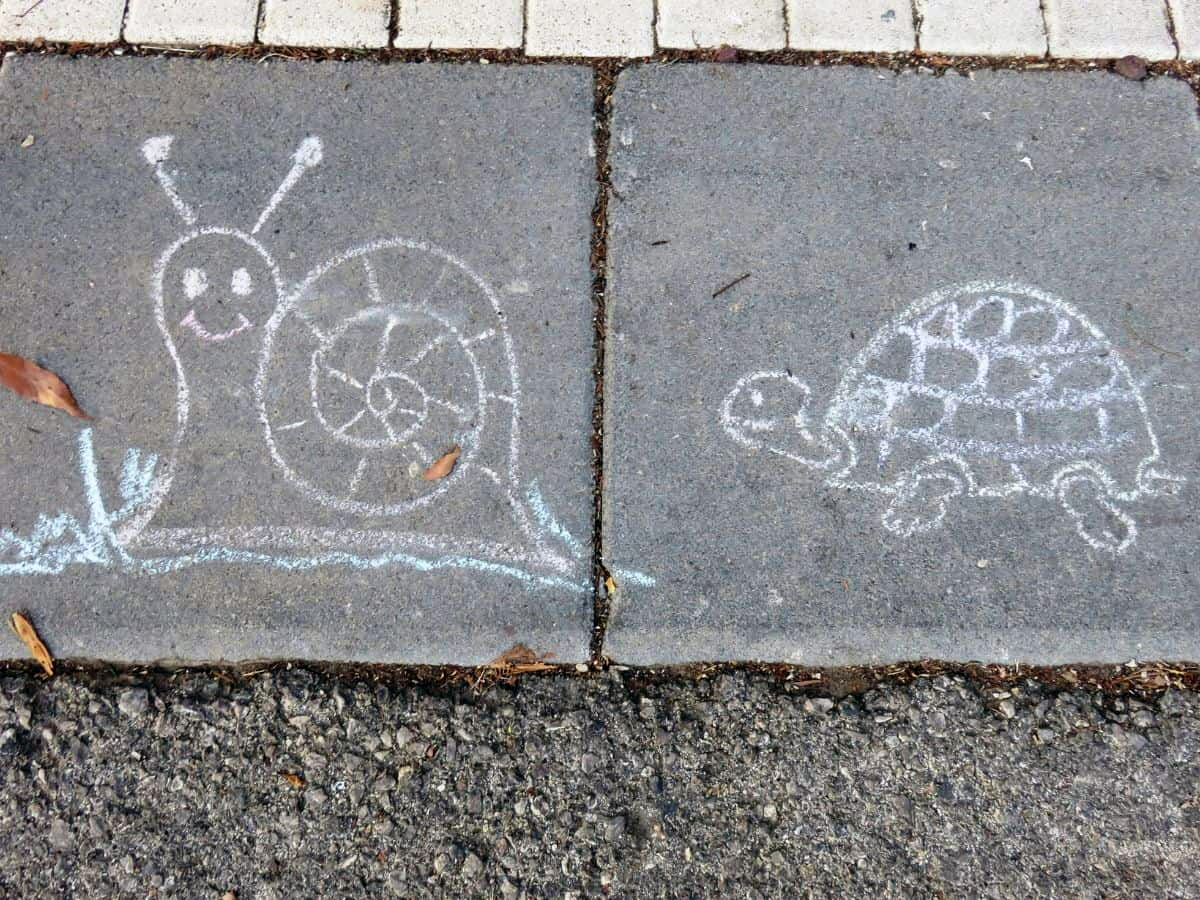 5 - Sunny Day Vibes
Sunny day vibes are ideal for summer, and sidewalk chalk fun, not to mention messages like this one are great for kids to feel connected to other people in the community.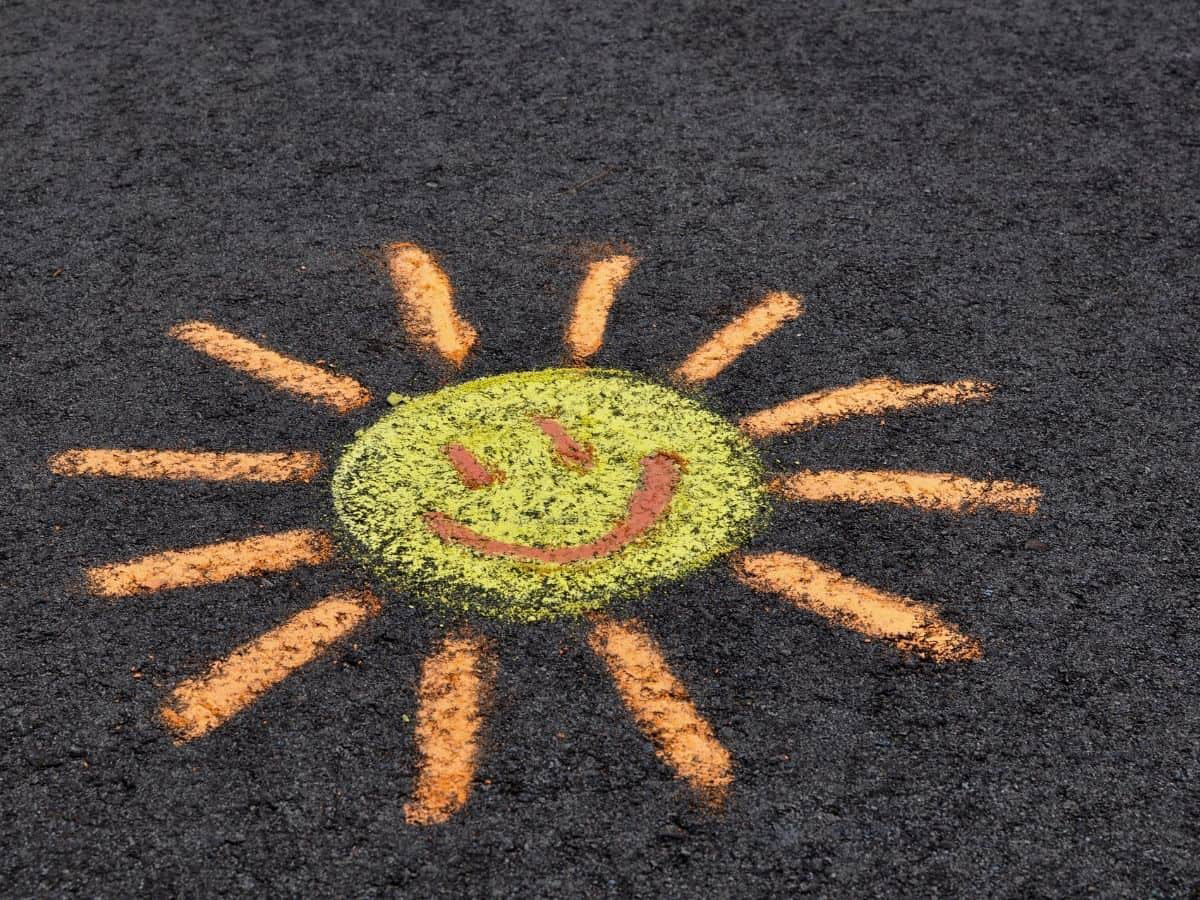 6 - Bubble Art
Feel free to experiment with other creative ideas, such as these bubble sidewalk chalk art designs. These kinds of activities are not only enjoyable, but they also help children manage stress on a regular basis.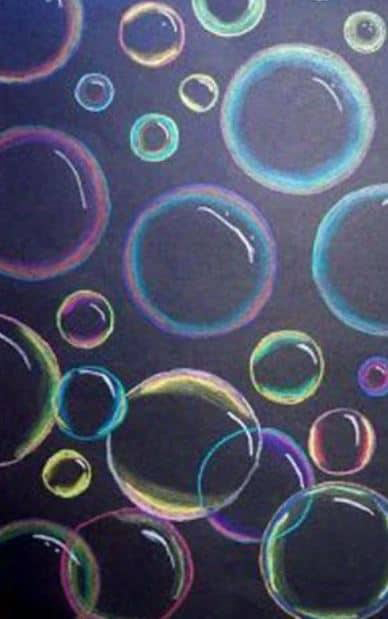 PHOTO CREDIT: THE LOST SOCK
7 - Zig Zag Shapes
It feels nice to be outside now that the weather has warmed up and summer is almost here! Drawing zig-zag shapes is as easy as it gets and will keep your toddler or preschooler entertained for hours!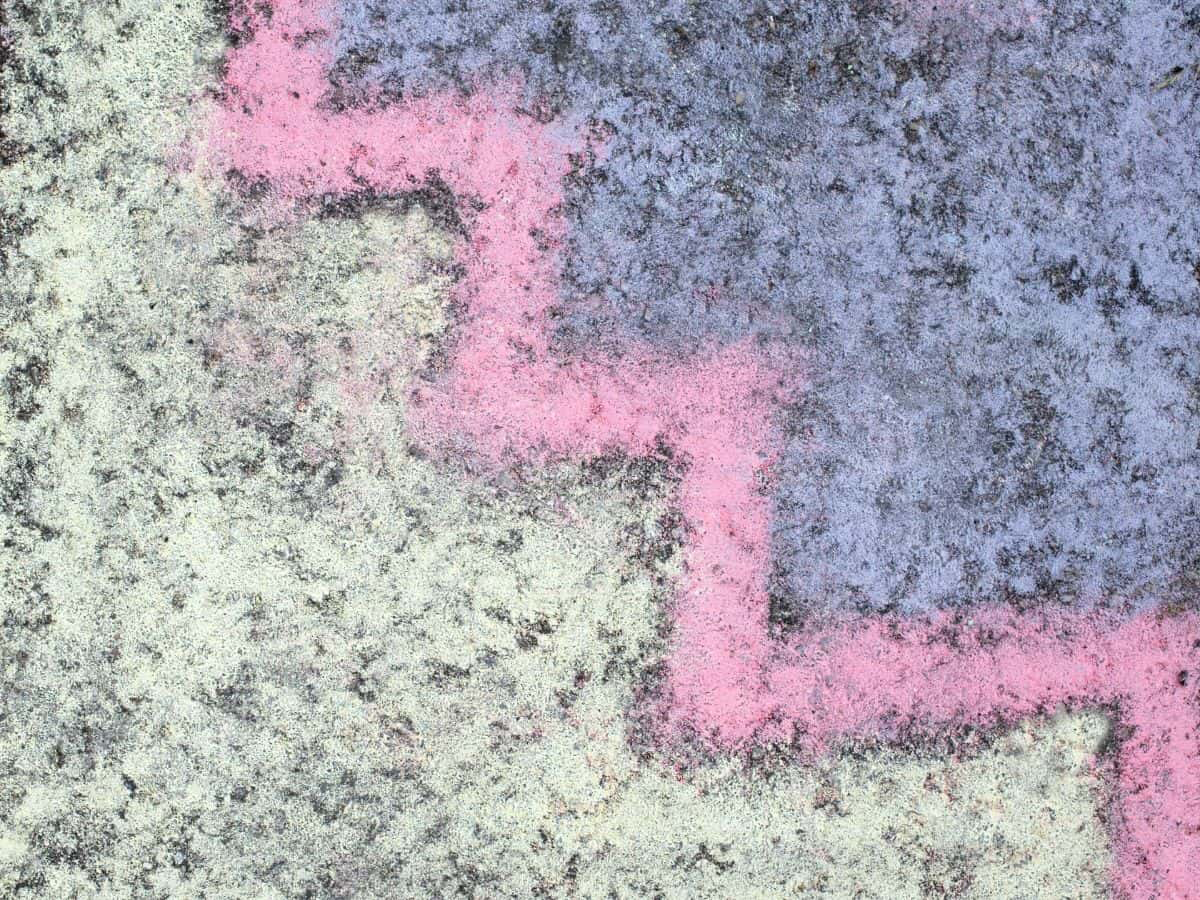 8 - Driveway Monopoly
It's a lot of fun to draw life-size game board games on the sidewalk with chalk. Like this life-sized Monopoly sidewalk chalk game...it looks great, it's fun to make, and it's much more fun to play outside than the original!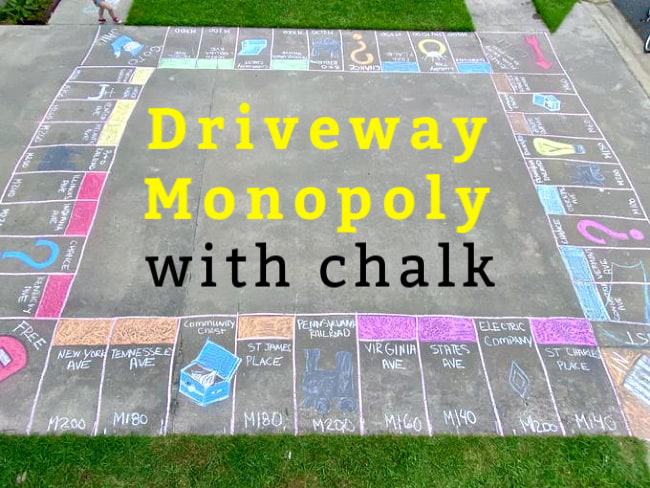 PHOTO CREDIT: YOUR MODERN FAMILY
9 - Shapes and Patterns
Toddlers learn by playing and exploring their surroundings, therefore a hands-on approach to learning is essential. Some children learn best by hopping up and down, touching items with their fingers, or listening to music. Drawing shapes and patterns is a great way for children to learn, explore, and practice their shapes and colors.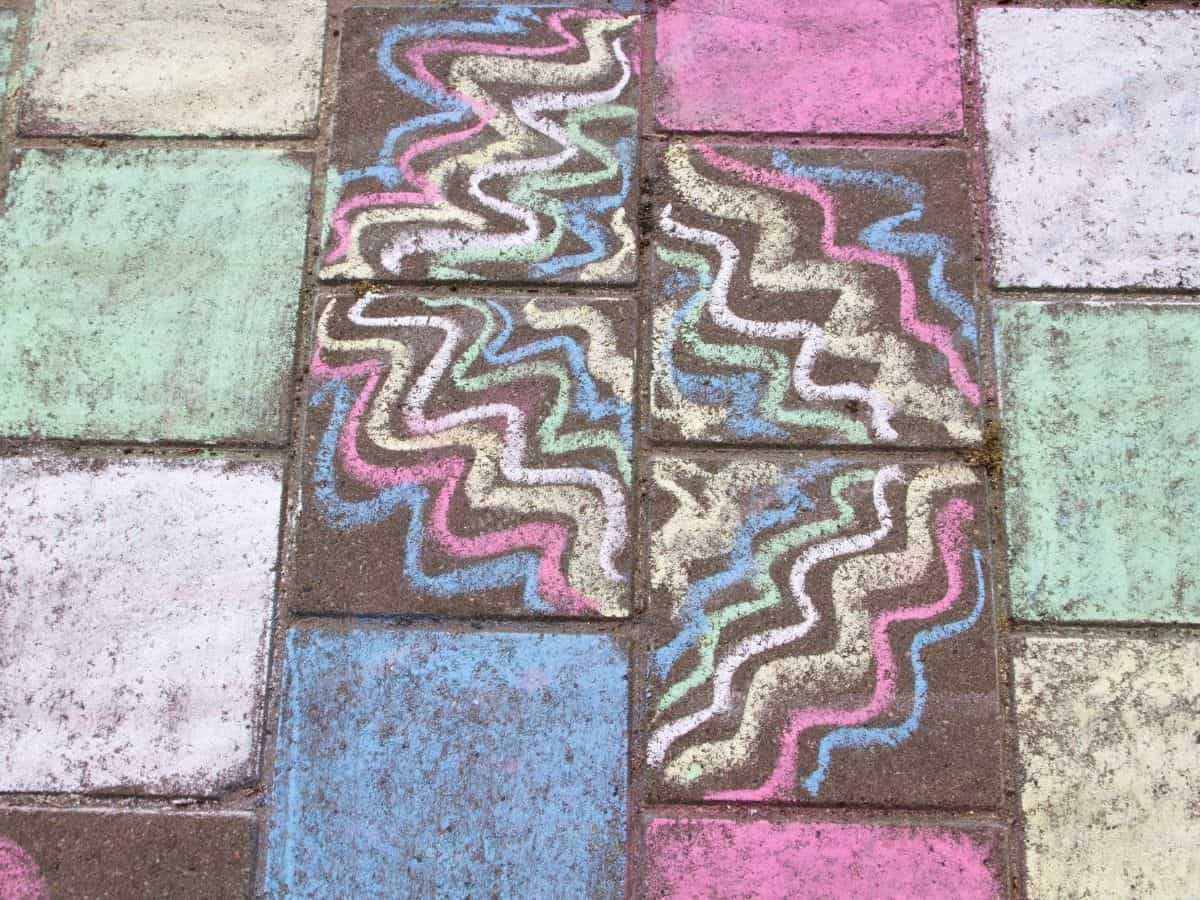 10 - Abstract Chalk Art
Some kids enjoy creating abstract colors or patterns, while others enjoy experimenting with imaginative drawings of whatever comes to mind. These methods for encouraging your children to draw can help them relax, manage their breathing, and enter a meditative state.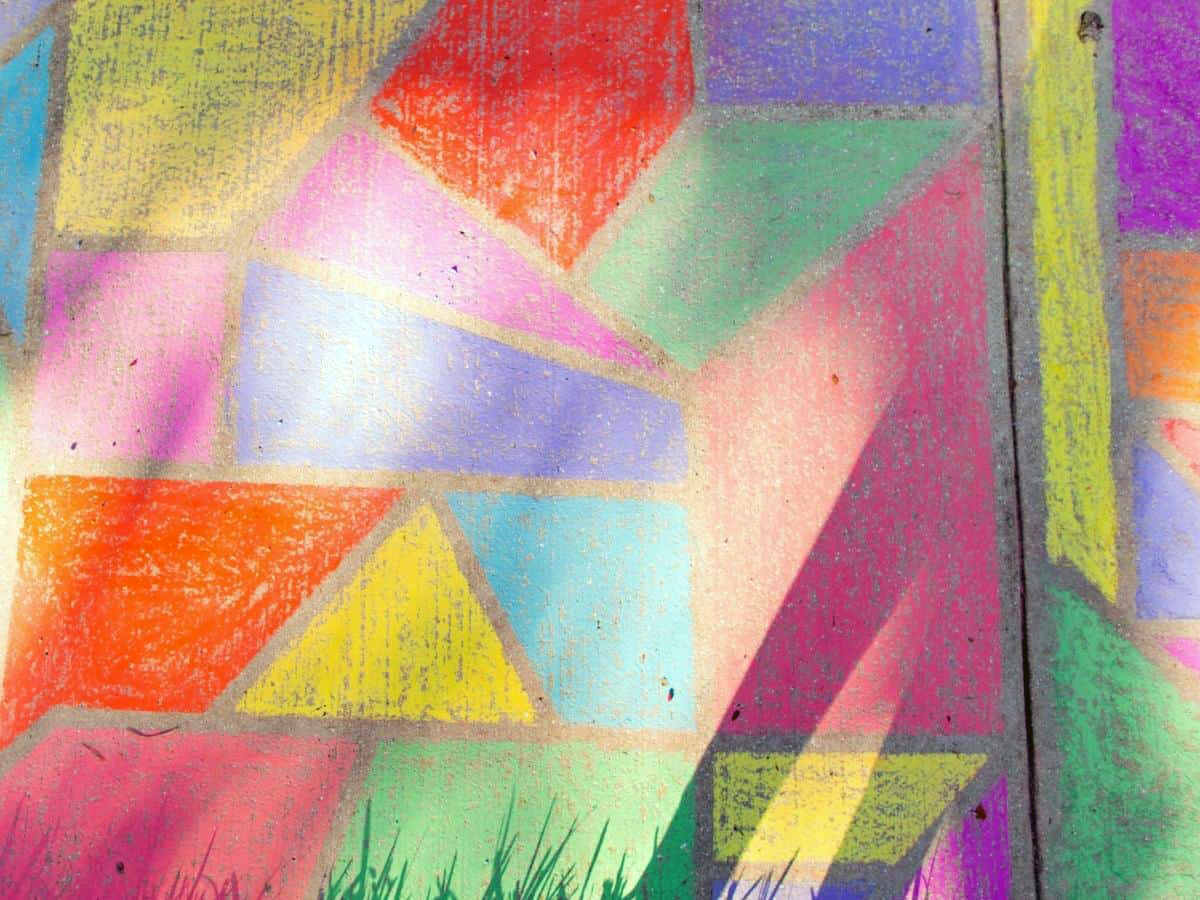 11 - Positivity Inspired Art
According to research, people who feel a sense of belonging to their communities have better mental health impacts during times of tragedy. As a result, positive art messages like this one are beneficial to both children and adults.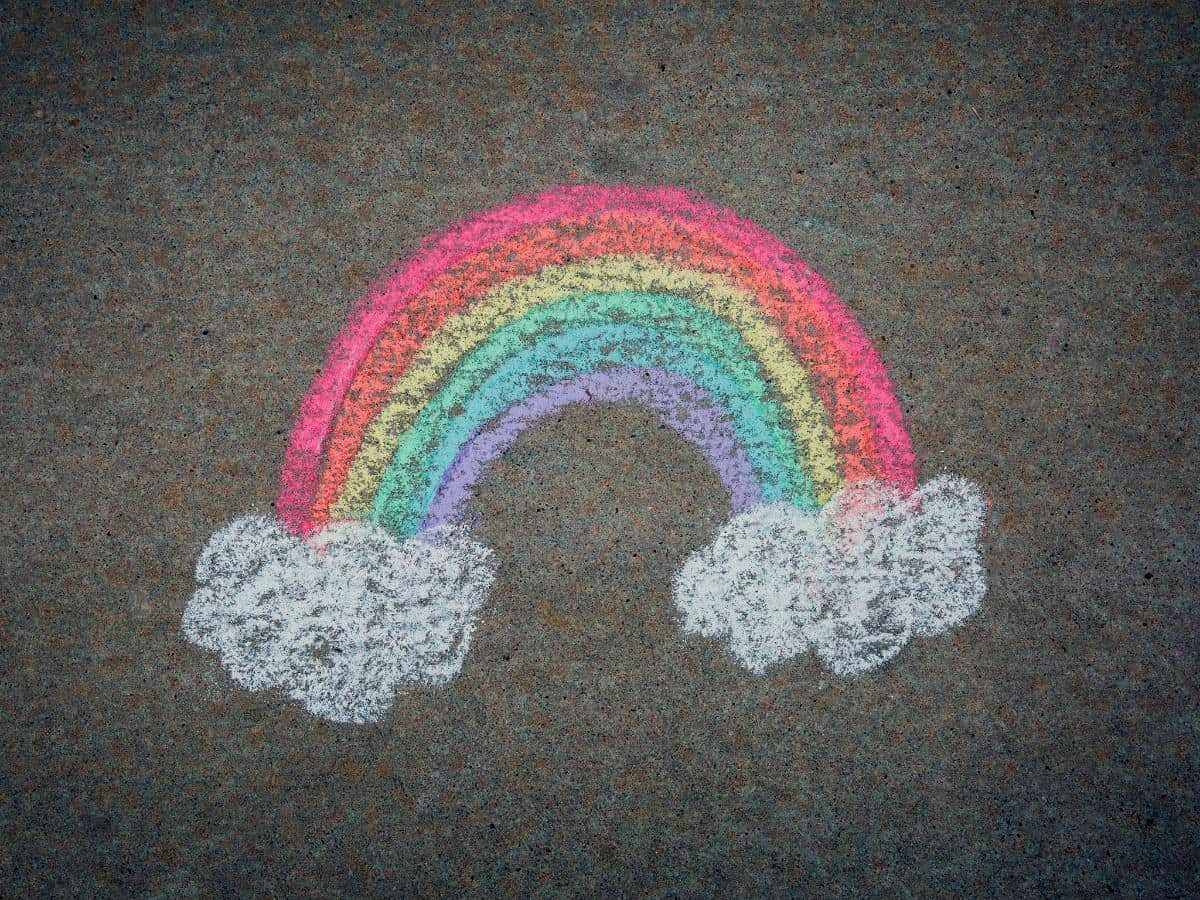 12 - Sidewalk Simon - Sidewalk Chalk Game Ideas
This is a fresh spin on an old-school favorite. Sidewalk Simon requires you to get up, jump around, and practice your memory abilities. It's a basic exercise that requires minimal planning, setup, or cleanup. It will be a hit with your child! All you need is some sidewalk chalk and pavement and you have a fun game for your little one!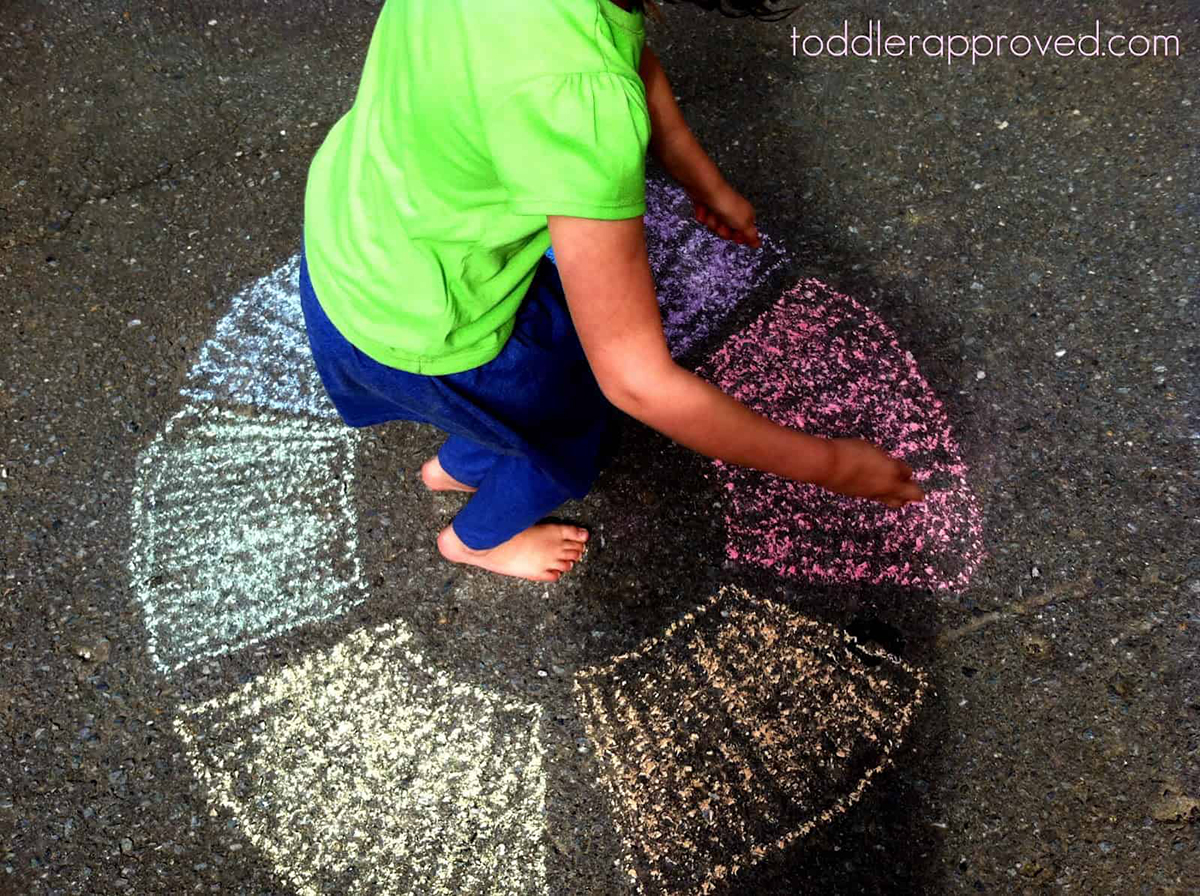 PHOTO CREDIT: TODDLER APPROVED
13 - Stained Glass Chalk Art
These Stained Glass Chalk Drawings are popping up all around our neighborhood and they're stunning! There are so many variations of this fun family project but we like this simple-to-follow tutorial from the Family Fun In Omaha blog.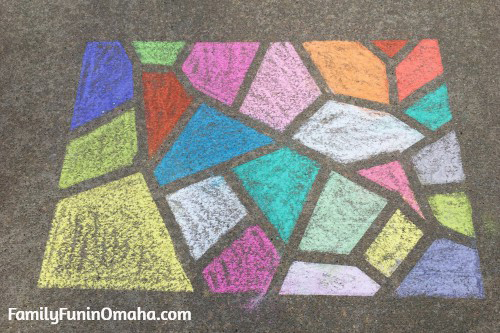 PHOTO CREDIT: FAMILY FUN IN OMAHA
14 - Balloon Chalk Art
There is no better way to brighten your day than with a quirky bouquet of stunning balloon chalk art. Have your little one stand on a stool and use your sidewalk chalk to draw around them to create the illusion that they're lifting off into the air.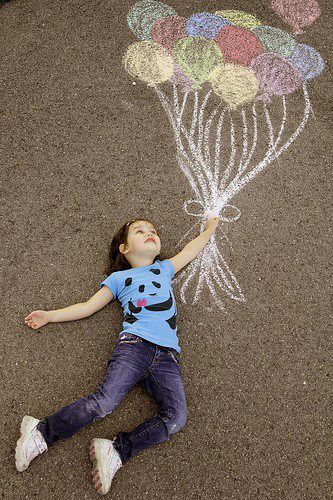 15 - Flowers - Simple Sidewalk Chalk Art Ideas
Drawing basic shapes and designs like these flowers helps children practice motor skills like any precise movement of the hands, wrists, and fingers.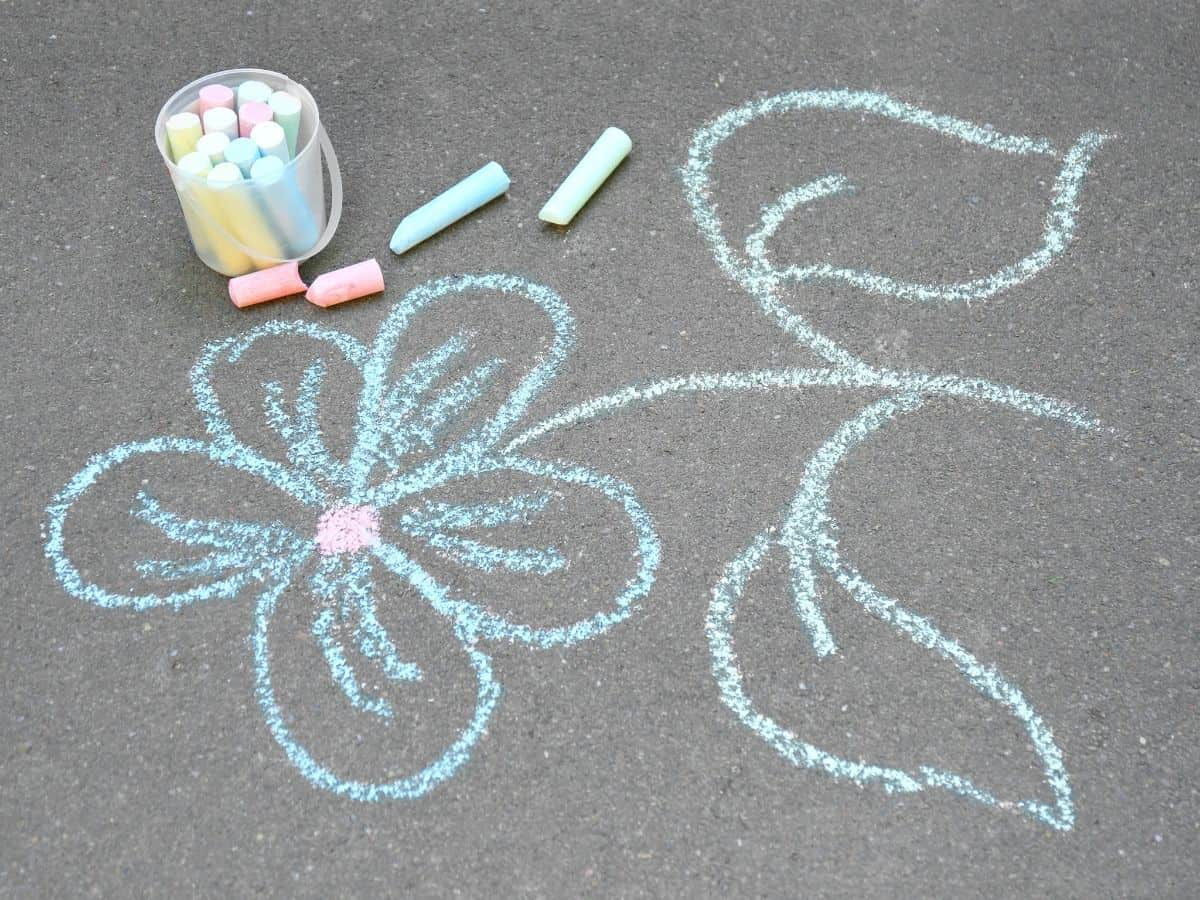 16 - Patriotic Chalk Art
Sidewalk chalk is also a great 4th of July activity! Allow the kids to express their independence and creativity with patriotic chalk drawings like this one.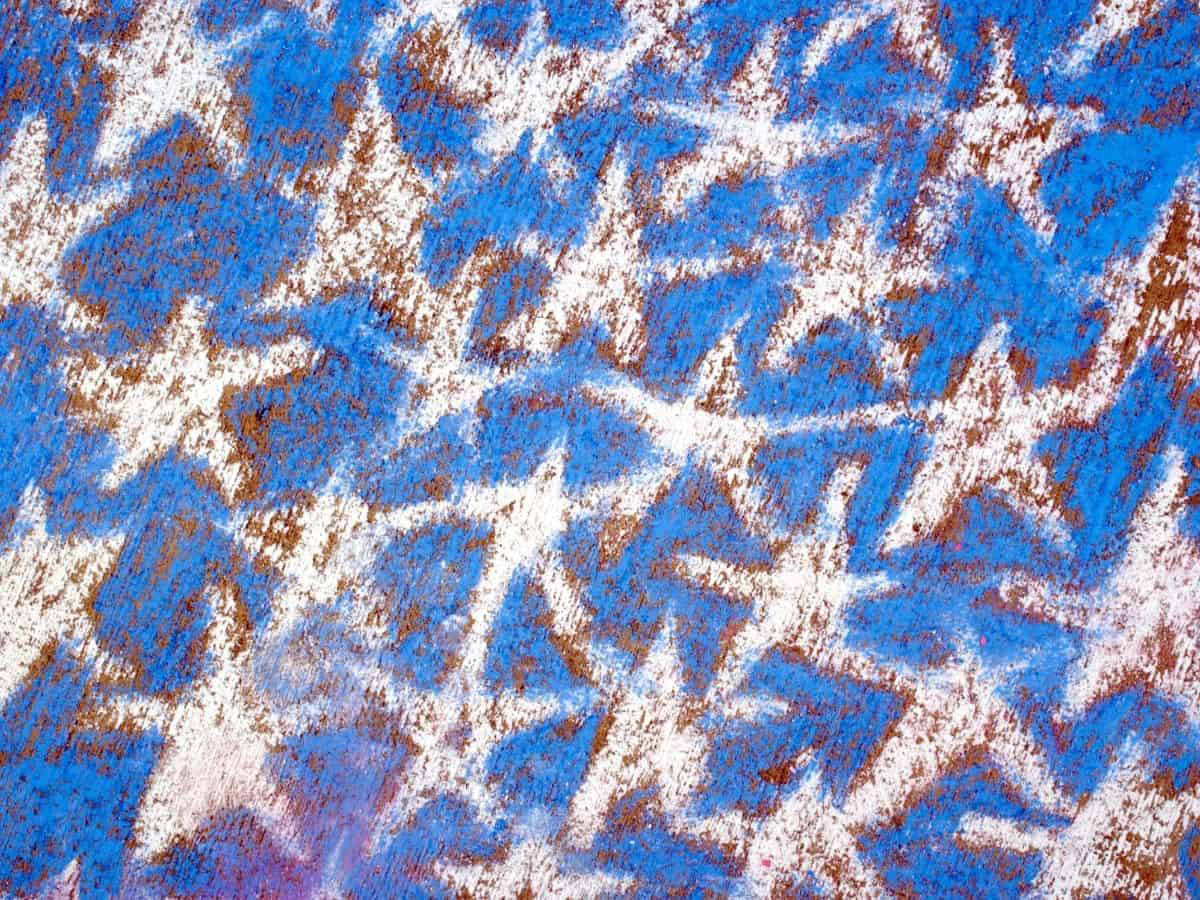 17 - Initials On Bricks
Simple activities such as drawing initials on bricks using sidewalk chalk help children develop the concepts of concentration and repetition. Even in elementary school, these concepts will be essential to your child's academic success. Learning how to pay attention to little details, concentrate on a specific goal, and practice challenging activities can help your child develop.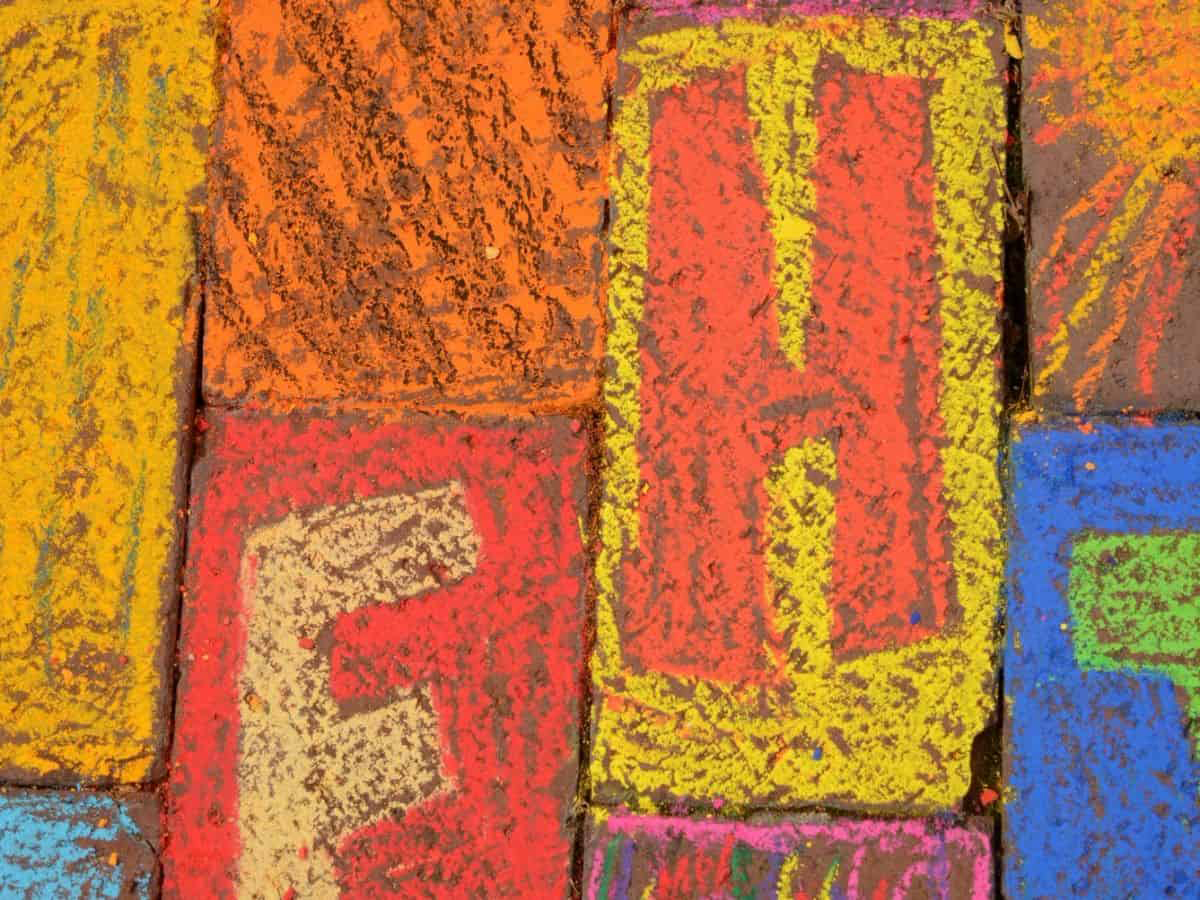 18 - Color Brick Road
Allowing children to color the bricks on the driveway with sidewalk chalk is a terrific way to get their creative juices flowing and let their imaginations run wild!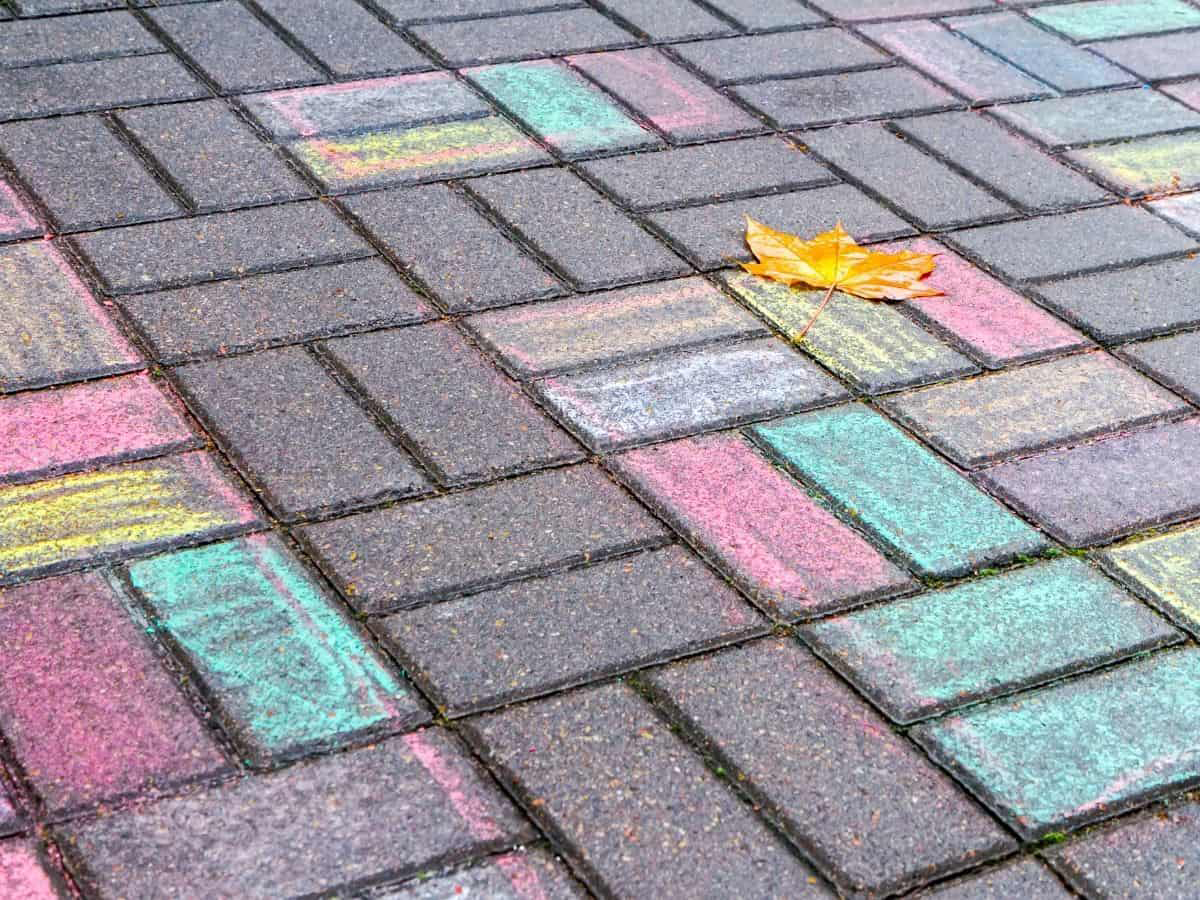 19 - Birthday Chalk Art
Why not celebrate with some sidewalk chalk birthday art? Drawing with chalk on the pavement is a fun way to greet guests to your child's birthday celebration.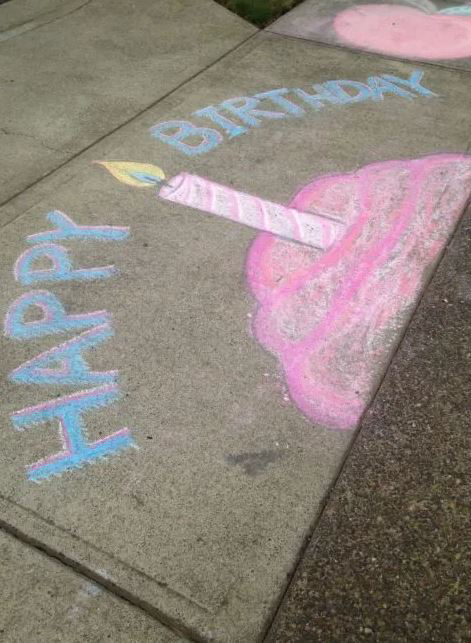 PHOTO CREDIT: PINTEREST
20 - Game of Checkers Art
Checkers is a great game, and it's much better when you can play it outside on the sidewalk. Check out this amazing sidewalk chalk art coming to life!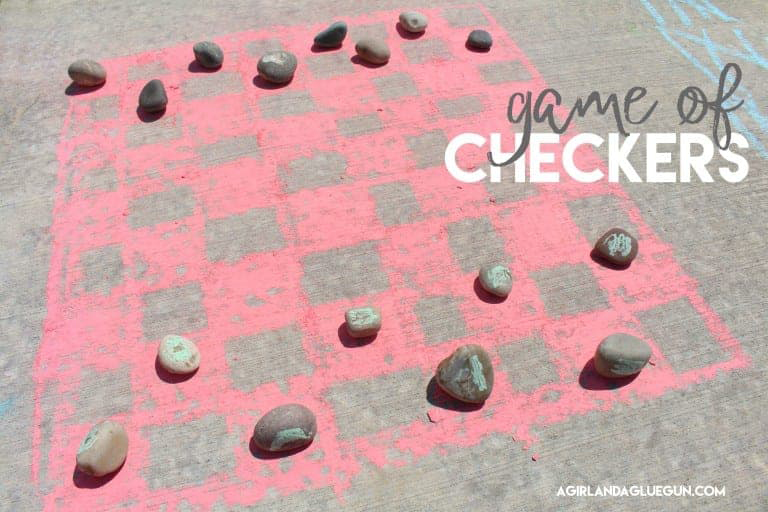 PHOTO CREDIT: A GIRL AND A GLUE GUN
21 - Outlines and Tracing
Having the kids trace each other's outlines is an excellent way to improve their hand-eye coordination. Let the kids decorate their chalk outfits by adding clothes, jewelry, accessories, and you could even help them label each part such as their head, foot, hand, arm, and leg.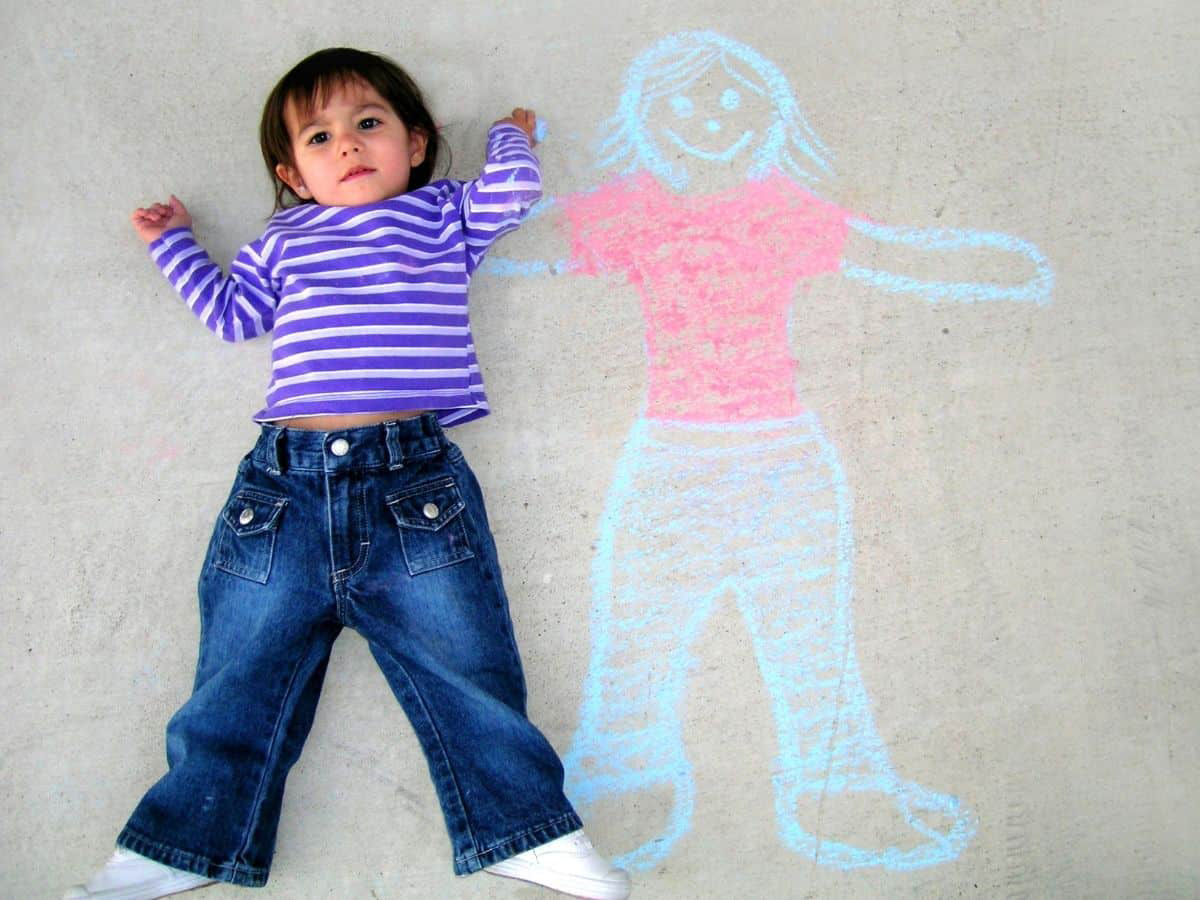 22 - Butterfly - Interactive Sidewalk Chalk Art
This is an example of amazing interactive sidewalk chalk art that gets kids and adults enthusiastic and creative.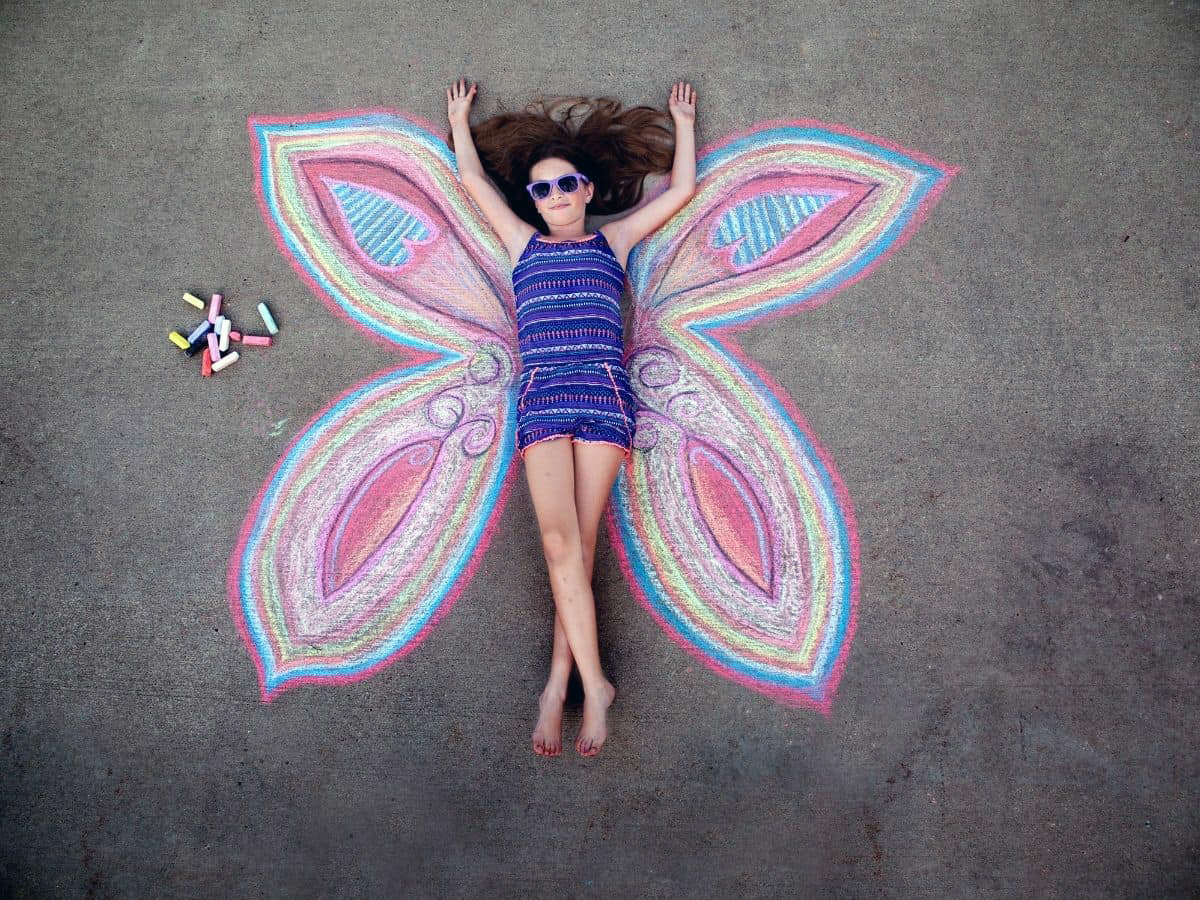 23 - Stripes
Playing with sidewalk chalk can be one of your child's first experiences with coloring and writing. Encouraging younger children to learn to make designs such as stripes can help them learn to grip and develop fine motor control and manipulation.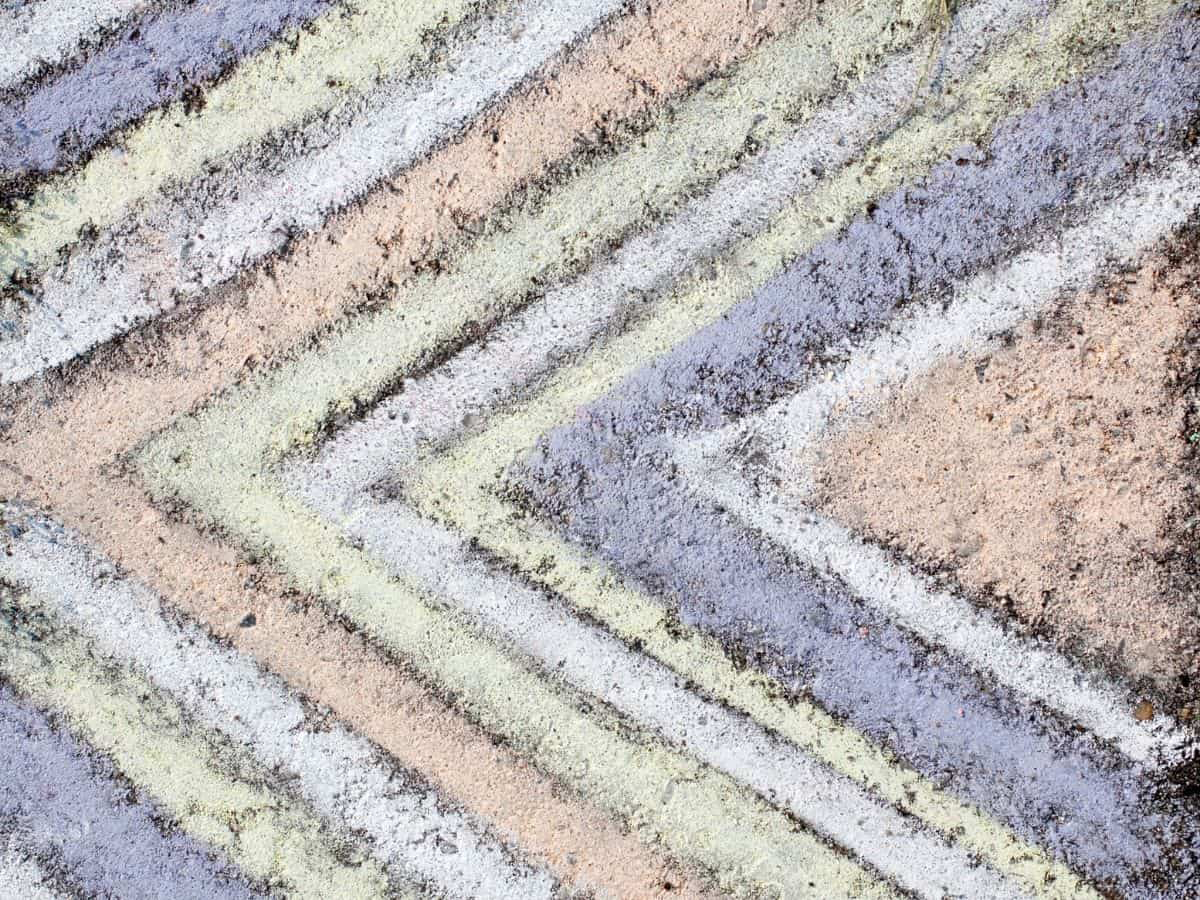 24 - Moon Scene
Drawing a moon scene is a good easy beginner sidewalk chalk art idea for inspiring your child's creativity.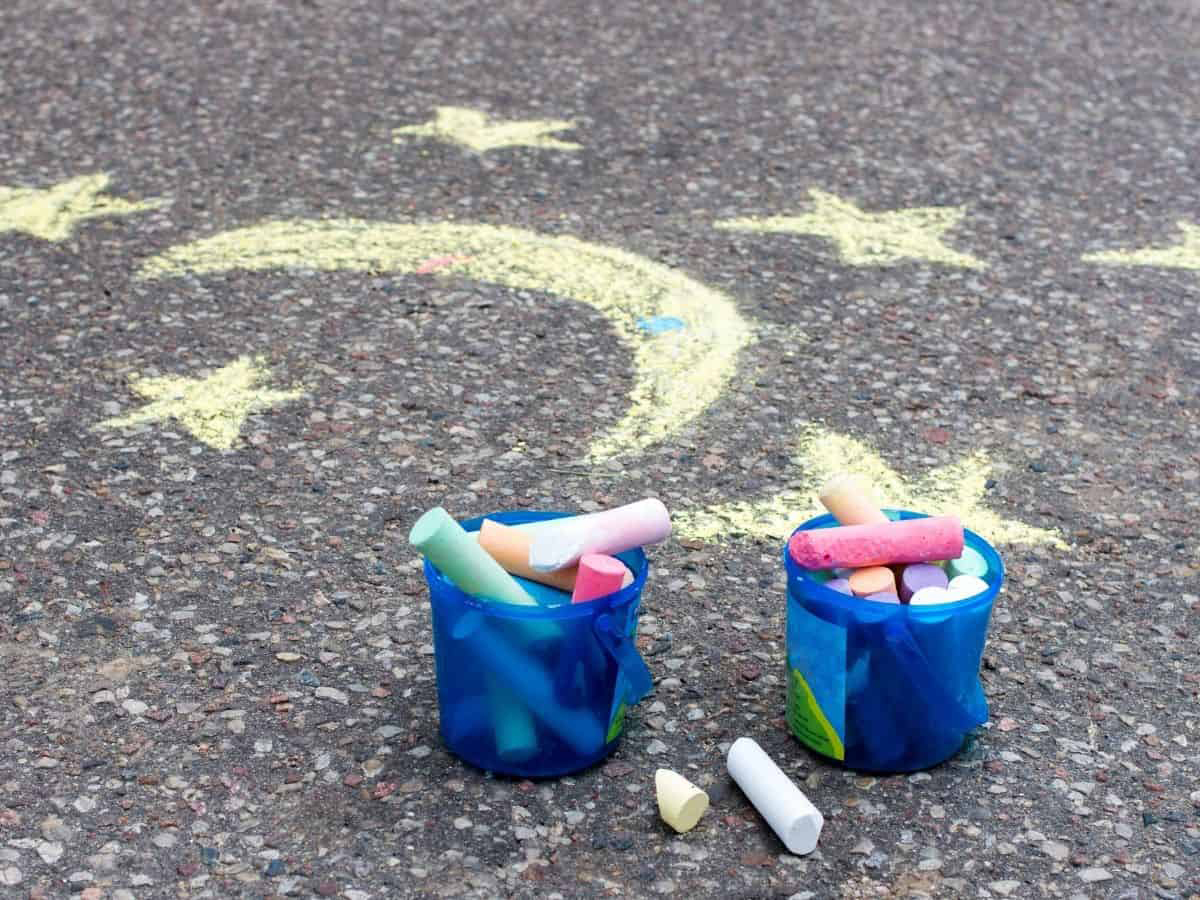 25 - The Greater Your Storm The Brighter Your Rainbow
Positive chalk artwork messages like this one are among the most effective ways to boost one's mood. Try a mood-boosting project like this one if you're feeling blue or bored.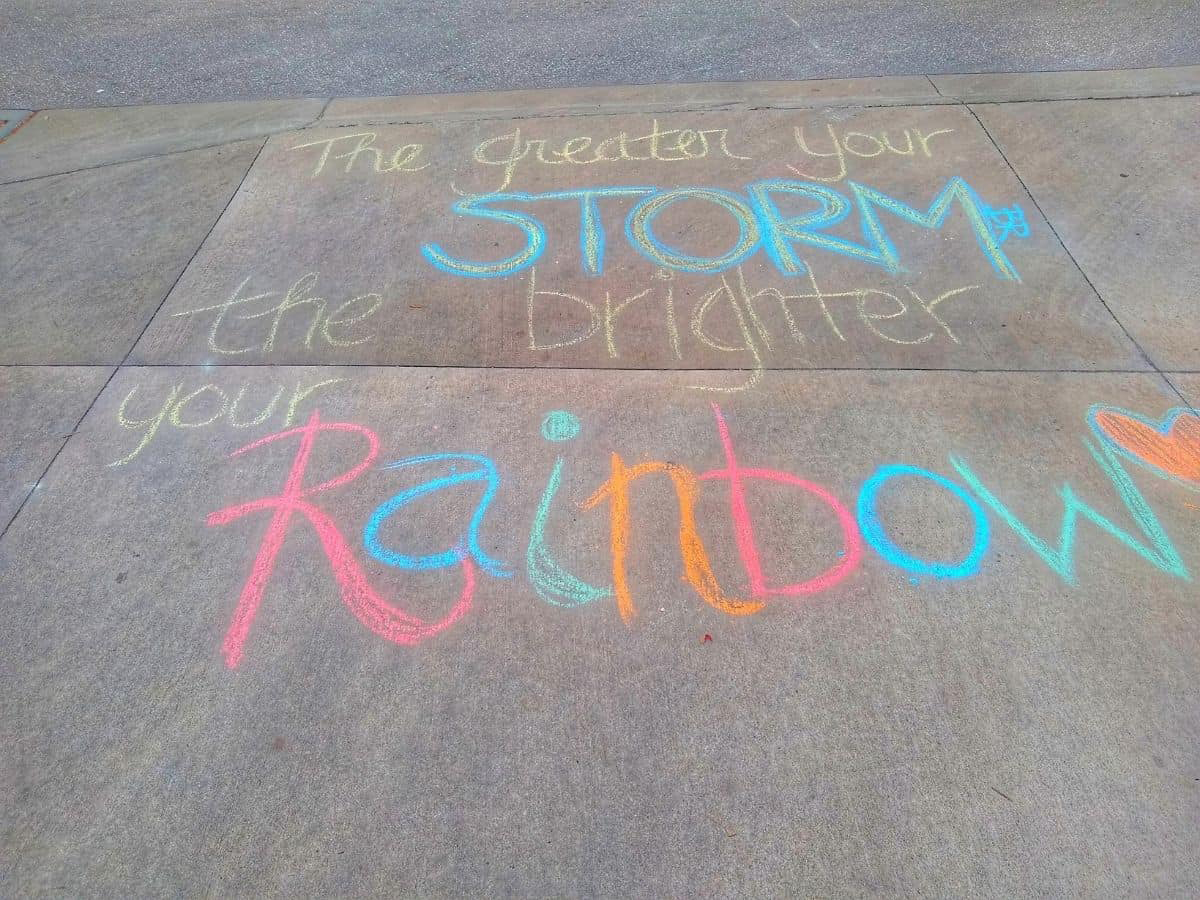 26 - Day At The Park - Interactive Sidewalk Chalk Art
This type of really fun interactive art is enjoyable for both children and adults, and it also provides for fantastic photo ops once you're finished!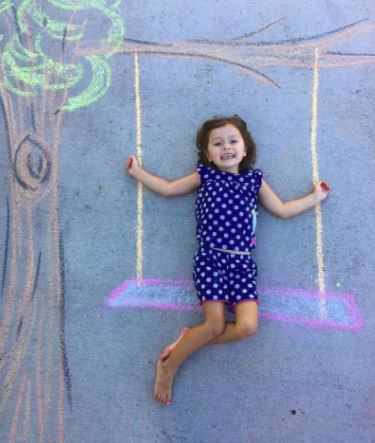 PHOTO CREDIT: A JOURNEY WITH THE JOHNSONS
27 - Interactive Beach Scene
Interactive chalk art projects like this one from this site are the ideal screen-free activity for kids of all ages and a terrific way to spend quality time with the kids as a family. Children of all ages will enjoy being creative and bringing their sidewalk chalk art scenes to life!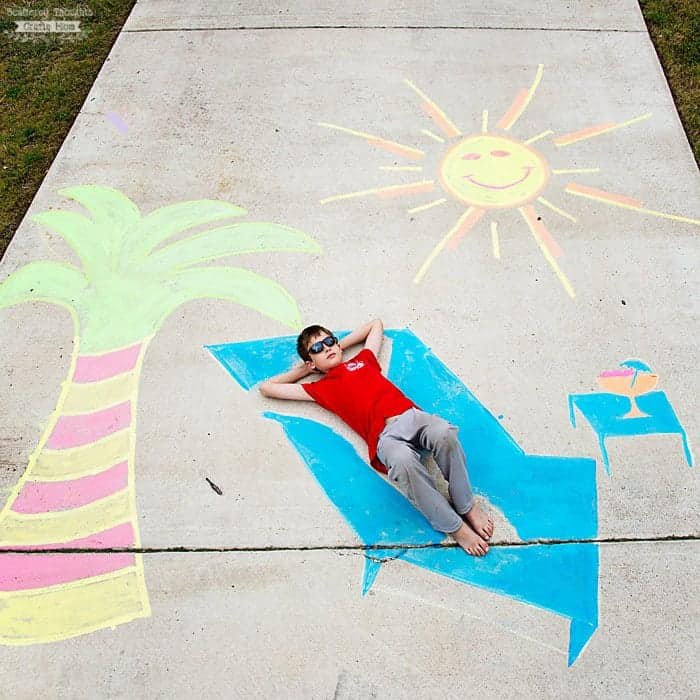 PHOTO CREDIT: SCATTERED THOUGHTS OF A CRAFTY MOM
28 - Sidewalk Chalk Comic Book Art Ideas
You can use sections of your sidewalk as panels in a comic book and have kids tell a story frame by frame as shown in the example below.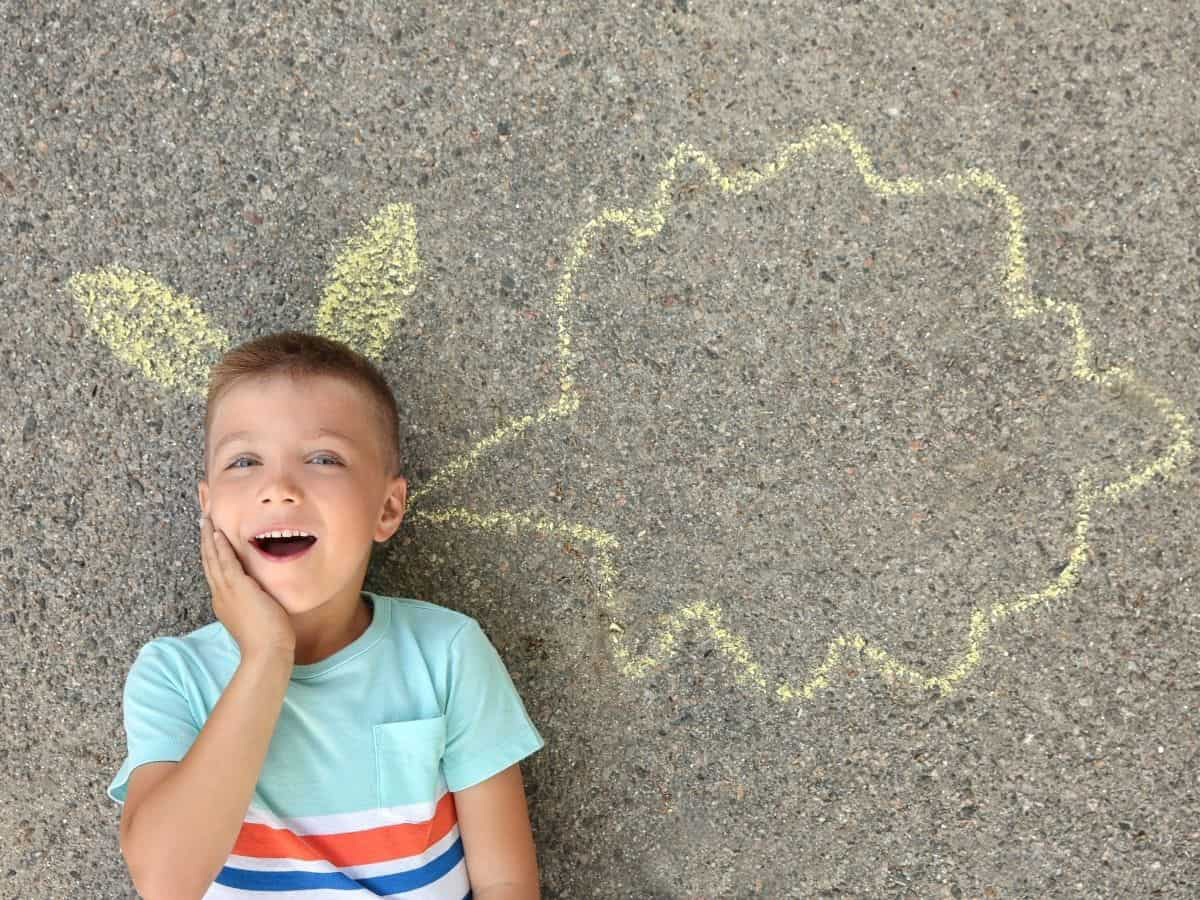 29 - Radiate Positivity - Motivational Sidewalk Chalk Art Ideas
Here's another amazing sidewalk chalk art message that even beginners can easily recreate!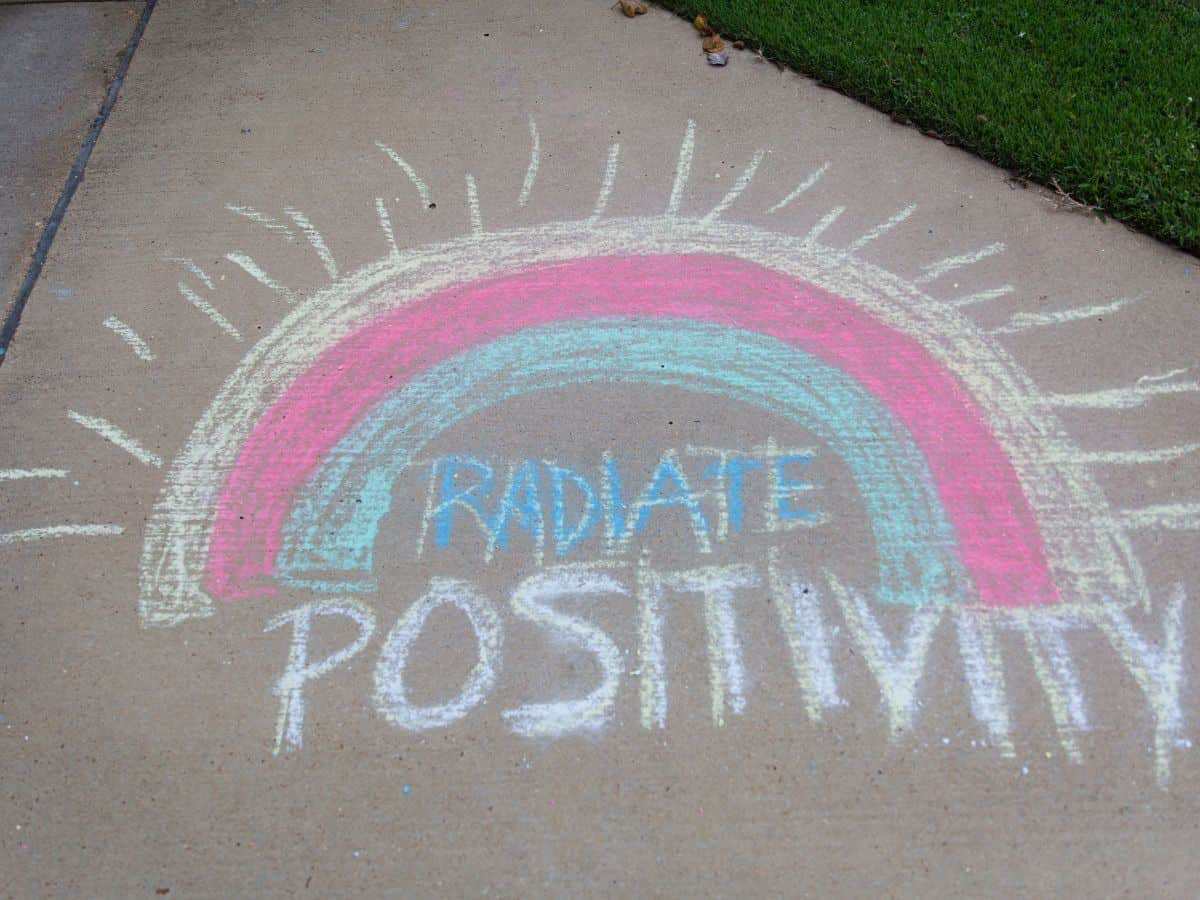 30 - Wild Waves - Interactive Sidewalk Chalk Art
There's no better way to enjoy the sunshine than with this interactive and hilarious sidewalk chalk art idea. Spark your child's imagination by turning your driveway into the ocean, circus, or galaxy!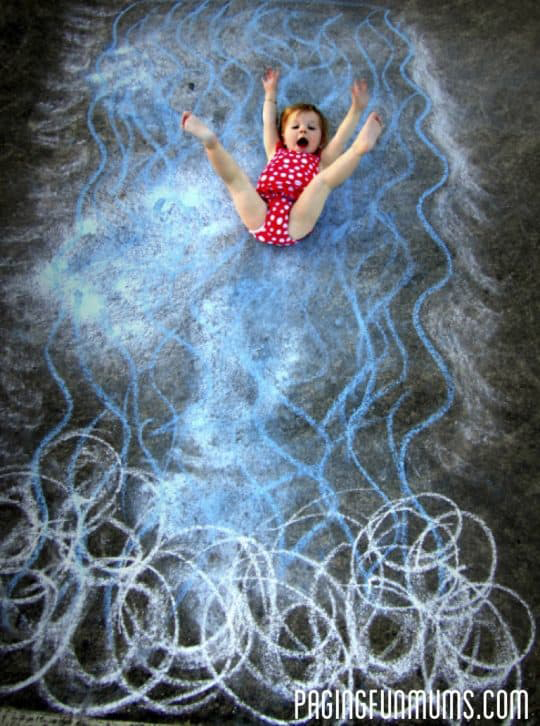 PHOTO CREDIT: PAGING FUN MUMS
31 - Mosaic Heart - Beginner Ideas For Sidewalk Chalk Art
As a busy mom, I'm always looking for ways to engage my children in activities that we all like. This is an amazing sidewalk chalk art activity that is ideal for doing as a family.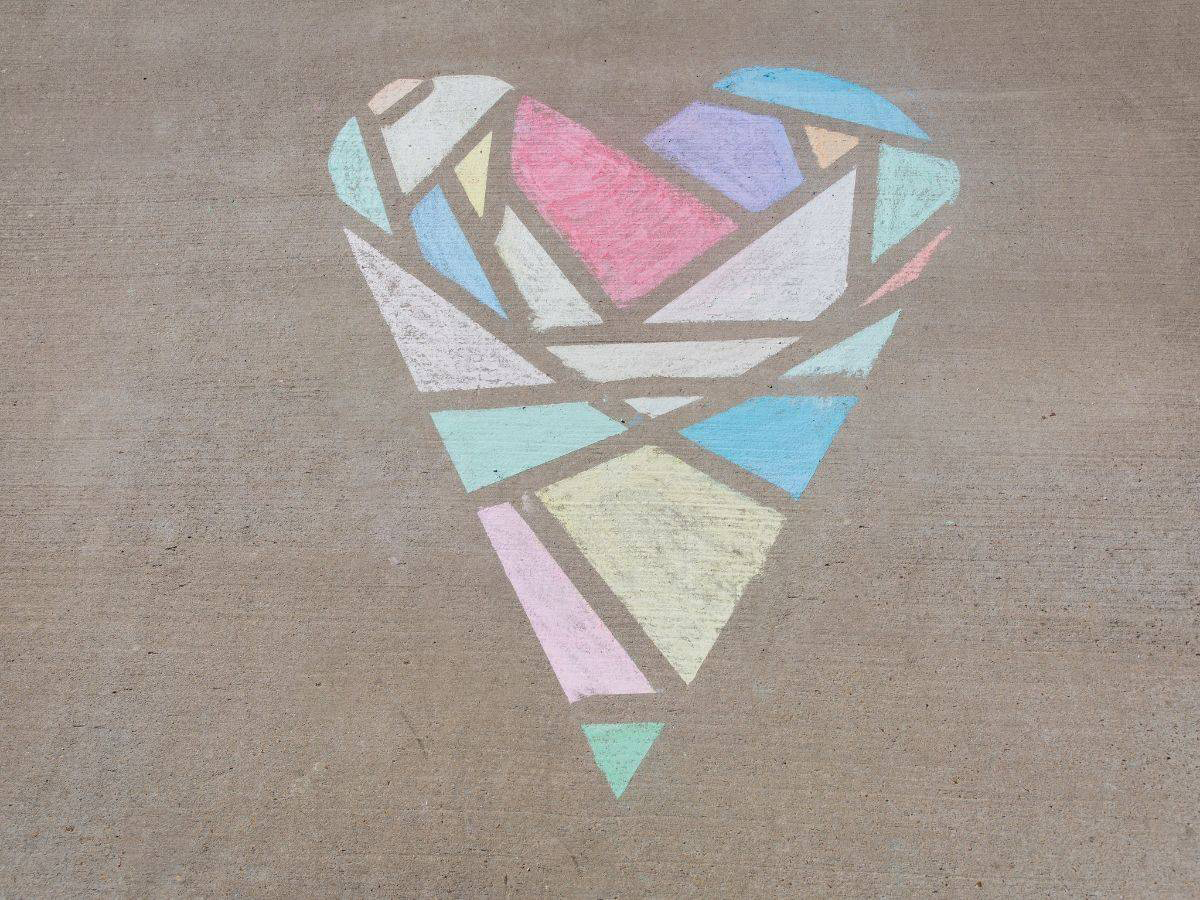 32 - US Flag
This is a great way to celebrate the 4th of July or any other day!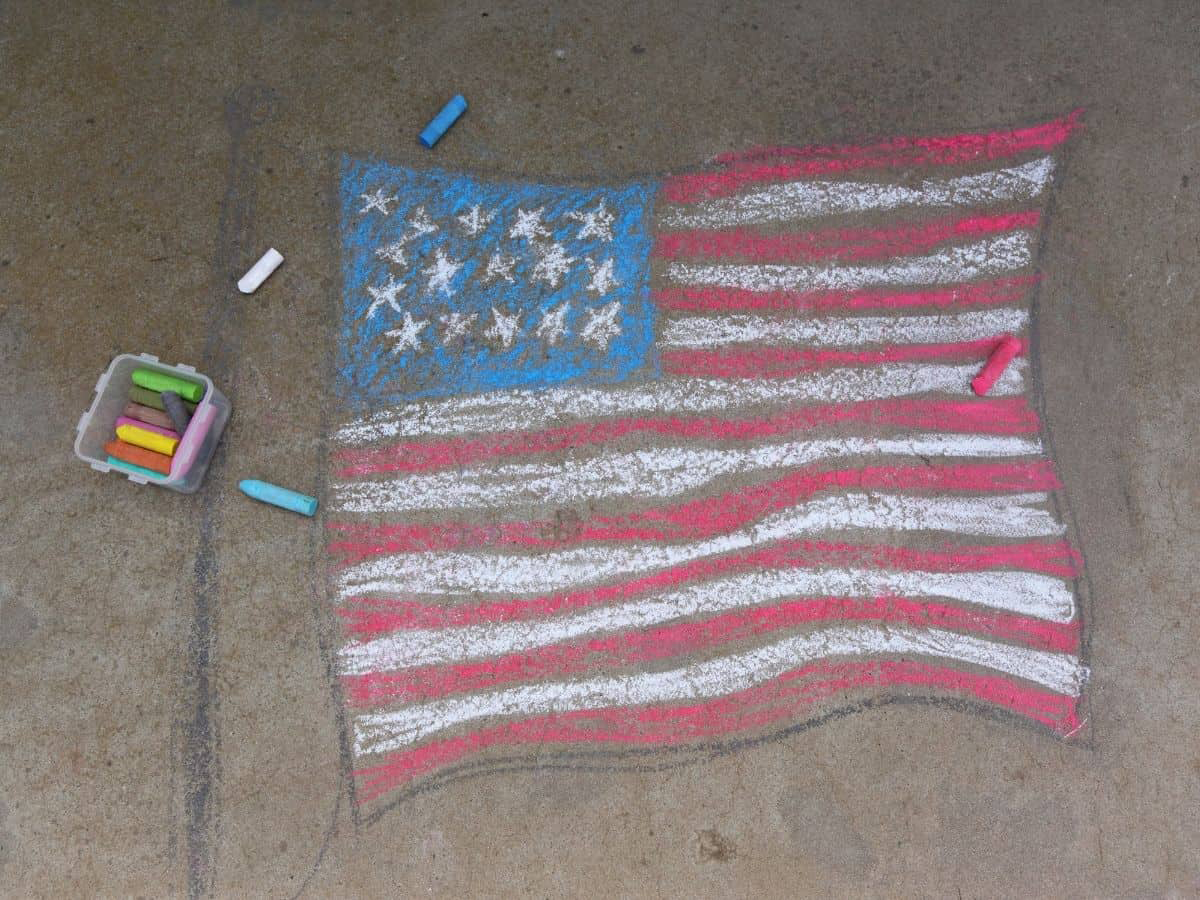 33 - Shadow Sidewalk Chalk Art Ideas
When it comes to sidewalk chalk art ideas Shadow Art is sure to inspire you and your littles this spring and summer! It's the ideal hands-on STEAM project for teaching kids about the science of shadows as they experiment with making their own shadows using sidewalk chalk art.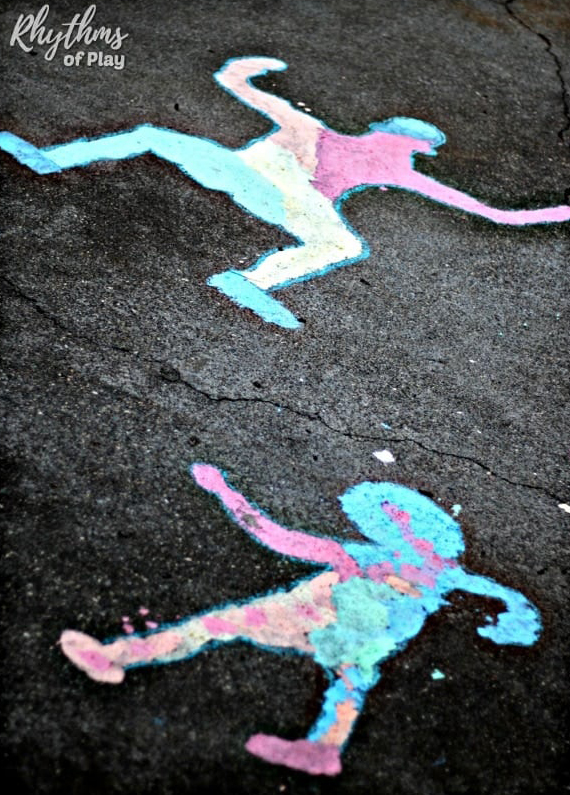 PHOTO CREDIT: RHYTHMS OF PLAY
34 - Firework Chalk Drawing
Firework inspired sidewalk chalk art is easy and beginner friendly! The driveway is an open canvas that tells our brain that anything is possible in terms of creativity, providing kids with a sense of freedom and joy.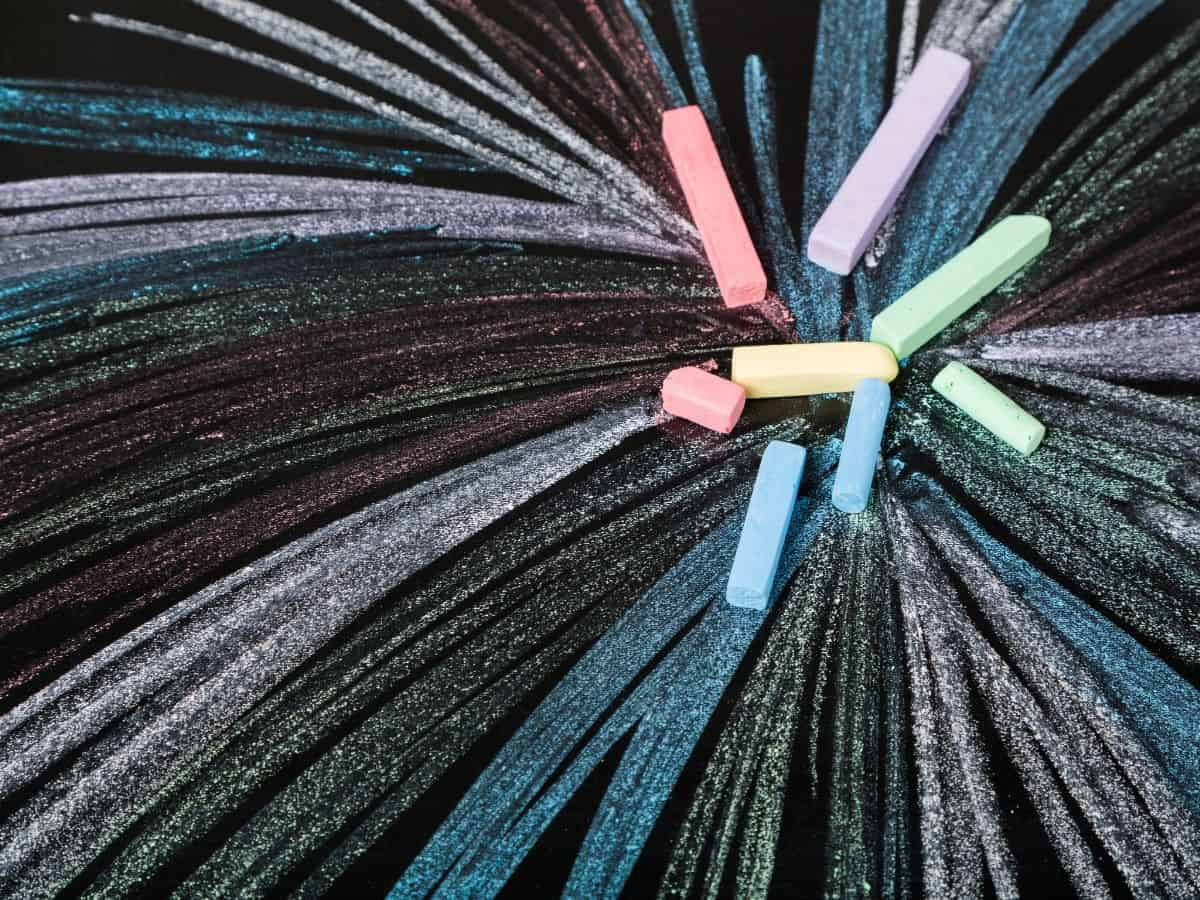 35 - Happy Face
The world of art offers so many amazing benefits for children. Allowing kids to color and make their own drawings using sidewalk chalk allows them to express themselves artistically.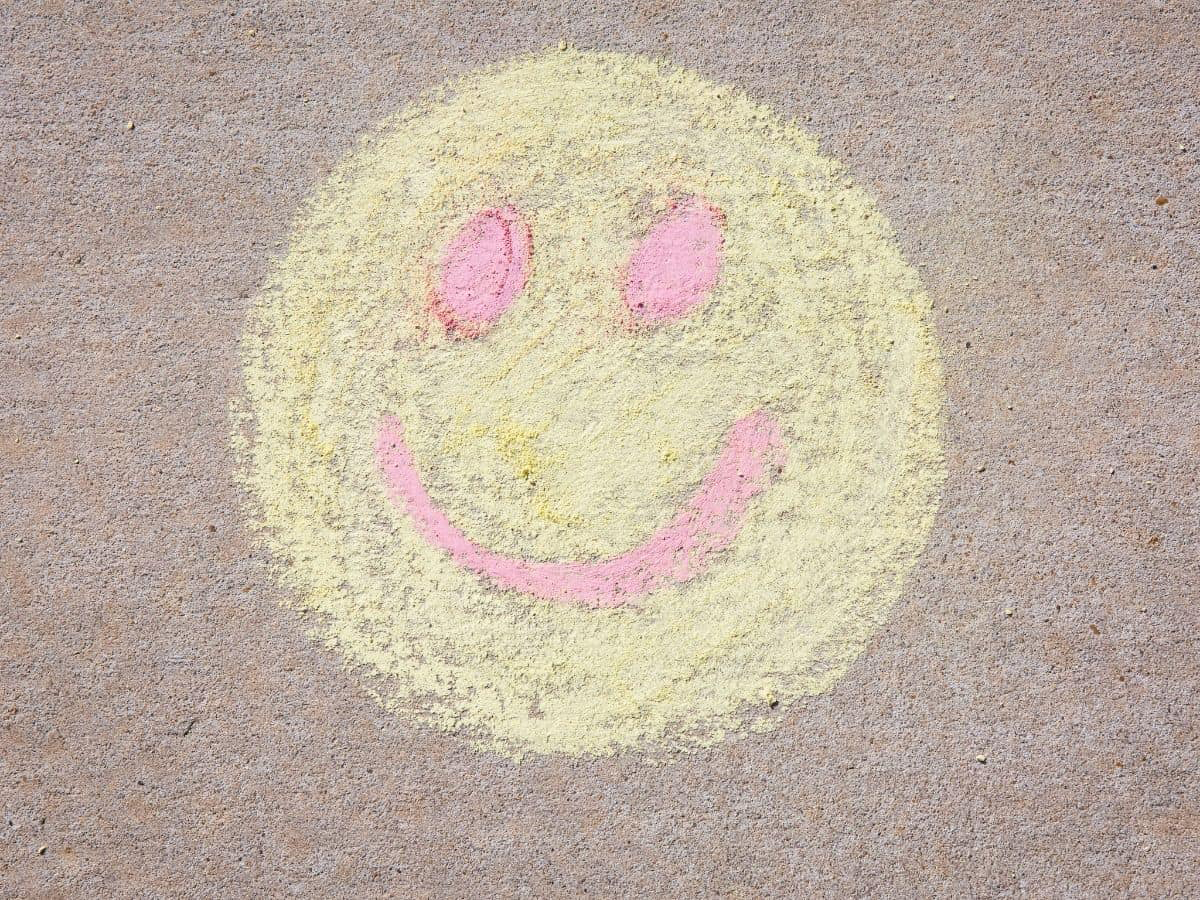 36 - Heavy Lifting - Interactive Ideas For Sidewalk Chalk Art
Want to try something new? This is a wonderful interactive method to discover chalk art with your little one.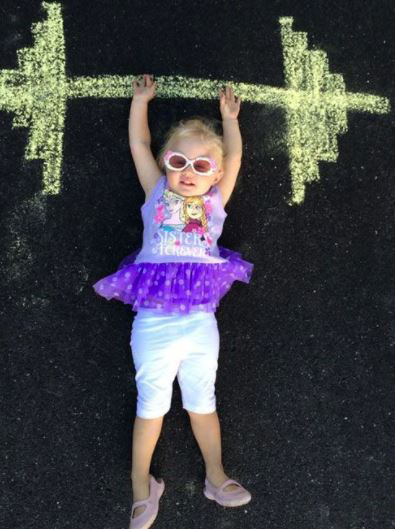 PHOTO CREDIT: A JOURNEY WITH THE JOHNSONS
37 - Stronger Together
This is another excellent example of easy beginner sidewalk chalk art. This motivational message that is simple to replicate!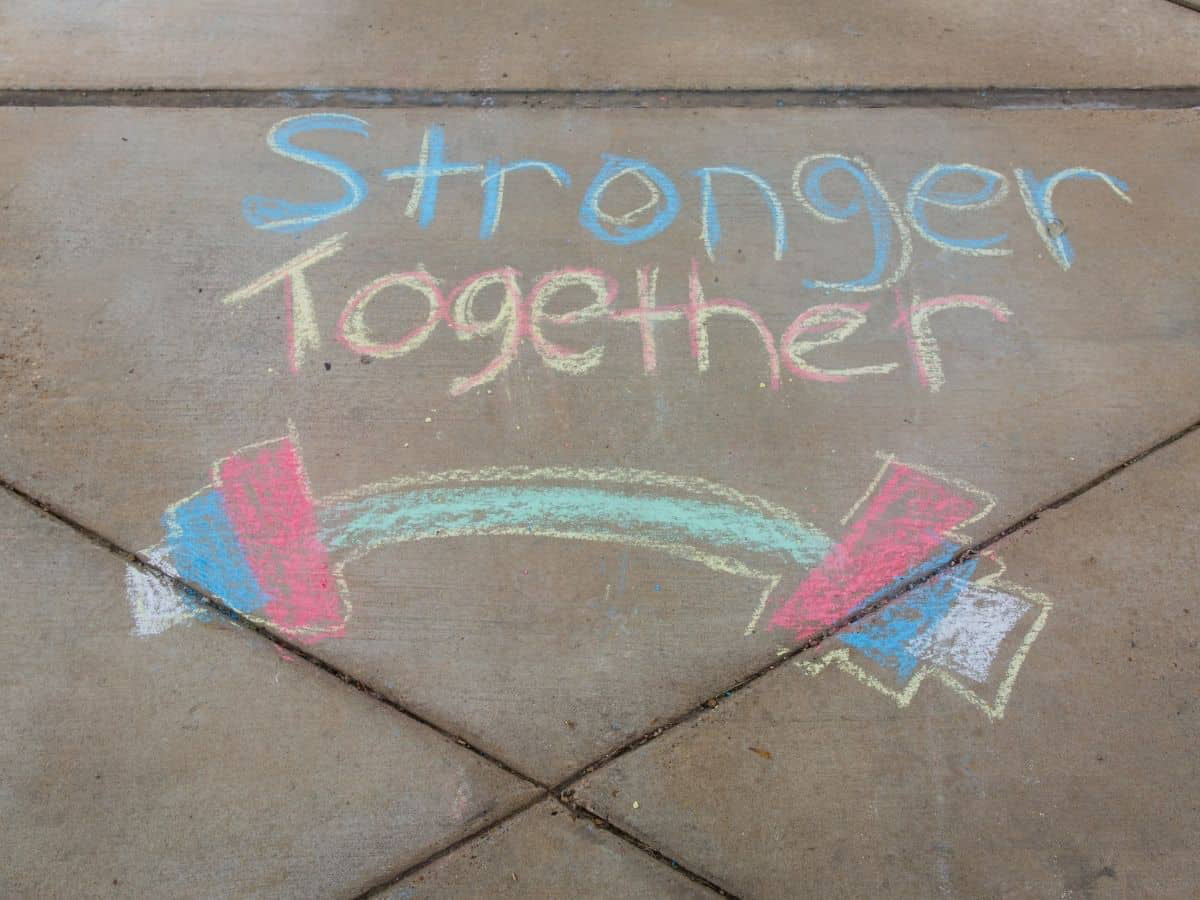 38 - Rainbow Spray Chalk Art
When it comes to absorbing new information, each child has their own learning style. Drawing simple shapes like rainbows with traditional sidewalk chalk or spray chalk allow your child to be creative while also learning new abilities.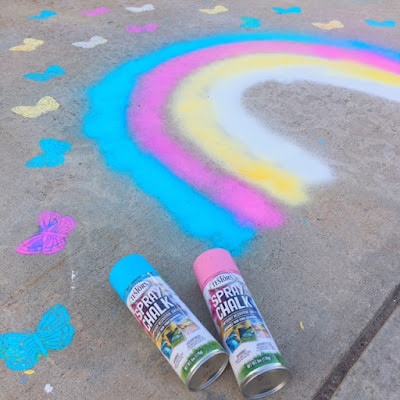 PHOTO CREDIT: THE WORD ROCKS PROJECT
39 - Geometric Floral
Drawing amazing geometric floral patterns on a sidewalk or driveway is an excellent approach to build hand strength.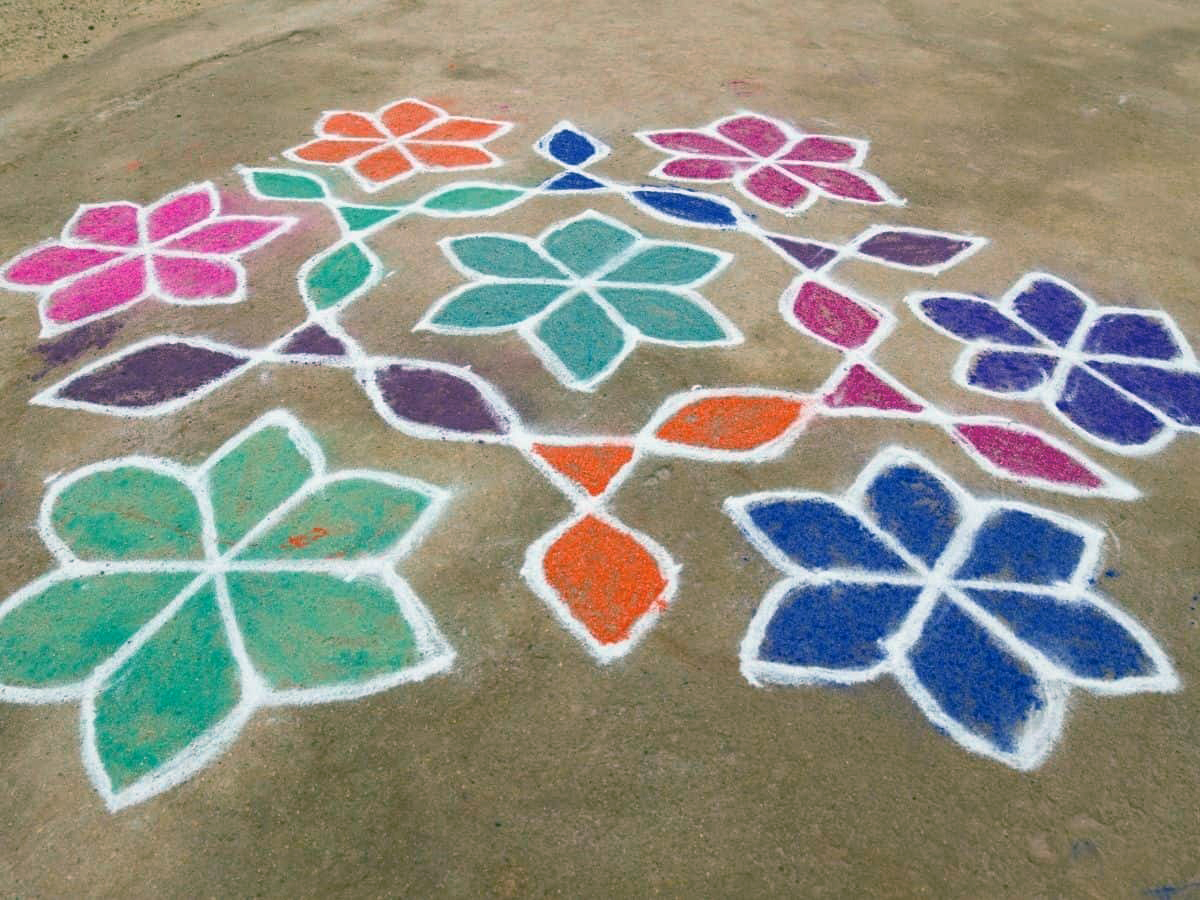 40 - The Joy Is In The Journey - Motivational Sidewalk Chalk Art Ideas
This is an example of how to use sidewalk chalk in a therapeutic manner. Encouraging statements like this one are good for self-expression and for inspiring others.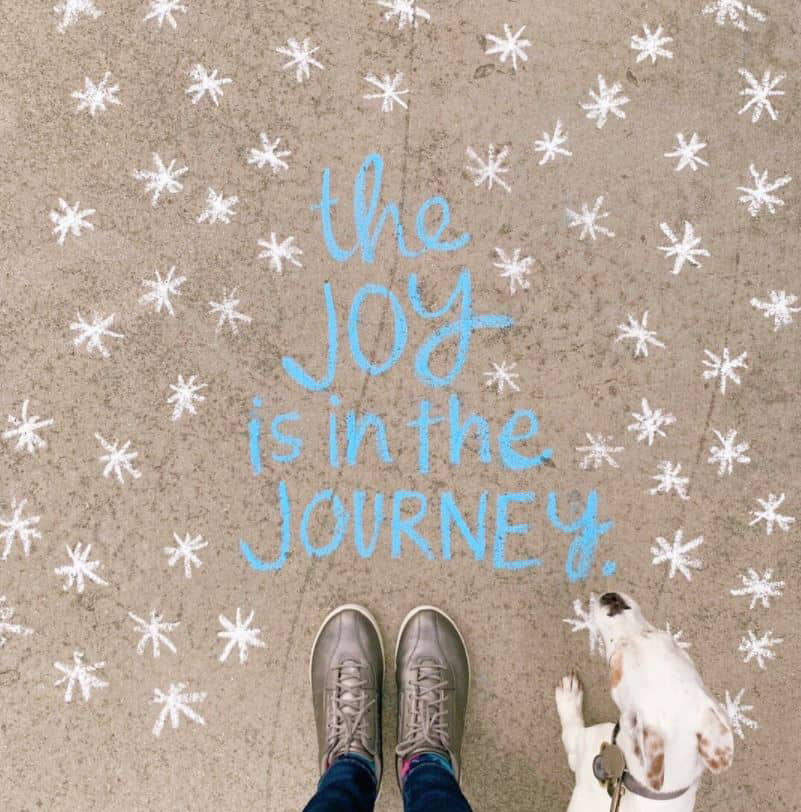 PHOTO CREDIT: AMY TANGERINE
41 - Chalk Resist Art
Chalk Resist Art is an old technique used in a new way. Resist Art is so practical and super easy to recreate. Be sure to check out the full tutorial over at You Clever Monkey.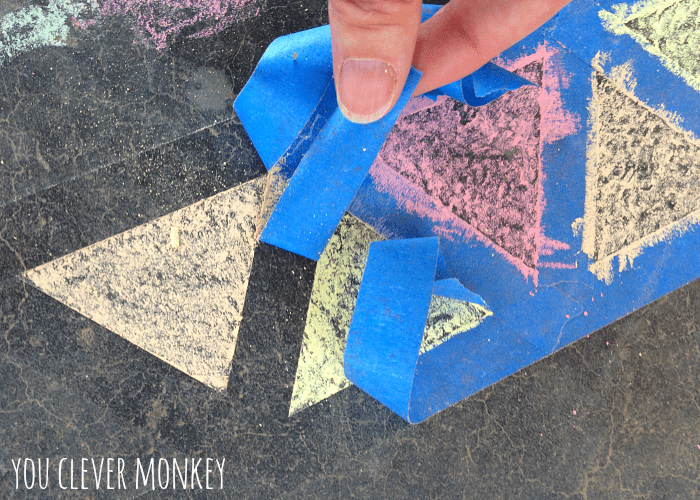 PHOTO CREDIT: YOU CLEVER MONKEY
42 - Hearts - Beginner sidewalk chalk art
Creating beginner easy sidewalk chalk art drawings like these sidewalk chalk hearts is a terrific learning tool that allows toddlers to learn through play for hours!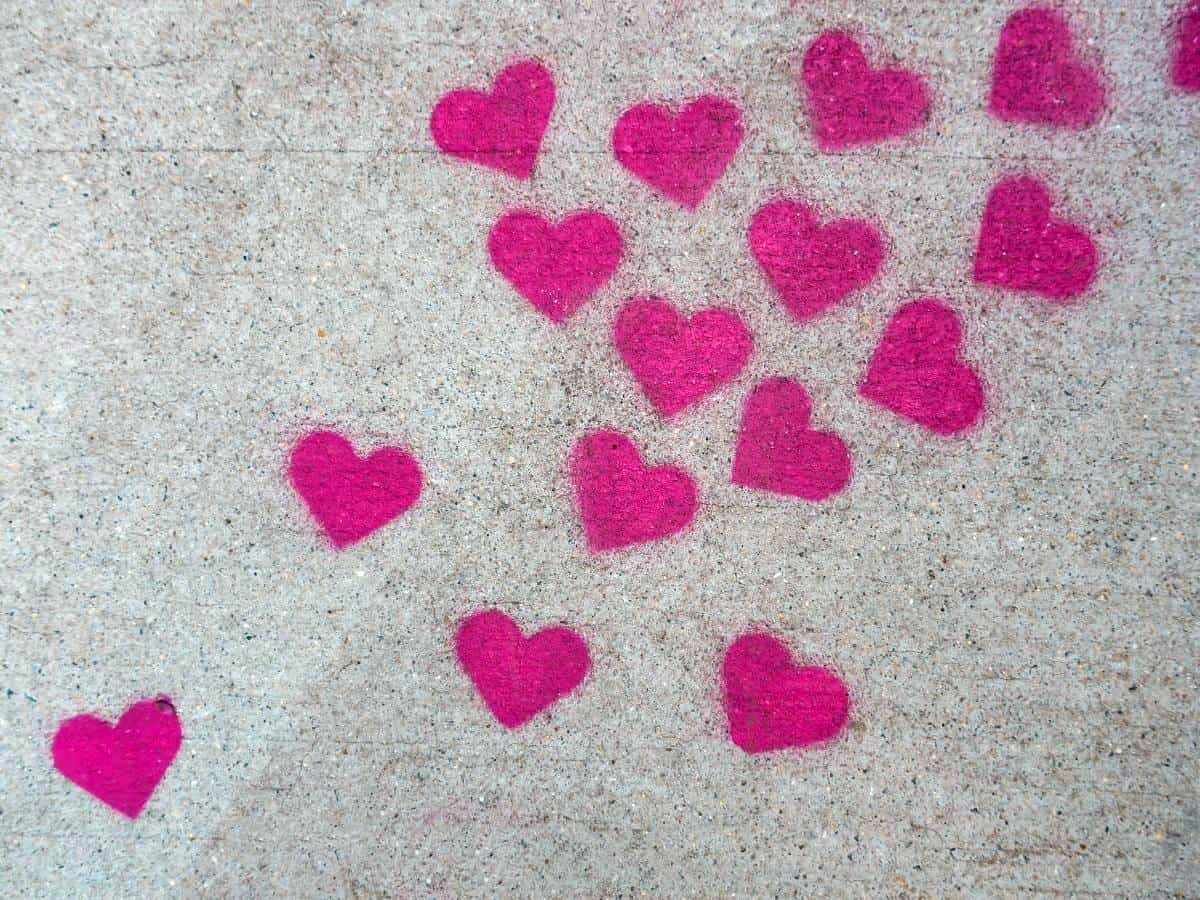 43 - Amazing Burger Mural Sidewalk Chalk Art
Whimsical designs like this one are excellent because kids have no idea they are developing important motor and cognitive skills while having fun.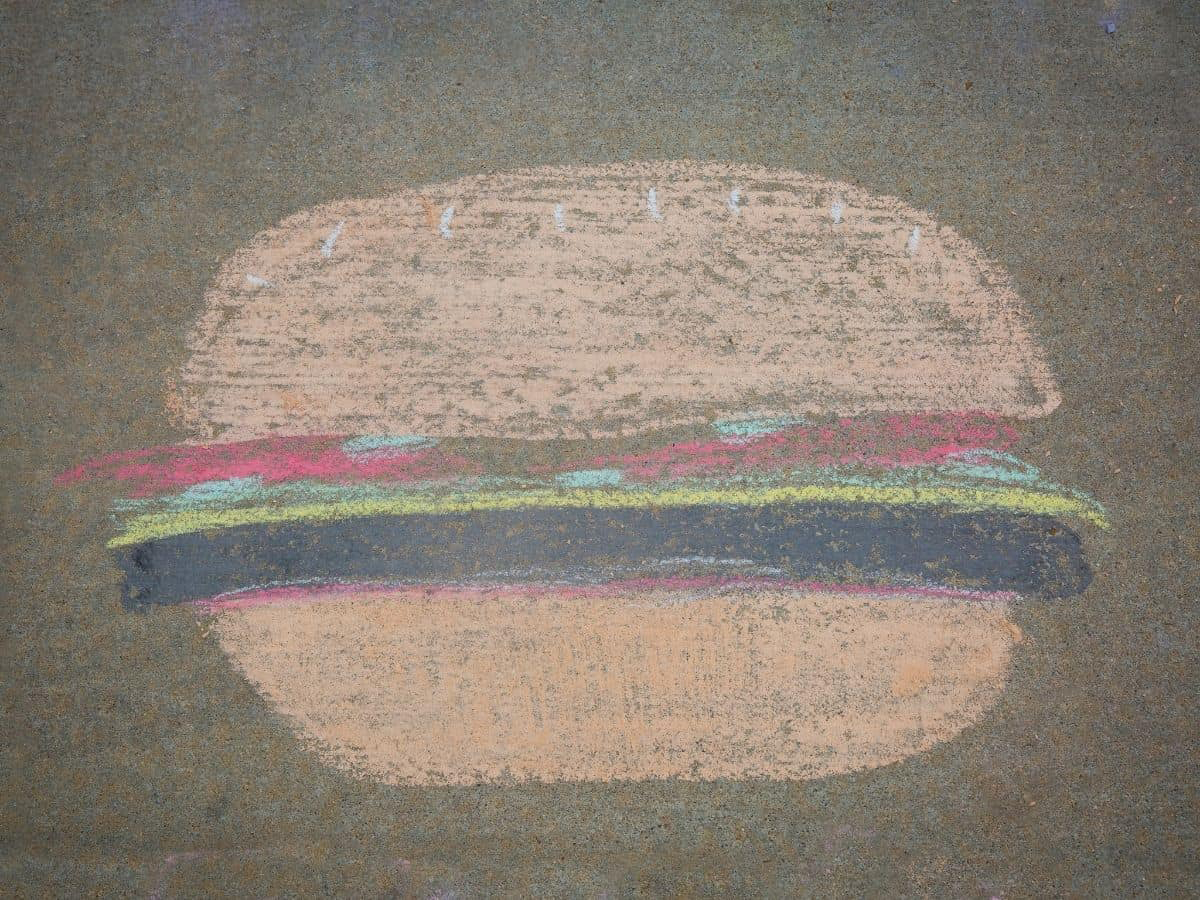 44 -Spread Kindness Like Confetti - Motivational Sidewalk Chalk Art Ideas
We love this amazing sidewalk chalk art idea because could all use a little more love and kindness in our lives.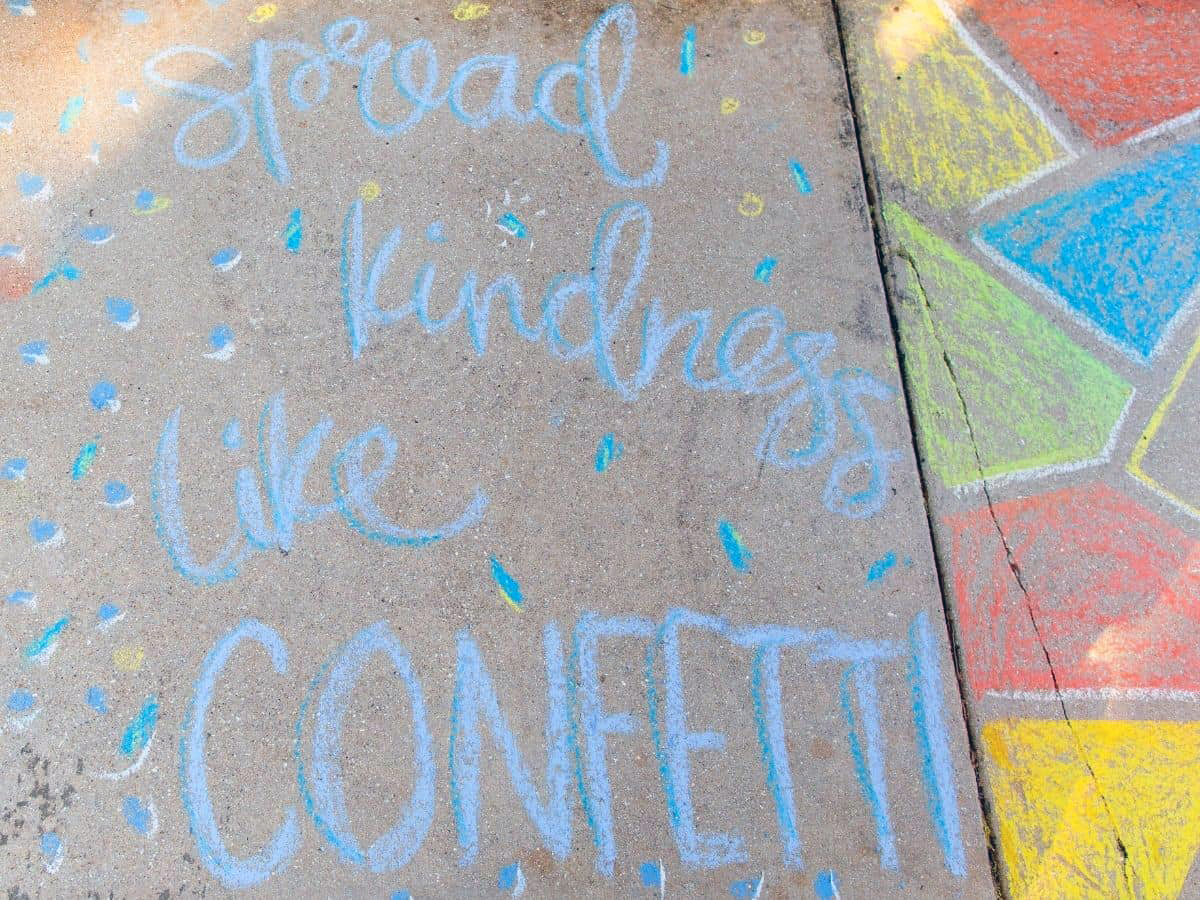 45 - Earth Heart
This type of sidewalk chalk artwork is ideal for Earth Day or any other day. It can also spark discussions with your child about why conservation and recycling are important.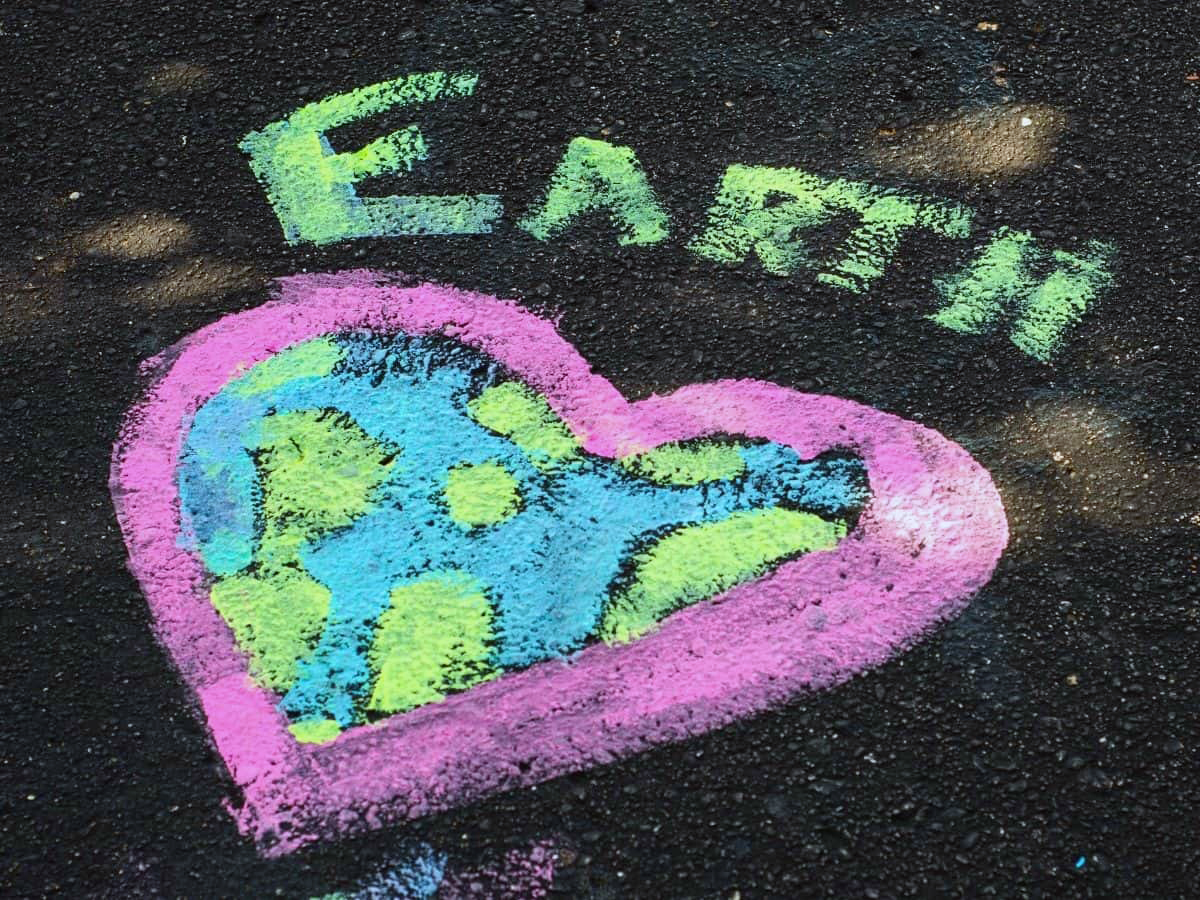 46 - Rainbow Masterpiece
Rainbow artwork inspires a passion for art in both kids and adults.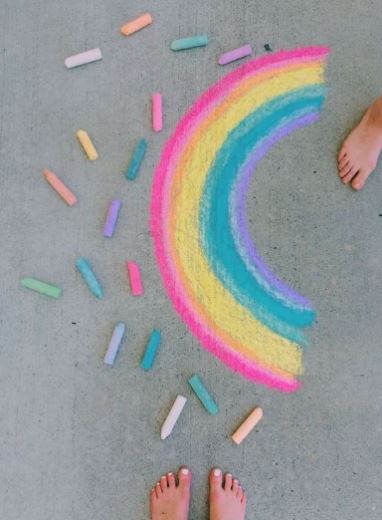 47 - Chalk City Art
B-Inspired Mama's chalk village is adorable and a lot of fun to create! It's as easy as coloring a book! Begin by sketching your city and roads in black chalk, then fill in the color and let your imagination run wild.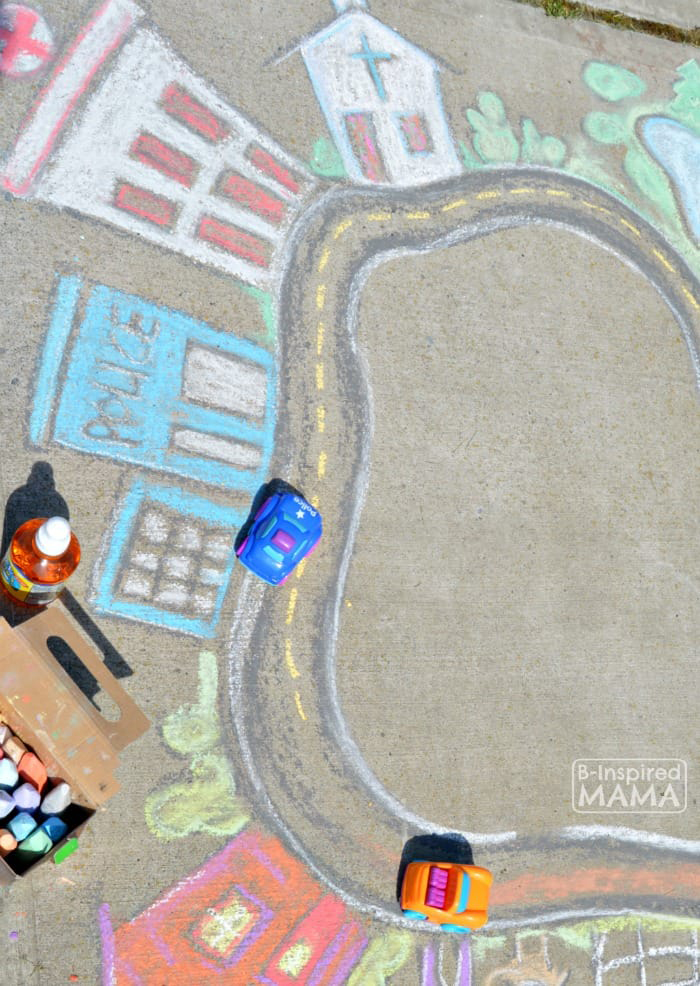 PHOTO CREDIT: B-INSPIRED MAMA
48 - Bizzy Bees - Simple Ideas For Sidewalk Chalk Art
This type of creative sidewalk chalk art can inspire your child to learn about the plant growth cycle while making beautiful flower and bee art.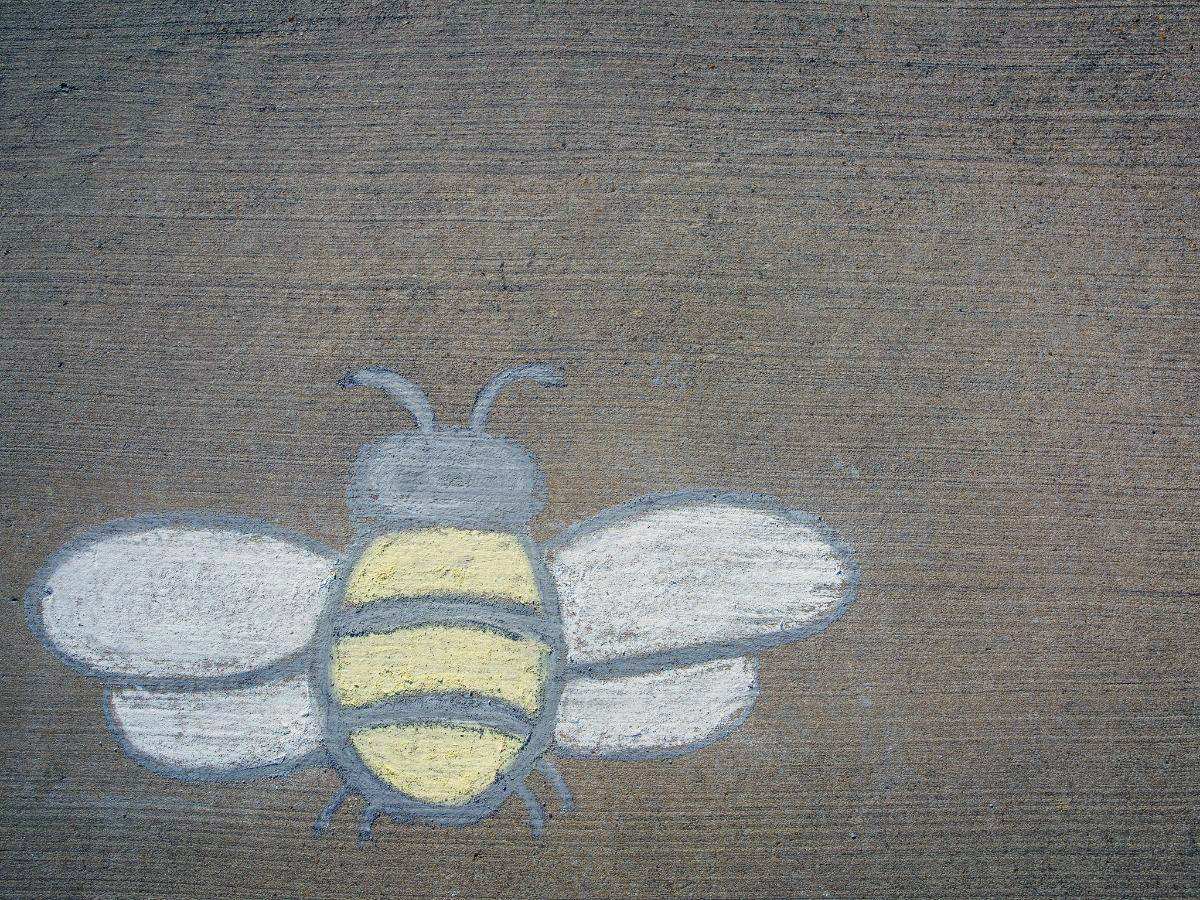 49 - Family Portrait
Giving your child particular artistic objectives, such as making a family portrait, and discussing his or her color, method, or unique choices can help them build problem-solving abilities over time.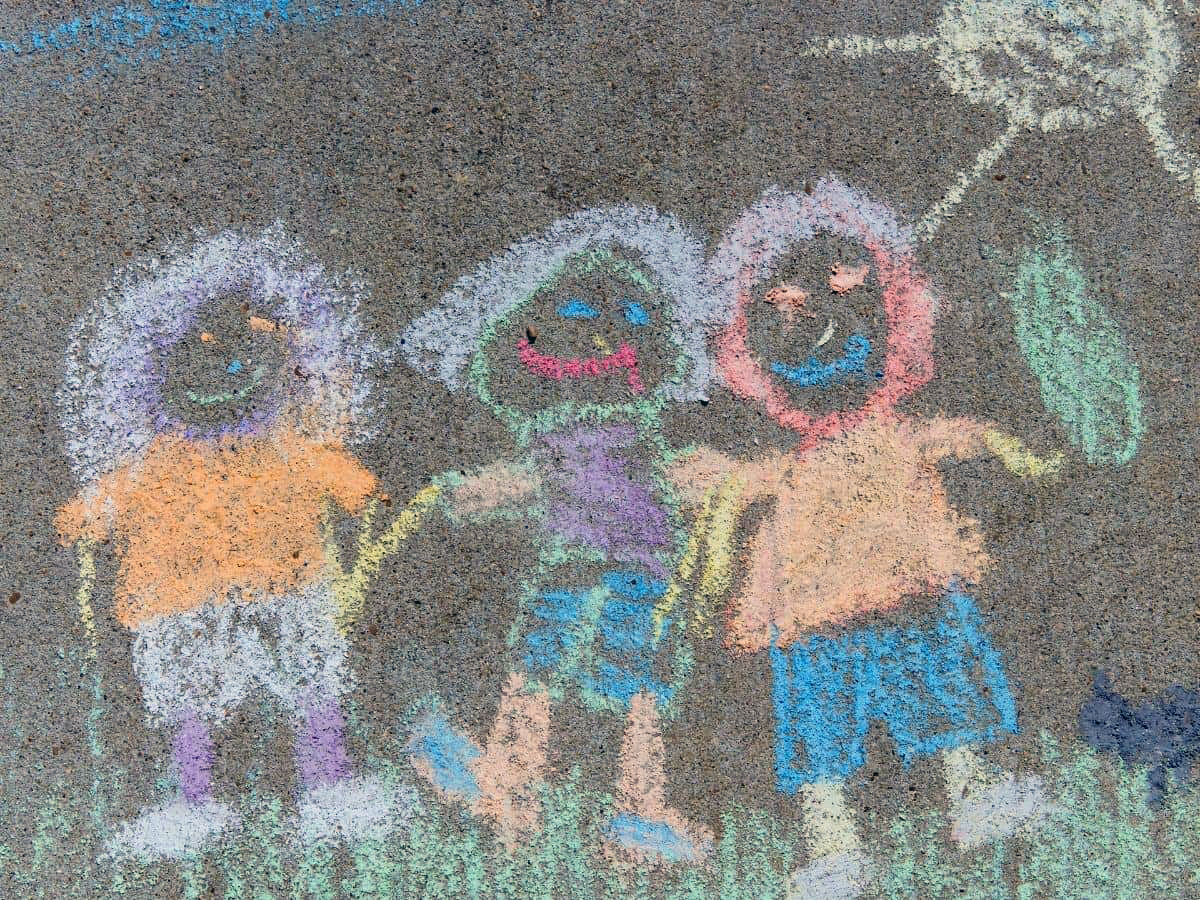 50 - Write Sight Words
Allow the children to practice writing sight words using sidewalk chalk. They need a lot of repetition to master, therefore this technique is a more involved way for kids to practice them.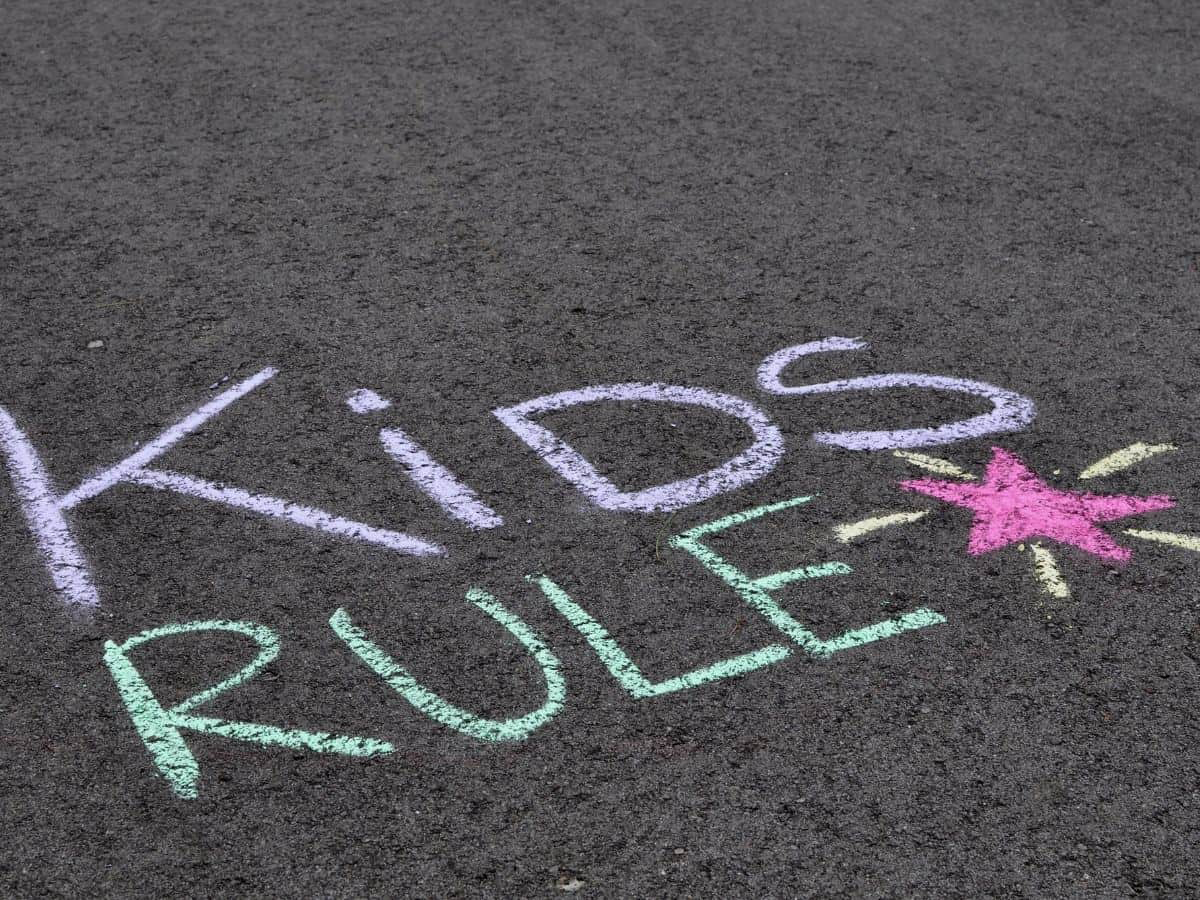 More Sidewalk Chalk Art Ideas Kids Love
DIY Sidewalk Chalk Paint
If you're looking for some fun ideas to get creative with sidewalk chalk this summer, you have to try this sidewalk chalk paint tutorial from Bitz & Giggles. It's a messy play activity perfect for kids of all ages! Your child will have a blast mixing colors and using their imaginations to paint the sidewalk.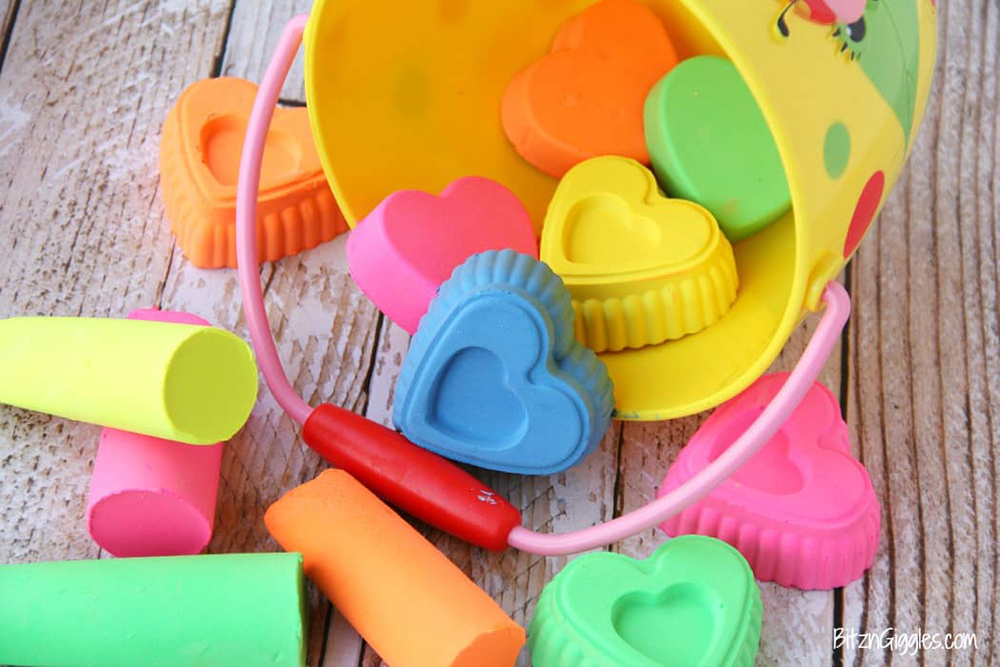 PHOTO CREDIT: BITZ & GIGGLES
Fizzing Sidewalk Paint
This is another engaging activity that encourages children to explore with their senses. In this exercise, you'll create a chalk-based paint and then spritz it with some fizz to take your sidewalk chalk to the next level. Check out this DIY tutorial by OneMommy to get you started!
Crafts With Chalk
Your little one will love creating colorful chalk collages with stencils in this fun craft activity from Buggy and Buddy. You can even layer the stencils to make some unique designs!
Wet Sidewalk Chalk Art Ideas
Get creative with this fun chalk mixing exercise from School Time Snippets. This hands-on activity gives sidewalk chalk a new twist by drawing with it while it's wet! It encourages children to engage in sensory exploration while also learning about color theory.
Rainbow Chalk Handprints
This activity is so fun and simple! All you need to do is get red, orange, yellow, green, blue, and purple colored chalk. Next, rub it hard into the ground in that order to create a rainbow effect. Stamp your handprint in the chalk dust and then onto the pavement. The kids will have a blast making hand prints in different colors throughout the sidewalk!
Will you try any of these sidewalk chalk art ideas with your kids this summer? Tell us which ones are your favorites in the comments section below. Also, make sure to visit our blog for additional fun summer activities to do with your kids!