Sidewalk chalk is a spring and summertime staple for kids of all ages. You can use sidewalk chalk stencils to practice writing letters, draw beautiful masterpieces, or play creative sidewalk chalk games. If you're looking for fun chalk art ideas and games to play with sidewalk chalk, you've come to the right place! Continue reading to find out what you can draw with sidewalk chalk this spring and summer!
Sidewalk chalk has come a long way over the years. It comes in so many different colors as well as glitter and even neon! However, the many active games for your children you can do with chalk remain unchanged.
So, find a safe spot in your driveway, schoolyard, or on the sidewalk, and let's chalk it up (pun intended) with these fun sidewalk chalk games.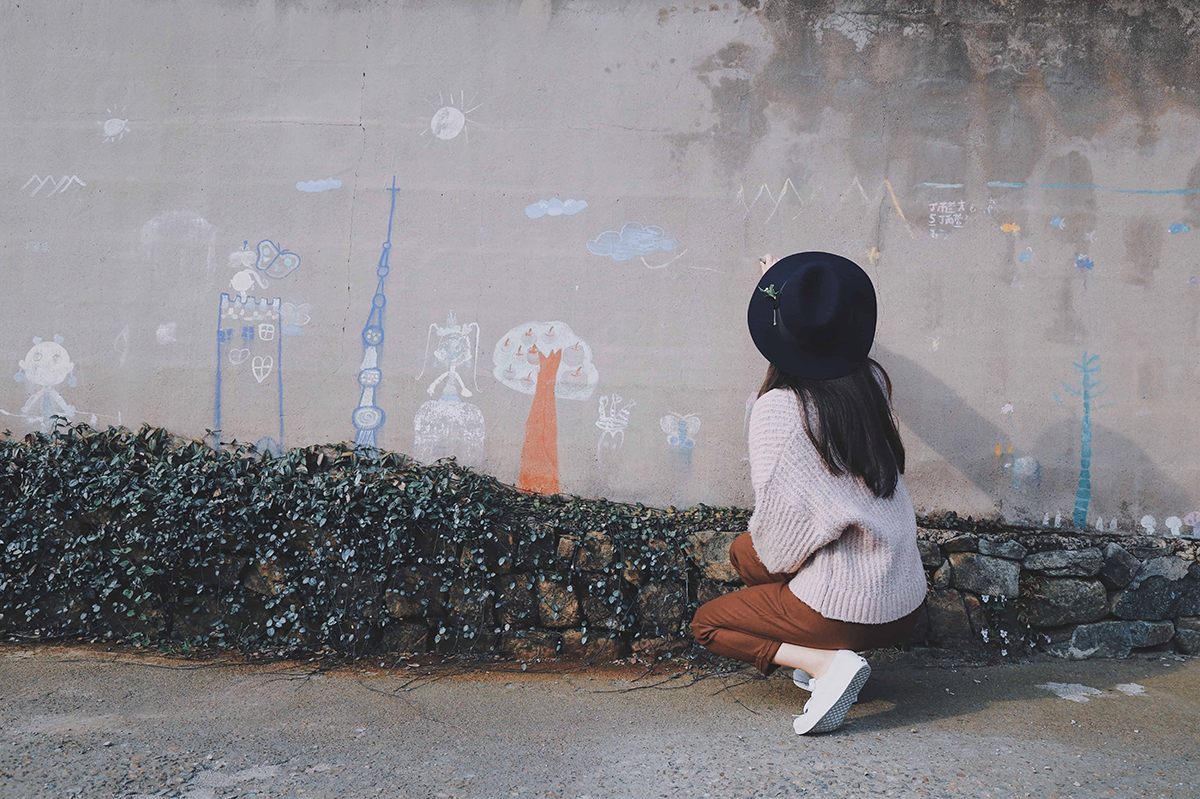 1 - Hopscotch
This is a classic sidewalk chalk game most of us still remember from childhood that has withstood the test of time. This game never gets boring because there are lots of different ways to play and it's a great way for kids to develop their hopping, throwing, balance and coordination skills. Kids can play this traditional game by themselves or as a group.
The game's basic rules are simple. The main objective is for kids to take turns hopping up and down the hopscotch course, testing their ability to single and double hop on each box.
To begin, draw a hopscotch diagram similar to the one shown below.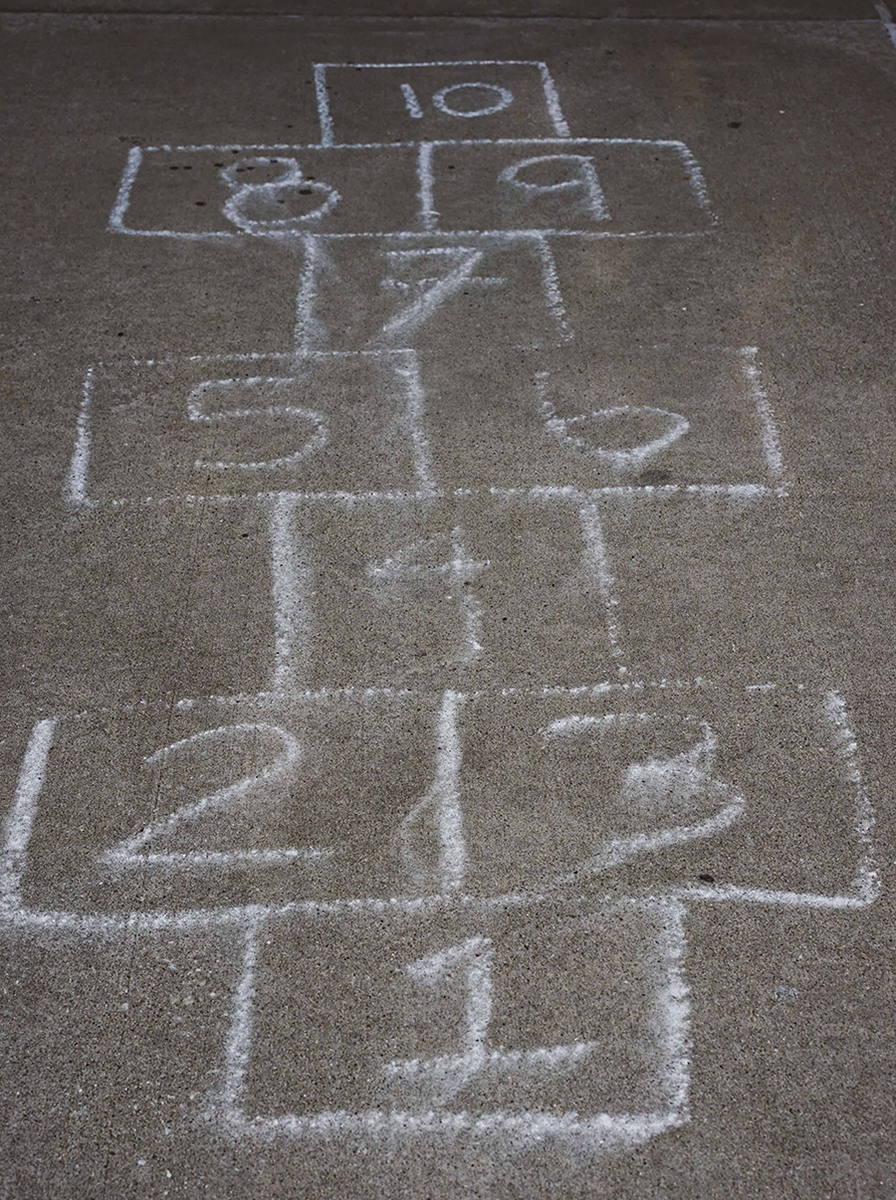 Kids can either draw their own course with chalk or have a parent help. This is the fun part because kids can use their imaginations and get creative when drawing their hopscotch spaces. Encourage your child to fun colors and even experiment with different non traditional hopscotch shapes.
You can also experiment with different types of markers. You can use chalk or look for small toys, stones, beanbags, buttons, or buttons.
2 - The Floor Is Lava
If you're looking for creative and fun sidewalk chalk ideas this is a good one for developing skills like hopping and simply getting outside for some screen free activity time. Children can use their imaginations to draw volcanos with various colored chalk and space them at different distances apart. Draw lava between the volcano spaces with red chalk and have the kids jump from volcano to volcano to avoid the lava.
3 - Sidewalk Note
This is a fun activity that the entire family can participate in. Use your sidewalk chalk to write an encouraging message or draw something nice on the sidewalk for others to see as they pass by.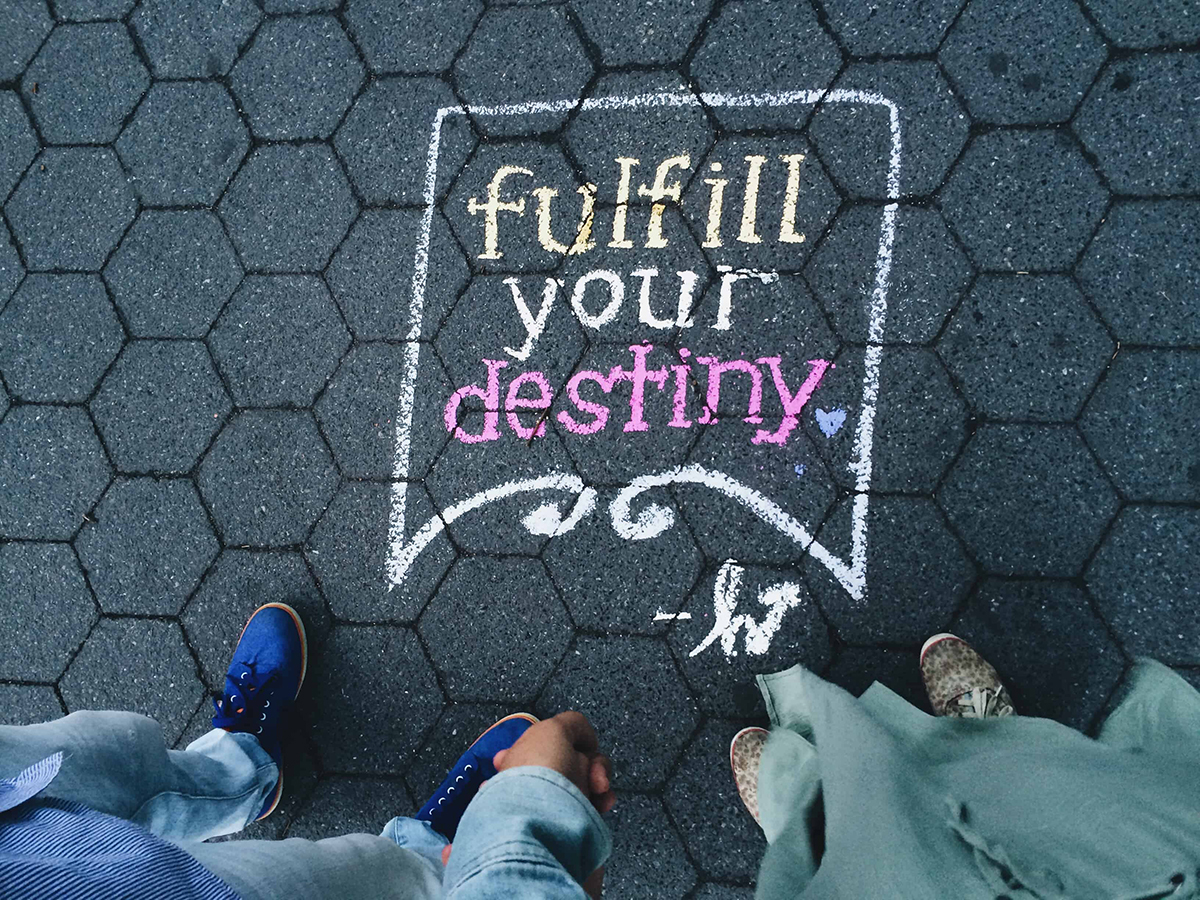 This is a wonderful way to pay it forward and brighten someone's day! Simply write or draw something that others will notice and enjoy while out for a walk.
4 - Chalk Word Game
This exciting word game is an oldie but a goodie. Begin by drawing a 4x4 grid and filling it with random letters, then see how many words your children can find in 3 minutes. Make sure to include a good mix of vowels and consonants. This is a fun way for kids to use their imaginations while also practicing their spelling skills.
5 - Draw a chalk town
This is a great imaginative activity for younger children. This is a fun outdoor version of the traditional road rug that many children have for their toy vehicles.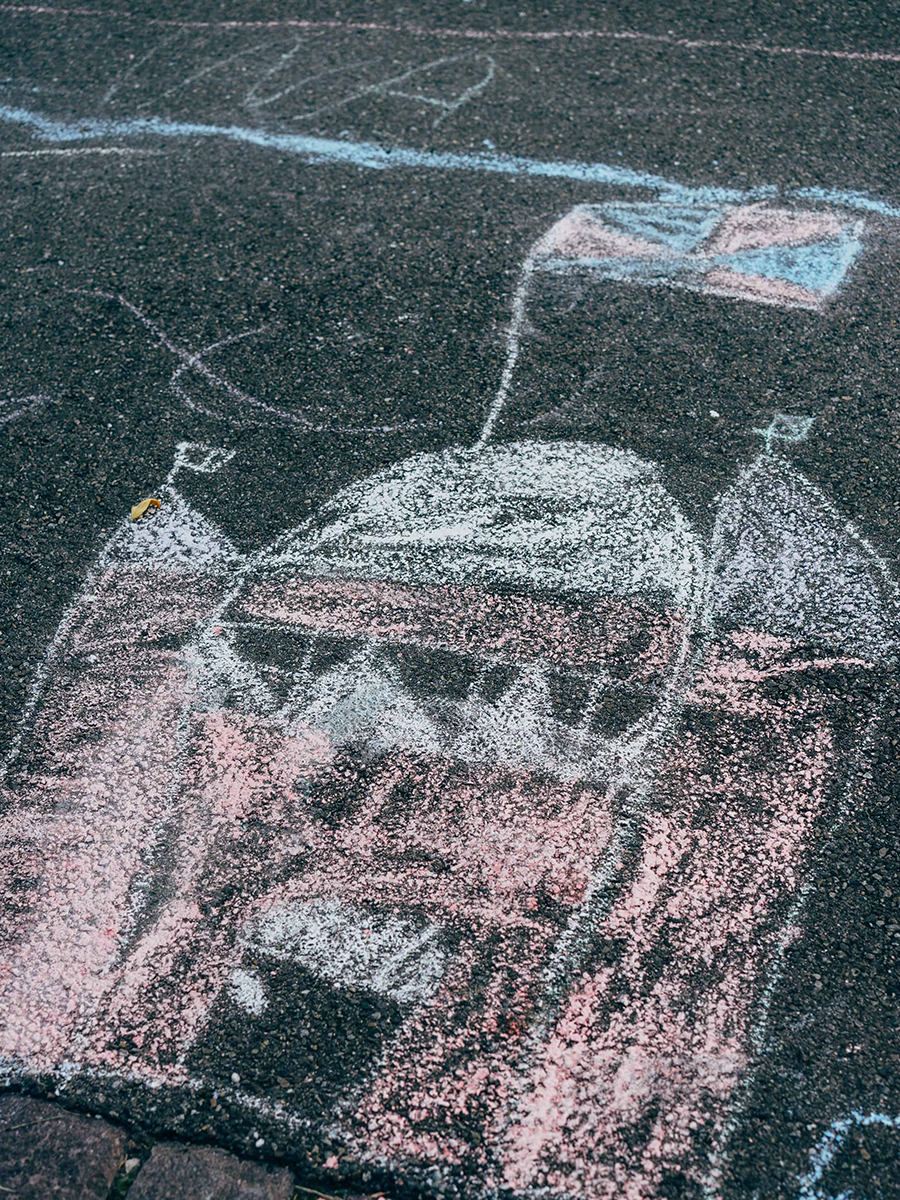 All you have to do is build a city in your driveway with roads and buildings. You can even give the buildings names.
6 - Scavenger Hunt
Use your sidewalk chalk to write a list of things for your kids to find. Make sure to include a few easy-to-find items as well as a few more difficult-to-find items from around the yard. When your kids find the items have them place them next to the list. You can even have them use chalk to check off the items, similar to a scavenger hunt checklist.
7 - Obstacle Course
This is a fun screen-free activity that will get your children up and moving. Make a fun obstacle course for your kids to follow by tracing a path on the driveway or sidewalk. You can make it more enjoyable by having them do different activities along the way, such as leap frog jumps from space to space or hopping over sticks.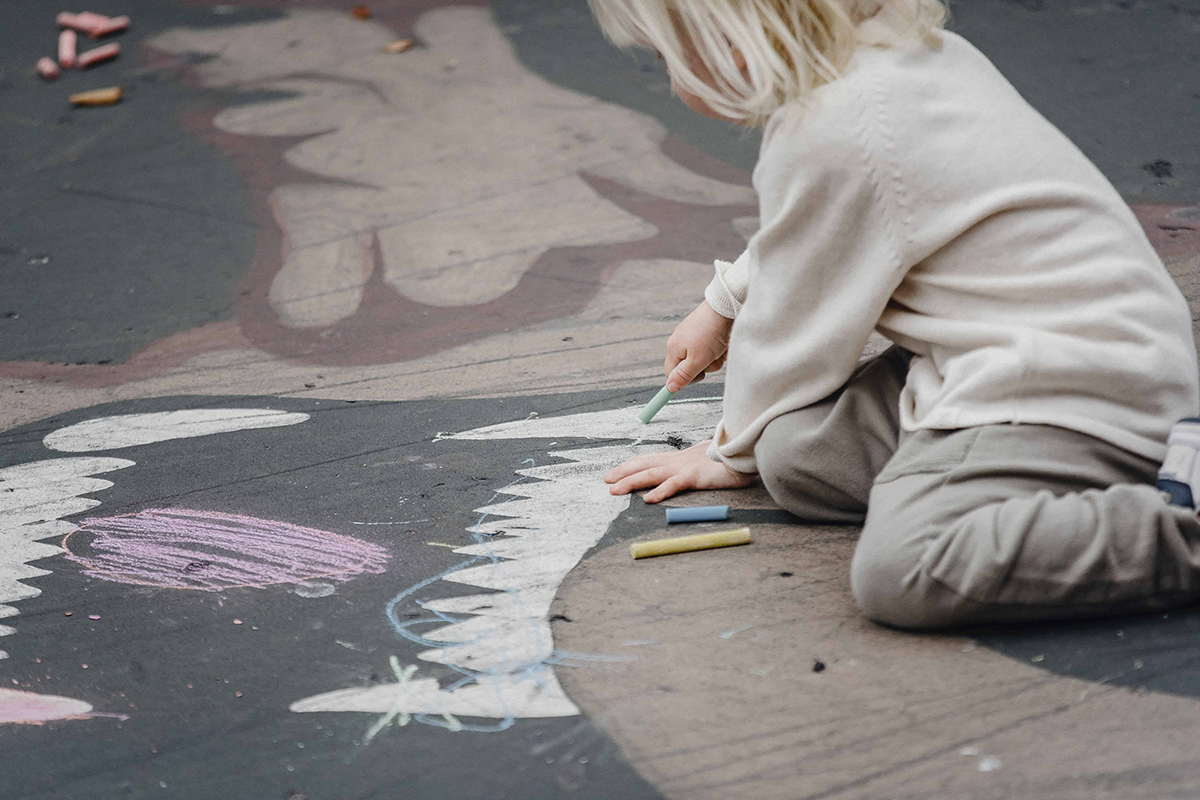 8 - Sidewalk Chalk Bullseye
This sidewalk chalk game is a great way for kids to practice number recognition as well as math! To begin, use your sidewalk chalk to create a giant bullseye with four rings in different colors on the driveway, similar to the one seen below. Then, add numbers to each circle, beginning with the lowest number on the outside ring and ending with the largest number on the inner circle. You can use bigger numbers (10, 15, 20, 25) or smaller numbers (1, 2, 3, 4) depending on your child's age and math skill level.
Have the kids take turns tossing a rock marker at the bullseye. After each child has taken their turn, write the number next to the circle where the rock marker fell. At the end of your game, help the kids with adding up the numbers to see who won!
9 - Sidewalk Chalk Twister
If you're looking for fun sidewalk chalk game ideas Twister is a fun game that can also be played outside! All you need to play is four different colors of sidewalk chalk to draw the board and something to use as a spinner. This game encourages children to be active and move about, as well as to listen to and follow directions.
If the standard method of playing twister is too difficult, you can get creative with alternatives. If the spinner lands on red, for example, you can have the kids dance around or make animal sounds instead.
10 - Sidewalk Chalk Games With Colors
Color games are super simple to play with sidewalk chalk and kids have so much fun with them!
First, using your sidewalk chalk, create 5-8 different colored circles. Then, have the kids go around the yard looking for items to fill in the different colored circles. Anything they find outside counts, but let them know that they're not allowed to bring anything from inside the house. You win the game if you collect at least eight objects to fill up each circle.
You could also give the kids popsicles as a treat at the end!
11 - Sidewalk ABC's
This is a really easy game that teaches kids the alphabet and is ideal for birthday celebrations or group activities. Simply write each letter of the alphabet on the sidewalk and instruct the children to draw an object that begins with the letter below it.
12 - Simon Says Sidewalk Chalk Games
Here's a fresh spin on an old favorite! just draw green, red, yellow, and blue color blocks on the sidewalk using your chalk to represent the standard Simon Says colors. You can also switch up the traditional colors by using some new favorite chalk shades instead.
You can draw them in a circular pattern as shown in the classic Simon Says game board below. Don't forget to leave a large space in the middle for the players to stand while they wait for instructions between each round.
Next, call out a color and have your child jump to it. Then, add another color to the mix and have your child repeat the pattern, jumping to each color in the same order you specified. The game is over when you have 6-8 colors in the sequence and your child has either successfully finished the sequence or has made a mistake along the way by failing to follow the pattern correctly.
13 - Make Your Own Art Gallery
Freehand sidewalk chalk drawing is an excellent way for kids to express their creativity and makes for a great boredom buster.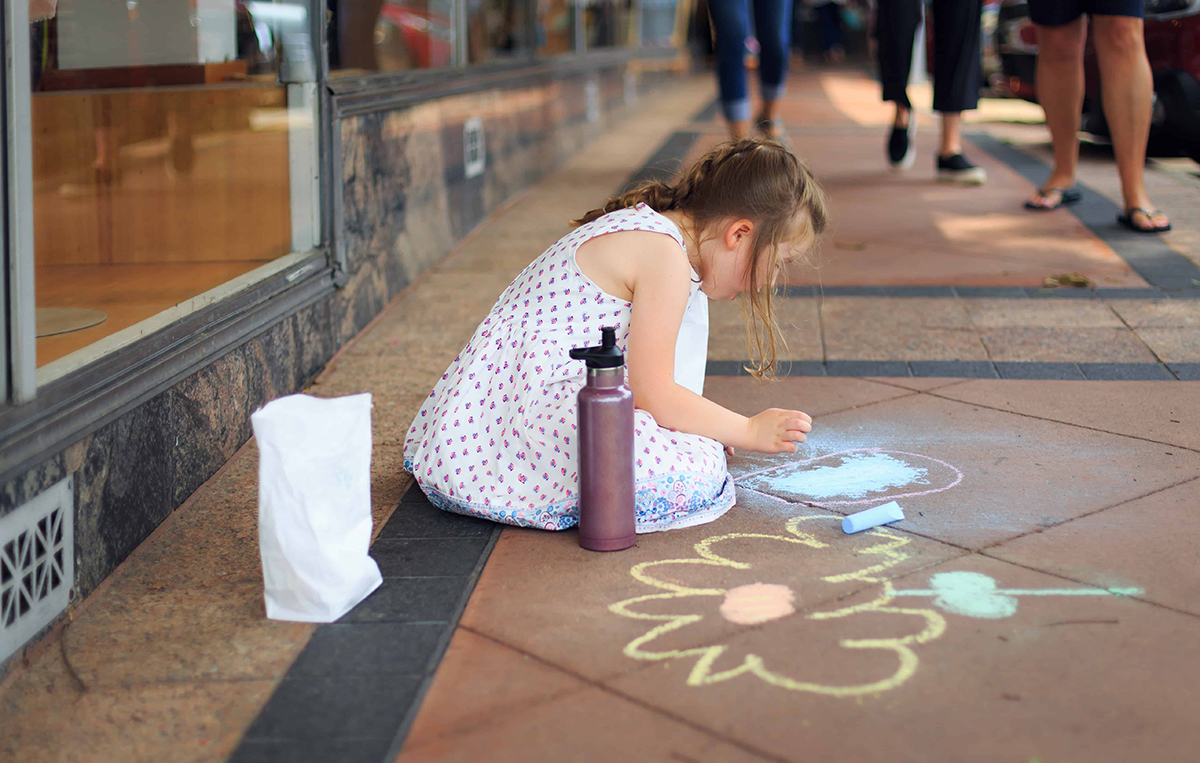 Check out our post on 50 Creative & Easy Sidewalk Chalk Art Ideas for more fun sidewalk chalk ideas to try with your kiddos this summer.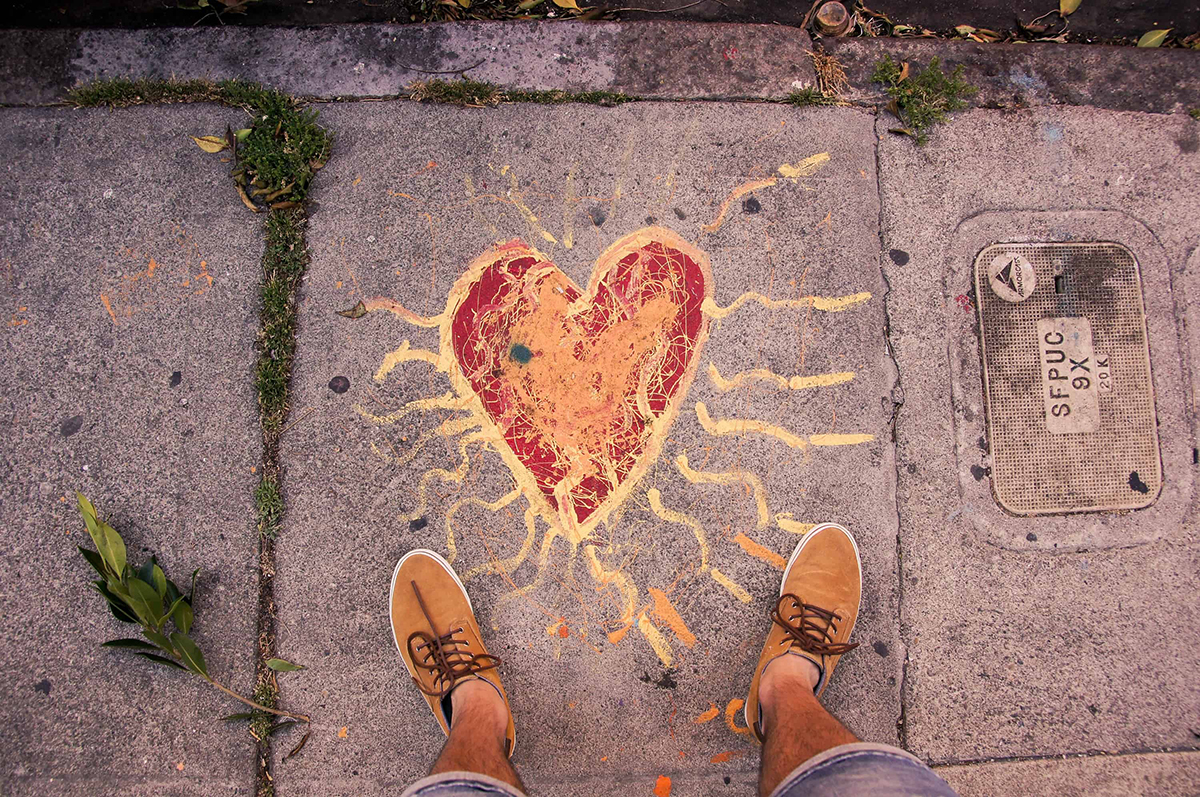 14 - Rainbow Chalk Tracing
This is a tried-and-true method for teaching your child to write letters and words. To begin, take a piece of white chalk and write a word that you want your child to practice writing. If you're stuck and need some ideas you can try having them write random letters, numbers, different sight words, and even their name. Then have them trace your word in other colors, such as red, orange, yellow, and so on. As kids add more colors, they will see a rainbow start to appear.
15 - Chalk Stencil Letter Practice
If you have some letter stencils, you can take them outside and have the kids use their favorite colored chalk to stencil their names on the sidewalk. You can also do this with different sight words and numbers!
What are you waiting for?! Take your kids to a nearby yard, driveway, or sidewalk and have hours of active fun with their sidewalk chalk! Don't forget to check out our blog for more more exciting family activities.