Messy play is an important part of childhood development that helps kids experience the world through their senses. It often involves materials that are sticky, gooey, slimy, or wet, which can get messy real quick! Although some parents might be hesitant to get in on the mess, the benefits of sensory play are worth it. So, the question is, how messy should things get during playtime? It's a common concern for many parents when deciding whether to incorporate messy play into their child's routine. Well, the answer isn't exactly cut-and-dry, as it depends on a few different factors.
In this post, we'll explore the benefits of messy play and how it can help your child grow. We'll also provide some tips and tricks to make sure that things stay safe and fun for both of you. Plus, we'll share some fun and easy ideas for messy play activities that you can do at home. So, get ready to roll up your sleeves and get a little messy!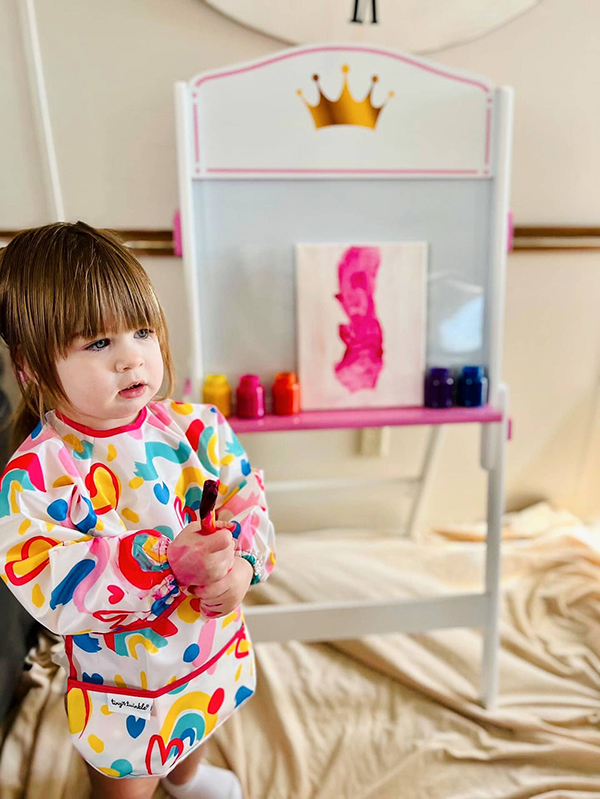 You may also like:
Ideas For Sensory Play - Babies, Toddlers, & Kids
Fall Themed Sensory Bins for Toddlers
15 Creative Games to Play With Sidewalk Chalk
Benefits Of Messy Play
You might not realize it, but getting messy allows kids to learn in ways that other types of play can't. Kids can get a lot out of getting messy! Messy sensory play helps them develop physically, mentally, socially, and emotionally. Here are some of the ways it can be good for them:
Sensory Development:
When kids get their hands dirty and play with mud, paint, or slime, it's not just a fun activity. It's also a chance for them to learn through their senses. Messy play lets them explore different textures, smells, and colors, which can help their senses develop.
Kids can learn a lot about different textures by using their sense of touch. They can tell when something is wet or dry, hard or soft, rough or smooth. They can also figure out how much pressure they need to apply to shape and mold different materials. This can help them develop their fine motor skills, hand-eye coordination, and spatial awareness.
During some sensory activities, the sense of smell is also stimulated, especially in messy play. Children get to experience various scents, like the earthy aroma of mud or the sweet fragrance of flowers. Exposing kids to different scents helps develop their olfactory system, which is responsible for recognizing and distinguishing between scents.
Additionally, messy play offers children an opportunity to explore different colors and learn about their various shades. By mixing colors, they can discover new shades, and improve their visual perception and color recognition skills.
Fine Tune Motor Skills:
Did you know that letting your kids get their hands messy with finger paint, clay, or playdough can actually help them improve their hand-eye coordination? It's pretty amazing! Kids who participate in sensory play tend to have better motor skills, spatial awareness, and hand-eye coordination than those who don't.
When kids squish, squeeze, and mold clay or shape playdough, they're using their fingers and hands in a precise way. Research shows that this type of tactile play can help develop their motor skills and spatial awareness. This means your kiddo will have a better understanding of how things fit together in their surroundings. This can come in handy for activities like drawing, writing, and even sports.
But that's not all! When kids participate in sensory play, they're more likely to have a positive attitude toward learning. Playing with clay or paint allows them to interact with their environment. It also makes them more curious about the world around them. They'll feel empowered and confident in their ability to learn and grow, making them more open to new experiences.
Language Development:
As kids engage in sensory play, they naturally express what they're seeing, feeling, and doing. Messy play time provides kids with all sorts of new experiences to talk about. By putting these experiences into words, they develop stronger communication skills. They also start using new words and ideas, which helps their vocabulary grow. These skills are super important and will surely benefit them both in and outside of the classroom.
Creativity and Imagination:
Messy playtime can be a great way to encourage kids to express themselves creatively and explore their imaginations. They can experiment with different textures, colors, and shapes and turn simple materials into elaborate works of art.
Children can express their creativity by using toys and puppets to create their own stories and narratives in a way that allows them to tap into their imaginations.
Physical expression can also be a great way for kids to express their creativity. When children move and dance to music, they use their bodies in a way that can improve coordination, balance, and gross motor skills while also expressing their emotions through movement.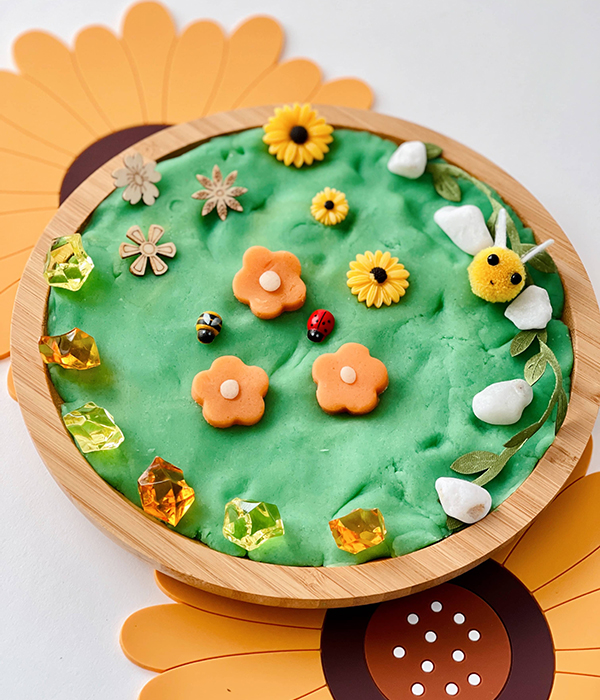 Emotional Development:
When little ones get to play with different materials, it can actually help them feel more confident, manage their emotions, reduce stress and anxiety, and boost their self-esteem. Allowing children to explore and experiment with a variety of materials like play dough, watercolors, and building blocks can help them develop the emotional intelligence they need to navigate the world around them and express their emotions in healthy and productive ways.
Playing with different materials can be a fun way for kids to learn how to control their emotions and feel more in control of their environment. This can make them feel more confident and capable. Since young children may not have the language skills to express their feelings yet, messy play time can help them express themselves in a positive and creative way. By allowing kids to explore, we help them develop their emotional intelligence. This helps them learn to identify and express their emotions in healthy ways.
Social Development:
Playing with others helps kids develop lifelong social skills. Peer interaction teaches kids how to share, take turns, communicate, and form relationships.
By playing together, children learn how to work as a team, solve problems, and compromise. These skills are essential for building healthy relationships because they help kids learn to manage conflicts. They also help them understand the importance of empathy and respect.
Playing with others also helps children develop confidence and self-esteem. By participating in group play, kids can learn to express themselves and become more comfortable in social situations.
Cognitive Development:
During messy playtime, children can improve their problem-solving skills and develop their ability to think things through. This kind of play is like a learning game for them, where they have the opportunity to explore and understand how things work.
As they experiment with different materials and try out new ideas, they can develop their critical thinking abilities and problem-solving skills. They might make mistakes along the way, but they learn from them. With each try, they can begin to recognize patterns, make connections, and find new solutions to problems. This kind of learning helps kids develop a range of skills, including attention, memory, logical thinking, and language abilities. It also lays a strong foundation for their future learning and development.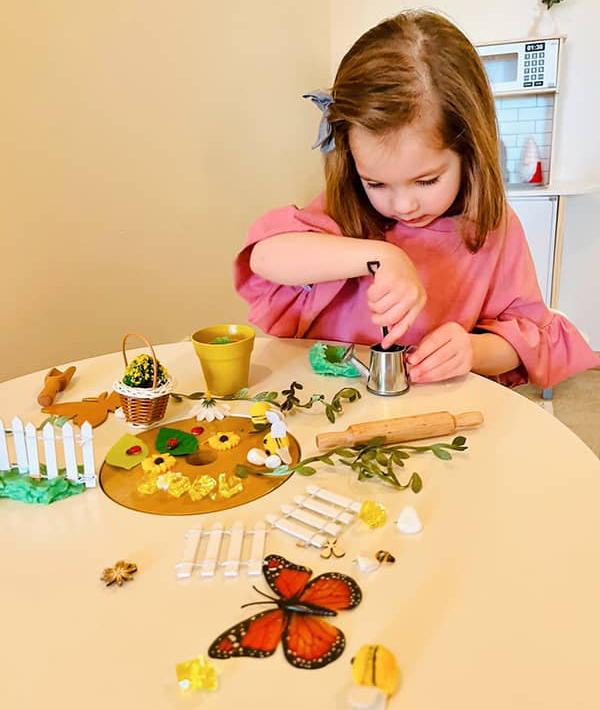 Tips and Tricks For Safe Messy Play
Sensory play is all about creating a fun and interactive learning experience for kids and getting messy is a key part of the experience. But let's be real, sometimes things can get pretty wild. So it's important to find a balance between giving them the freedom to explore on their own terms and setting some basic rules to keep them safe. By following some helpful tips and tricks, you can make sure that your child's messy playtime is a success!
Choose the right location:
Messy play can get, well, messy! So, it's important to choose a location that's easy to clean up after the fun is over. Having a dedicated playroom, a separate kitchen area, or an outdoor space would be ideal to prevent any expensive or fragile items from getting damaged. It's even better to have a specific play area with the necessary materials that can be easily cleaned.
When deciding on where to play, it's also important to think about the situation. If you're creating a sensory play area at home, you might be okay with a bit of a mess. On the other hand, if you're in a public area, it's better to choose activities that are less messy and easy to clean up.
Don't forget to protect your surfaces by laying down some towels or mats beforehand!
Dress for messy play time:
Messy play is called "messy" for a reason! With all the potential for spills and splatters, it's important to dress your child (and yourself!) in clothes that you don't mind getting dirty. It may be helpful to designate a special set of play clothes specifically for these activities. This way, you won't have to worry about ruining any of your child's regular outfits. You can even let your child help pick out these special play clothes, making it a fun activity for them.
Consider dressing your child in an apron or old shirt to provide an extra layer of protection from any messy mishaps. This keeps their clothes clean and also makes them feel more like an artist or scientist during messy play activities.
Set some ground rules:
It's a good idea to establish some ground rules before starting any messy play activity, especially if you have multiple children. This can help prevent overstimulation and chaos, which can be overwhelming for kids. You should talk to your child about what is and isn't allowed during the activity, like not throwing materials or not touching certain items. By setting these rules in advance, children will know what to expect, and there will be less throwing, dumping, and chaos. You can also establish some boundaries, such as playing in the bathtub or sink, wearing an apron, or placing a large mat or bedsheet on the floor.
Use safe messy play materials:
When planning messy sensory play activities for your little one, safety is a top priority! Choose age-appropriate materials that are safe for them to touch and play with. For example, you could use non-toxic paints, playdough, or natural materials like sand, water, or mud.
It's also essential to be mindful of any allergies or sensitivities your child may have, and avoid using any materials that could cause harm. Keep in mind that infants and toddlers are more likely to put things in their mouths, so it's especially important to choose safe and non-toxic sensory play activities for them.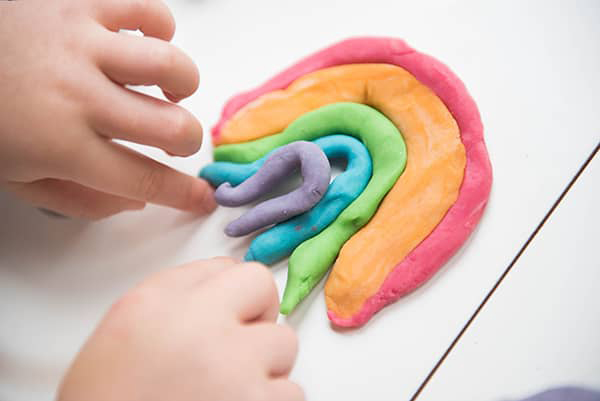 Supervise closely:
Be sure to keep an eye on the little ones to make sure they don't get hurt or swallow anything funky. Preschoolers and elementary-aged children typically have a better understanding of rules and boundaries and can partake in more adventurous sensory play activities. However, it is still important to set clear expectations and communicate the dos and don'ts of sensory playtime. After all, you gotta keep it safe and fun for everyone, right?
Have cleaning supplies on hand:
It's always a good idea to have cleaning supplies readily available in case of any accidents or spills. Even if you try your best to prevent them, accidents can still occur, and spills can be inevitable. Having the necessary cleaning supplies on hand can make the process of cleaning up messes quick and easy.
Consider storing your cleaning supplies in a designated area that is easily accessible. This way, you can quickly grab what you need without having to waste time searching for it. You may want to stock up on a variety of cleaning supplies including all-purpose cleaners, disinfectant wipes, and paper towels. It's also a good idea to restock your supplies often, so you don't run out while cleaning up a mess.
Keep things simple:
When it comes to messy playtime it's easy to get carried away with different materials and activities. But it's important to remember that sometimes less is more and keeping things simple can be just as fun. Pick a few materials or activities to focus on to keep the experience manageable. The more you engage in sensory play, the more routine it becomes. You'll have a better understanding of what works and what doesn't and be able to plan future play sessions without breaking a sweat.
Make messy play time a shared experience:
One of the great benefits of messy play is that it offers a unique chance to bond with your kiddo and encourage their creativity. As you participate in the activities with your little one, you can talk to them about what they are feeling, seeing, and hearing, and you can also offer suggestions for new things to try. By making sensory play a shared experience, you can create some awesome memories and strengthen your relationship with your little one.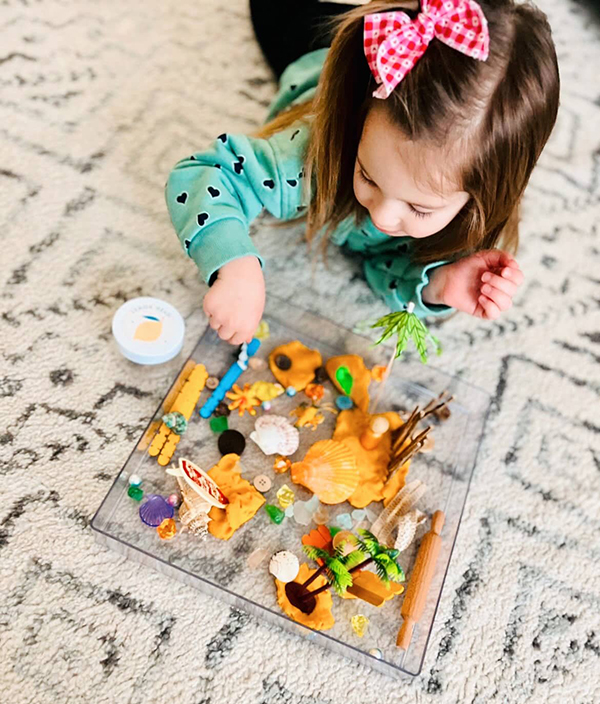 Fun and Easy Messy Play Activities
When engaging in messy play activities, it's important to consider the level of mess and select appropriate activities based on the environment. Here are some fun and easy ideas for messy play that you can do with your child at home.
Finger Painting
This classic activity is a great way for kids to explore the world of colors and textures in a hands-on way. All you need is some non-toxic paint, paper, and a designated area for painting. Encourage them to experiment with different colors and textures, and to use their fingers to create interesting shapes and patterns. Remember, the goal of finger painting isn't to create a perfect work of art, but to have fun and explore the creative process.
Shaving Cream Messy Play
Playing with shaving cream is a fantastic way to encourage open-ended exploration and creativity in children. Its soft and fluffy texture makes it an all-in-one sensory experience! This activity helps develop fine motor skills, hand-eye coordination, and spatial awareness. Put a blob of shaving cream on a tray or table and let your little one use their fingers or any other tools to create designs and patterns.
The possibilities for learning and exploration with shaving cream are endless! Kids can use tools like paintbrushes, plastic utensils, or cookie cutters, to create unique shapes and textures. You can also add food coloring to create a multi-colored masterpiece.
Messy Water Play
Water play is a fun and engaging activity that can keep kids entertained for hours on end. To get started, all you need is a container filled with water and some fun toys that your kiddo can play with. You can use different tools like cups, spoons, and scoops to create a stimulating sensory experience.
But don't stop there! If you really want to take your water play to the next level, consider adding some food coloring to the mix. This simple addition can transform the water into a rainbow of colors, adding an extra element of excitement and creativity.
As your child begins to explore the water, encourage them to experiment with the toys and materials available. They can pour water from one container to another, make bubbles, or just splash around with their hands and feet. As they play, they'll also develop important sensory and motor skills.
Sensory Play Dough Activities
Playdough is a fun messy play activity that everyone can enjoy! If you're feeling adventurous, there are many different recipes for homemade play dough available online. You can even make your dough gluten-free, scented, or even edible! If you prefer the convenience of pre-made play dough, you can find it in many different colors, textures, and scents, ready to use straight out of the container. Consider adding shape cutters, rolling pins, molds, and other fun accessories to the mix for a truly unique tactile experience.
Bubble Wrap Stomp
Looking for a fun and easy activity to do with your little one? Try Bubble Wrap Stomp! All you need is a sheet of bubble wrap and some space on the floor. Lay out a sheet of bubble wrap on the floor and let your child stomp away, creating that oh-so-satisfying popping sound!
But why stop there? You can kick it up a notch by putting on some music and dancing around together while you stomp. Now, I know what you're thinking — what's the educational value in all this? Well, Bubble Wrap Stomp is actually a great way to teach cause and effect.
Your little one will be able to see and hear the bubbles pop right in front of their eyes and learn about the results of their actions. Stomping on the bubble wrap can also provide exciting sensory stimulation as the bubbles pop beneath your little one's feet. It's also a great way to release energy and get some exercise, which is especially important for those little ones who need to move around.
Sensory Bins
Sensory bins are like the ultimate playground for kids, providing a thrilling and immersive play experience while keeping the mess to a minimum. Filled with all sorts of materials, like rice, beans, or sand, these bins offer a colorful and textured adventure for little ones. Rice, for example, can provide a smooth and silky feel, while beans offer a more textured and bumpy surface. Kinetic sand can be particularly interesting as it can be molded into different shapes, providing a hands-on experience for children to explore.
Parents can get creative and make sensory bins even more interactive by adding small toys or objects for their kids to discover. For example, adding small plastic animals or figurines can encourage imaginative play, while adding small shovels or spoons can promote fine motor development. Scooping and pouring the materials helps promote fine motor development and can even be therapeutic.
Mud Kitchen Messy Play
Creating a mini mud kitchen in your backyard or nearby park is a great way to inspire your child's love of nature. Start by clearing a small space and gathering some natural materials rocks, sticks, and leaves to build the kitchen's foundation. Next, gather tools and utensils that your little one can use to whip up their own mud "recipes" and concoctions.
This type of open-ended play is a great way for your child to flex their creativity and imagination. It also provides important sensory stimulation that is beneficial for their cognitive and emotional development. Studies show that playing outside and connecting with nature has a positive impact on children's physical and mental health.
Jello Sensory Play
Jello sensory play is a fantastic example of taste-safe messy play that's perfect for babies and toddlers. This means that the sensory materials are safe to taste, which is great for little ones who are always putting things in their mouths.
To get started, simply follow the package instructions, add water, and mix well. You can even ask your child to help with this step, which is an excellent opportunity to teach them measuring and mixing skills. Once the Jello is mixed, pour it into bowls or molds of different shapes and sizes, and pop them into the fridge to set for a few hours.
When the Jello is ready, it's time to play! Invite your kiddo to the play area and encourage them to explore the Jello's texture, colors, and scent. They can use their hands to squish, mold, and manipulate the Jello, or you can provide utensils like spoons, forks, or cookie cutters to create different shapes and patterns.
As your child plays, they will be developing their fine motor skills, hand-eye coordination, and sensory perception. They can also learn about color mixing by combining different colored Jello and observing how they blend together. This activity can be an opportunity to introduce concepts like temperature and states of matter to older kids. You can take it a step further by exploring what happens when Jello is heated or frozen.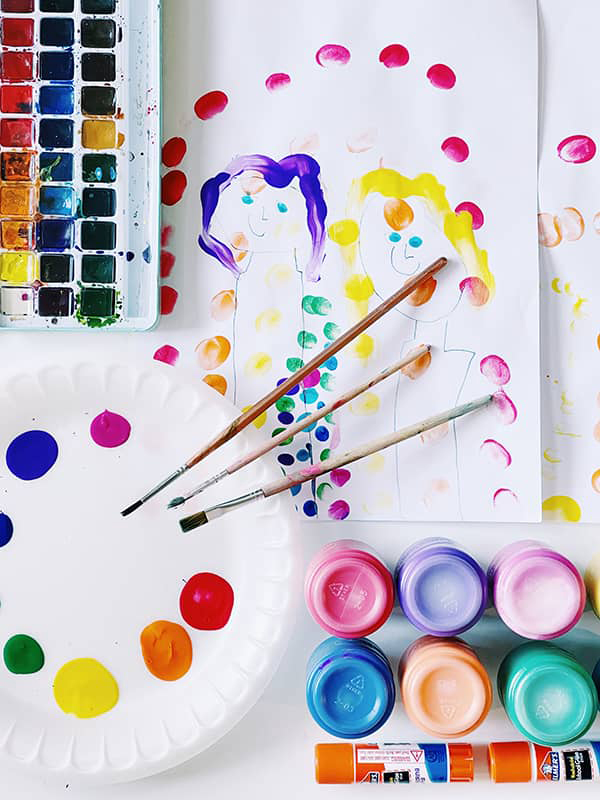 Messy Play - Final Thoughts
Messy playtime isn't just about having fun, it's also an opportunity for children to learn and develop in unique and exciting ways. The great news is that there's no right or wrong way to approach messy playtime. By considering factors like your child's age, the type of activity, and the surroundings, you can create a safe and engaging space that you and your child can both enjoy. Messy playtime presents an excellent chance to connect with your little one, spark their creativity, and make precious memories that will last a lifetime.
We'd love to hear about your favorite messy play activities and how they've benefited your child's development. Feel free to share your thoughts in the comments section below! And if you enjoyed this post, be sure to check out our blog for more sensory-related articles.