It's that time of the month again, and we are thrilled to announce the arrival of our April ☀️ 'Walking On Sunshine' ☀️ themed maternity subscription box! We've handpicked plenty of bright and cheerful products for both mom and baby to enjoy together. We're so excited to share this month's box with you because it features a Buzzbee bee plushie, a stroller activity toy set, a wooden weather puzzle, and more!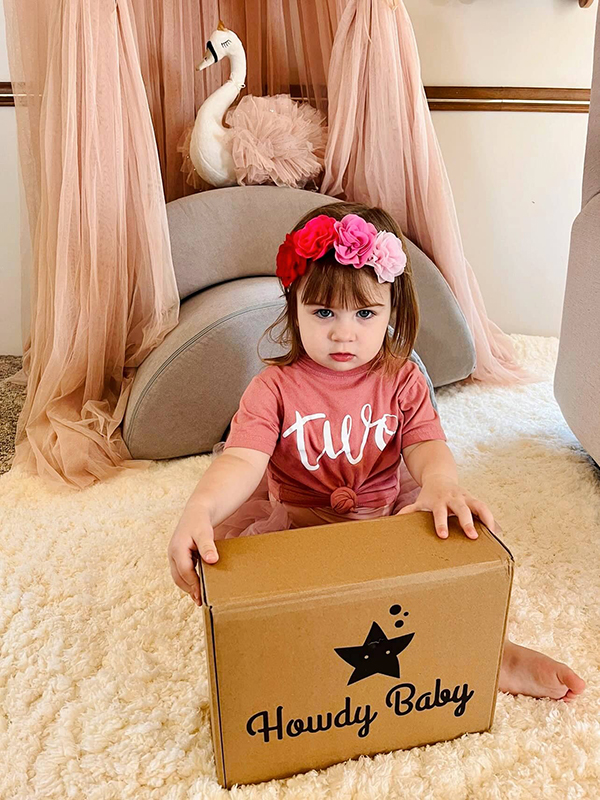 About our Howdy Baby Maternity Subscription Box
Our unique selection of family-friendly products is perfect for parents and kids to explore together.
With our Essential or Deluxe subscription boxes, as well as one-time gift box options, you can receive a variety of ethically made premium products that are always tailored to your child's age and developmental stage. From apparel and accessories to care products, toys, and activity items, our boxes have it all. Plus, we always include at least one self-care item for mom.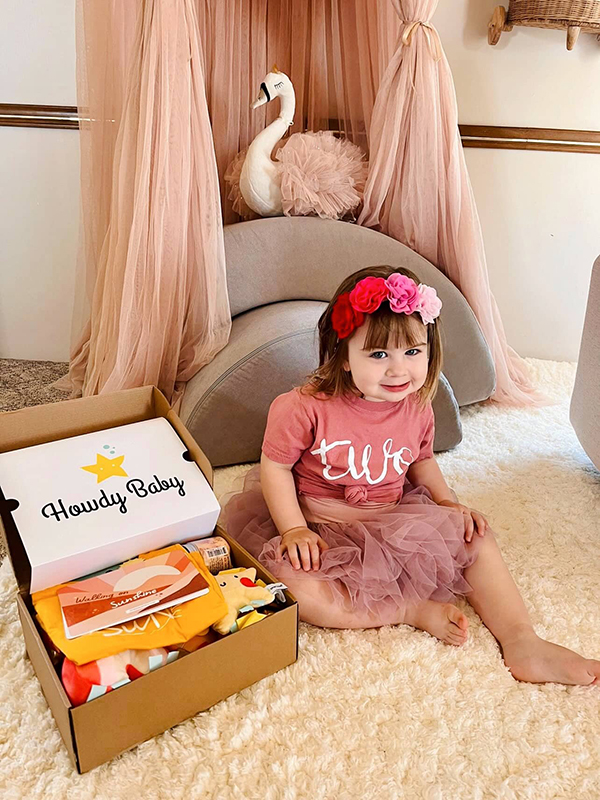 Available Options:
Howdy Baby Box - Newborn - 24 months

Howdy Kids Box - 2 - 6 years
Essential Box – $40 per box + $9 shipping

Deluxe Box – $60 per box + $9 shipping
All of our monthly subscription boxes ship to customers on the 15th of the month (excluding weekends and holidays).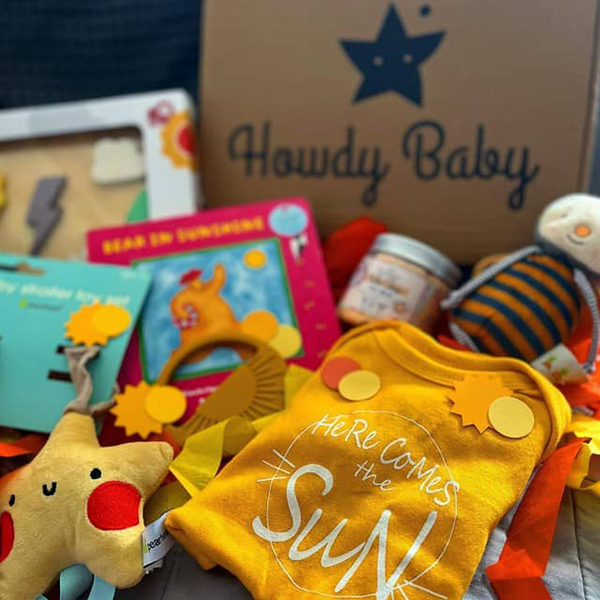 Visit howdybabybox.com to get started and you can also use the code HOWDY10! at checkout to save 10% on your first box.
April 2023 Howdy Baby Maternity Subscription Unboxing
So let's dive into the unboxing and see what goodies await!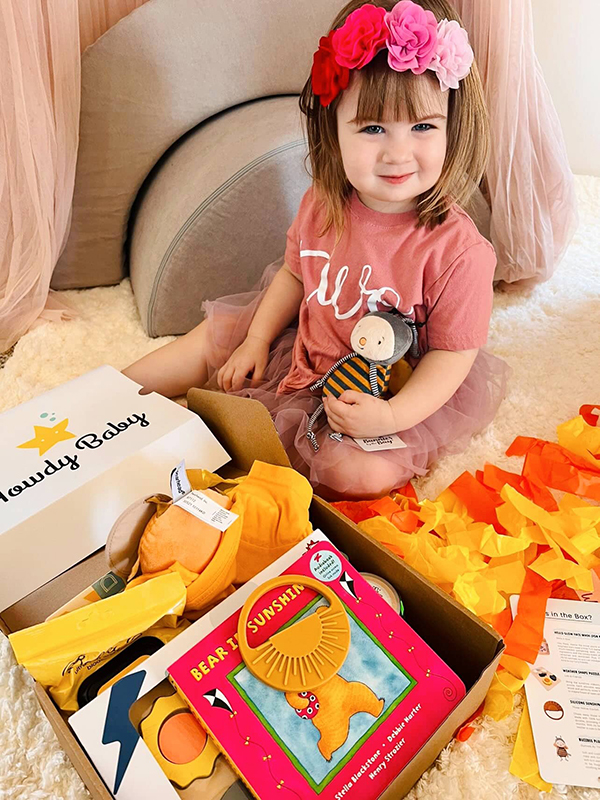 Hello Glow Face Mask (For Mom)

Bella & Bear
Hey, mamas! Are you ready for a treat? Well, say hello to the Hello Glow face mask, the star of this month's maternity subscription box. Each month, we make sure to include something special just for you.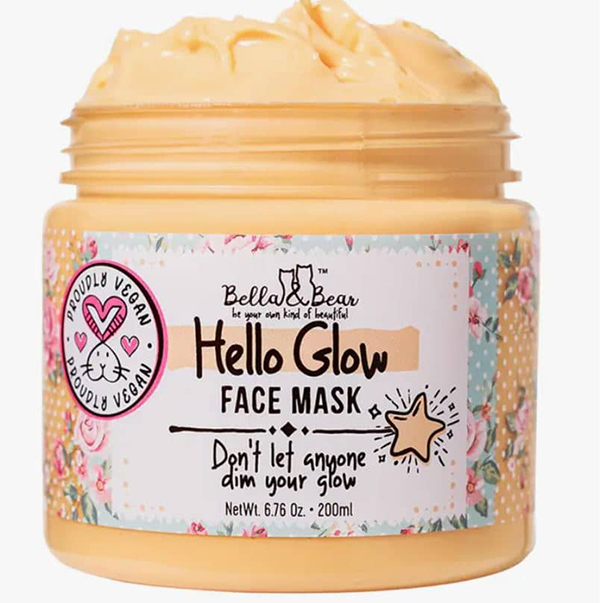 This mask is loaded with skin-brightening ingredients and smells like fresh clementine. We love it because it's the perfect way to unwind after a long day of mommy duties.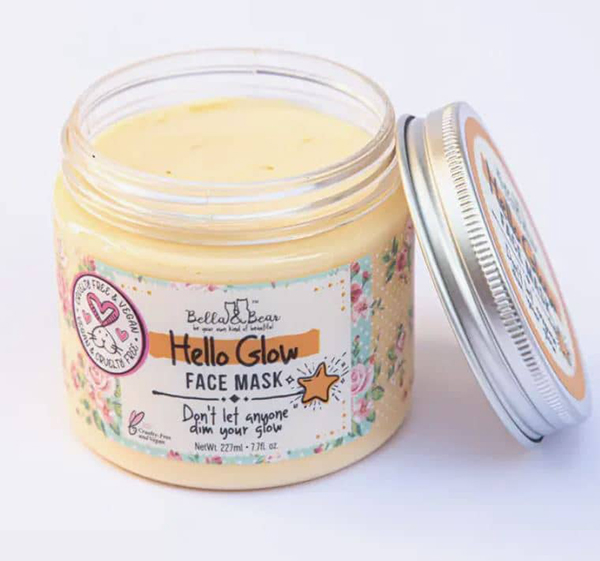 Plus, it's totally vegan, cruelty-free, and certified by PETA, so you can take care of yourself while being kind to our furry friends. So go ahead, indulge in some self-care. You deserve it!

Pearhead
Brighten up your little one's day with this colorful stroller activity toy set!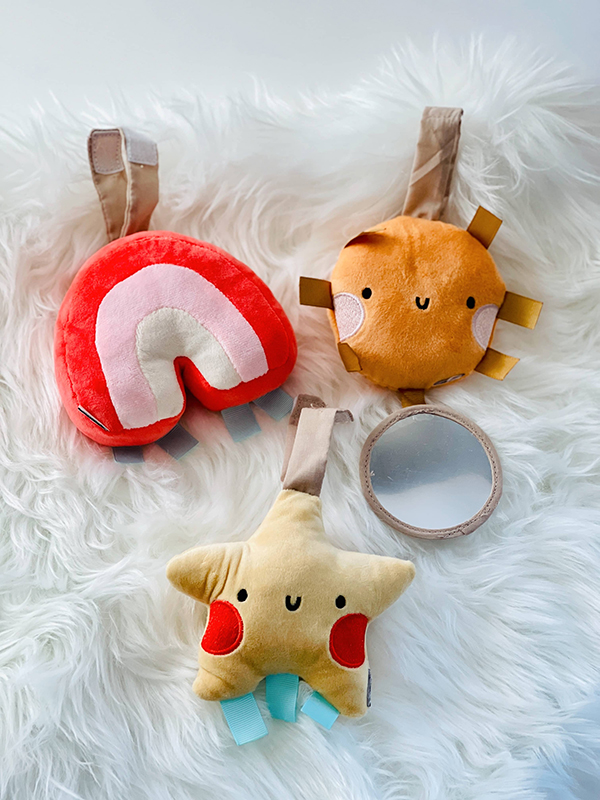 It features 3 adorable plush toys, including a rainbow, sun, and star, each with tugging tabs, squeakers, as well as silky textures to engage your baby's senses.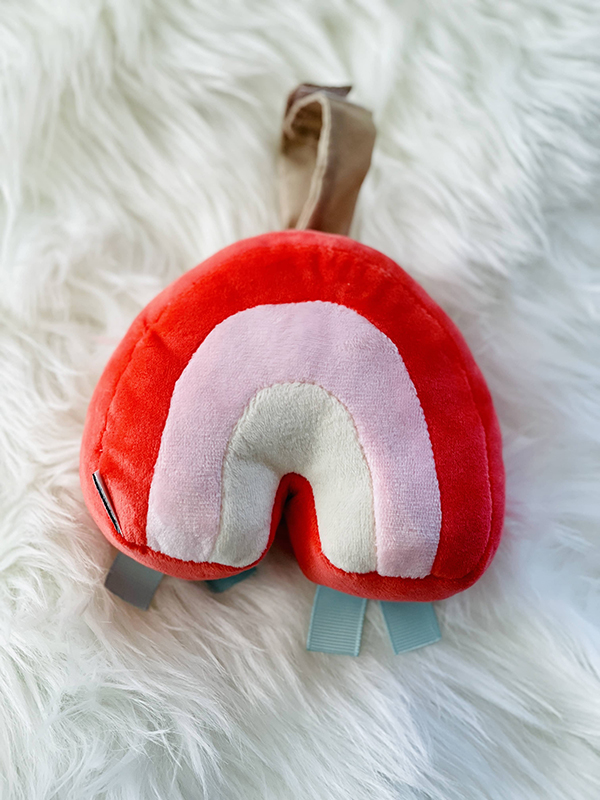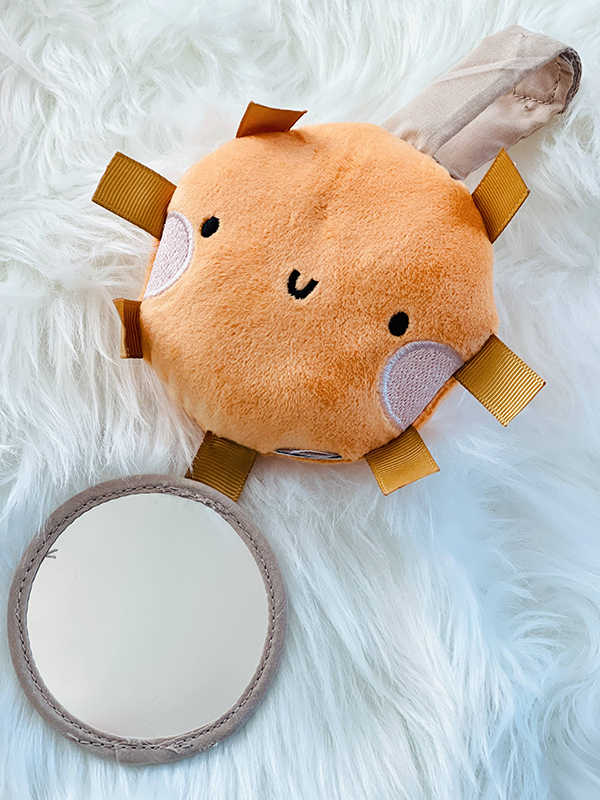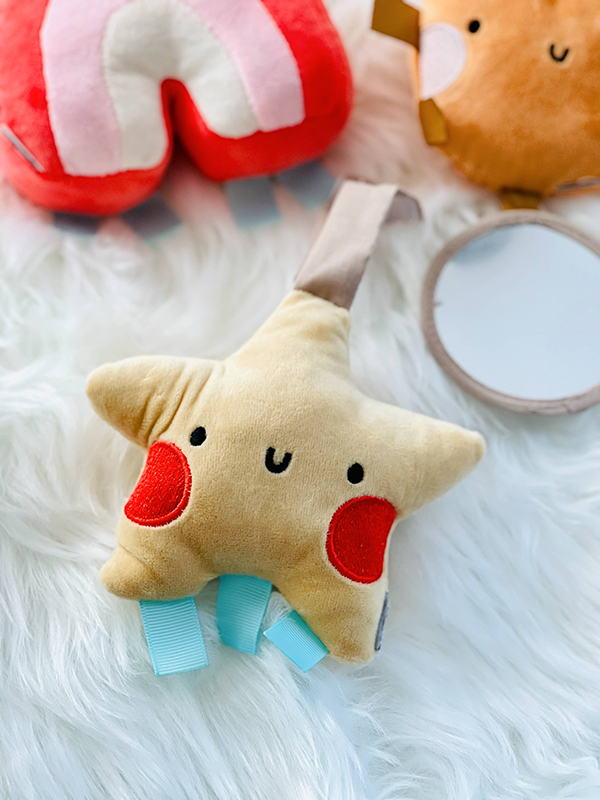 It also comes with a convenient mirror to keep your little one entertained on the go! You can also attach the toys to any stroller or car seat using the hook and loop closure.

Three Yellow Starfish
Chase away those teething blues with this little ray of sunshine! It's the perfect addition to our sunny themed maternity subscription box this month.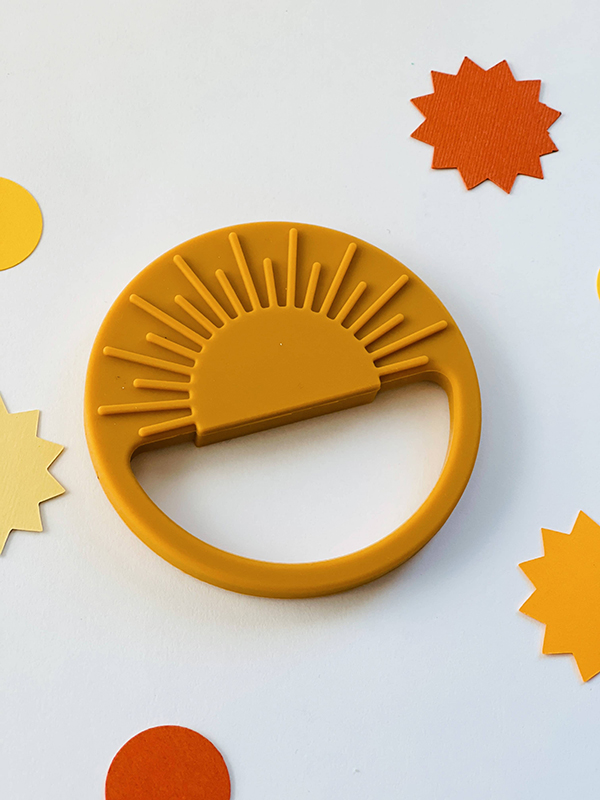 Made with 100% food-grade silicone, this teether is both safe and durable, providing relief for sore gums during those tough teething months.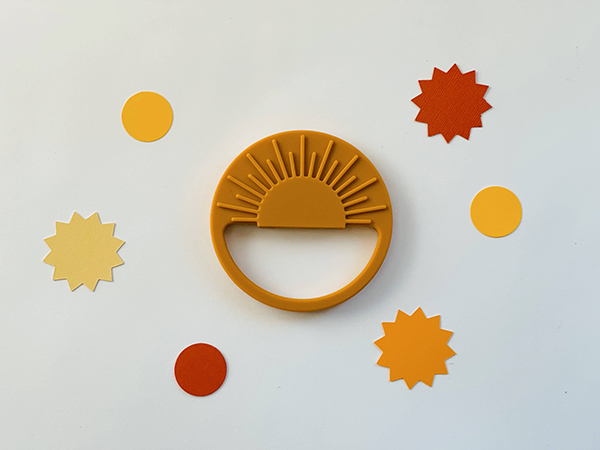 With its bright yellow color and adorable sun design, this teether is sure to become your baby's new favorite toy.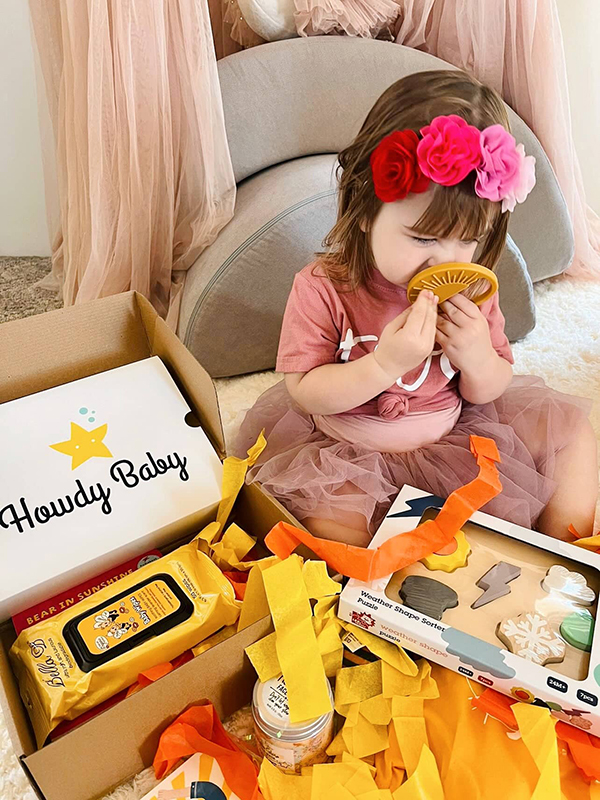 Bella B
These delightful wipes are just what you need to add a little sunshine to your baby's day. They're packed with organic aloe vera, chamomile, and Vitamin E to give your little one's delicate skin some extra TLC. With their soft, thick texture and calming lavender scent, these wipes will leave baby feeling fresh, clean, and ready to take on the world!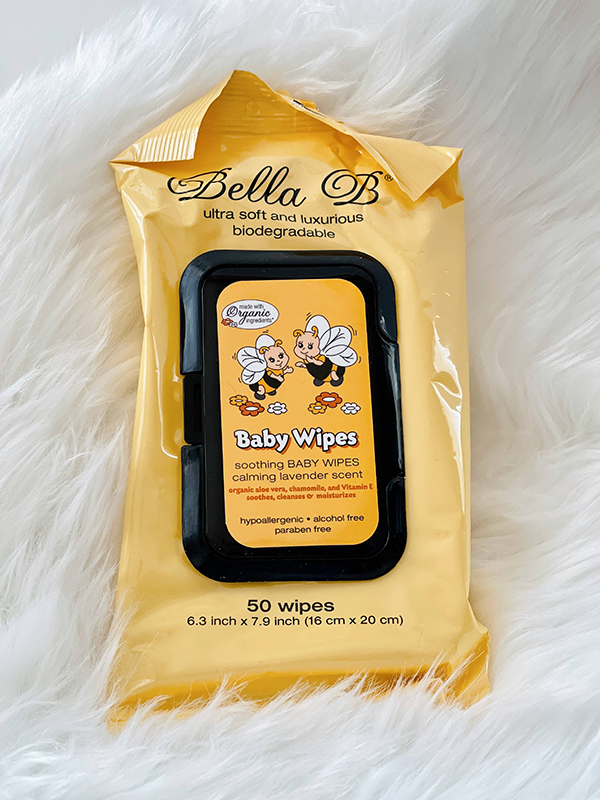 Bunnies By The Bay
Meet Buzzbee! Soft and cuddly, this adorable friend will keep baby company on car rides and stroller outings.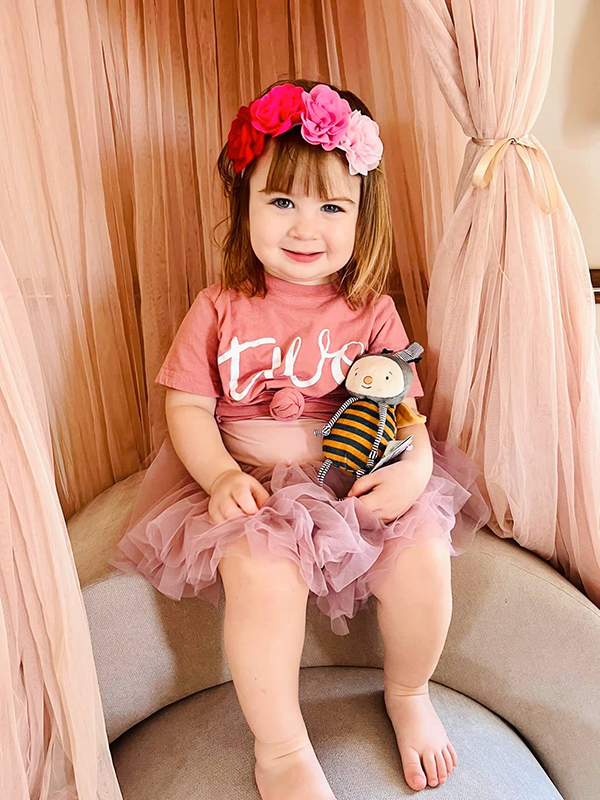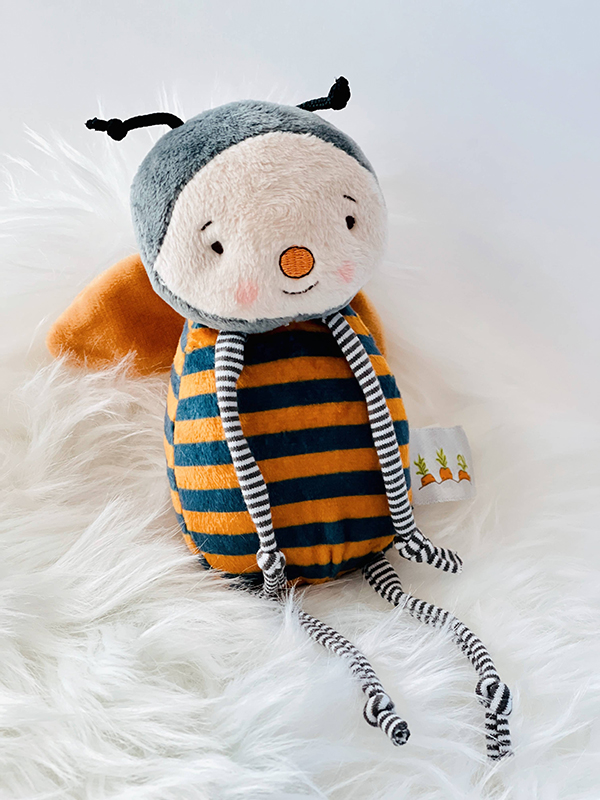 Crafted from velvety gray and orange velour, this little bug features knit dangly arms, legs, and antenna, eagerly awaiting hugs and love.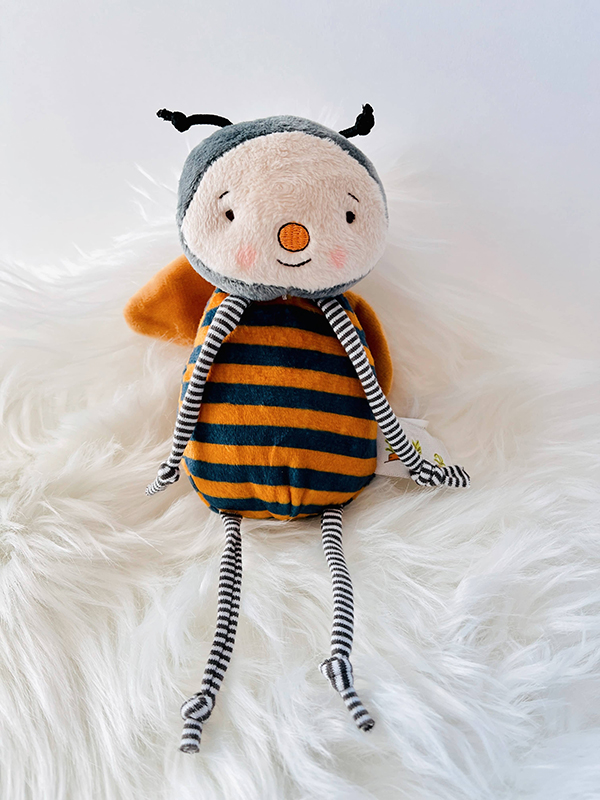 Buzzbee is too cute! And his crinkly wings are perfect for soothing sensory stimulation during playtime.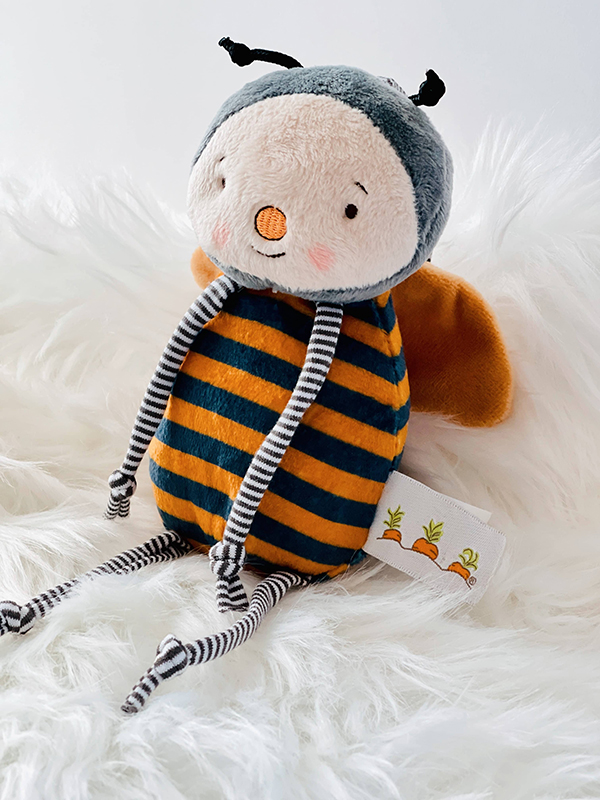 This buzzbee plushie is one of our favorite additions to this month's maternity subscription box!

Leo & Friends
Bring the sunshine indoors with this super cute 6-piece wooden puzzle.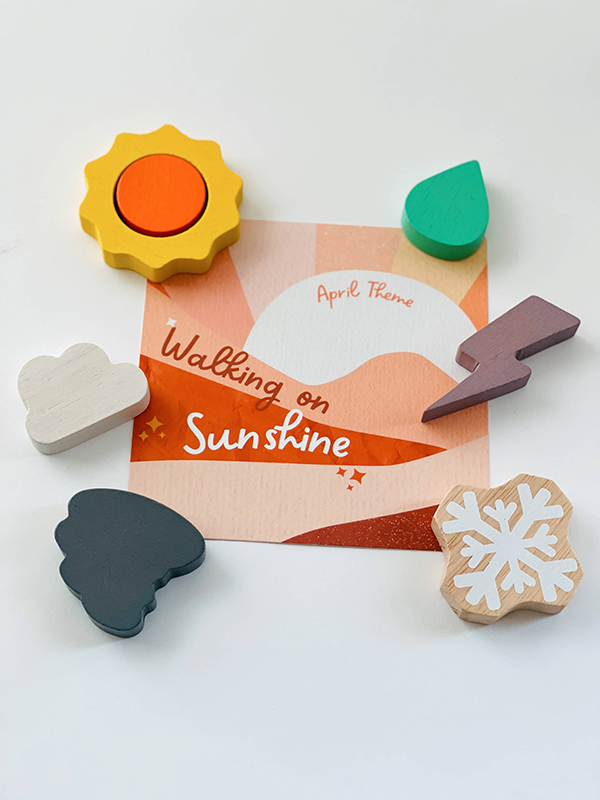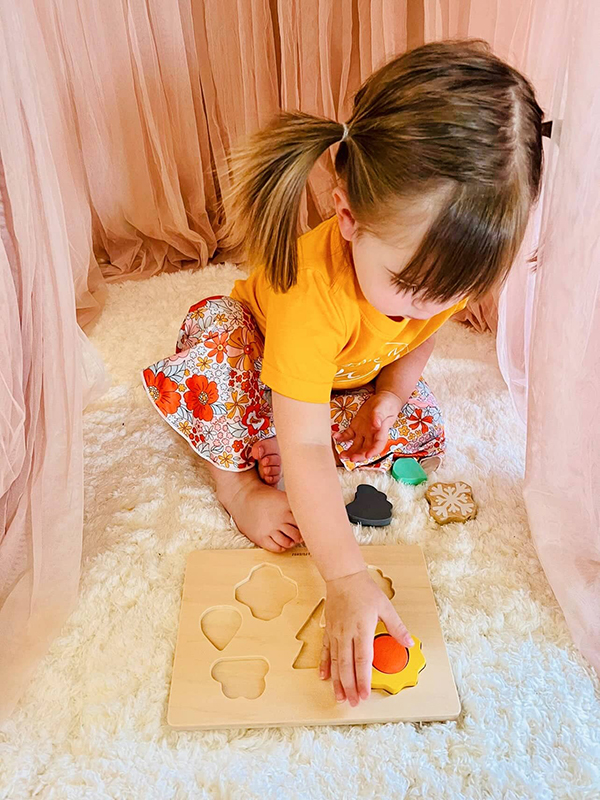 Each adorable weather shape is crafted from high-quality wood and also perfectly sized for little hands to hold.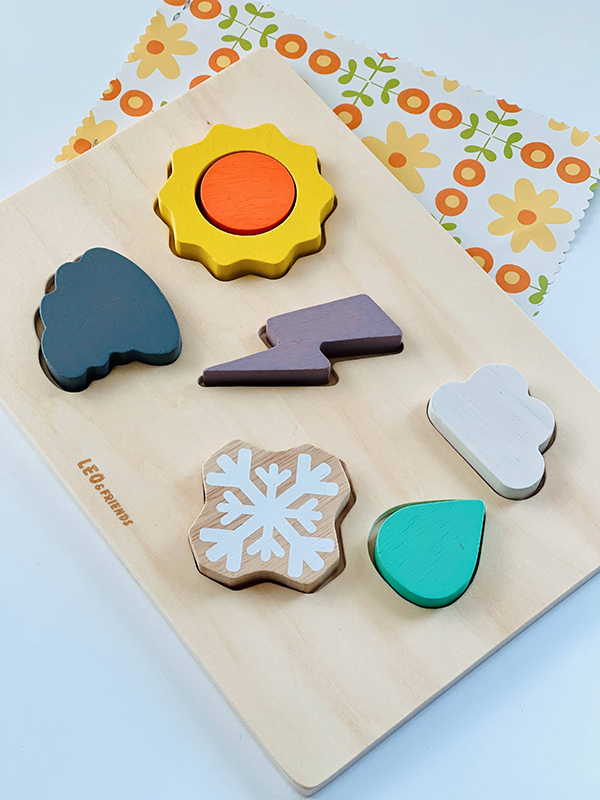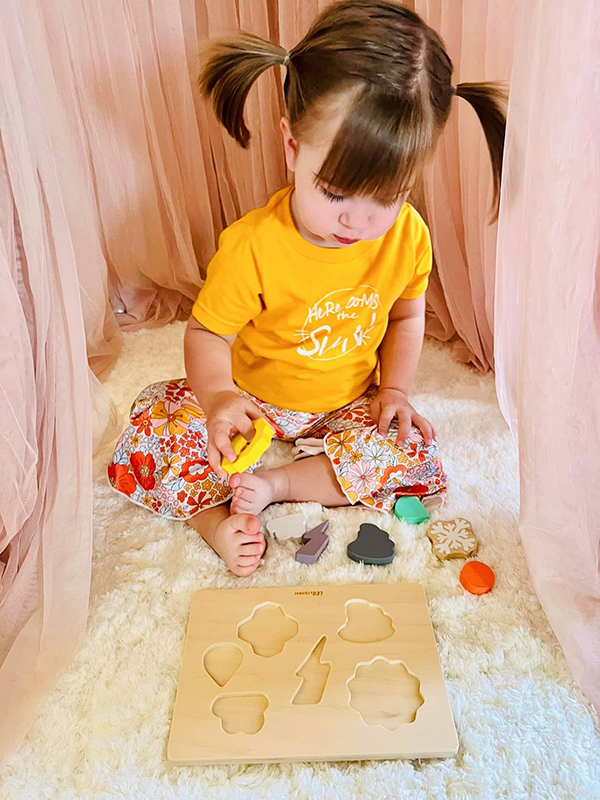 We love this wooden puzzle because it's sure to inspire hours of open-ended play.

Three Yellow Starfish
Sun's out, onesie's on! We love this adorable bodysuit because it's a fun way to celebrate the happiness and warmth that your baby brings.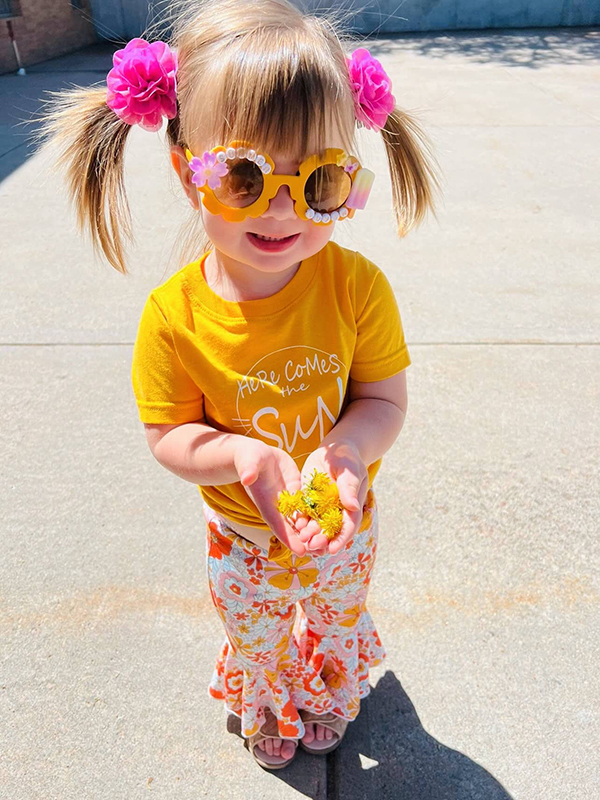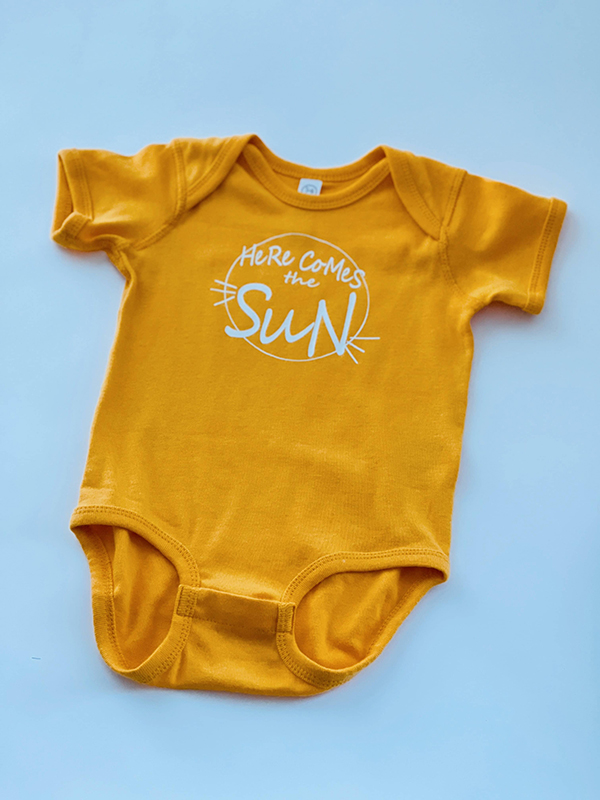 It's a fantastic addition to our April "Walking On Sunshine" themed maternity subscription box because the comfortable cotton fabric makes it perfect for playtime, nap time, or anything in between.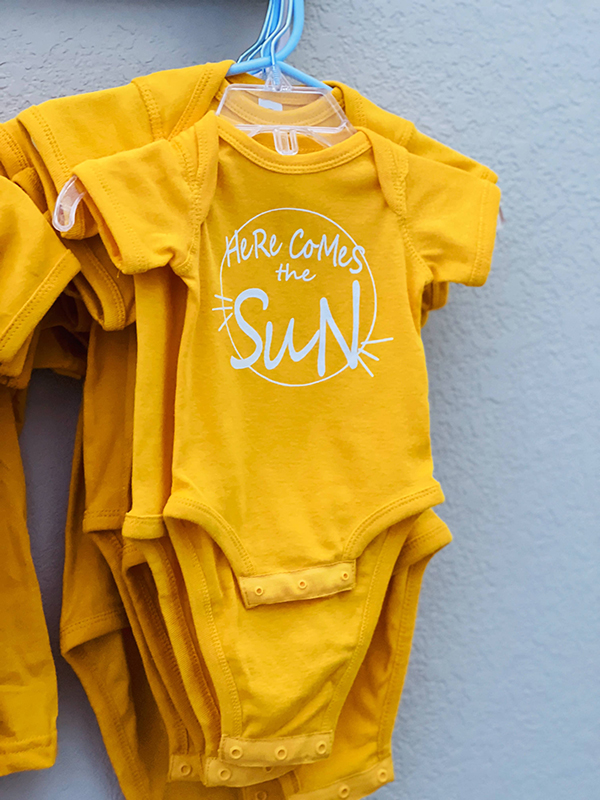 Bear In Sunshine Book

Author: Stella Blackstone
Are you ready to join Bear on a thrilling adventure through the changing seasons?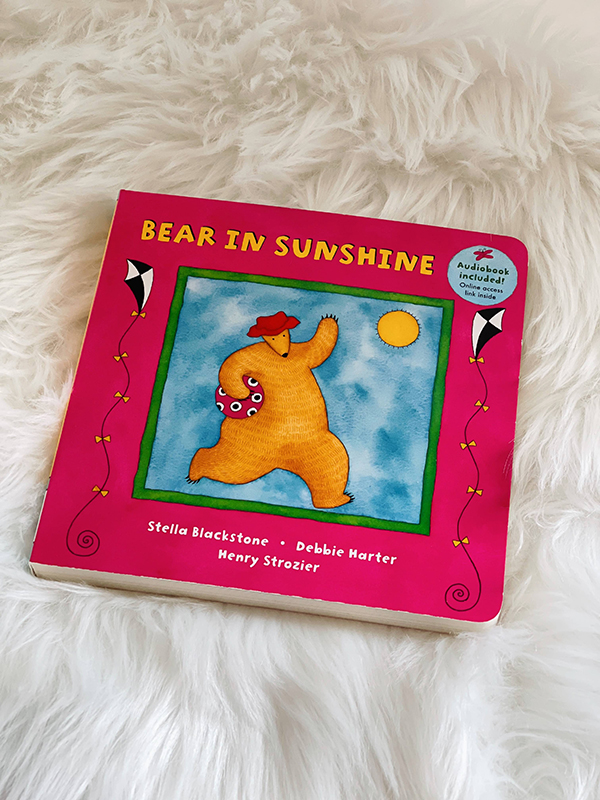 This heartwarming board book is jam-packed with delightful rhymes as well as adorable illustrations that capture the joy and wonder of every season.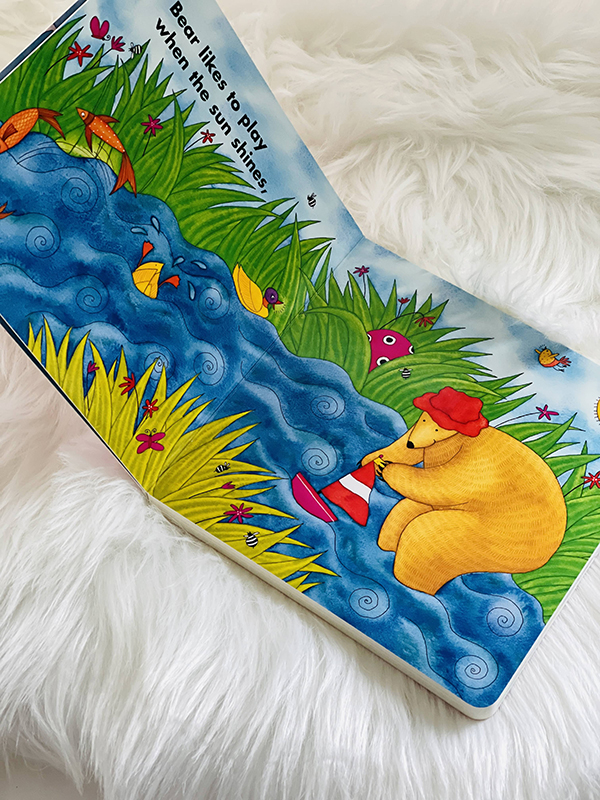 From playing in the sun to singing in the rain, you'll experience it all!
What did you think of this month's maternity subscription box?
And there you have it, folks - our April 2023 'Walking On Sunshine' maternity subscription box! Thanks so much for joining us and we hope you enjoyed discovering all the amazing products that we carefully curated for you and your little one this month!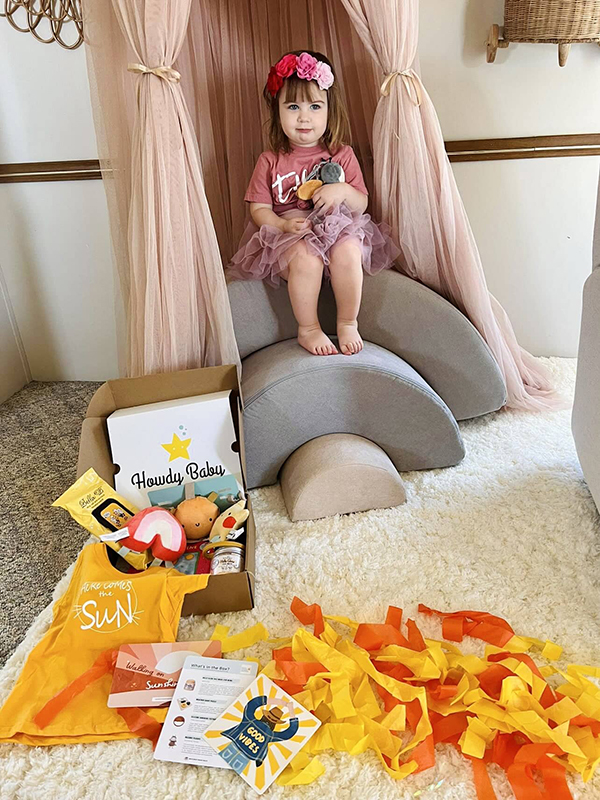 If you enjoyed this month's box, then you'll love our next one!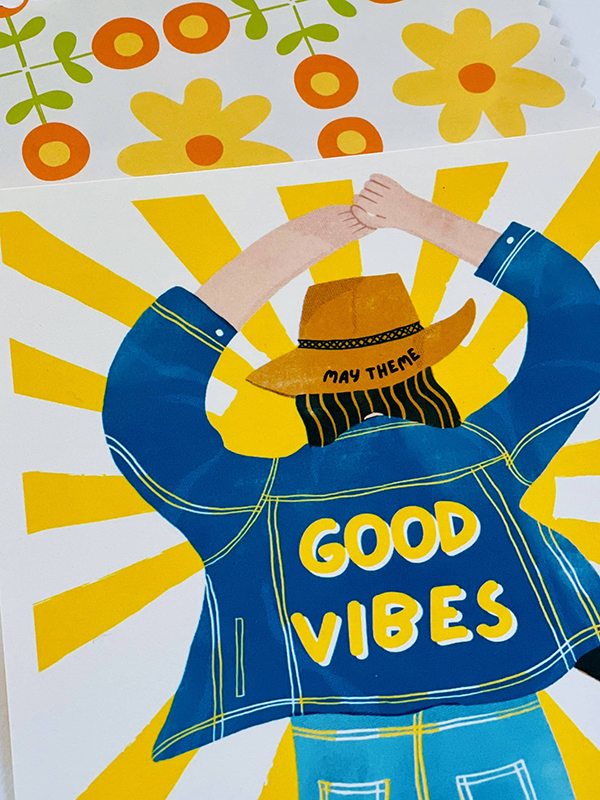 Check out the Howdy Baby Box to learn more and also don't forget to catch our April 2023 Howdy Kids unboxing. Until next month, keep shining bright like the sun!