A brand new year full of optimism and hope has begun! January's theme is all about welcoming the new year by encouraging our littles to take positive actions. Our January 🌙 TO THE MOON & BACK 🌙 baby subscription box featured an adorable board book to celebrate all the different zodiac star signs, a burp cloth to clean up baby's little messes, knitted baby pants, a beautiful wooden teether, and more to spoil your little one this month.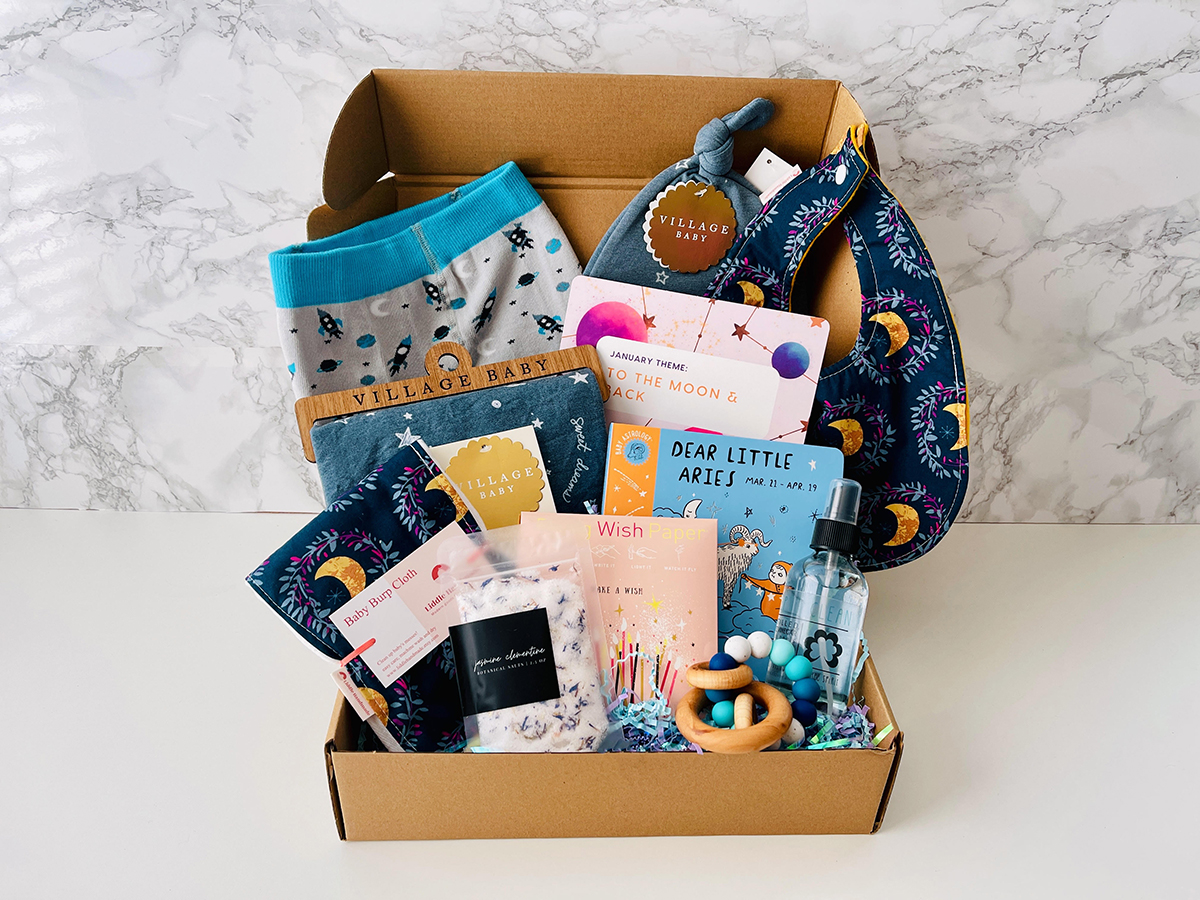 Please keep in mind that some items in our box may differ slightly since they are all tailored to your baby's age and developmental stage. Click here to discover what's inside this month's Howdy Kids box.
Starry Dreams Nursing & Car Seat Cover
Village Baby
This month, each baby subscription box included either a Starry Dreams knit blanket or a Starry Dreams multipurpose cover.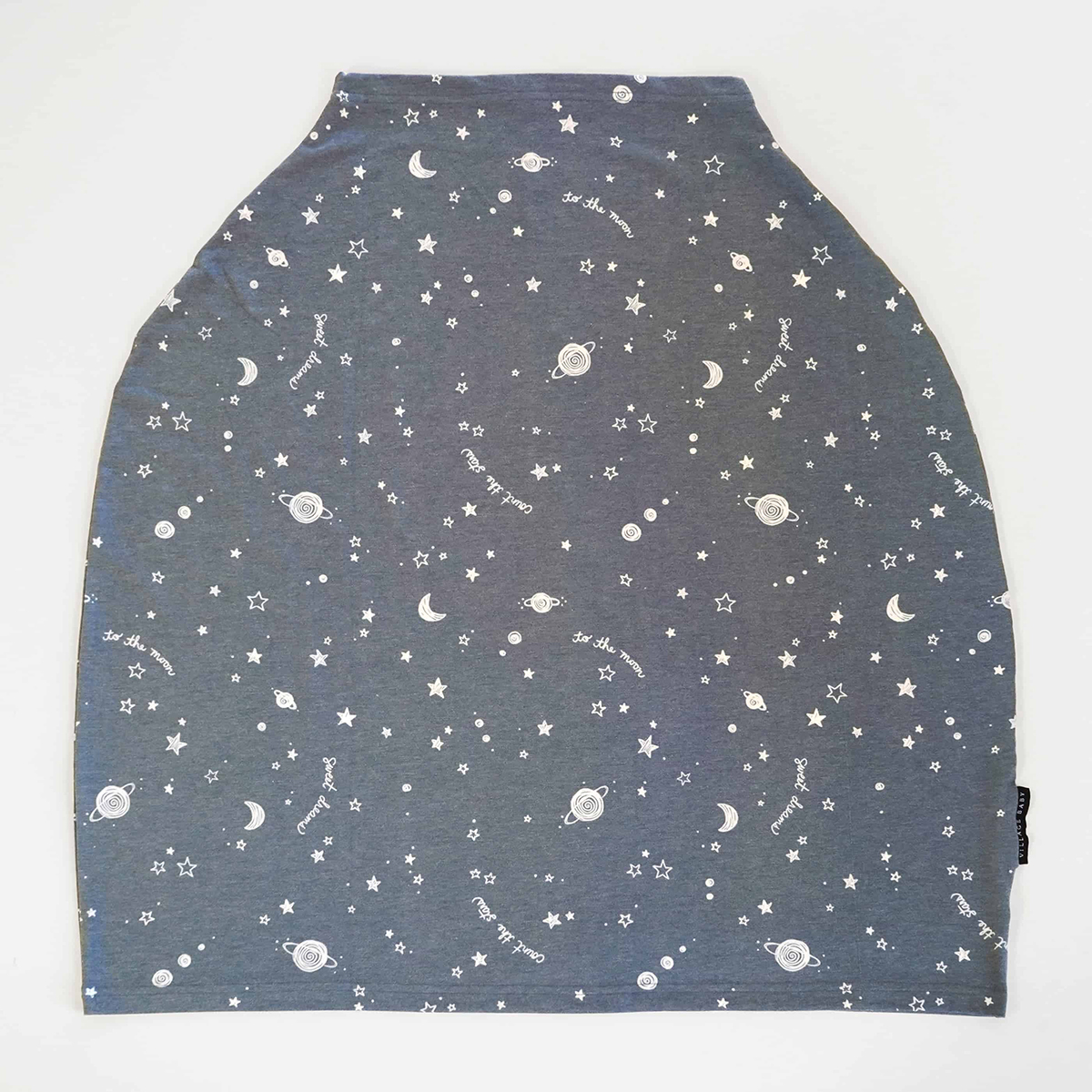 PHOTO CREDIT: VILLAGE BABY
This luxuriously soft and stretchy multi-purpose cover is an absolute necessity for any new mom. It's made of a soft knit fabric that's gentle on baby's skin.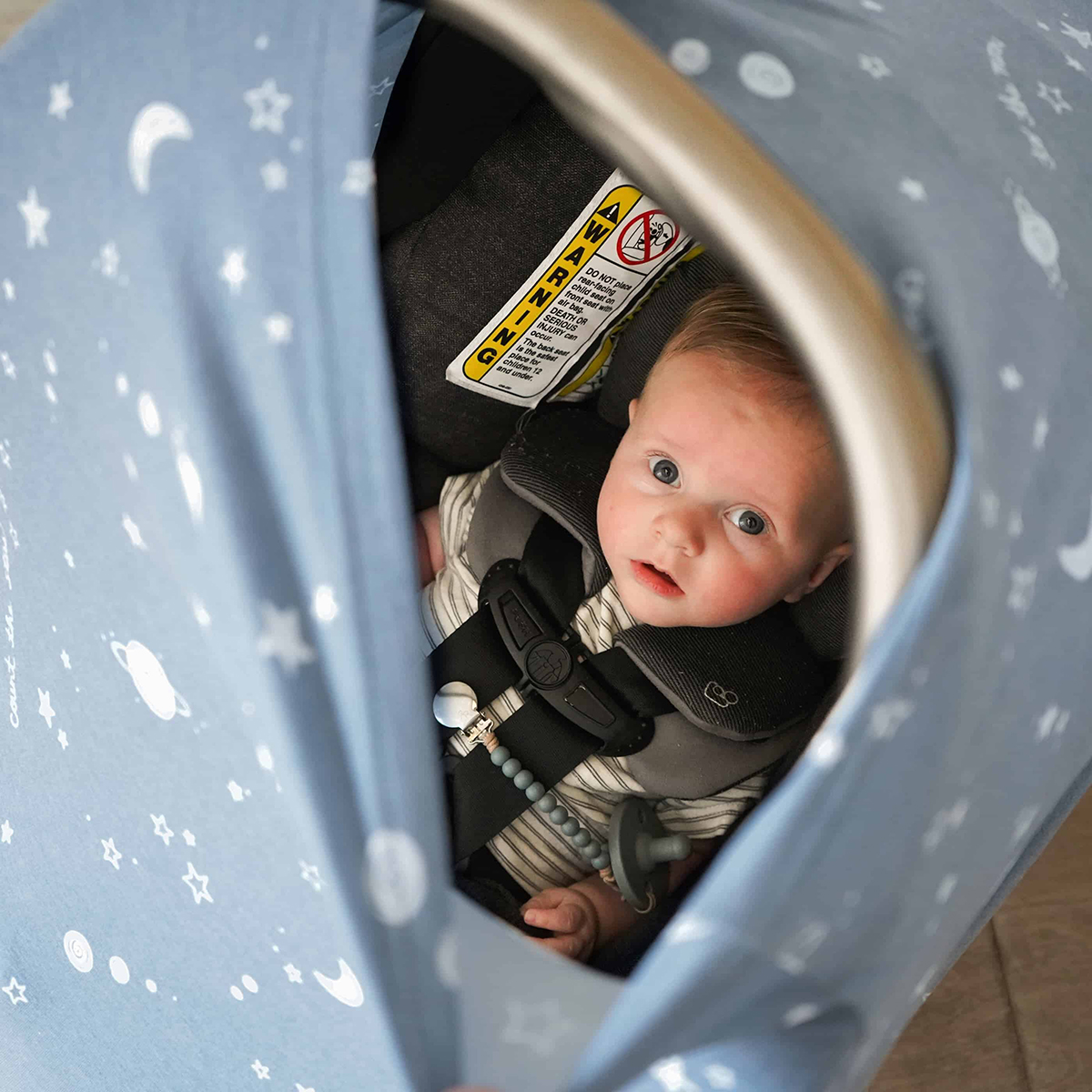 PHOTO CREDIT: VILLAGE BABY
It can be used as a car seat cover, nursing cover, or high chair cover, among other things.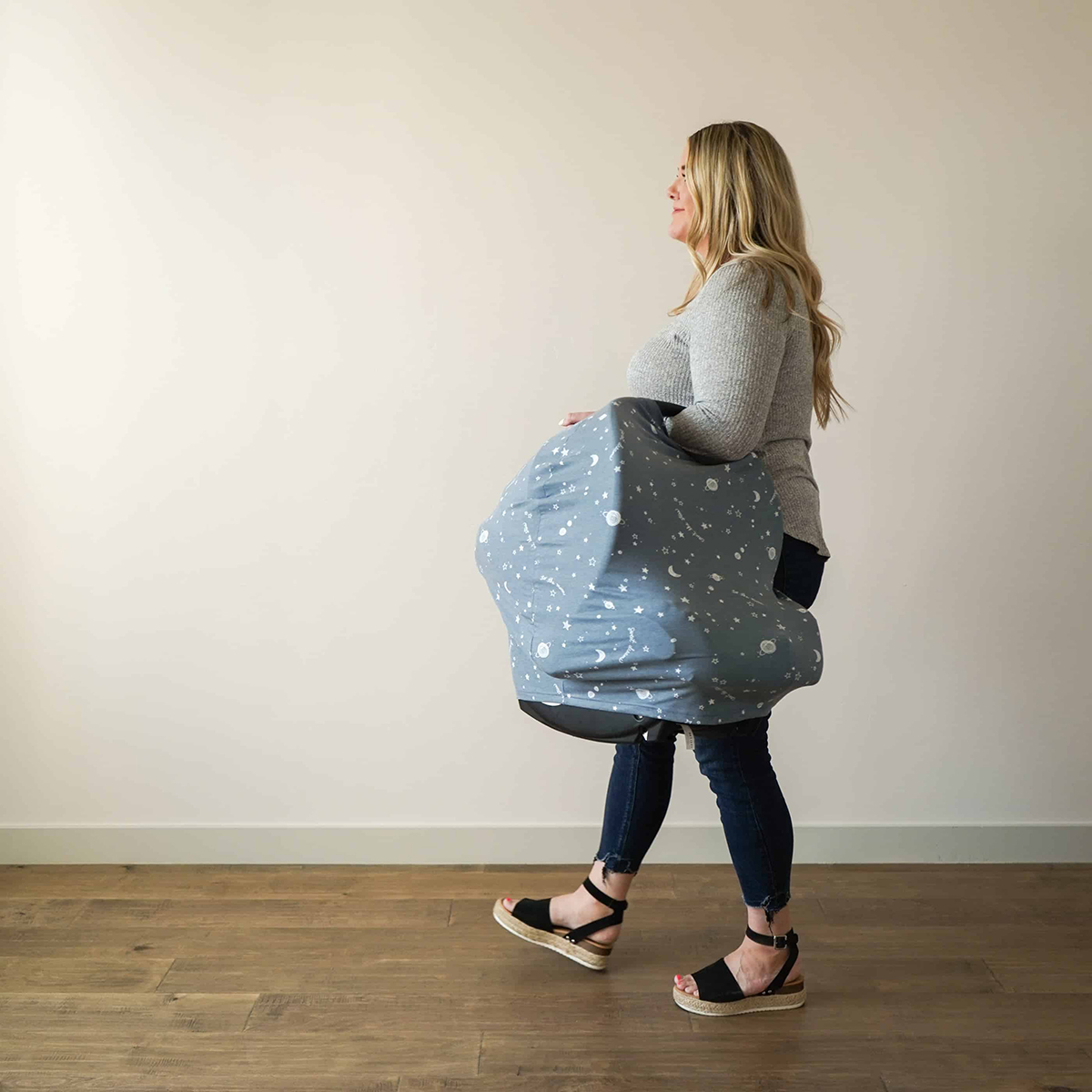 PHOTO CREDIT: VILLAGE BABY
The breathable knit fabric allows you to wear it as a chic infinity scarf. This multi-functional cover makes an excellent full coverage nursing cover because the open neckline allows mom to breastfeed privately while still allowing her and baby to bond.
It fits a variety of car seat sizes and is ideal for protecting baby from germs while sitting in the shopping cart.
Starry Dreams Knit Blanket
Village Baby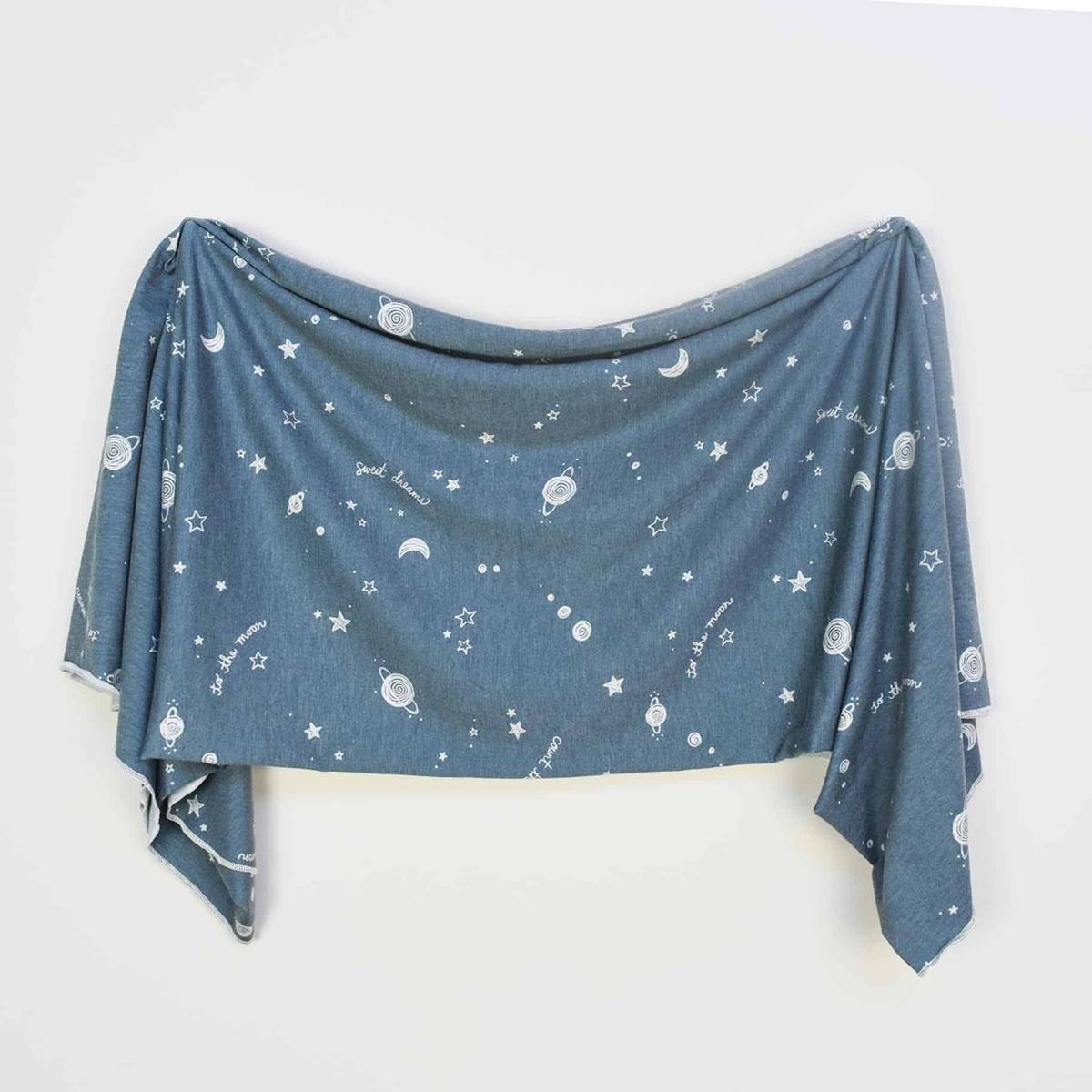 PHOTO CREDIT: VILLAGE BABY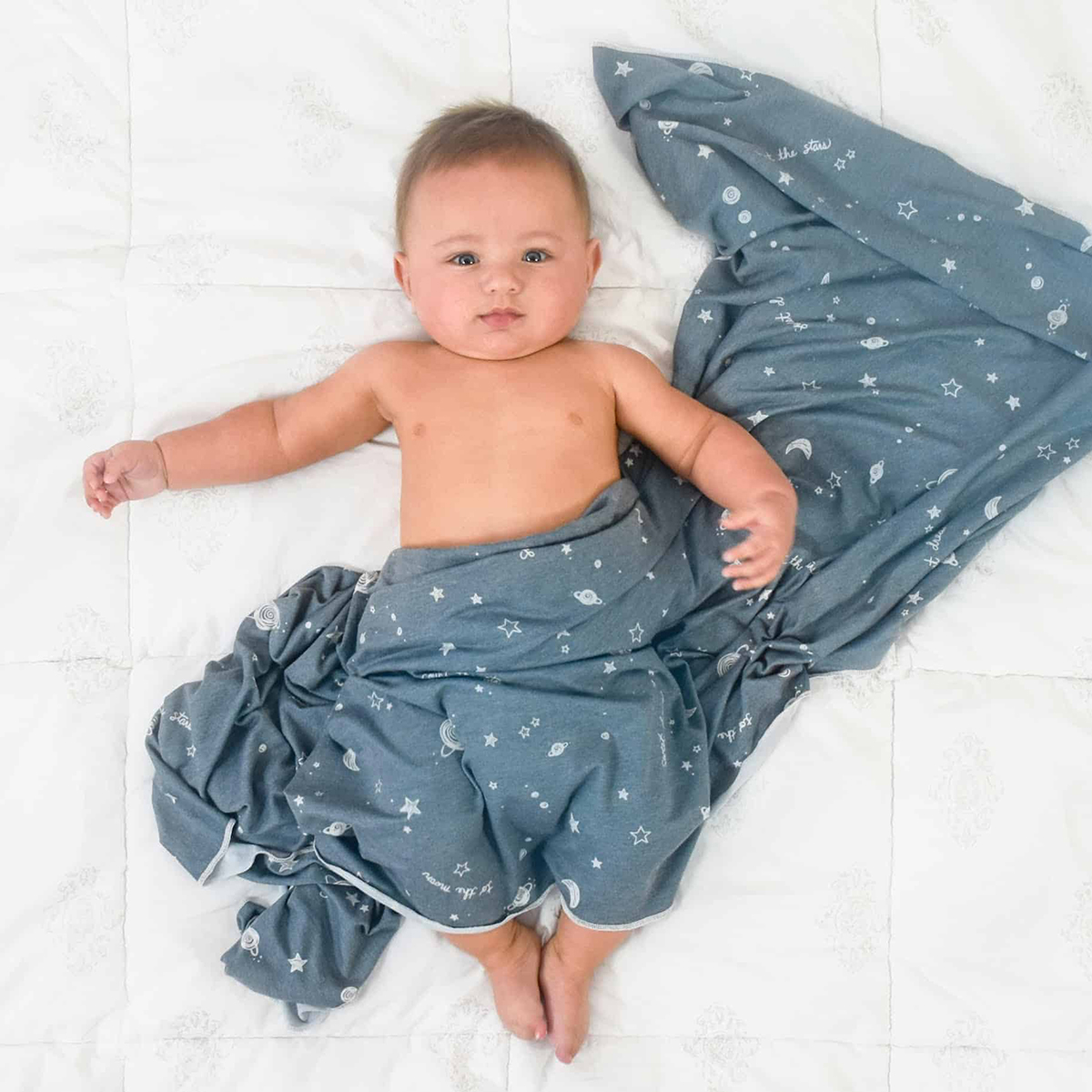 PHOTO CREDIT: VILLAGE BABY
Wrap your precious little one in this luxuriously soft knit blanket from Village Baby. Its stretchy, breathable material is ideal for children with sensitive skin and it can be used in both the summer and wintertime.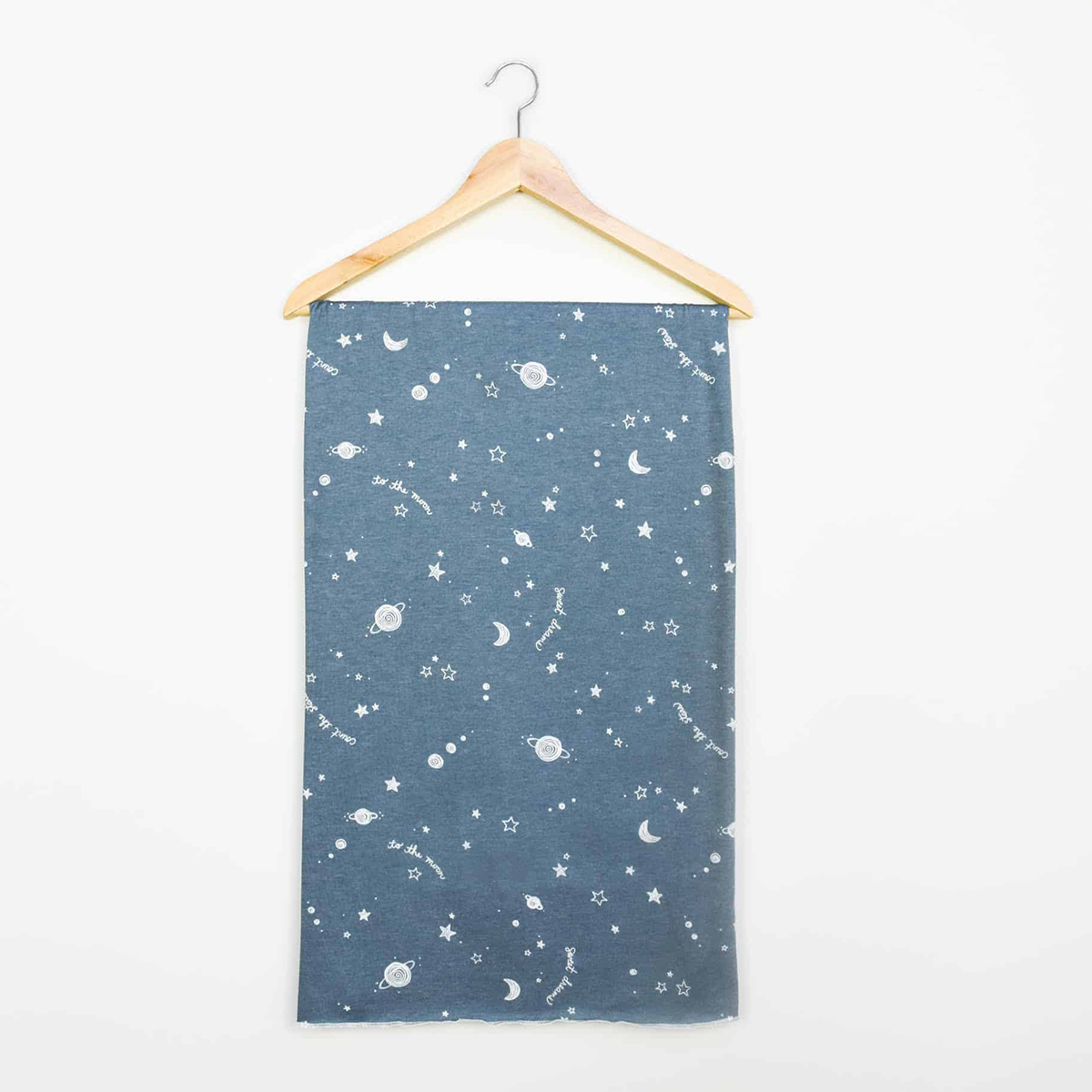 PHOTO CREDIT: VILLAGE BABY
This lovely knit baby blanket features an all-over starry sky pattern that creates a cozy sleeping space in any nursery or toddler room.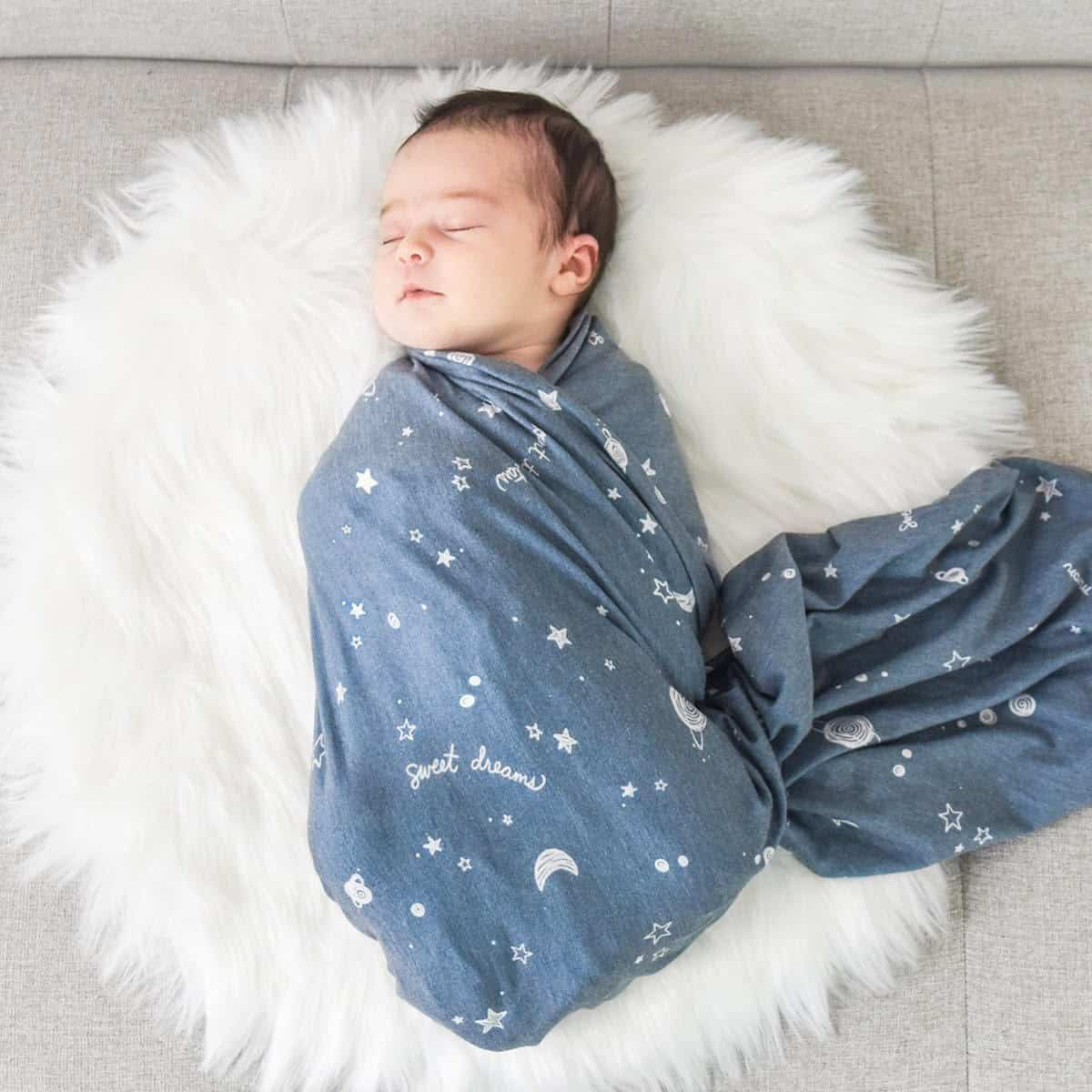 PHOTO CREDIT: VILLAGE BABY
It's extra-large, measuring 48 inches by 48 inches, and is ideal for use as a swaddling blanket or toddler security blanket for cuddle time and more!
Starry Dreams Top Knot Hat
Village Baby
The softest knitted hat to celebrate your little one's arrival!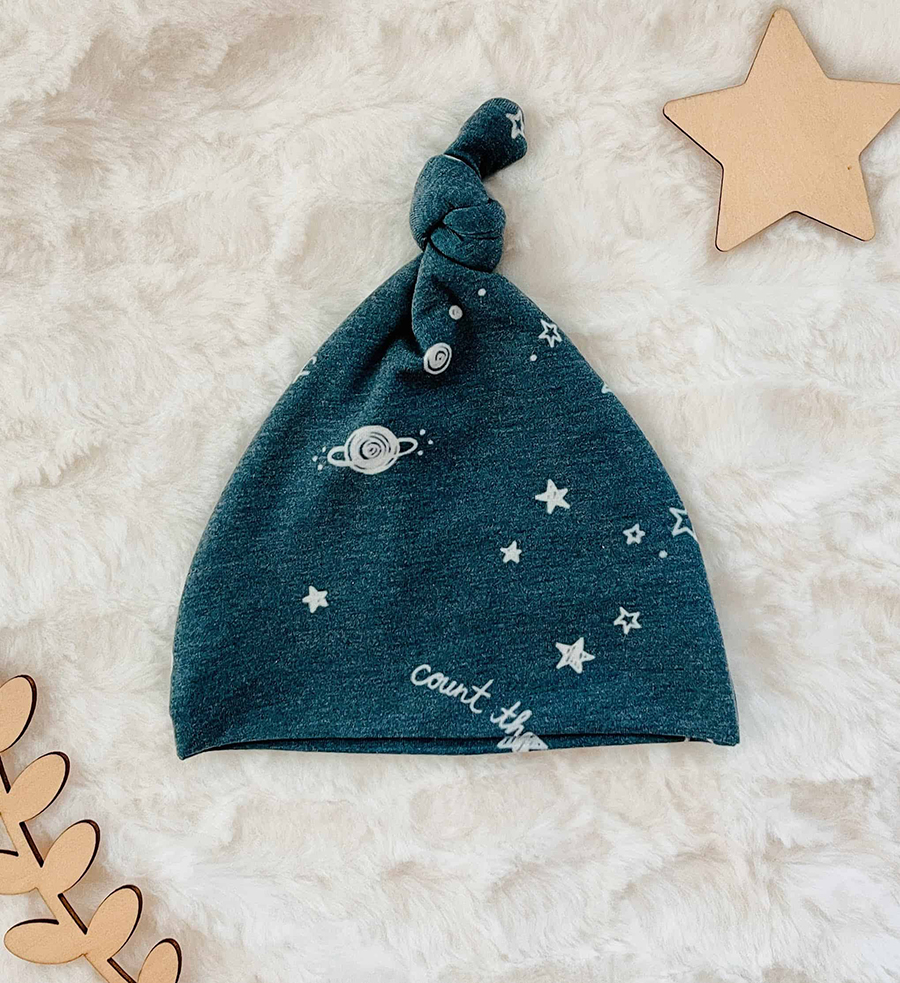 This top knot baby hat is simple yet stylish and adds a minimalistic touch to any outfit.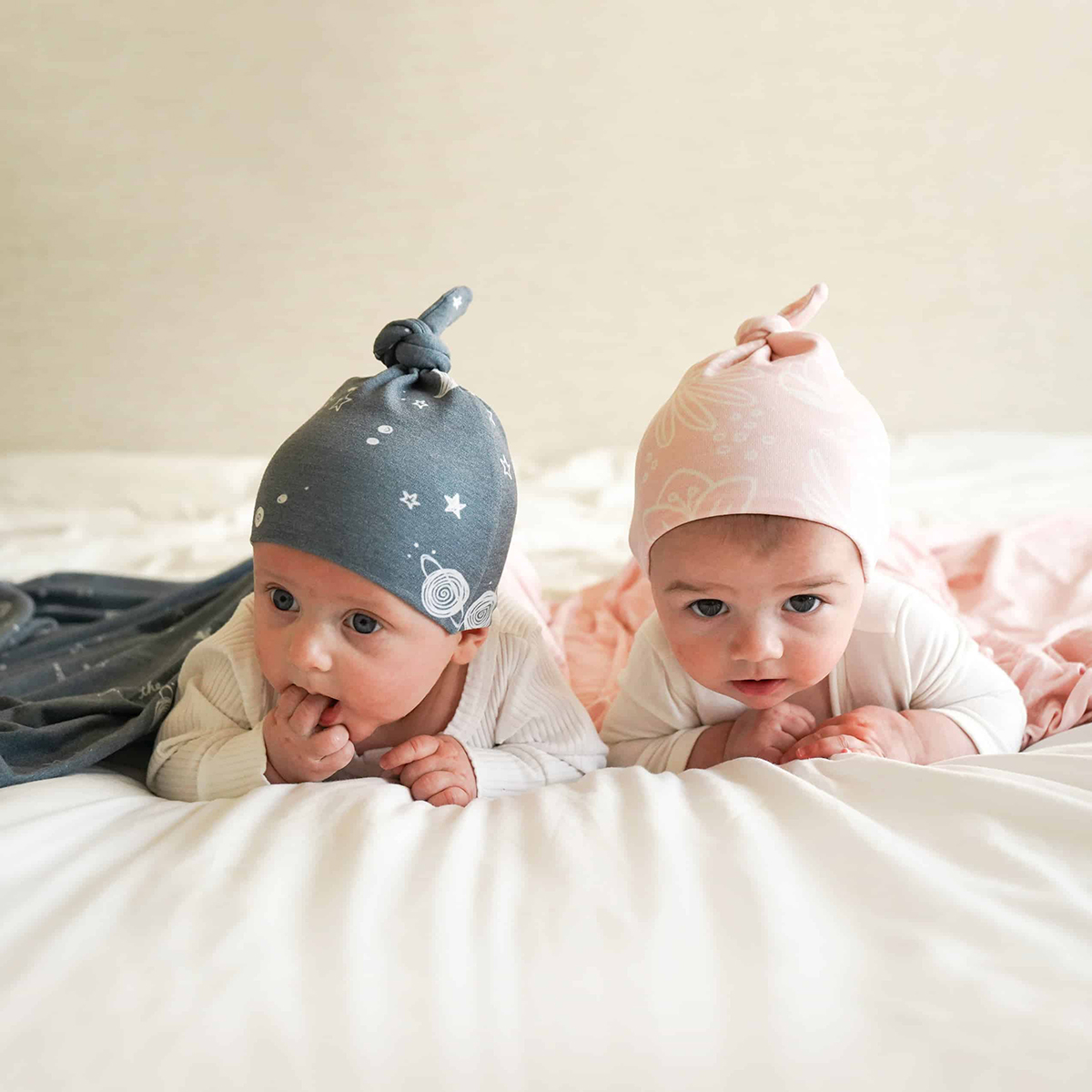 PHOTO CREDIT: VILLAGE BABY
Its ultra-soft, stretchy, and breathable fabric makes it perfect for little one's with delicate skin and keeps baby comfy cozy all day long. This adorable baby hat fits most newborns between the ages of 0 and 6 months and goes well with the blanket and multi-purpose cover featured in this month's baby subscription box.
Celestial Moon Baby Bib & Burp Cloth
Liddle Handmade
It's easy to clean up all of baby's little messes with this handmade bib and burp cloth set!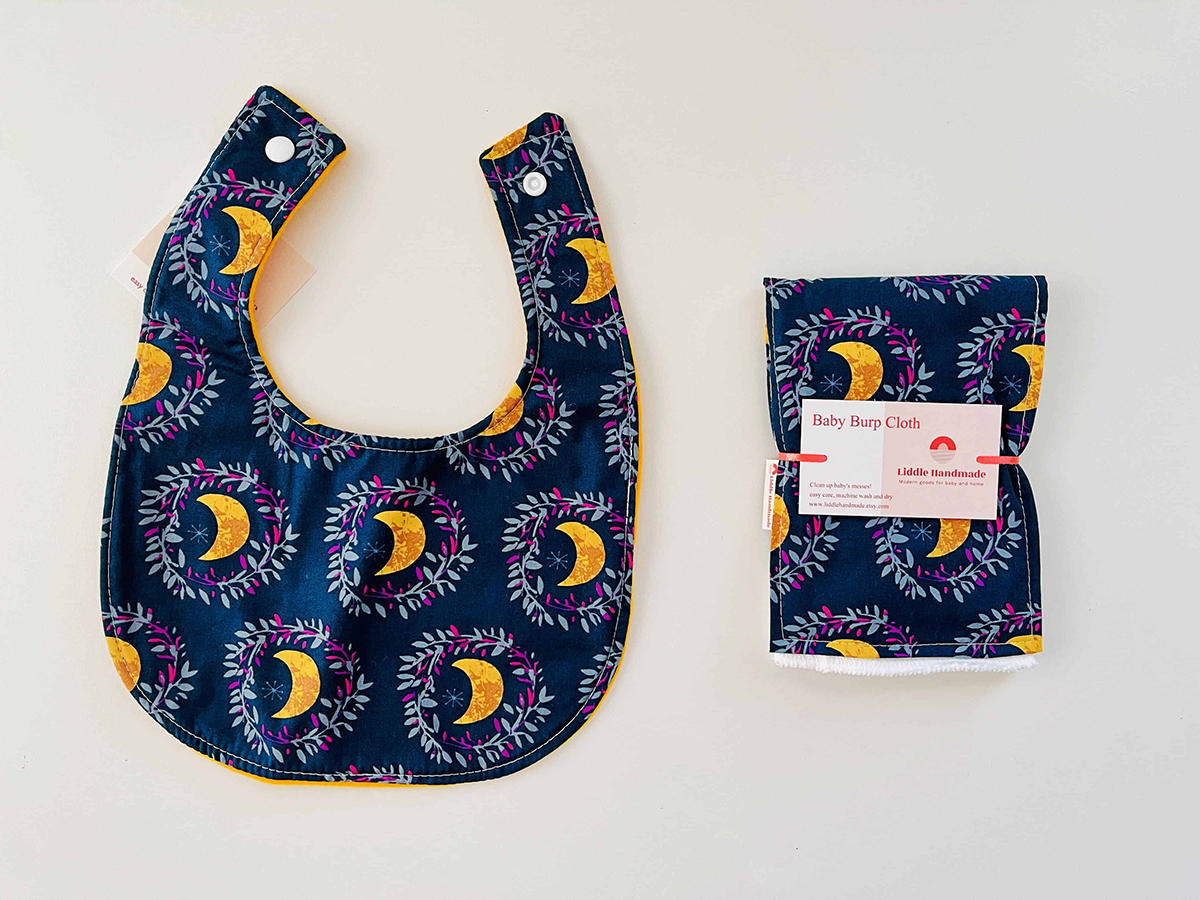 The stylish yet practical burp cloth is made from an Osocozy cloth diaper, which makes it super absorbent.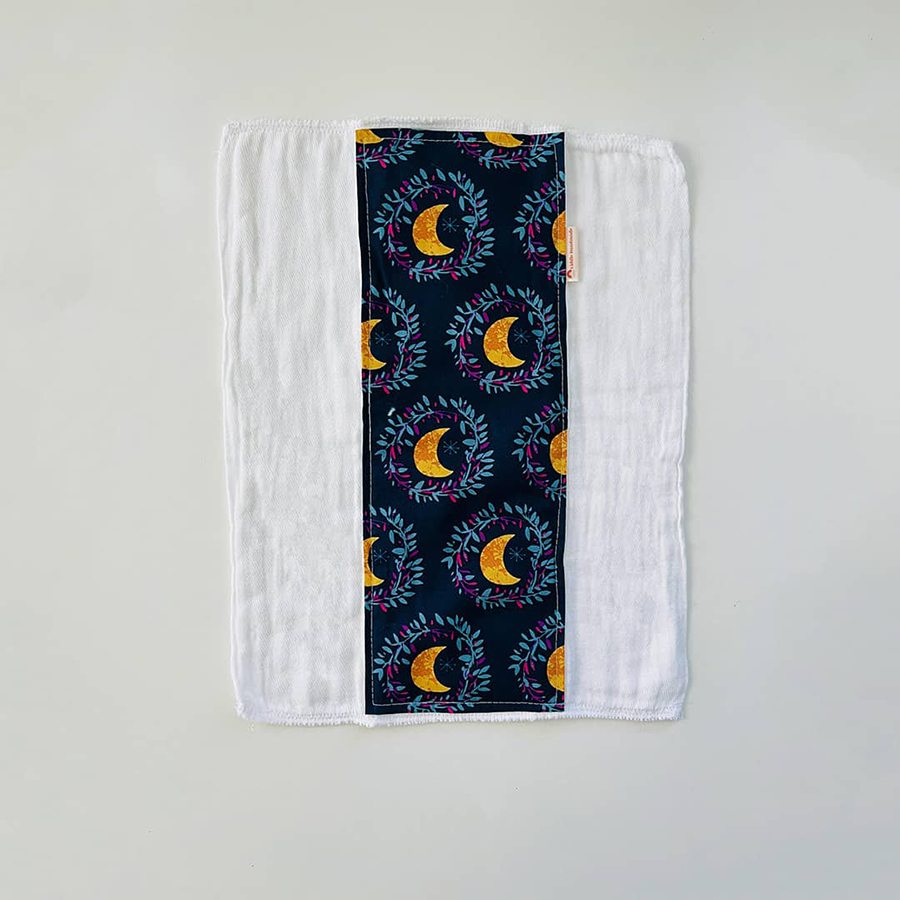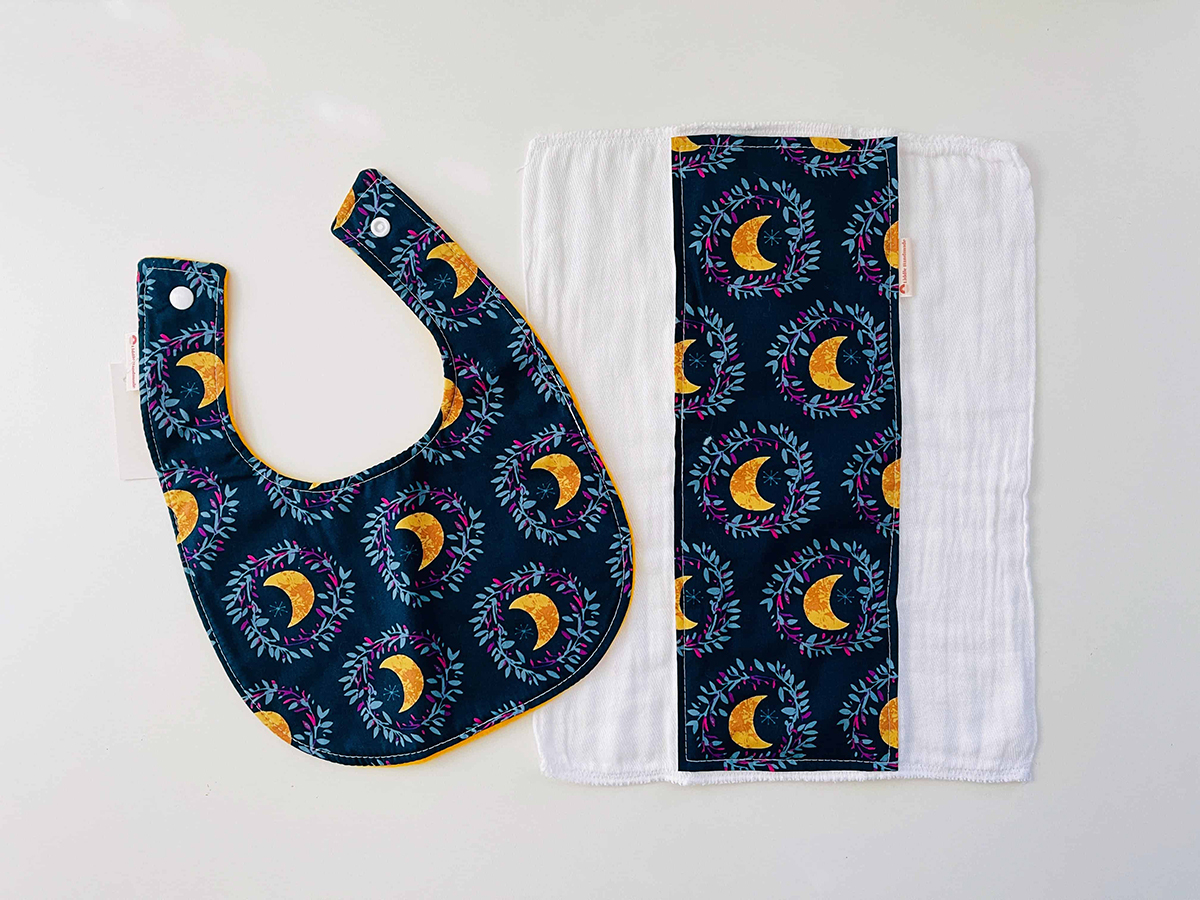 While the bib feature a closure that snaps, and their fleece helps keep in moisture.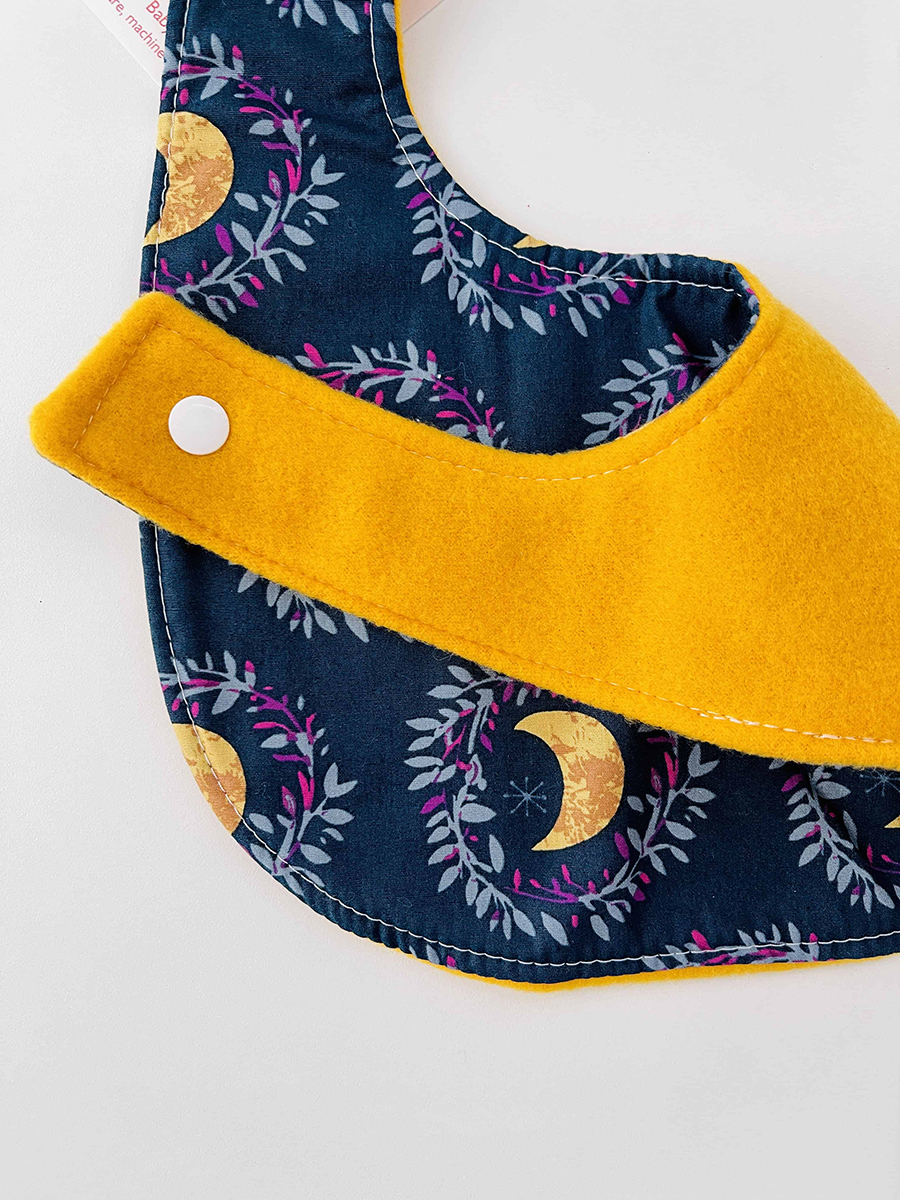 This thoughtful set is also crafted with designer fabric for a modern touch.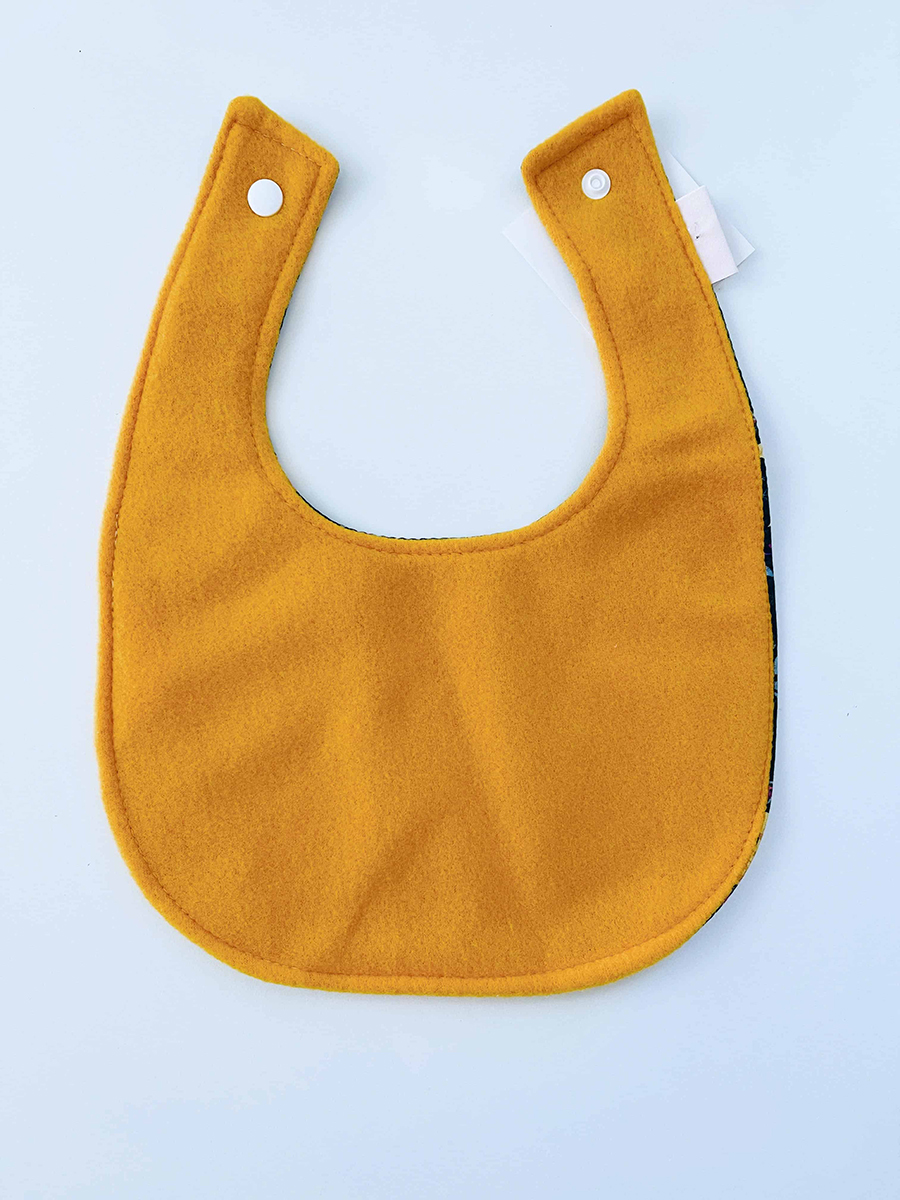 The bib features a fleece backing to help trap moisture and the snap closure makes it easy to put on and take off.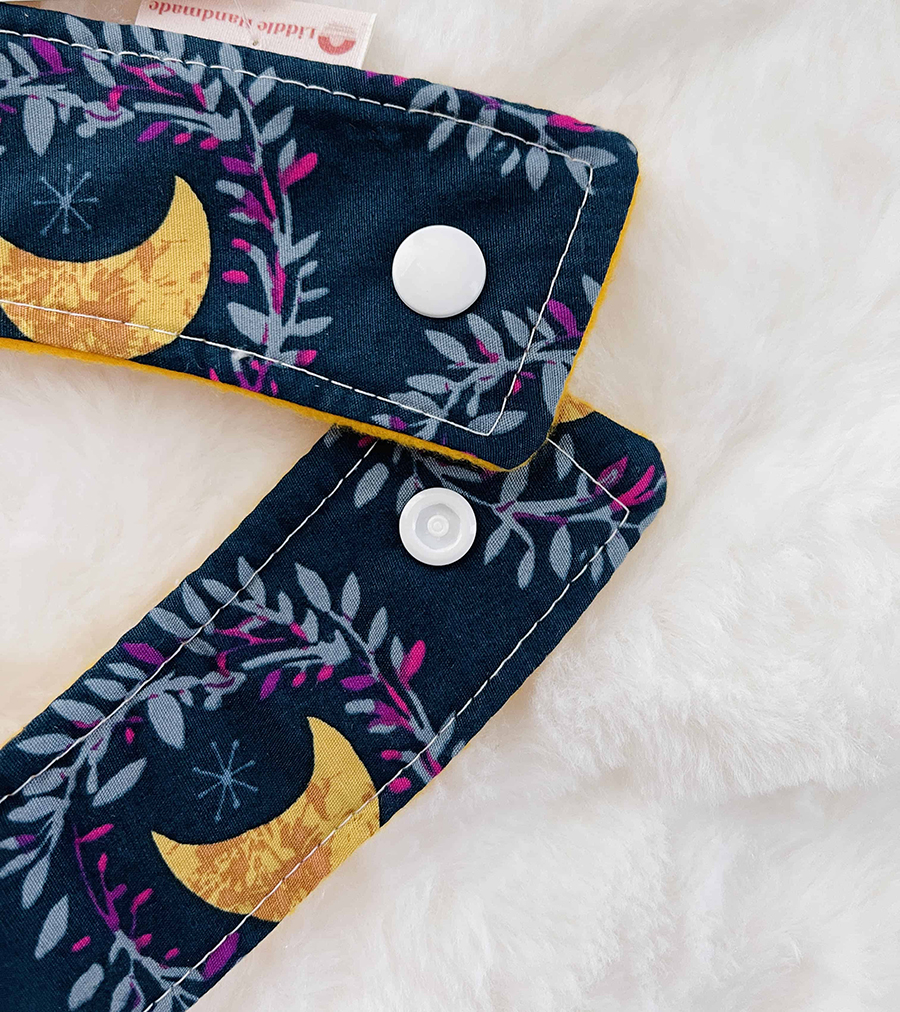 This month our baby subscription boxes included either the bib or burp cloth.
Huggalugs
Blast off in these trendy knit baby rocket ship pants!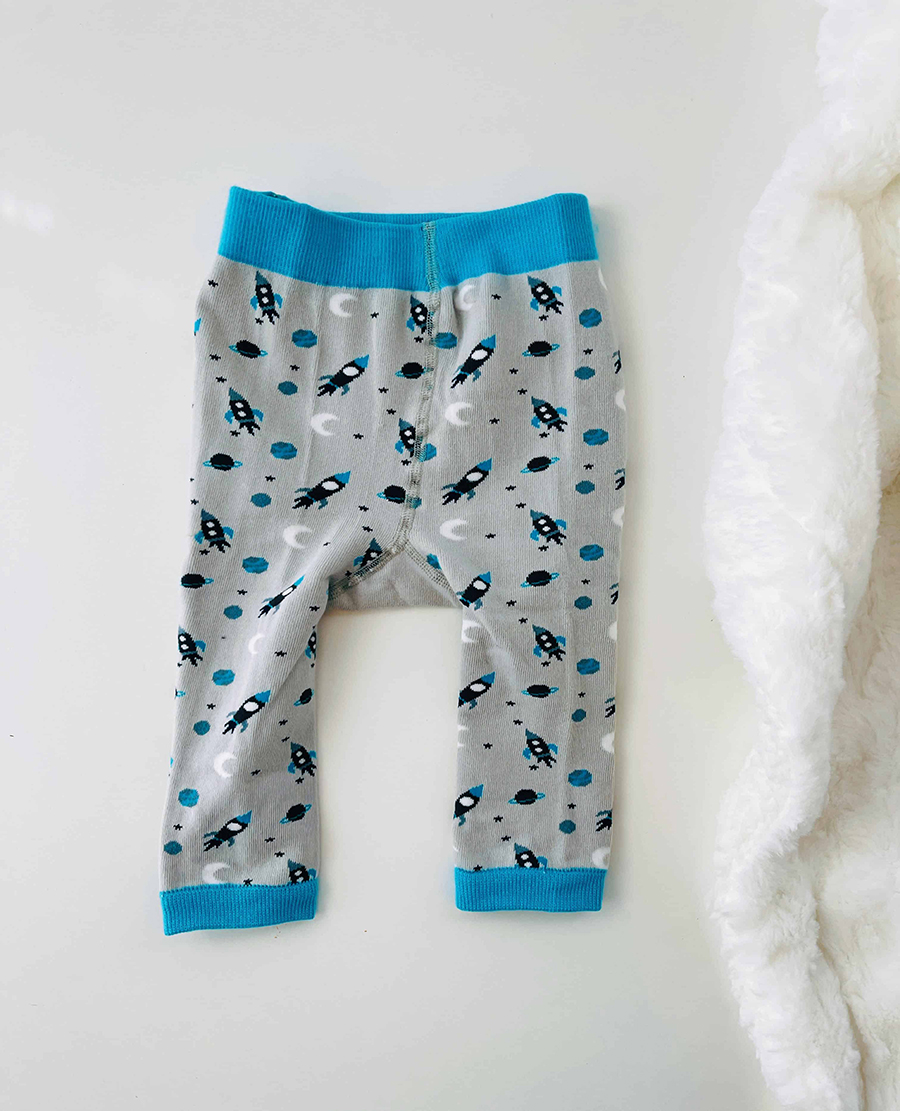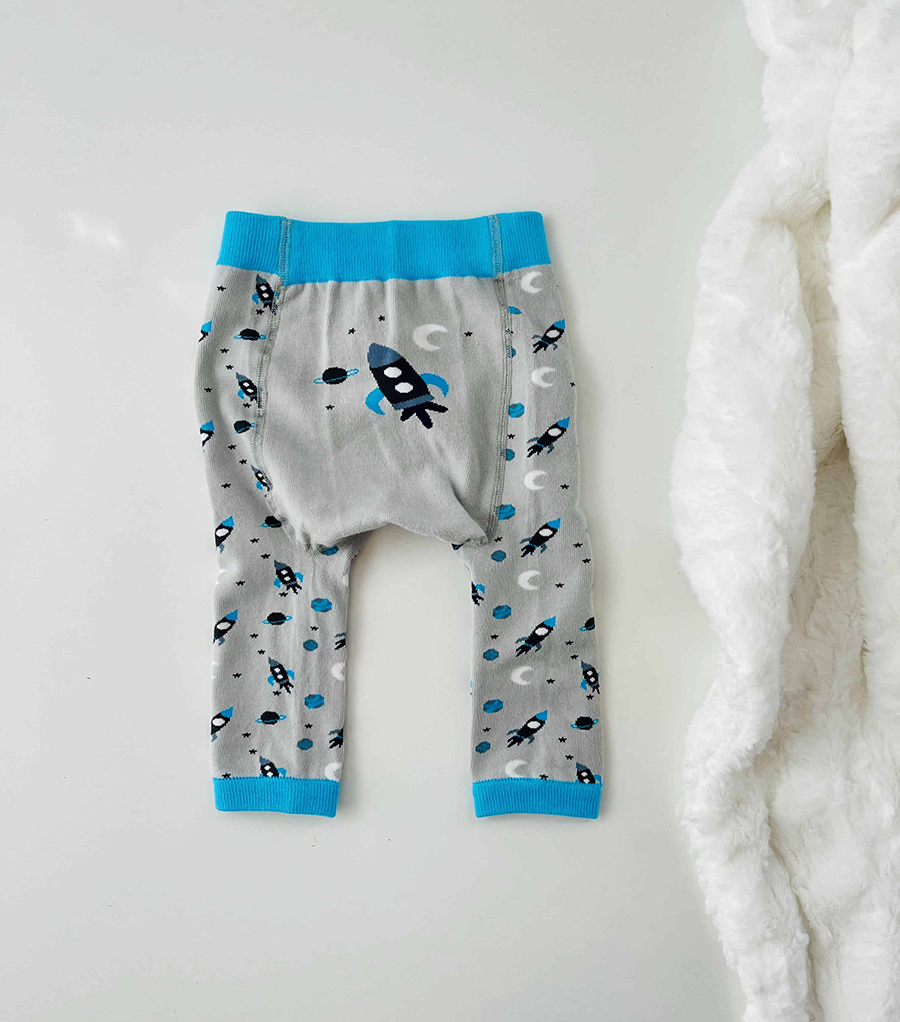 With a comfortable cotton-blend fabric and a covered elastic waistband, they're ideal for baby's everyday wear.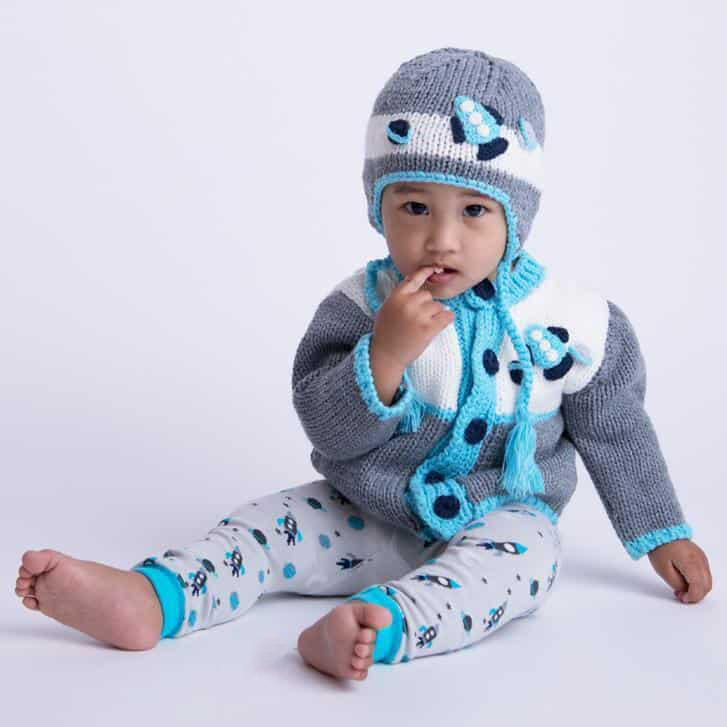 PHOTO CREDIT: HUGGALUGS
These adorable knit baby pants have little rocket ships and planets all over them! It also has a large rocket ship on the tooshie for added cuteness.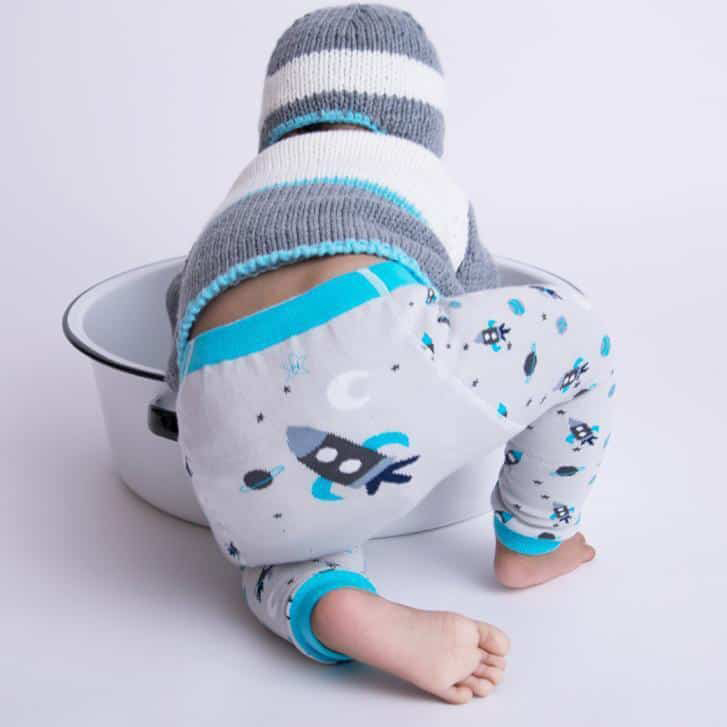 PHOTO CREDIT: HUGGALUGS
Benjamin Soap Co.
We believe that self-care isn't just for special occasions and that it's critical to begin the year with a self-care mindset. This month, we included these all-natural botanical bath salts in both our baby and kid's boxes to help you discover daily rituals that will help you feel your best. Soothe sore, overworked muscles with this invigorating bath salt blend. Featuring natural ingredients such as Epsom salts, pink Himalayan sea salts, and essential oils to help reduce muscle aches while also calming inflammation, stimulating circulation, and relieving stress. The best part? Its invigorating jasmine and clementine scent leaves you feeling refreshed and energized.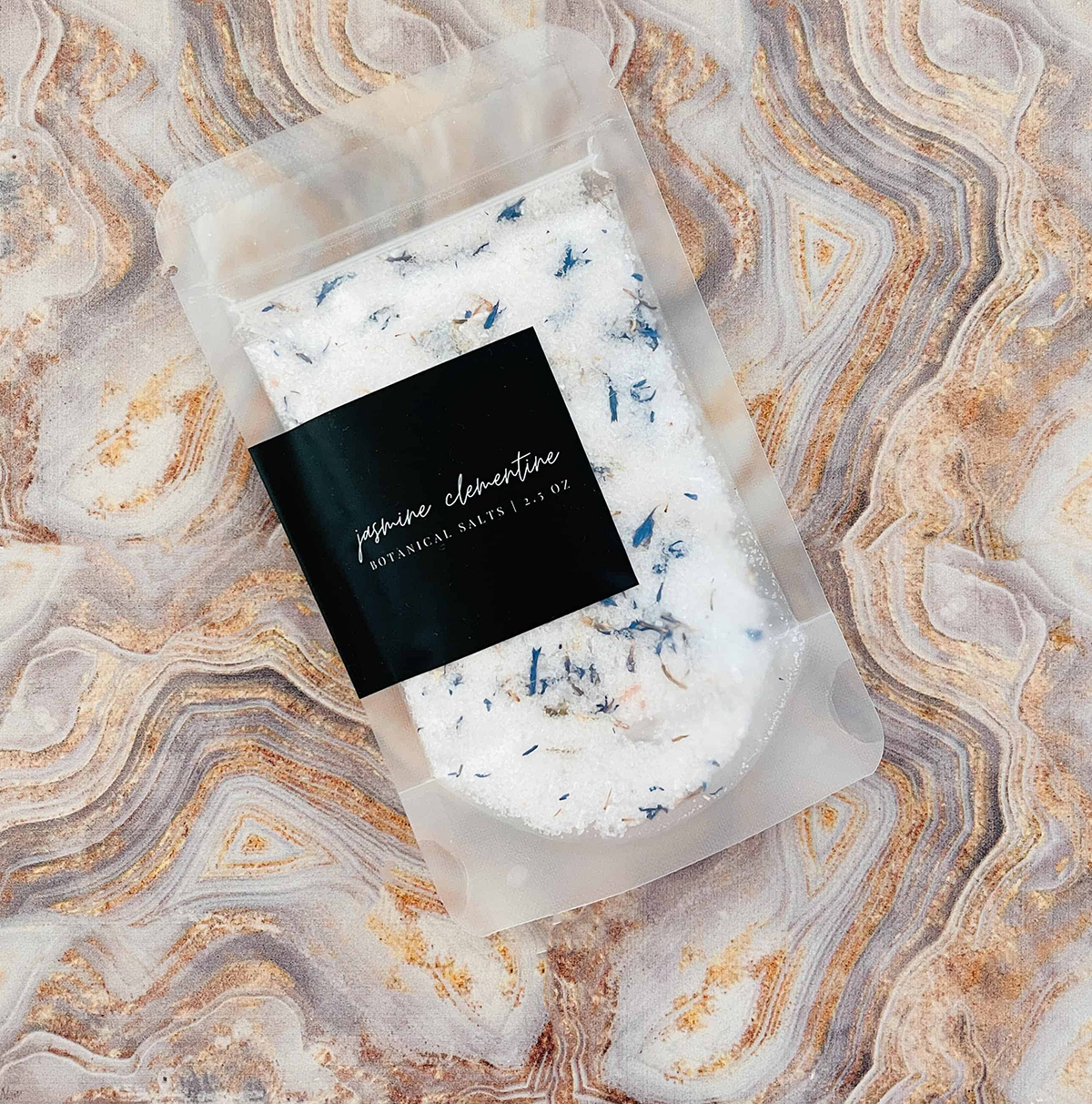 Author: Roxy Marj
From Aries to Pisces, this starry-eyed series of board books is a sweet introduction to your baby's first horoscope!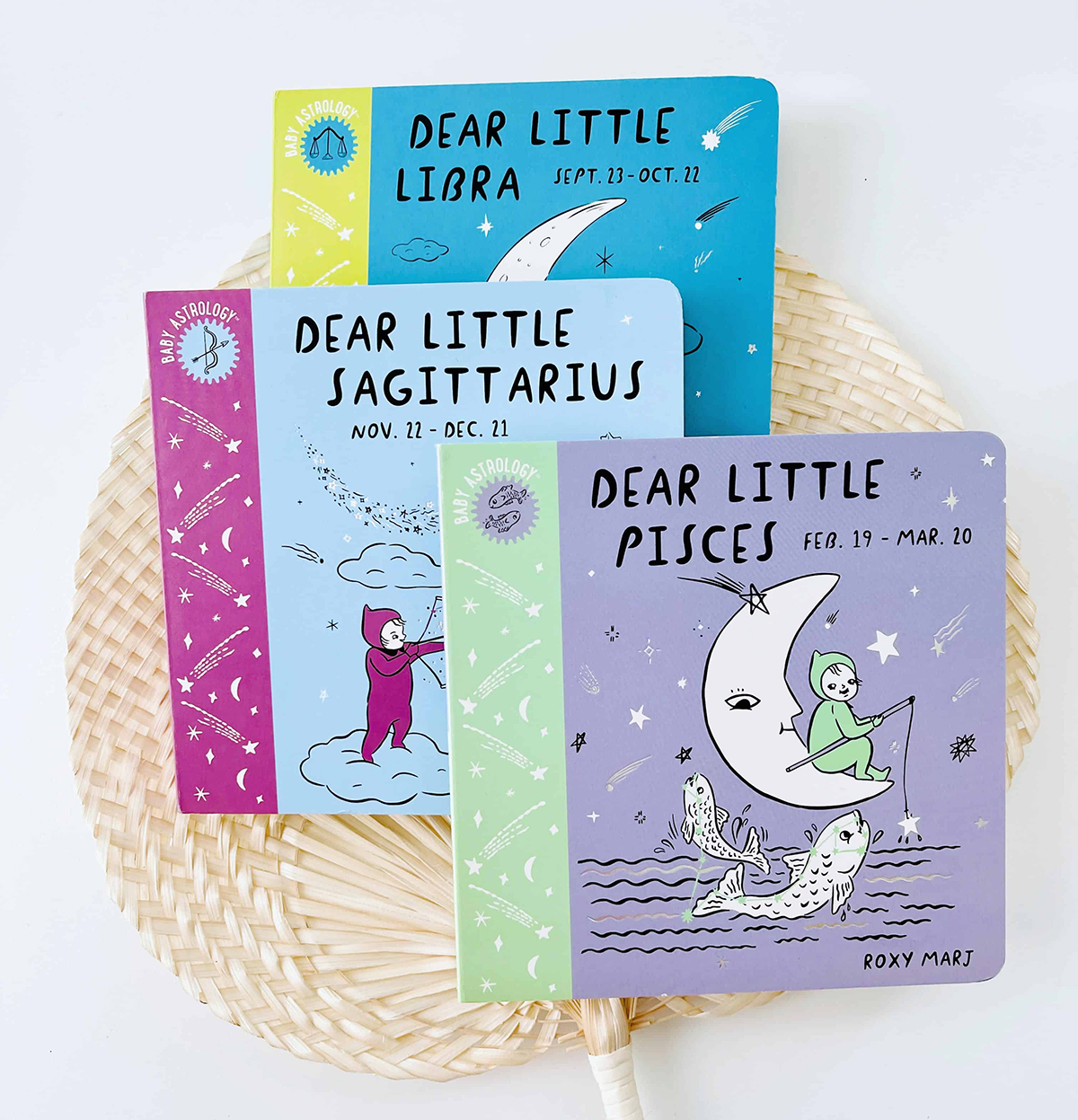 Roxy Marj's collection of gorgeously designed books celebrates each zodiac sign through beautiful illustrations of each star sign's unique characteristics.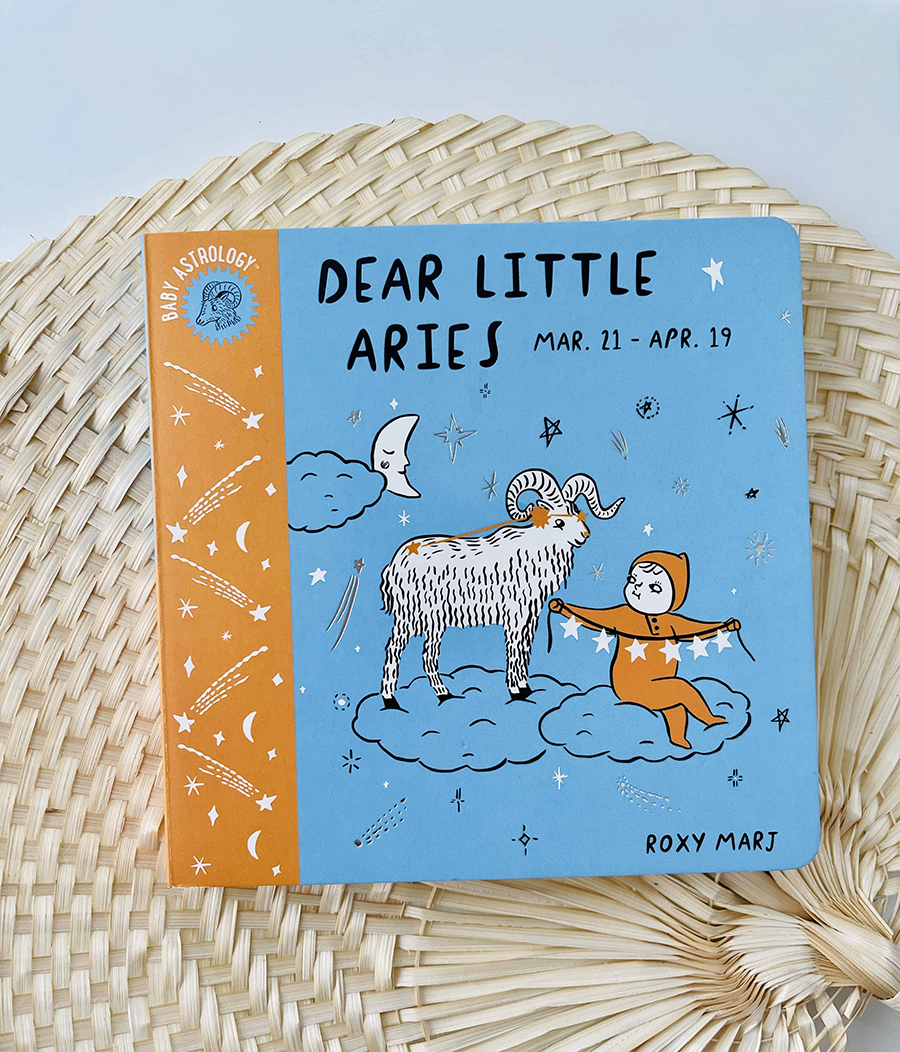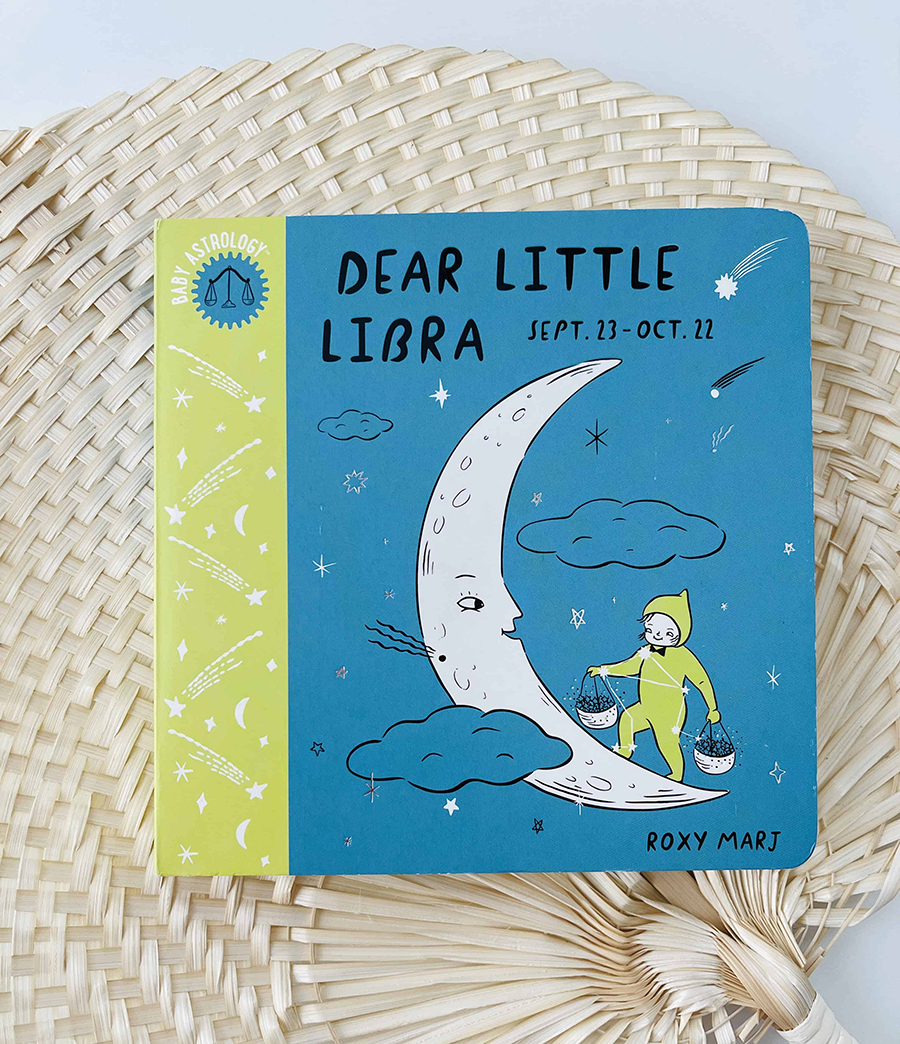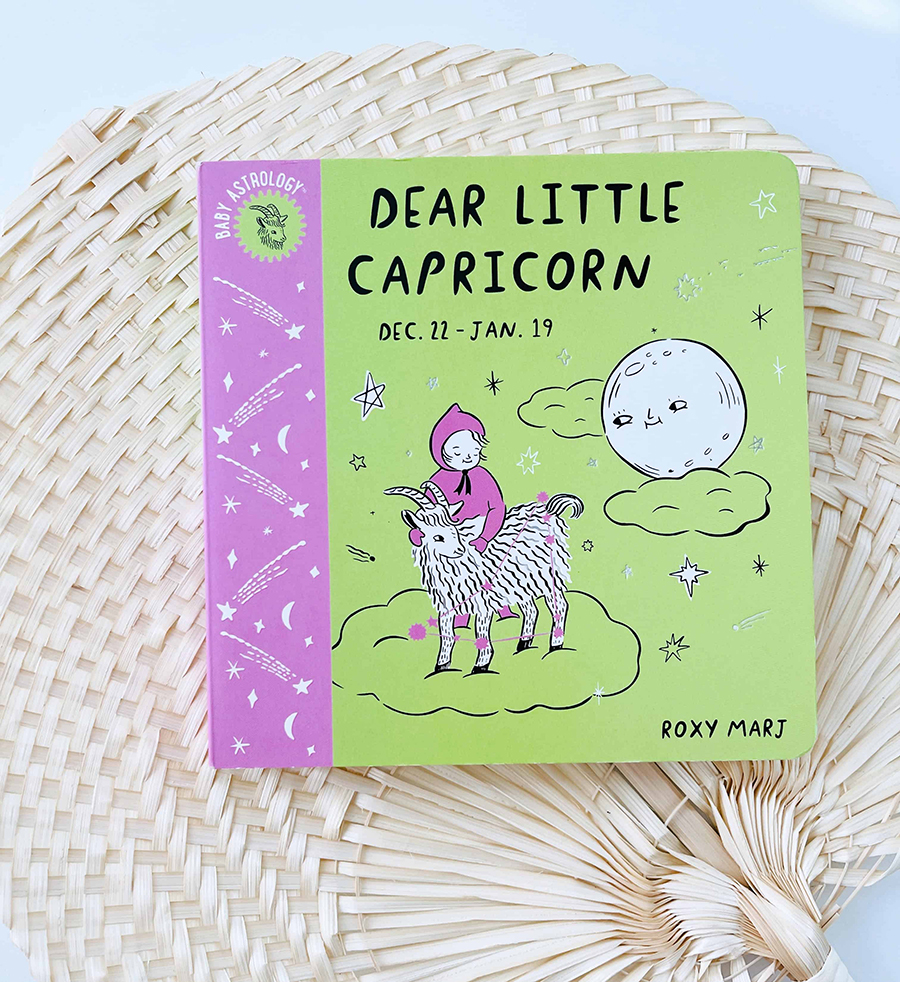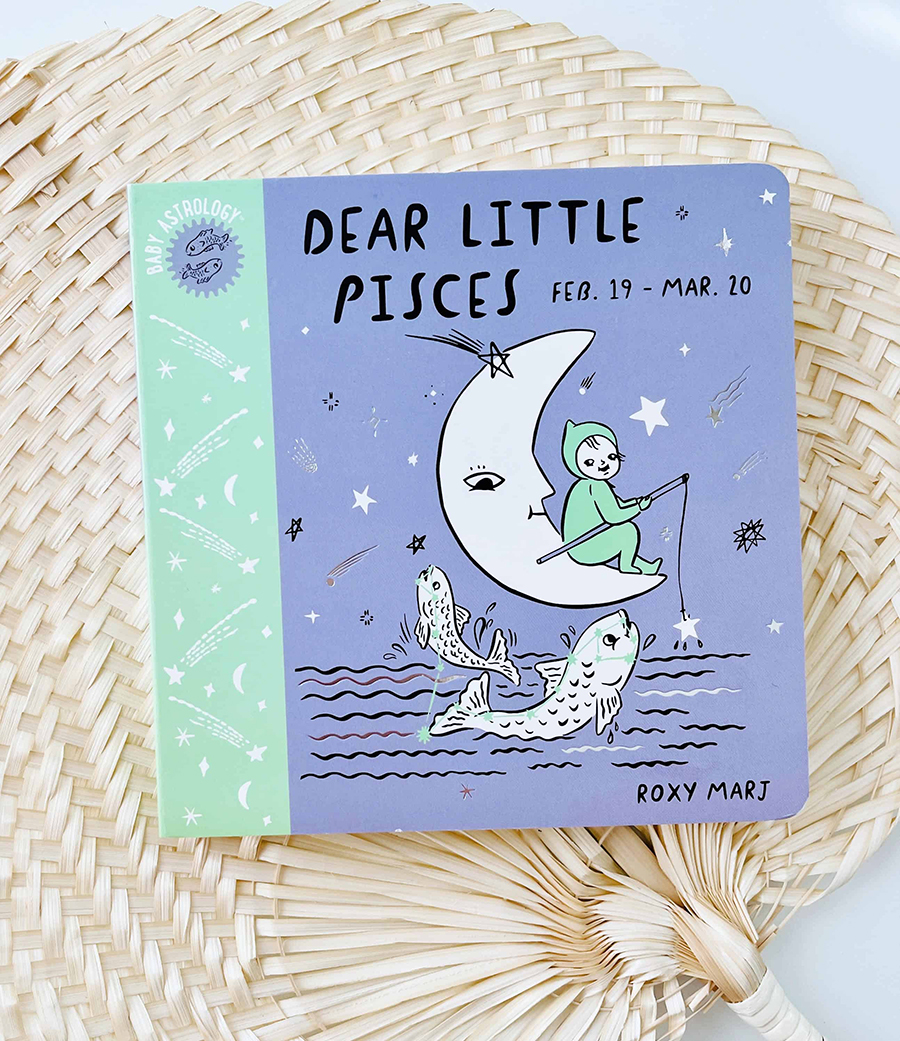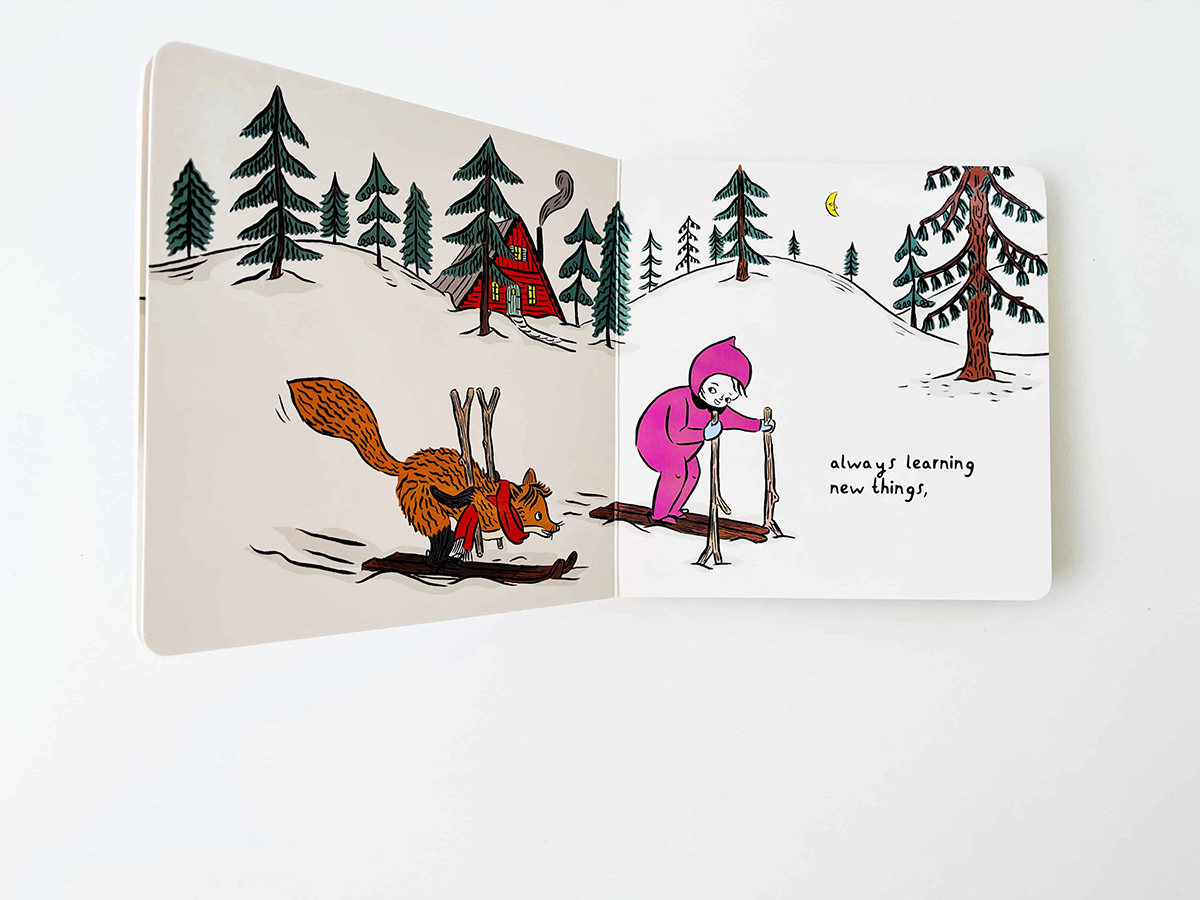 Each of our baby box subscribers received a board book based on their child's zodiac star sign this month.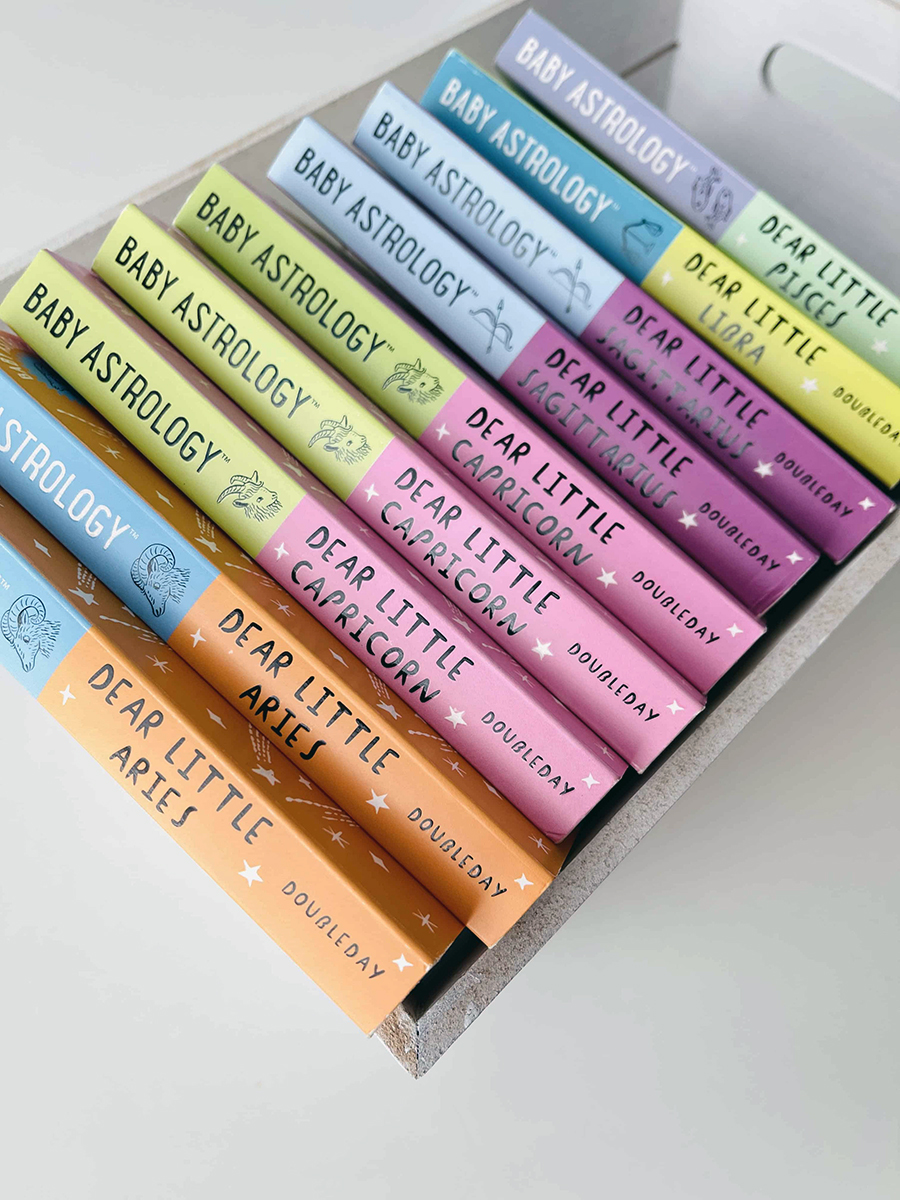 Keep It Clean - Toy Cleaner
Clover and Birch
When it comes to babies, it's no secret that the toys they're playing with end up in their mouths. Fortunately, this all-natural toy cleaner easily tackles dirt, grime, and doesn't leave any icky stuff behind. Clover and Birch makes their special house blend with organic distilled white vinegar and organic citrus peels from lemon, orange, grapefruit, and lime, so it's nontoxic, free of chemicals, and safe to use around your baby.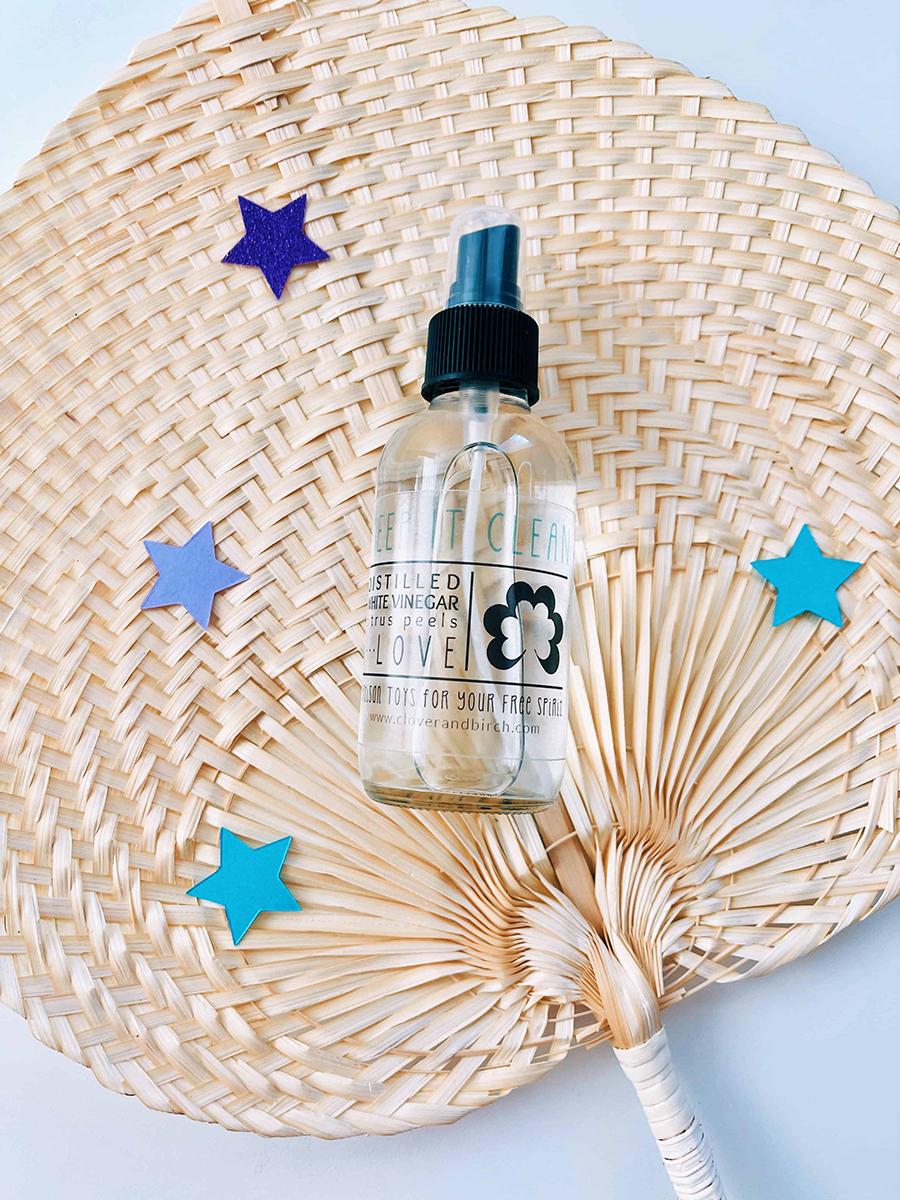 Bannor Toys
Why risk toy recalls with plastic and gel-filled teething rings when there is a safe, all-natural teething solution? Enter the Saturn Rings wooden baby teether —here to relieve your little one's sore gums and provide natural sensory stimulation.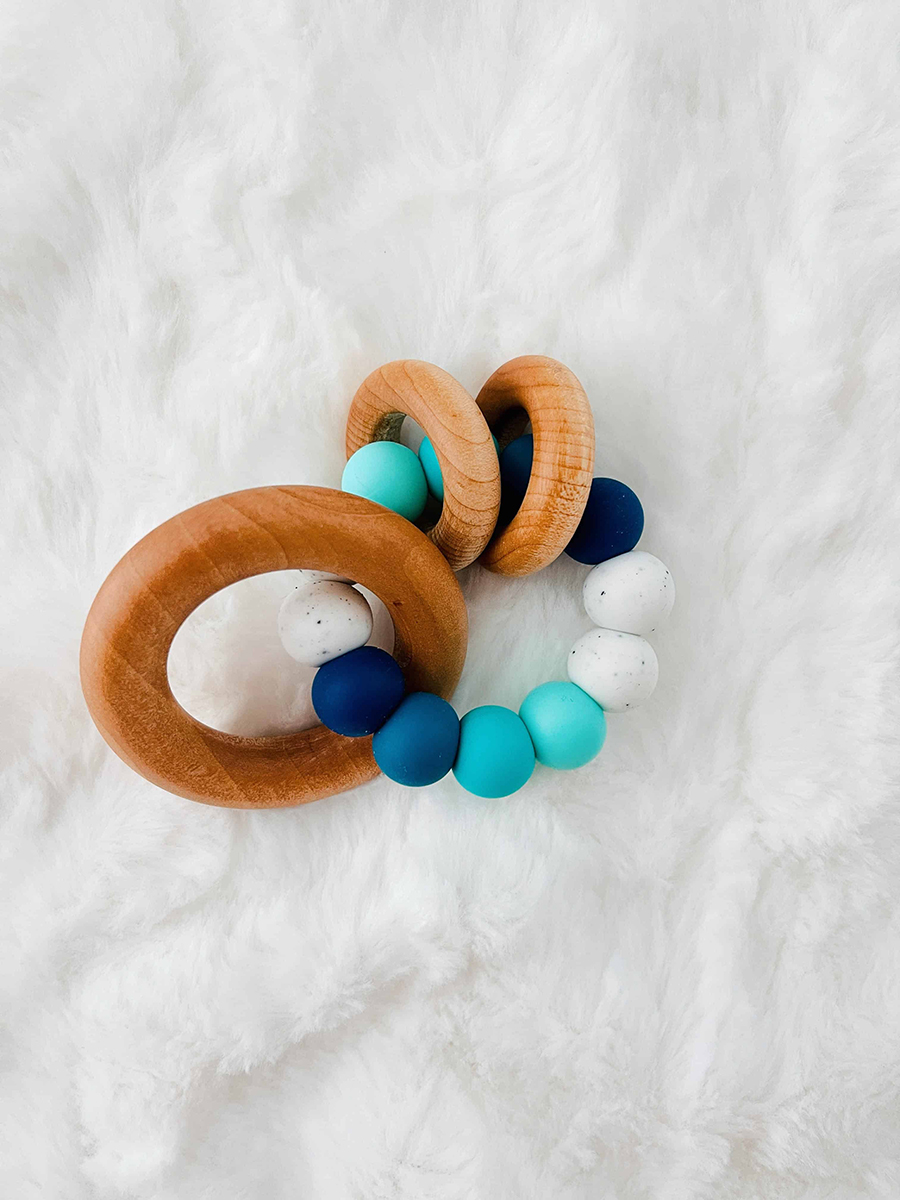 Each ring teether is individually handcrafted from Maple wood and sanded to a silky smooth natural finish.
Each wooden baby teether has a unique grain pattern and natural characteristics from the tree it came from. The Saturn Rings Teether is light and slender, making it ideal for tiny fingers to grip and easy to store in a diaper bag. The silicone beads are of food-grade quality allowing baby to safely gum on them for hours!
Tip: If your infant has sore gums, refrigerate the teether for an hour before using it.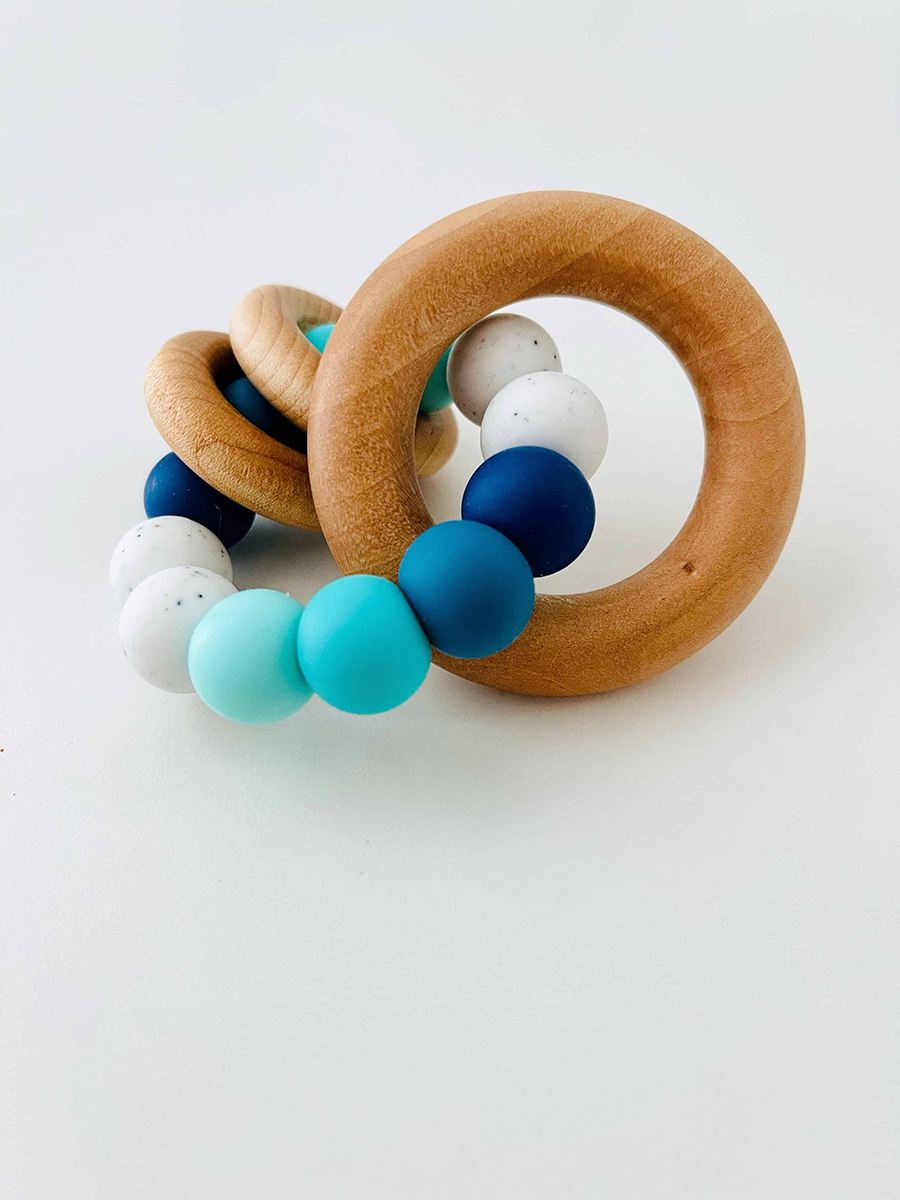 Please be sure to supervise your infant when using this or any teething toy and examine the teether and silicone beads before every use and discard the teether if it is damaged or if the beads come loose.
Bannor Toys provides little ones with environmentally friendly toys designed to encourage children's imagination and creativity. They've been meticulously crafting wooden toys in the heart of Iowa using only the finest natural materials, with the best interests of our children and the environment in mind.
Flying Wish Paper Kit
Flying Wish Paper
Write it, Light it, Watch it fly! This whimsical wishing kit is the perfect together time activity for the whole family to do together.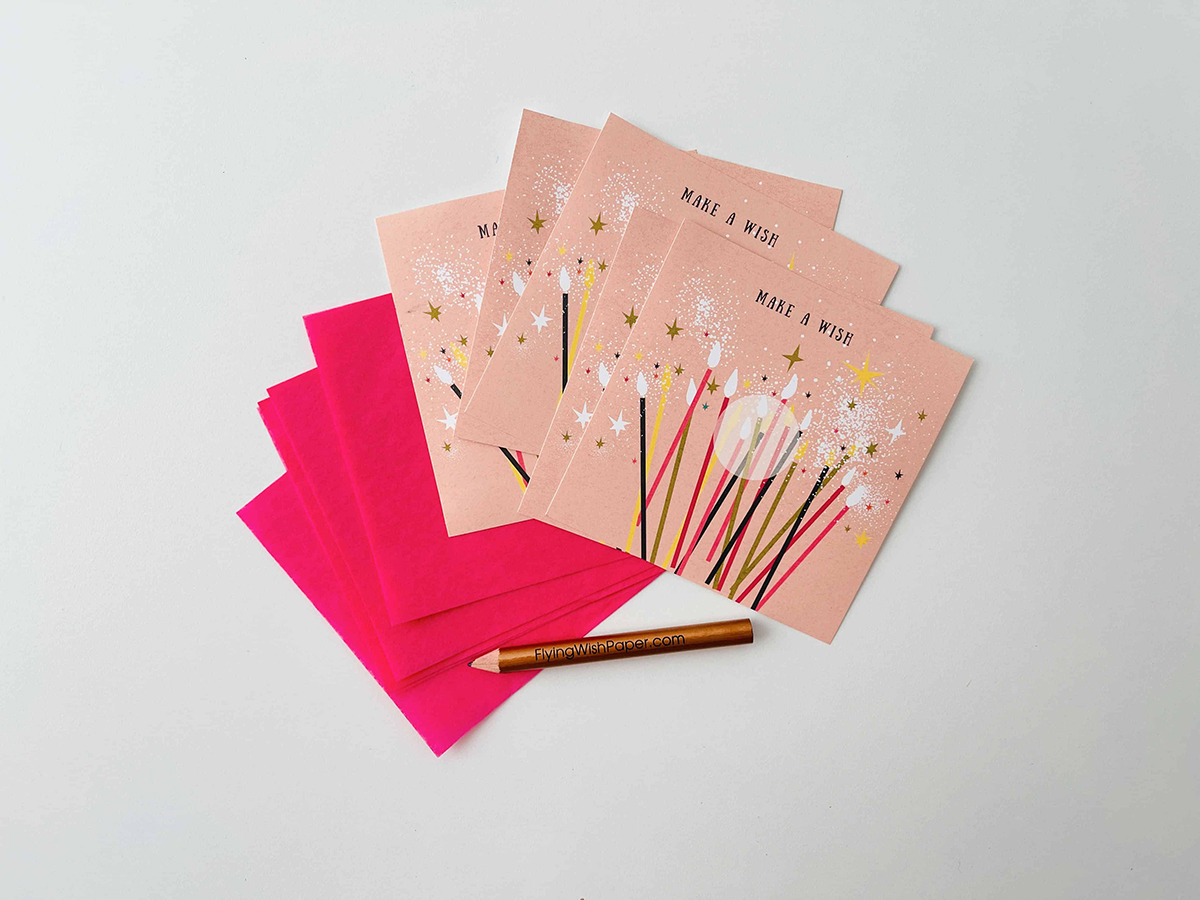 Write down your wish on the special paper, then watch it fly away as you set it on fire. Each wishing kit includes flying wish paper, wish platforms, a pencil, and illustrated instructions.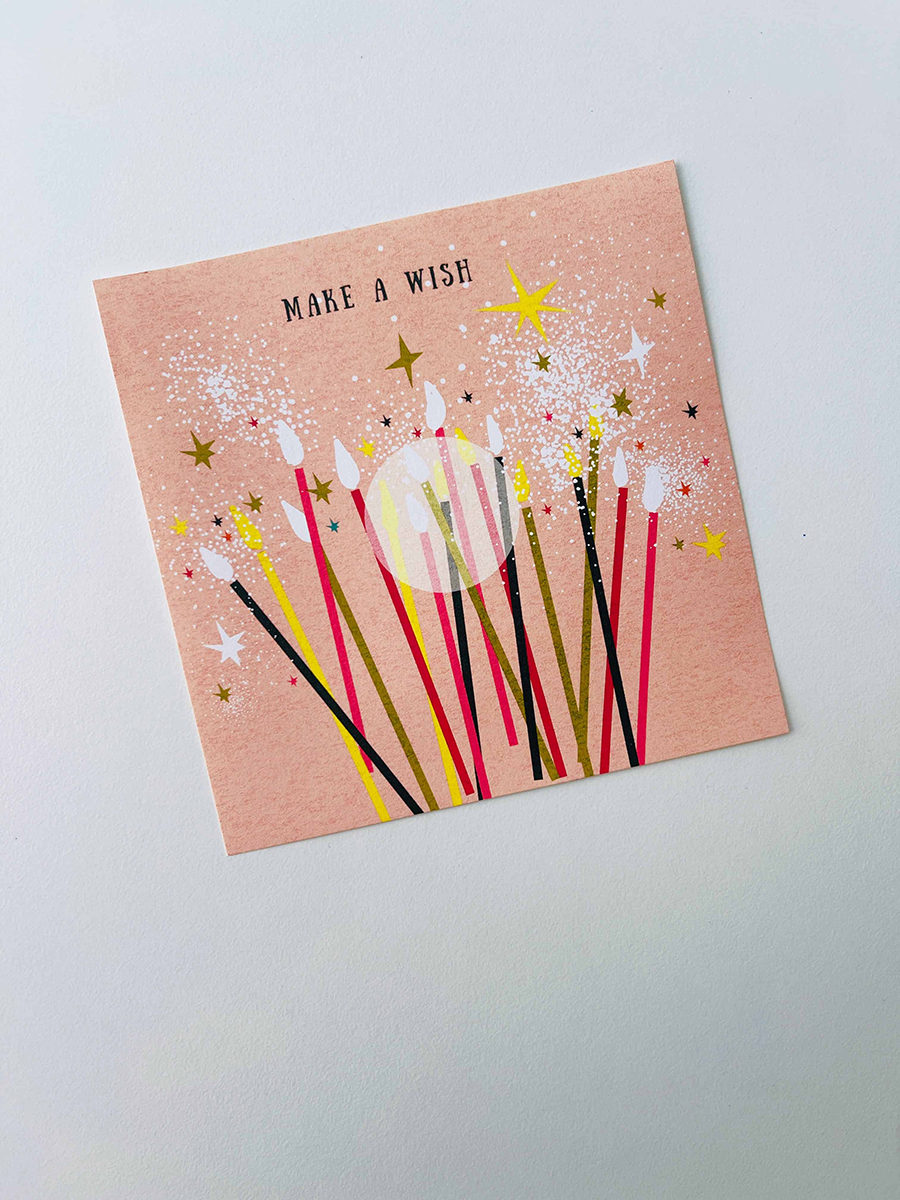 These one-of-a-kind wishing kits are recommended as indoor products and should only be handled by mom or dad. Learn how to use flying wish paper.
Check out the Howdy Baby Box video review here: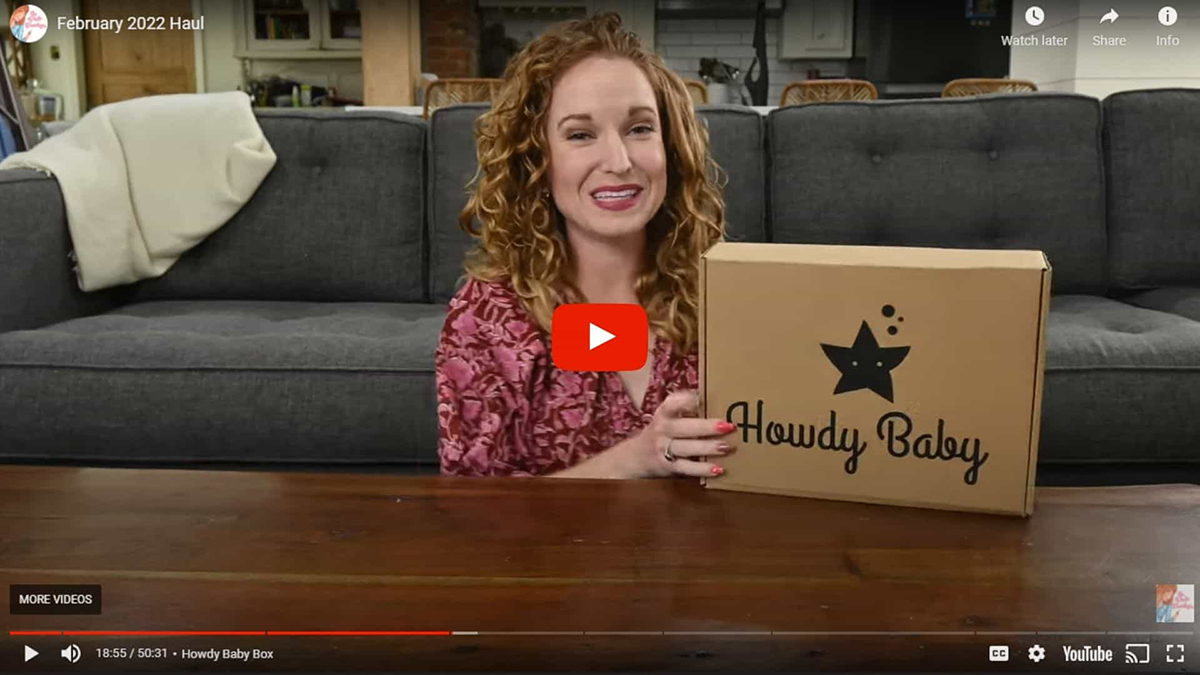 What did you think of our January baby subscription box? Share your thoughts in the comments section below. Also, be sure to subscribe to the Howdy Baby or Howdy Kids box for next month and discover unique family-friendly products from women-owned small businesses with your little one every month.