Our 🍂Pumpkin Kisses & Harvest Wishes🍂 box featured one-of-a-kind items that encourage a thankful mindset, inspire new family traditions, and promote quality time spent with loved ones. This month's Howdy Baby subscription gift box set came with an adorable Thanksgiving themed t-shirt for toddlers, a wishbone wood baby teether, and a handprint kit perfect for celebrating your baby's 1st Thanksgiving! Read on to get the scoop on all the great products in this month's box.
Please remember that the products in our monthly subscription boxes may differ because we customize each box based on your child's age and developmental stage. See what's inside this month's Howdy Kids subscription box by clicking here.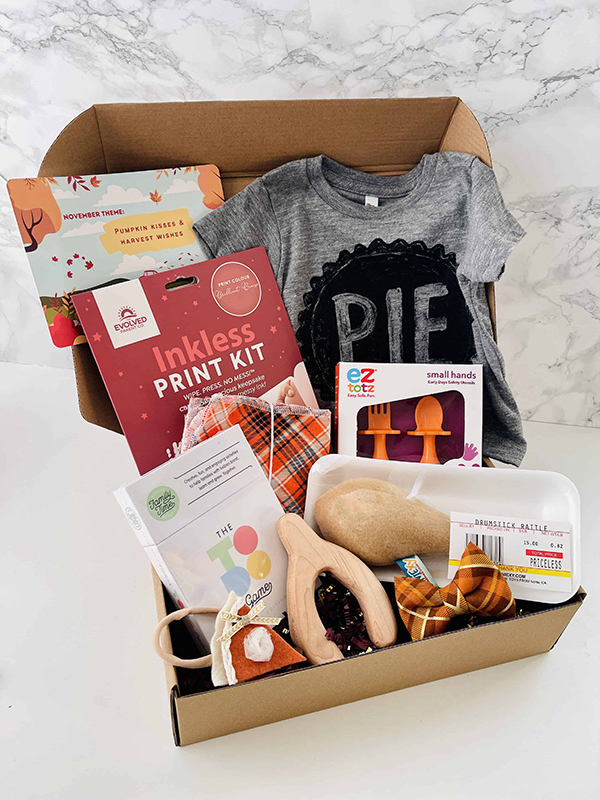 Xenotees
This cute pumpkin pie Thanksgiving shirt for toddlers is the perfect choice when it comes to dressing up for family gatherings. It's made of a super-soft tri-blend cotton to keep your tiny tot comfortable wherever the day takes them. The gender-neutral design is easy to style, and you can layer it underneath a hoodie or a jacket for a cozier fall time look.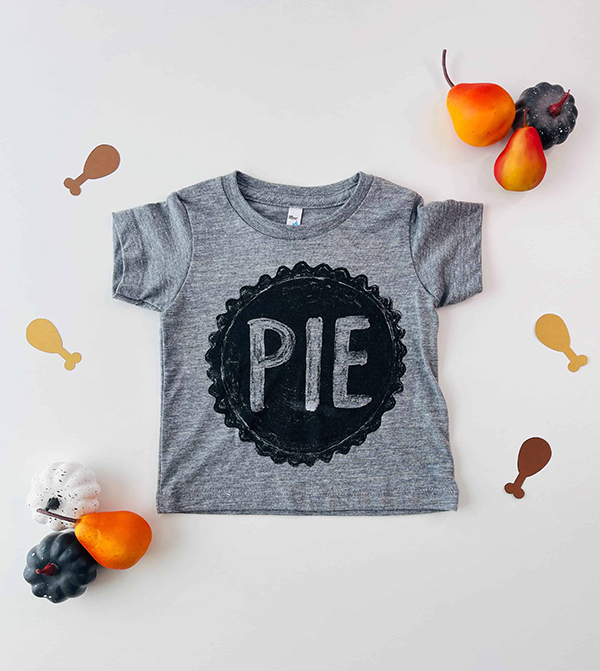 EZTOTZ
Baby's 1st Thanksgiving will be extra special with this bright orange utensil starter kit! This utensil set makes the transition to self-feeding a little easier as your toddler slowly learns to master the art of the fork and spoon. The rounded handles make the utensils easier for baby to grab and hold. This set also features a built-in choking guard to keep your child safe during self-feeding. It's BPA-free, top-rack dishwasher safe, and proudly crafted in the United States of America.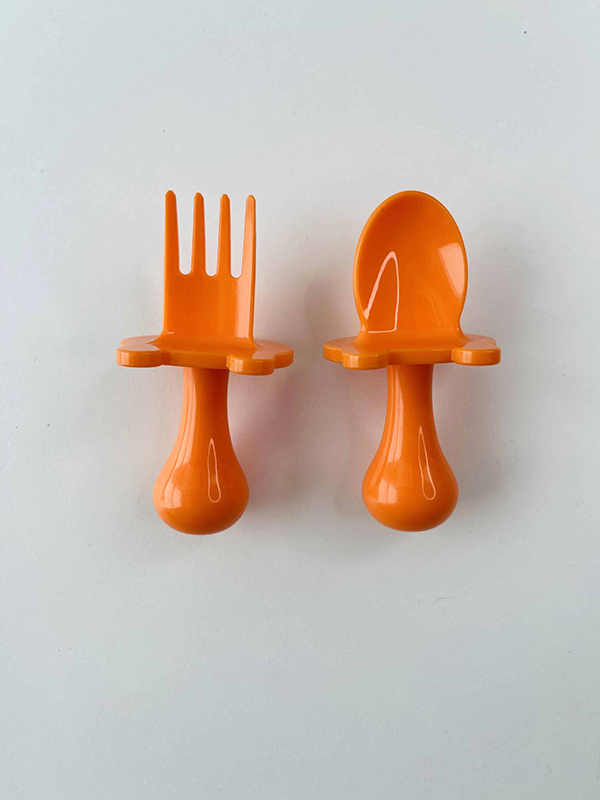 Janie XY
Loved by carnivores and herbivores alike, this one-of-a-kind drumstick baby rattle is the perfect plush to finish off your holiday spread. It features a range of textures and rattling sounds that are excellent for promoting early childhood sensory development. Your child will absolutely adore this super soft plush toy! It's elegantly made by hand and neatly wrapped in a deli-style packaging, making it an excellent baby shower present or gift for baby's 1st Thanksgiving.
To Do Game - Baby Edition
The To Do Game
The To Do Game is a collection of fun, educational, and interactive activities for families with infants ages 0 to 2 years. These activities are simple to set up at home and require little to no preparation or clean-up. The purpose of these activities is to strengthen the parent-child relationship through a variety of activities that promote development in key areas of early growth, such as sensory play, language, fine motor development, interaction, and exploration. We thought these would make a wonderful addition to our baby gift box set this month.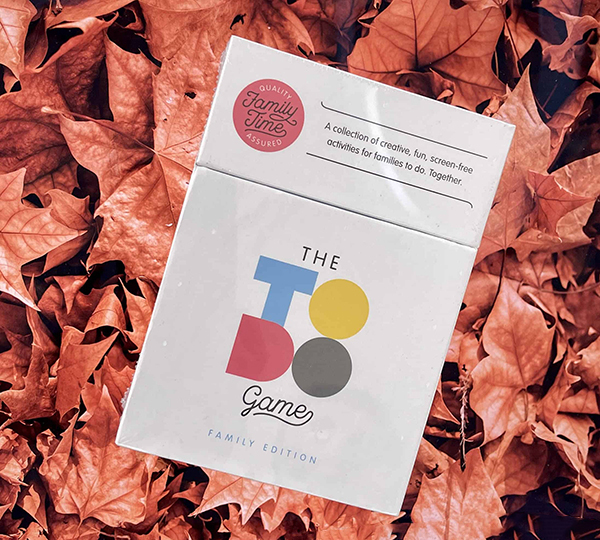 Fall Paperless Towels
Generation Me
These reusable cloth napkins are a terrific way to brighten up your kitchen. Flannel napkins are a great alternative to cotton or linen napkins because they are softer yet just as absorbent. These un-paper towels are a breeze to keep clean too! Simply machine wash them with similar colors and tumble dry on low heat. Using fabric softener is not recommended because it may build up and reduce the cloth napkin's natural absorbency. These eco-friendly cloth towels are handmade in small batches, so each one is unique.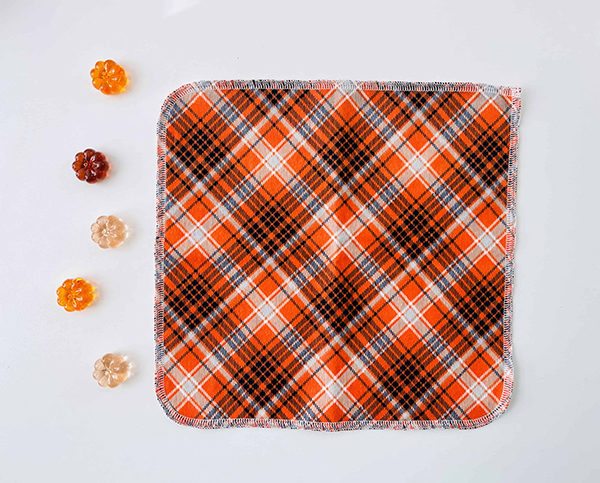 The Evolved Parent Co.
This baby handprint kit makes a cherished keepsake for years to come. We had to add it to the gift box set because it's the perfect way to capture those tiny baby hand and footprints. Preserve those precious little hands and footprints with this one-of-a-kind inkless print kit. This simple-to-use kit is ideal for family bonding time and celebrating your baby's 1st Thanksgiving. It is mess-free, ink-free, and completely safe for babies to use from birth.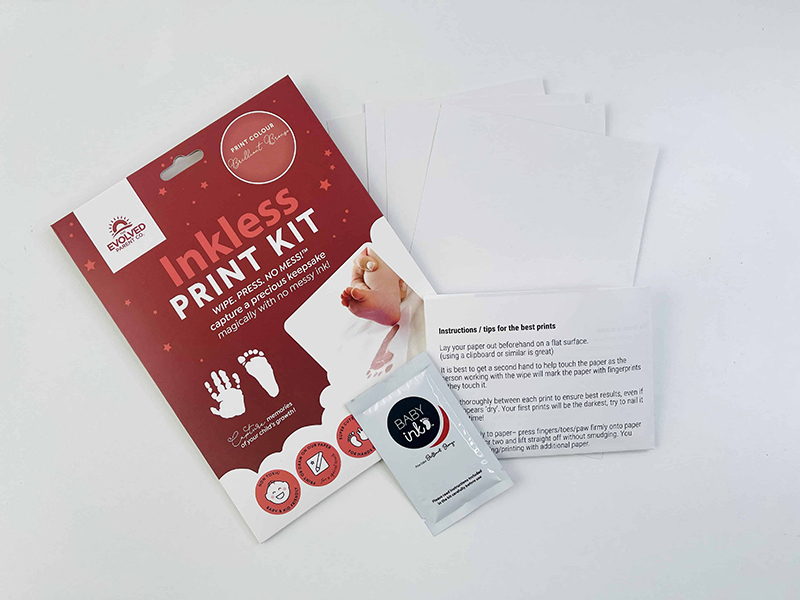 Clover and Birch
This wishbone-shaped wood baby teether will be a hit at your next family gathering. It's just the right size for your baby to hold, and the chunky weighted wood provides gentle counter pressure to baby's sore gums.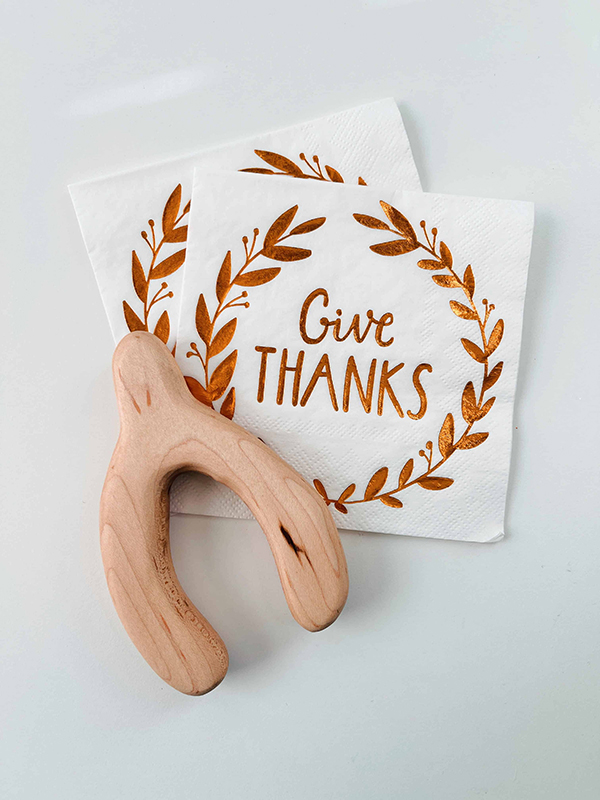 This month our boy box featured a dapper bow tie while our baby girl box featured a super sweet pumpkin pie slice headband.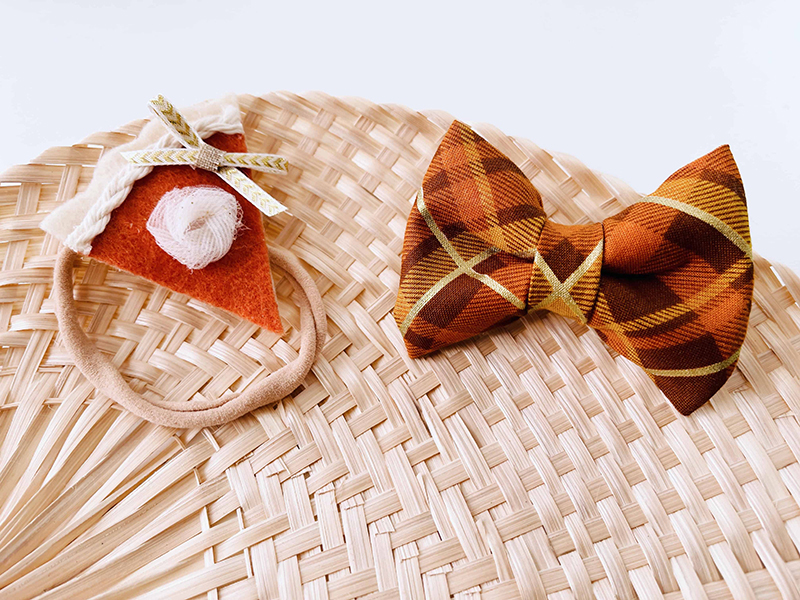 Fall Clip-On Bow Tie - Baby Boy Box
Bugco
Your little man will be all set for fall gatherings in this pre-tied clip-on bow tie. The metal clip gently attaches to each side of your dapper dude's collared shirt to keep it in place for family photo time.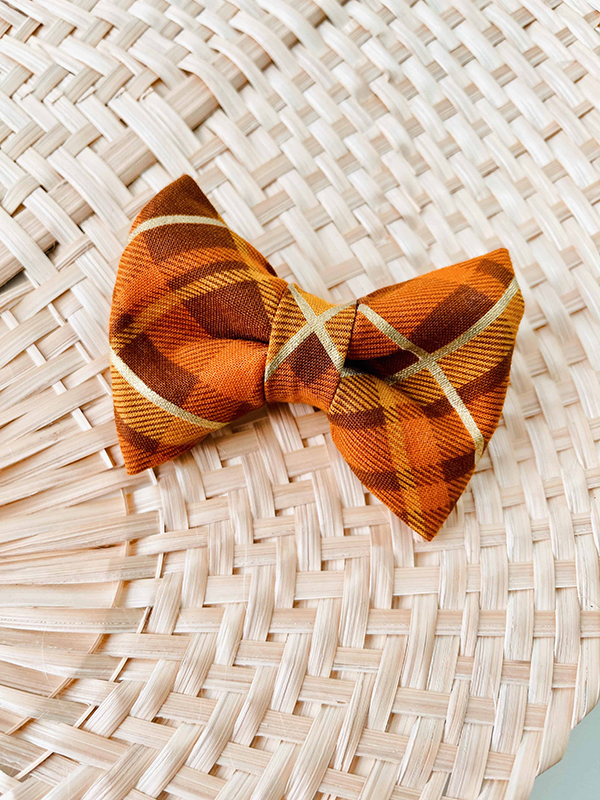 Fall Pumpkin Pie Headband
Lillies Lovelies
This adorable pumpkin pie headband makes the perfect addition to your baby's Thanksgiving Day outfit! The soft, flexible nylon headband gently holds the bow in place while your baby girl plays.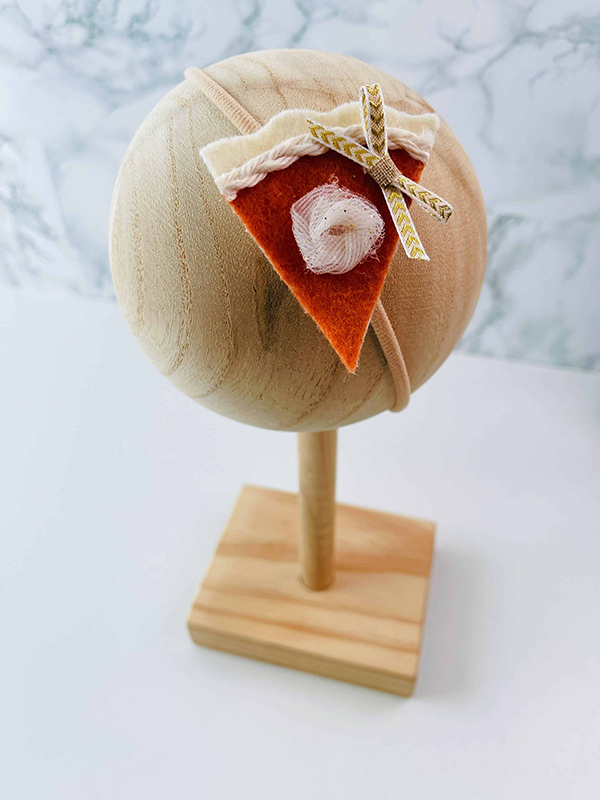 Check out the Howdy Baby unboxing video below: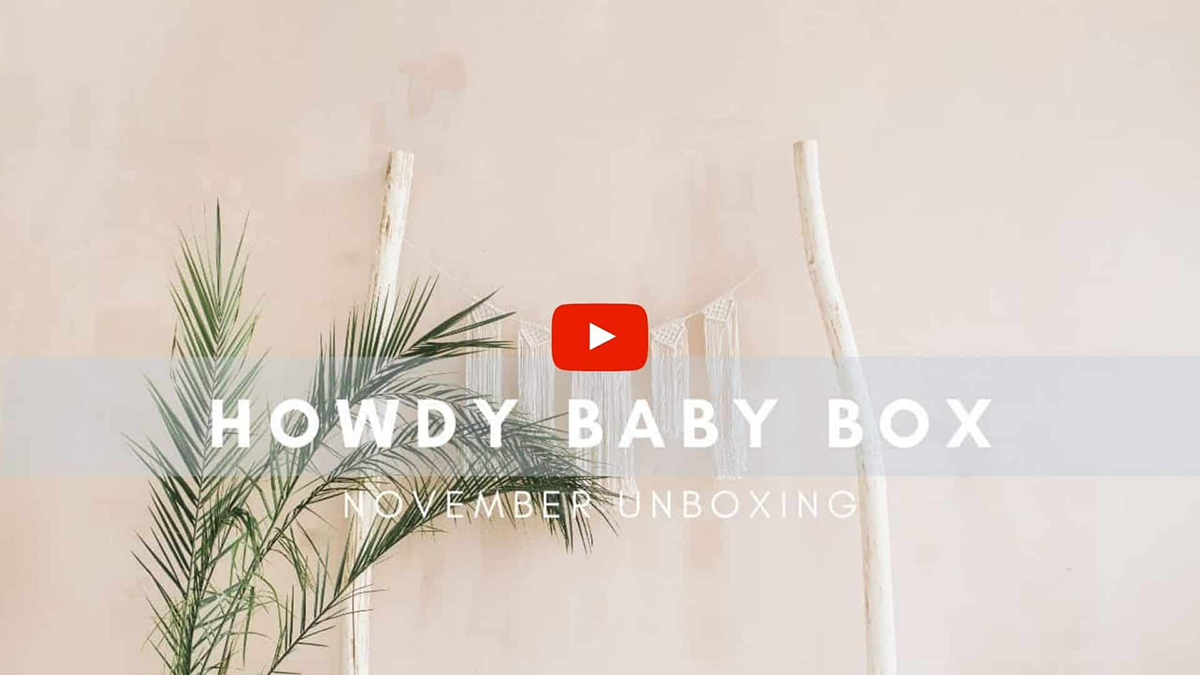 What did you think of this month's baby box? Let us know in the comments below.
Subscribe to the Howdy Baby Box