Get those pencils sharpened because it's time to announce that our upcoming August 2023 Howdy Baby STEM subscription box theme is... ✏️ Ready Set Learn ✏️
From the ABCs to 123s this month's theme is all about making learning fun and interactive.⁠ This month's STEM inspired subscription box is packed with lots of hand picked goodies that are sure to spark your little ones' curiosity & make learning a blast.
We're really excited about this theme and we hope you are too!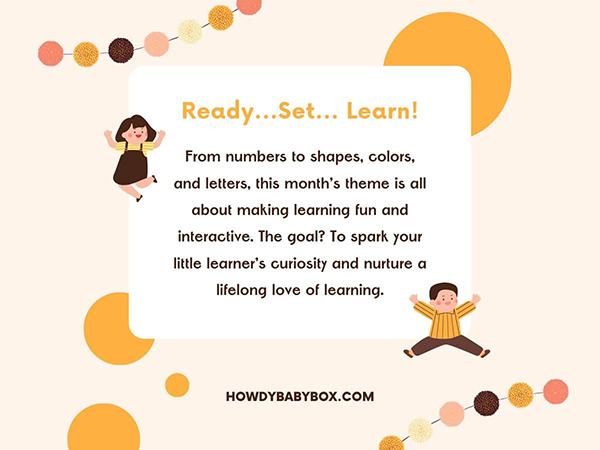 Just a heads up: This box will officially be available to new subscribers on 7/11/23. If you place your order before that date, you'll receive our July 2023 'A Walk On The Wild Side' box.
So mark your calendars, because the last day to order our 'READY, SET, LEARN' baby and kids STEM inspired subscription box is 8/10/23.
About our STEM Subscription Box
Our STEM themed subscription box is designed to bring smiles and excitement to both mama and little ones, delivering a handpicked selection of family-friendly products right to your doorstep. Whether you're a new mom navigating the early stages of parenthood or a seasoned pro with a growing family, we have the perfect box to suit your needs.
Choose from our Essentials, Deluxe, or treat yourself with a STEM inspired subscription gift box. No matter which option you go for, you can expect a delightful assortment of goodies that will make both you and your little one jump for joy!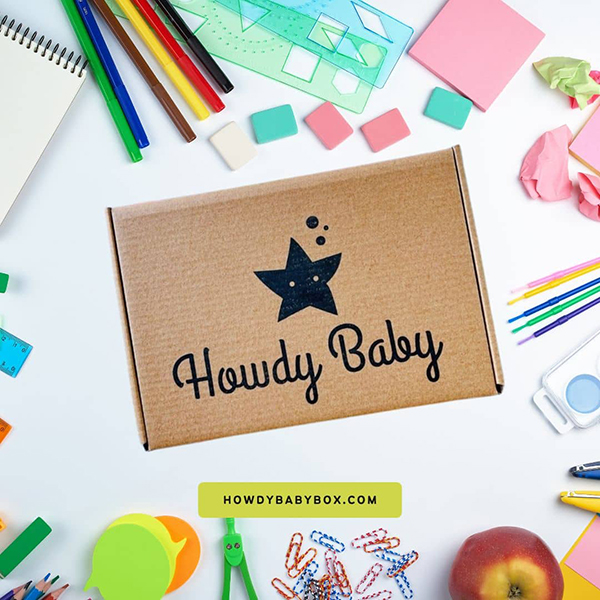 We take pride in curating each box with care, and tailor it to both your child's age and developmental stage.
From trendy essentials that keep both mama and baby looking fabulous to educational toys that inspire imagination and learning, our STEM inspired subscription boxes are a treasure trove of surprises that will keep the whole family entertained.
Howdy Baby Box - (Sneak Peek 1) - Nursery Rhymes for Little Ones Book
It's time for the first official sneak peek of our August 2023 'Ready, Set, Learn' STEM inspired subscription box. This month every baby and kids box will include this super cute nursery rhyme board book illustrated by Monika Forsberg.
This charming book is filled with beloved rhymes and illustrations that are sure to become your kiddos favorite.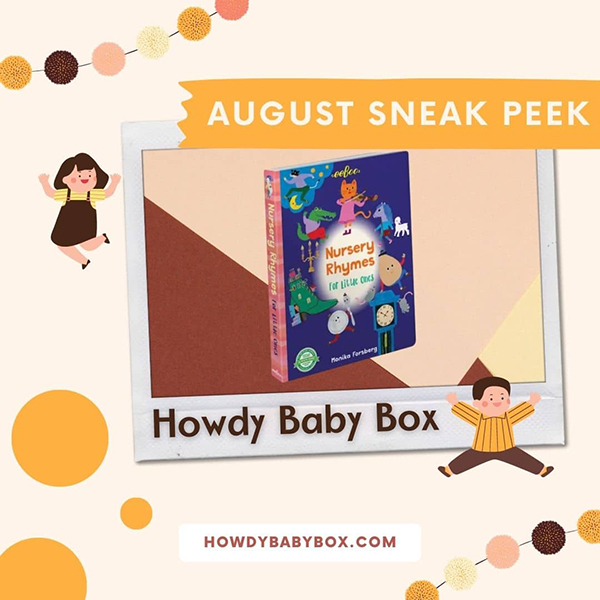 Howdy Baby Box - (Sneak Peek 2) - Chaos Coordinator Tumbler (For Mom)
Gear up for all the early mornings, packed lunches, school projects, because every baby and kids box will feature a Chaos Coordinator Tumbler for mom this month. This double-walled stainless steel gem will keep your favorite drink just right while you're conquering the school-day chaos.
Already a Howdy Baby Box member? We've gone ahead and reserved your spot for the upcoming August 2023 STEM inspired subscription box. No need to go through the sign-up process again.
Just remember to keep your payment information and your child's preferences up to date. This little step ensures that your STEM inspired subscription box renews without any hiccups at the end of the month.
Not a Howdy Baby Box subscriber yet?
Head over to howdybabybox.com for more information or click here to get started. Oh, and don't forget to use the code HOWDY10! to get a 10% OFF your first month's box.