You're off to great places — today is your day! Your mountain is waiting so get on your way! ⁠We're so excited to reveal that our newborn baby and kids subscription box August theme will be... 🏕️ ADVENTURE AWAITS! 🏕️
Adventure is calling and we must go!⁠ This month's theme is all about saying yes to new adventures because the world is full of incredible things to discover. All you have to do is use your imagination and dream big!⁠ We're highlighting the importance of teaching our littles to be resourceful and self reliant while strengthening the ties that connect you as a family!⁠
🏕️ Please Note: The last day to order this box is 8/10/22.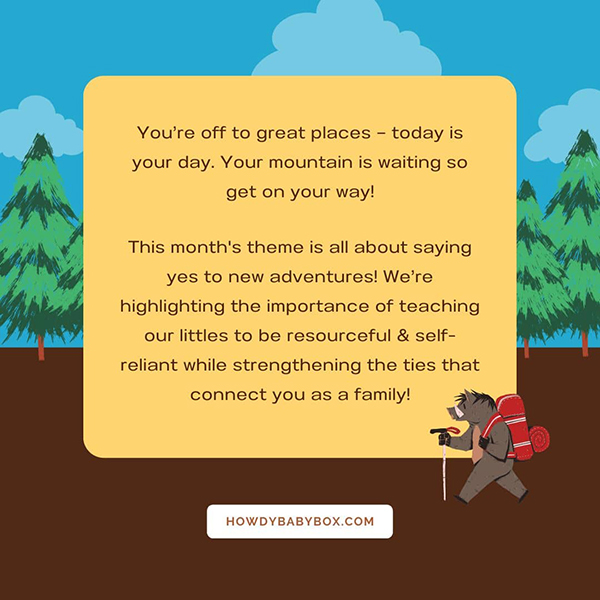 Howdy Kids Box - Sneak Peek 1 - Wanderlust Tee
It's time to reveal the first sneak peek for our⁠ August box!⁠
Get ready go on big adventures because every Howdy Kids box will include an ultra soft Wanderlust Tee from Rivet Apparel Co. this month. It's inspired by one of our favorite types of adventures!⁠
Any guesses what it could be?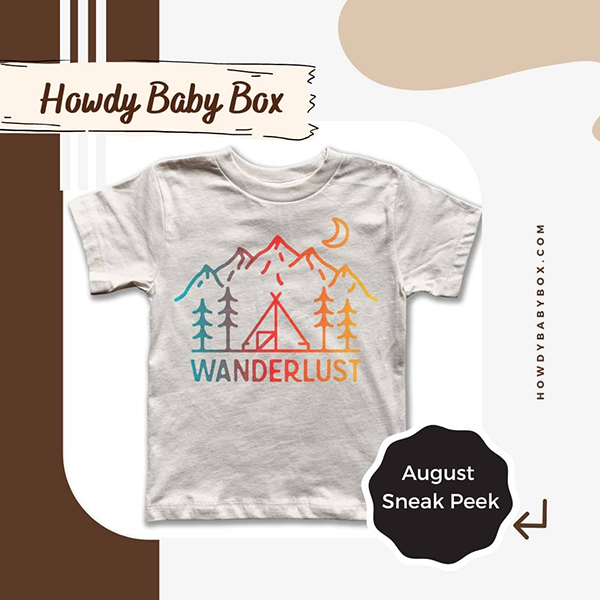 Made of 100% ring spun cotton, this super comfy tee will have your little one soaking up every bit of warm weather and sunshine!
We've worked with Rivet Apparel Co. a number of times in the past & they're truly one of our favorite go to brands for gorgeous high quality kids tee's. ⁠

Howdy Baby Box - Sneak Peek 2 - Adventure Awaits Enamel Mug
Mom won't have to travel far to find adventure this month! Every Howdy Baby and Howdy Kids box will include an Adventure Awaits Enamel Mug from Sweet Living Goods! This lightweight stainless steel mug is all the inspiration you need to journey to anywhere your heart desires!⁠
Whether you're sipping coffee in the morning, tea in the evening, or something else in between, this 11 oz mug is perfect for enjoying both hot + cold beverages on your next family camping trip or outdoor adventure. ⁠
It's super sturdy, dishwasher safe, and its vibrant print + glossy finish won't chip or fade.⁠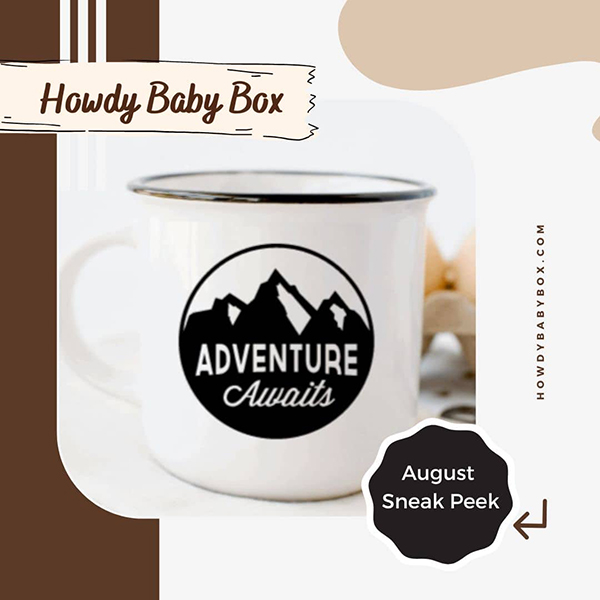 About the brand: Julia, the owner, and operator of Sweet Living Goods is a mom of 3 on a mission to join the global fight against human trafficking.⁠
A portion of the proceeds from her line of ethically sourced goods is donated to non-profit organizations that fight against human trafficking both locally and globally.⁠
We absolutely love this theme and hope you will too!⁠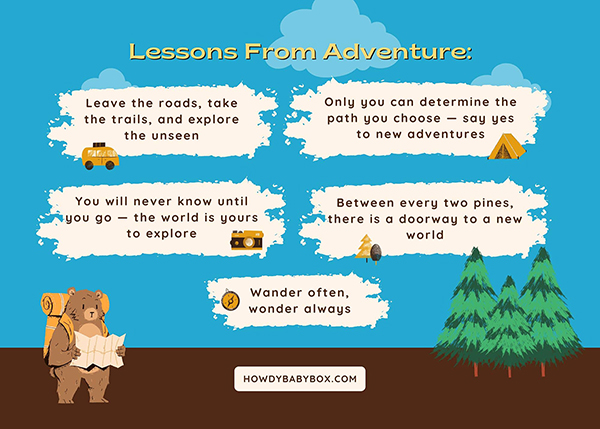 About our newborn baby and kids subscription box:
The Howdy Baby Box is a monthly subscription box for Mama & Little that features a unique selection of products for you and your child to explore together!⁠
Choose from our Essential or Deluxe newborn, baby, or kids subscription box or a one-time gift box & receive a variety of family friendly products always tailored to your child's age and developmental stage — as well as something special for mom in each box!
All products featured are ethically made by women-owned businesses and independent makers.⁠
✨ Essential Box:
The following subscription box options are available for newborn, baby, and kids.
✔️ $40 per box + $9 shipping⁠
✔️ 4 - 6 premium full sized products⁠
✨ Deluxe Box:
✔️ $60 per box + $9 shipping⁠
✔️ 7 - 10 premium full sized products⁠
Want to sign up for our monthly newborn baby or kids subscription box? Visit our Subscription Box Page to learn more.⁠ ⁠Use code HOWDY10! for 10% OFF your first month's box.⁠