Hello Fall, we're ready for you! 🍁⁠ Are you excited for Fall? We sure are! That's why we're thrilled to announce that our October 2023 Howdy Baby and Kids Subscription Box theme will be 🍁 Pumpkin Spice & Everything Nice 🍁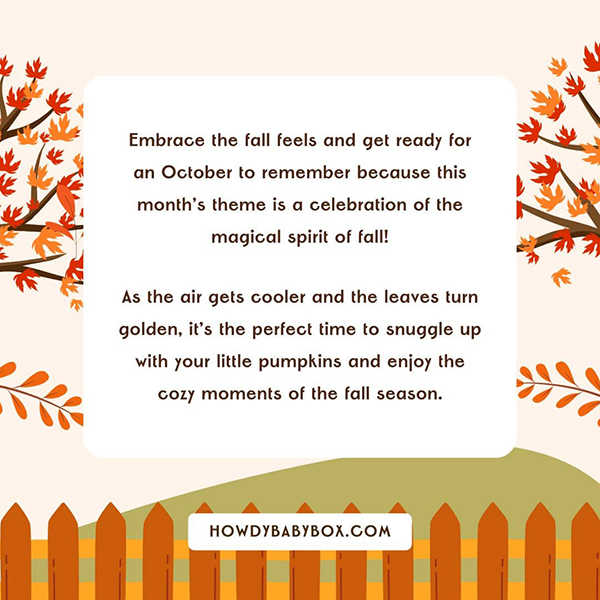 Sneak Peek 1 - Pumpkin Spice Sugar Scrub (For Mom)
It's officially pumpkin spice season, and you know what that means...
⁠
It's time for the 1st official sneak peek of our October 2023 🍁 Pumpkin Spice & Everything Nice 🍁 box.⁠
⁠
This month every Howdy Baby and Howdy Kids subscription box will feature a special treat for mom — Pumpkin Spice Sugar Scrub from Aminnah Skin Care!
🧡 This⁠ sugar scrub is like a fall spa day in a jar. It exfoliates, cleanses, renews, and moisturizes. ⁠
⁠
🧡 Made with all-natural goodness, this scrub will have you feeling those fall vibes in no time!! ⁠
⁠
🧡 Stay tuned for another October baby and kids subscription box sneak peek coming soon.⁠
⁠Don't miss out on the cozy goodness!
Sneak Peek 2 - 50 Things To Try In The Fall (Adventure Journal)
Are y'all ready for a hint of what's in our October Howdy Kids subscription box?
🍁 We're so excited to announce that this month every Howdy Kids box will include '50 Things To Try in the Fall' from the fantastic folks at Gibbs Smith Books.⁠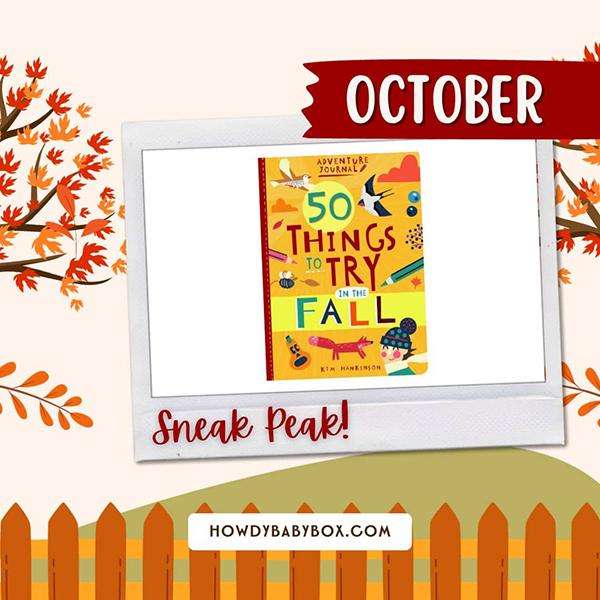 🍁 Write, draw, think, listen, and dare to explore! Make your own birdfeed, sketch local wildlife, or carve faces into squash.
Start on any page and enjoy these color-coded activities at your own pace.⁠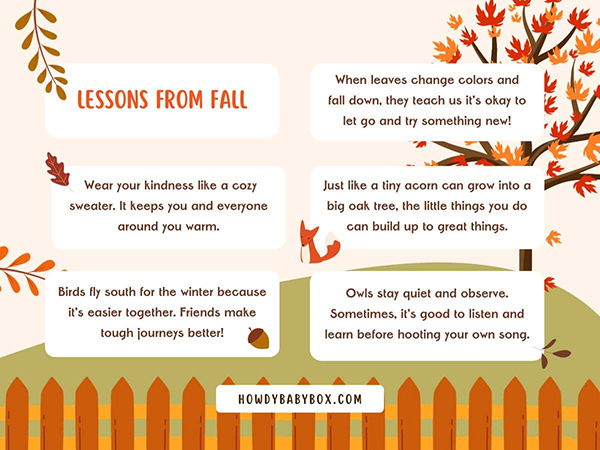 Don't miss out on this month's box! The last day to order your October baby and kids subscription box is 10/10/23.
So get ready to snuggle up with your little pumpkins and soak in all the cozy moments that Fall brings.
Let's make it an October to remember!