November's 🍂 Pumpkin Kisses & Harvest Wishes 🍂 theme is all about embracing the attitude of gratitude! Tools like gratitude journals with prompts teach kids the value of gratitude and inspire new Thanksgiving traditions by encouraging kids to spend time with loved ones. It's important for children to practice gratitude and experiment with different appreciation activities because this helps kids build positive habits.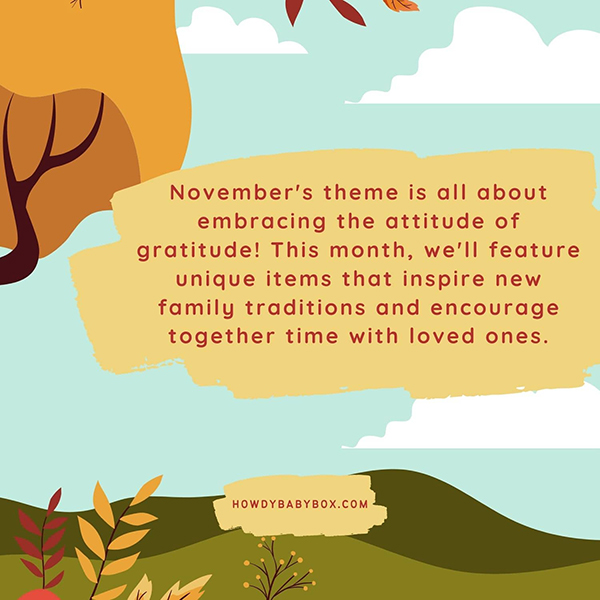 Howdy Baby Box

Sneak Peek: Drumstick Plush Rattle
This month's subscription box for babies will include a hilarious drumstick plush rattle by Janie XY. Adored by both carnivores and herbivores alike, this one-of-a-kind baby rattle is the perfect plush to finish off your holiday spread. It's perfect for baby's early education and development.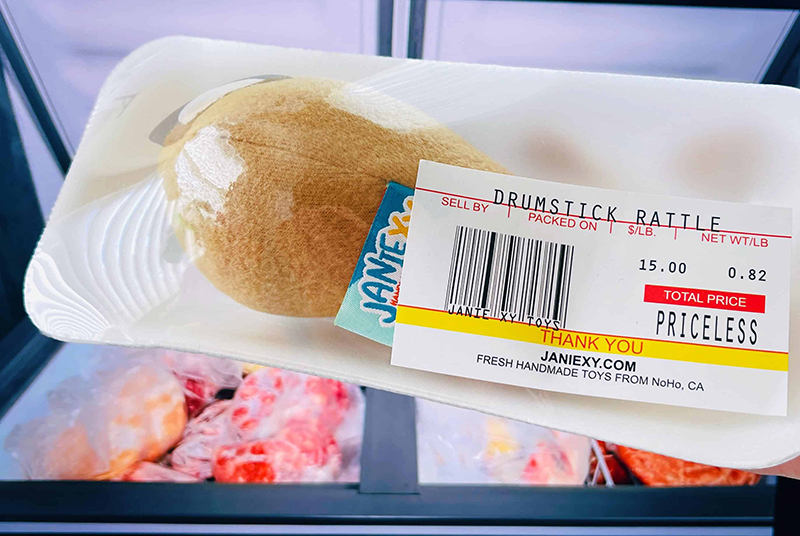 Gratitude for Babies
Learning about gratitude is not just for kids. While babies cannot experience the world the way we do yet, we can still begin to teach them the value of gratitude. One easy way to do this is to mention gratitude while enjoying something simple, like your favorite food.
What is Gratitude for Kids?
Gratitude is different from other caring emotions like empathy and compassion because it's something we learn. Including kids in the practice of gratitude is an excellent way to inspire a lifetime love of learning and curiosity about the world around them. Practicing thankfulness at home makes kids feel happy and also makes your family relationship grow stronger.
Howdy Kids Box

Sneak Peek: Gratitude Journal With Prompts
Each Howdy Kids box will also include a gratitude journal with prompts from Inklings Paperie. With kindness exercises, six color-in postcards, and a multi-color crayon, this thankfulness kit for kids teaches children about appreciation in a fun way and inspires new Thanksgiving traditions with kids. This journal includes prompts to help you and your little ones connect. It features 24 large double-sided pages on which you and your little ones can write good wishes on. There's even room to doodle on the back. This keepsake is wrapped in a drawstring bag, hand-stamped, and handmade in the USA.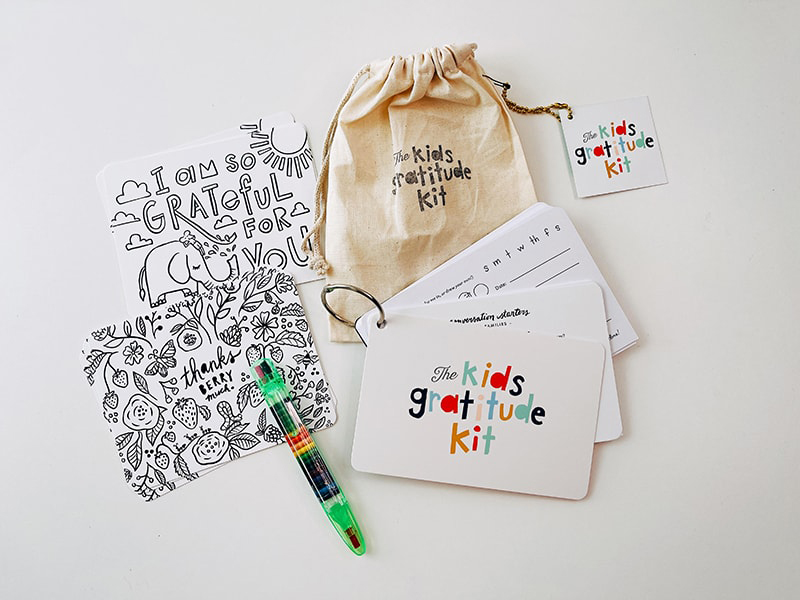 Lessons from Thanksgiving - Teaching Kids Gratitude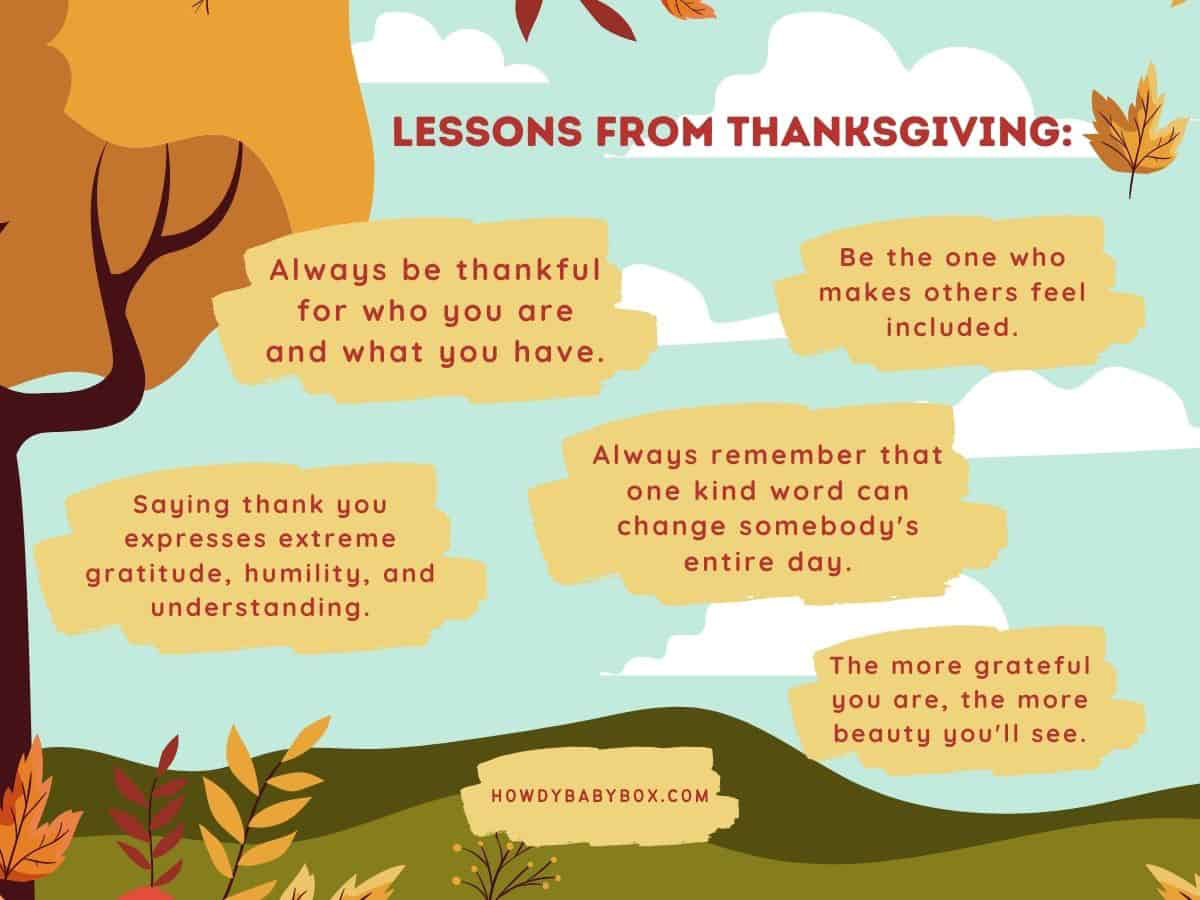 Always be thankful for who you are and what you have.
Kids who are taught to appreciate the world around them are more likely to see it in a more positive light as they grow up. Make it a point to appreciate people that help you out. It doesn't have to be complicated.
While it may seem that thankfulness should come naturally rather be than practiced, making it a habit will make it second nature to your kids. Taking turns during dinner and sharing something you are grateful isn't only a Thanksgiving tradition for kids; it can be done on a daily basis. Saying these things out loud can make it simpler for your kids to understand gratitude and discover which things are the most important to be thankful for in their lives.
Be the one who makes others feel included.
It is our responsibility as parents to teach our children to accept the differences in others. We are all unique, and inclusion means accepting others regardless of their beliefs. Teaching kids to accept others from a young age helps them respect and be kind to others. This will also help children learn to stand up for their friends and report bullying when it happens.
Saying thank you expresses extreme gratitude, humility, and understanding.
Teaching kids about gratitude starts with saying thank you. It's a great way to show appreciation for the people in our lives and the wonderful opportunities that come our way, which is a great kid's Thanksgiving tradition.
Even infants as young as six months old may learn to communicate through sign language. Encourage your baby by smiling and hugging them when they start using sign language or saying thank you. Your positive reaction will encourage your baby to keep going.
Always remember that one kind word can change somebody's entire day.
A little act of kindness can have a huge impact on someone's life. This includes being nice to yourself too. Teach your kids to extend a random act of kindness daily and never pass up an opportunity to compliment someone.
The more grateful you are, the more beauty you'll see.
As long as we keep our eyes and minds open, we can see the beauty in everything and enjoy it no matter how ordinary it may seem at first glance. Daily chores and routines often prevent us from recognizing life's simple pleasures, so it's important to look for the good things in life.