It's time to reveal our April Howdy Baby Box theme! This month's gift box for kids and babies is... ☀️ Walking On Sunshine ☀️
Get ready to put a spring in your step and a song in your heart! Our April theme is an uplifting celebration of spreading joy and positivity. Our April baby & kids gift boxes are filled with tons of sunshine-y goodies! It has everything you need to chase the clouds away and embrace the warm & wonderful feeling of walking on sunshine!⁠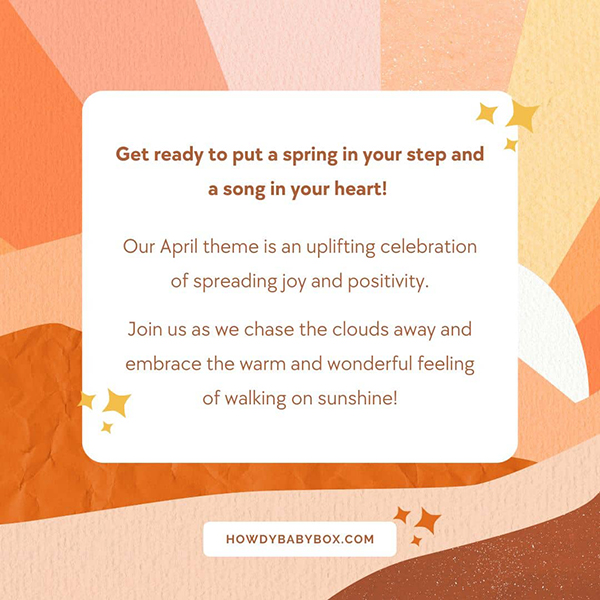 About Our Baby & Kids Gift Boxes
Are you a mommy to be looking for a monthly subscription box that caters to both you and your little one's needs? Look no further than the Howdy Baby Box! With our Essentials or Deluxe subscription, or even a one-time gift box, you'll receive a variety of family-friendly products tailored to your child's age and developmental stage. But that's not all, we also include something special for mom in each box!
And if you're looking for the perfect gift for a special child in your life, we also offer gift boxes for kids! Our monthly mommy to be boxes feature products that are ethically made by small and women-owned businesses, as well as independent makers, so you can feel good about your purchase while spoiling your loved one.
Say goodbye to endless scrolling on Amazon and hello to the Howdy Baby Box! Join our community of happy mommies and subscribers today.
Sneak Peek 1 - Hello Glow Face Mask (For Mom)
Buckle up, buttercups! ☀️ Our 1st official April Box Sneak Peek is finally here, and we're ready to spill the tea ☕!
Guess what, mamas?!
This month, we're treating you to some serious self-care with the Hello Glow Face Mask from Bella & Bear in this month's baby and kids gift boxes. Get ready to channel your inner goddess! This mask is packed with skin-brightening ingredients (yes, please!) and infused with the sweet aroma of clementine.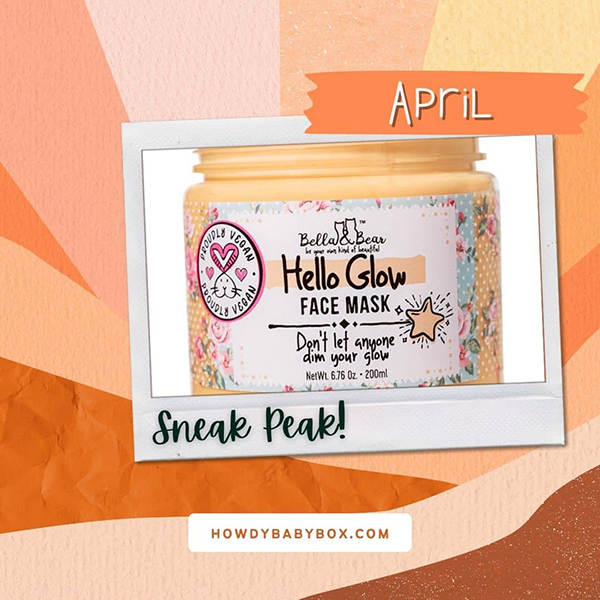 It's the perfect pick-me-up for a much-needed pampering sesh.⁠ This mask is vegan, cruelty-free, and PETA certified, so you can rest easy knowing you're taking care of your skin and our furry friends!
So don't let anyone dim your glow, mama. ⭐ Get ready to shine bright like the star you are! ⁠Stay tuned for another Howdy Baby Box sneak peek coming soon!
Sneak Peek 2 - Sunny Themed Book
Put on your shades and get ready to boogie, because the 2nd official sneak peek for our April 'Walking on Sunshine' box is here!! We're excited to reveal that this month's baby and kid's gift boxes will both come with a copy of a sunny-themed book from Barefoot Books.
It's the perfect way to brighten up your kiddo's day! These lyrical, rhyming tales and hand-painted illustrations will have you and your little ones dancing, singing, & playing all day long.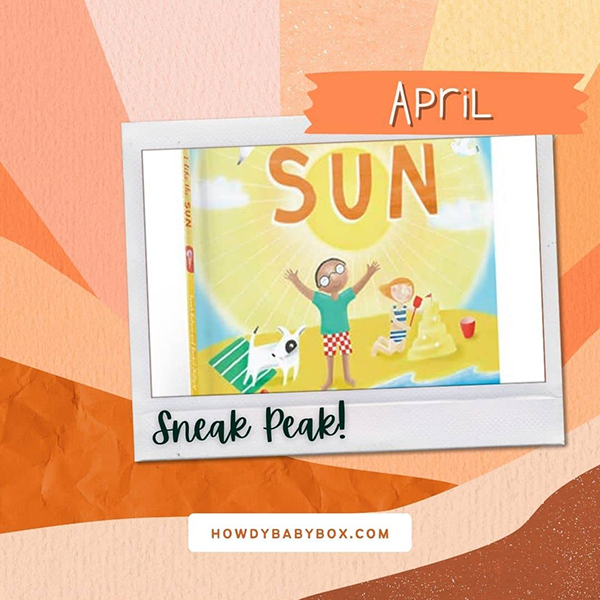 If you haven't subscribed yet — don't worry!
There's still time to get in on the fun! Head over to howdybabybox.com and reserve your baby or kids gift box today!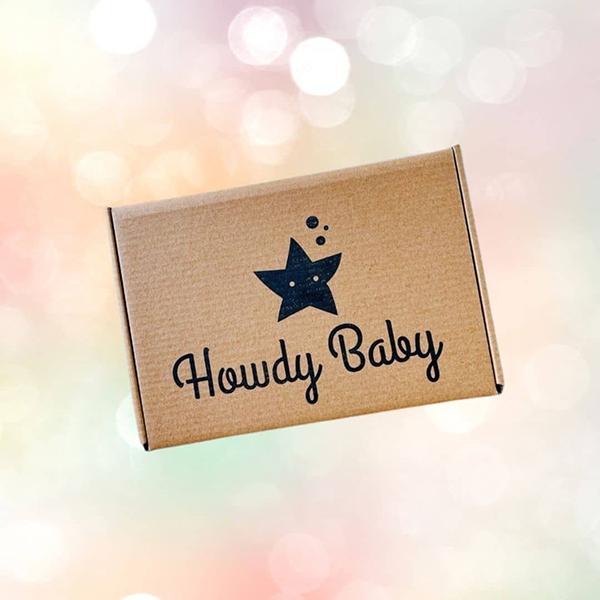 Trust us, you won't want to miss out on this month's baby and kids gift boxes. So go ahead, treat yourself and your growing bump to a little something special. You deserve it!
Learn more at howdybabybox.com and don't forget to use the code HOWDY10! at checkout for 10% OFF your first month's box.⁠