Does your little one have trouble understanding their emotions and expressing how they feel? Don't fret, because we've got an exciting solution that will make learning about emotions a blast! In this blog post, we'll walk you through making your own sensory bin that's all about feelings and emotions.
What Are Sensory Bins?
Sensory bins are containers filled with materials like rice, beans, sand, or shredded paper that stimulate our senses. Not only are they fun, but they also help children learn and grow in many ways. By engaging our senses through sensory play, we can better understand the world around us and improve our ability to learn as well as communicate.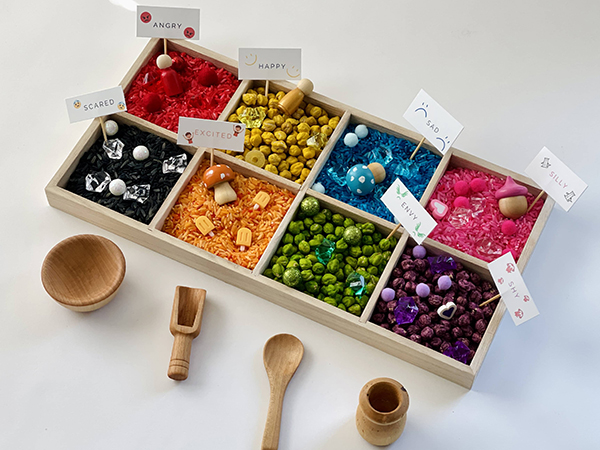 Benefits of Including Emotions Into Sensory Bins
Sensory bins are not only fun for kids to play with, but they can also be a great way to teach them about feelings and emotions. By creating sensory bins with emotion-themed props and materials, kids can explore and learn about different feelings in a fun and hands-on way.
Sensory play allows kids to use their imaginations and act out different situations, which helps them develop empathy and emotional intelligence. Mindfulness exercises that are part of sensory play can also help children learn important ways to deal with and control their own feelings.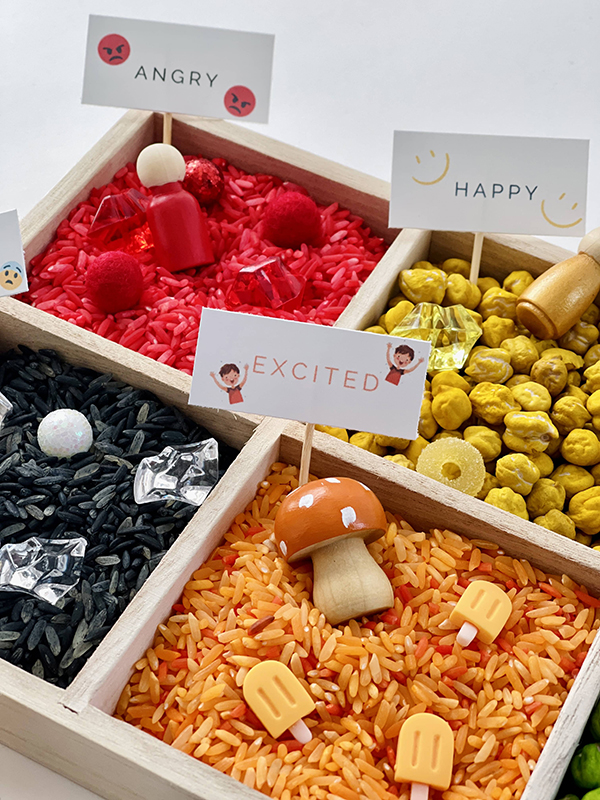 How To Make An Emotion Themed Sensory Bin
Creating an emotions sensory bin is easy and you can customize it to your child's needs and interests. By following these six simple steps, you can create a fun and engaging sensory bin that will help your little one explore and understand their emotions.
Step 1: Choose Your Sensory Base
The sensory base is the foundation of your sensory bin. It's important to choose a base that will allow for exploration and play. You can use rice, beans, sand, or even shredded paper. Whatever you choose, make sure it's something your kiddo can easily move and use their hands to play with. And don't be afraid to mix and match different bases to create a unique sensory experience for your little one.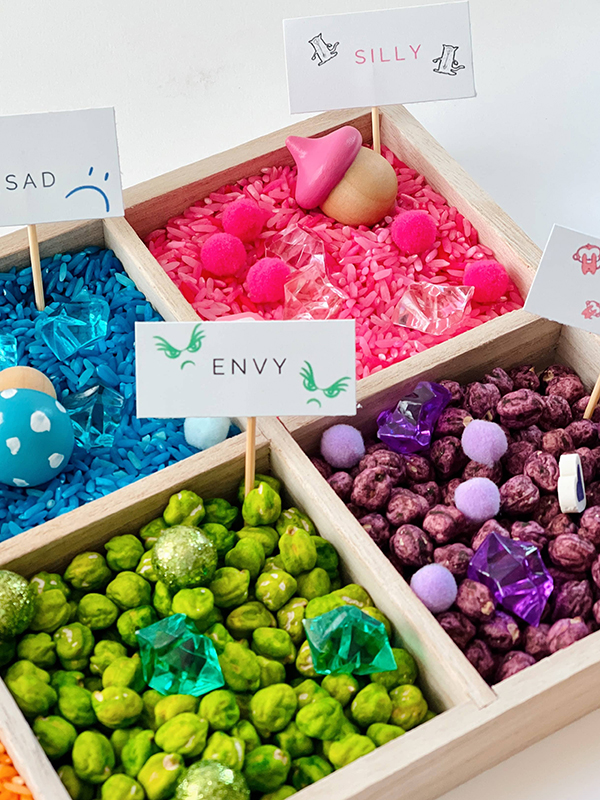 Let's break down some of the different types of sensory bases you can use:
Rice
Rice is a popular sensory base because it's inexpensive and easy to find. Plus, you can also color it with food coloring to make it more exciting.
Sand
If you want something with a little more texture, try sand instead. It's gritty and tactile, and you can also find it in different textures from fine to coarse.
Water
Water is super versatile and you can use it in so many ways. Your child can float items or splash around in it. Just make sure you keep a close eye on your kiddos, especially if they're young.
Beans
If you're after something with a bit of crunch, dried beans are the way to go. They come in different shapes, sizes, and colors, and your little one will love the texture and feel of them between their fingers.
Shaving Cream
For a squishy, fluffy experience, try shaving cream. You can mix it with food coloring to make it colorful, and your kiddo will also love squishing and molding it.
Playdough
Playdough is another classic option that you can mold and shape. It can even be scented or colored for a different experience.
Leaves
If you want to add a natural touch to your emotions themed sensory bin, try using leaves. They provide a textural sensory experience and come in different shapes and colors.
Pom-poms
For something soft, try pom-poms. They come in different sizes, textures, and colors, and your child will love feeling the fuzzy fibers.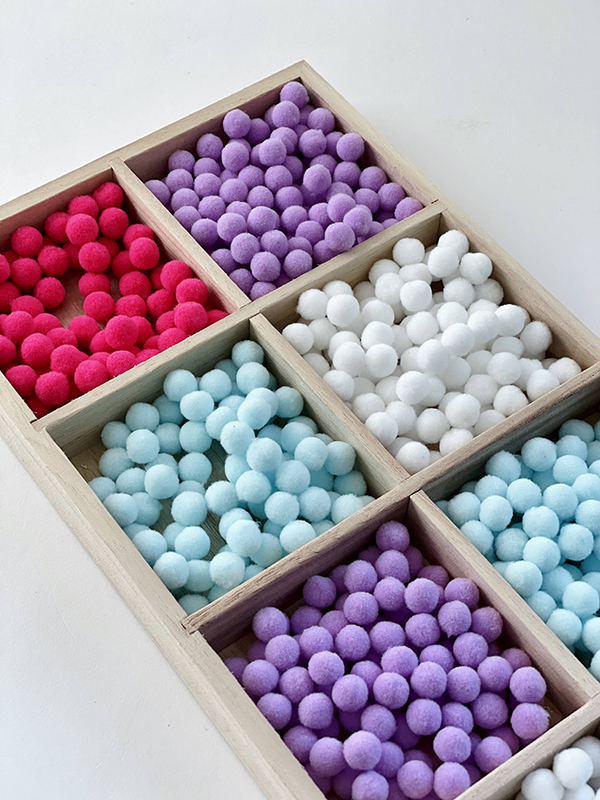 Step 2: Add Colorful Elements
Adding colorful things to your kiddo's sensory bin will make it more fun and interesting. You can add colored pom poms, small toys, or even cut-out pictures of faces with different emotions. The more variety you add, the more fun your child will have exploring and playing with the bin. Just remember to choose items that are safe for children and age-appropriate.
There are many colorful elements that you can add to an emotion-themed sensory bin, here are a few examples:
Foam Shapes
These squishy little shapes are perfect for an emotion-themed sensory bin. For example, you can use heart shapes to represent love and happiness, or star shapes to show excitement and joy. Foam shapes also have a unique texture that can add an interesting sensory experience to the bin. Kids can touch, squeeze, and play with them to develop their fine motor skills.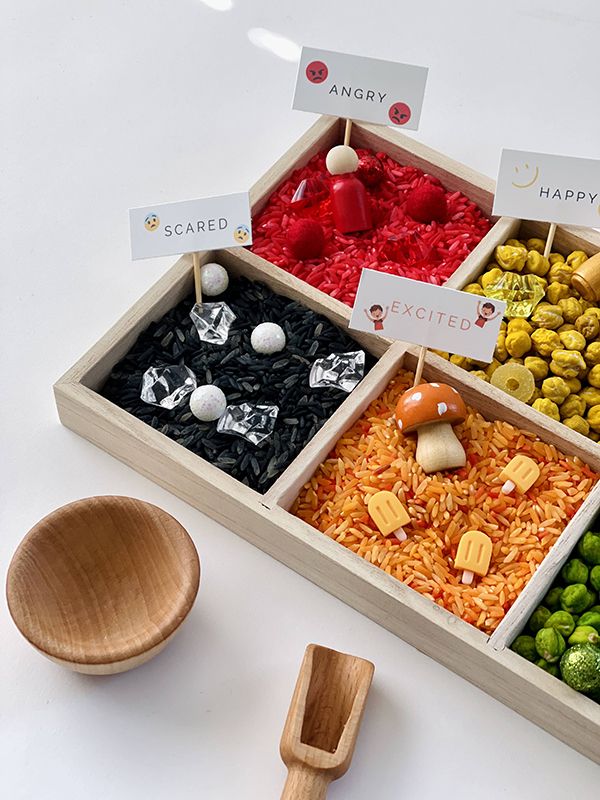 Gems or Stones
These shiny, colorful treasures are more than just pretty decorations. In fact, each color can represent a different emotion, like blue for calmness or red for passion. Why not challenge your kiddo to sort their gems by color and think about how each one makes them feel? It's a great way to get them thinking about their emotions and expressing themselves in a creative way.
Sequins
Sequins are not just sparkly and pretty, but they can also represent different emotions! For example, silver can represent excitement while gold can represent joy. You can even mix and match the colors to create unique blends of emotions.
Step 3: Label The Emotions
Help your child learn about different emotions by labeling sections of their bin with different feelings. Consider classic emotions such as happy, sad, and angry, as well as surprise and fear. For some fun, add silly emotions like goofy, silly, or excited. You can write the labels on small cards or print them out for easy labeling.
Step 4: Play & Explore
Now it's time to play and explore! Encourage your little one to use their hands to dig through the sensory bin base and find the different emotions. As they find each emotion, ask them to name it and share what they think might have caused it. This step is important because it will help your child understand some of the triggers that can cause different feelings.
Step 5: Create Stories & Scenarios
After your kiddo explores the different feelings, take it a step further. Encourage your child to use their creativity and make up stories that reflect their emotions. For example, they can create a story about a happy princess who finds a treasure, or a sad monster who lost his favorite toy. Creating these scenarios will help your kiddo develop storytelling skills and learn how feelings and emotions show up in different situations.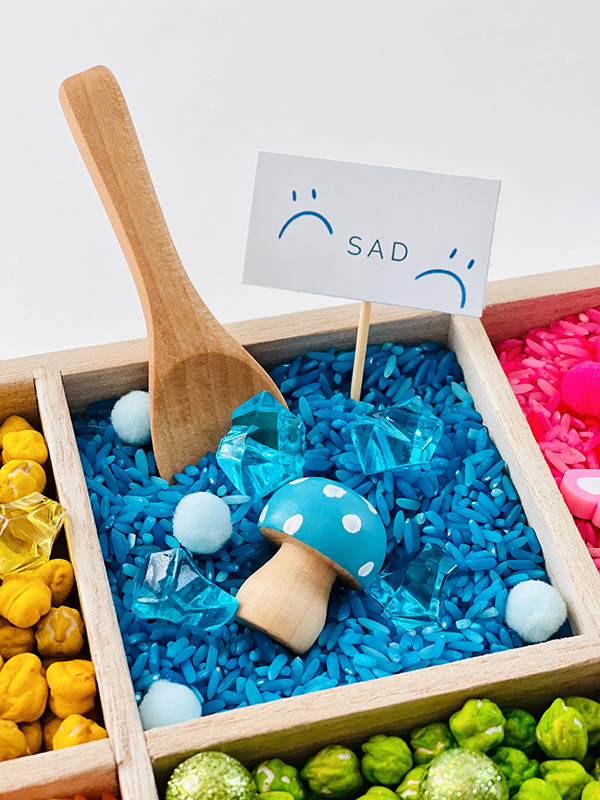 Step 6: Reflect & Discuss
When your child has concluded playing with the sensory bin, it's time to reflect on what they've learned. You might be surprised at the new insights and perspectives they've gained! By discussing their emotions and experiences, your child can develop their emotional intelligence and learn to better understand their own feelings. And as a parent, there's nothing more valuable than helping your child grow into a happy, healthy, and emotionally aware individual.
Emotions Sensory Bin - Final Thoughts
Creating an emotions-themed sensory bin for kids is not only a fun and easy activity, but it also provides a great opportunity for children to explore and express their emotions in a safe and imaginative way. By using simple materials and incorporating different textures and colors, you can create a sensory experience that engages all of a child's senses while also helping them learn about their own feelings and those of others.
Are you looking for more creative sensory play ideas? Well, you're in luck because our blog is filled with more inspiring articles for you to check out. And if you want to take your sensory play to the next level, subscribe to our Mommy & Me subscription box! It's called the Howdy Baby Box and it's filled with amazing sensory play activities that you and your little one can enjoy together. Subscribe now and let the fun and learning begin.