Coming up with cute new gift wrap ideas for Christmas can be tricky, but don't worry! We've put together a list of 26 creative and unique gift wrapping ideas for every holiday style to help your gifts stand out this season! This collection features our own ideas and tips, as well as some of the best gift-wrapping ideas we've seen from bloggers and designers this season. They're so stunning your loved ones may end up taking longer than usual opening up your Christmas presents.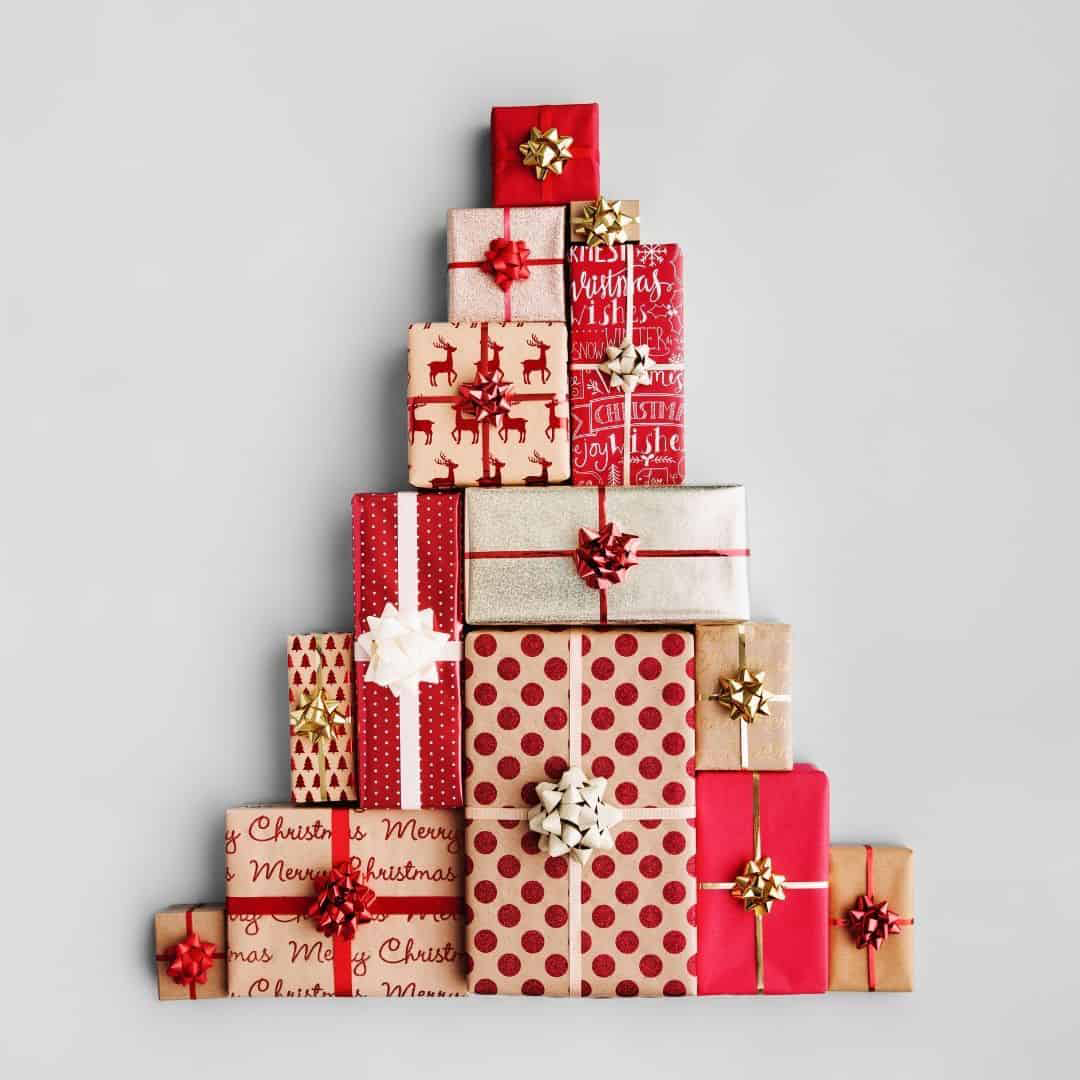 If you're still looking for gift ideas for mom, check out our gift guide for moms who insist they "don't need anything," and if you're looking for a last-minute present to send to the little one in your life, consider a Howdy Baby or Howdy Kids box gift subscription.
Our List of Creative Gift Wrap Ideas For Christmas:

1. Paper Shopping Bags
Paper shopping bags make the best gift wrapping paper because they're simple and elegant, and you can easily personalize them and make them your own. To make gift wrapping easier, save cute festive printed shopping bags while you're out shopping for gifts. They'll come in useful as gift paper and take a lot of the hassle out of wrapping later. Once you have your bags, all you have to do is cut open the bottom part, spread it out, and use it as a large piece of wrapping paper. You can also add a pop of color to your present by wrapping it with a colorful ribbon or string.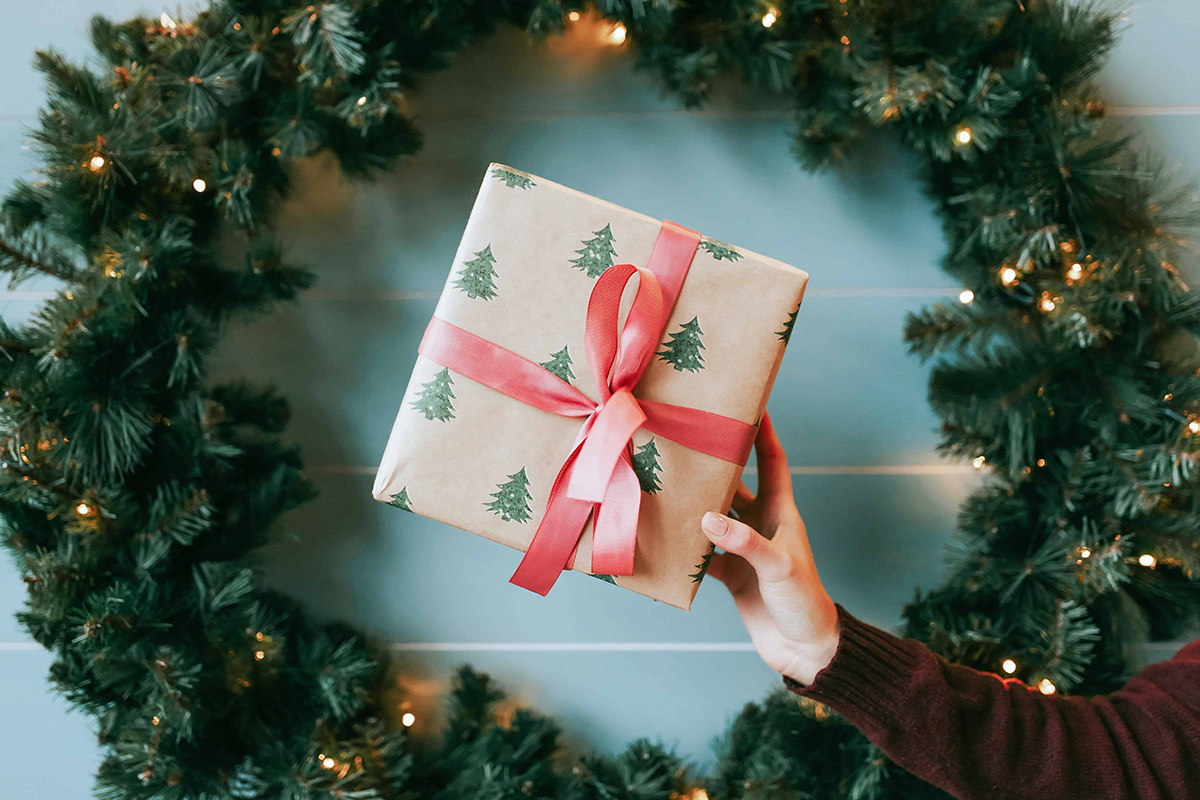 Pro Tip: Bring new life to old wrinkly bags and tissue paper again by ironing them! You read it right; you can iron bags and tissue paper! Simply lay your paper under a towel or cloth and iron it with a low-heat iron set on polyester.
2. Eucalyptus Gift Topper
Wrapping gifts with eucalyptus is both simple and creative. Your gifts will have more of a rustic and airy feel to them because of the neutral tones.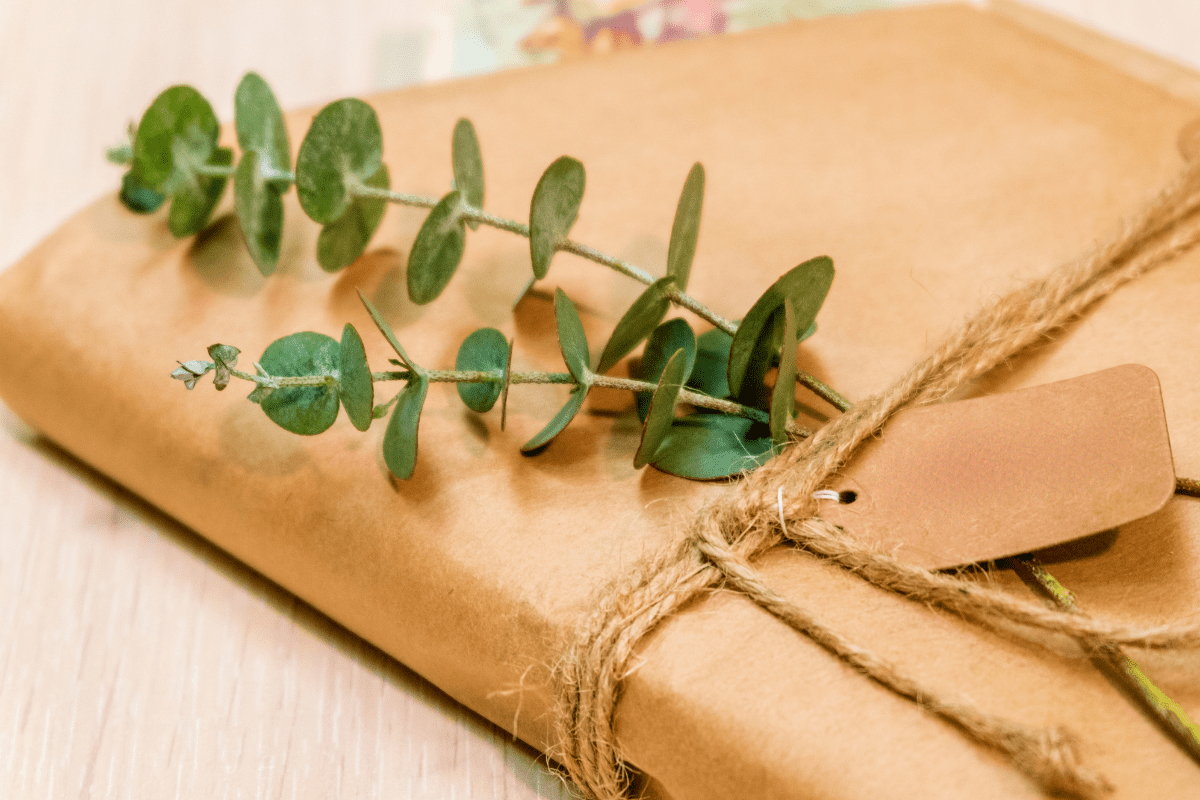 3. Cute Winter Scene - Gift Wrap Ideas For Christmas
Not only do these little bottle brush trees make a charming, timeless accent to your Christmas mantel, but they also make cute gift wrap ideas come to life.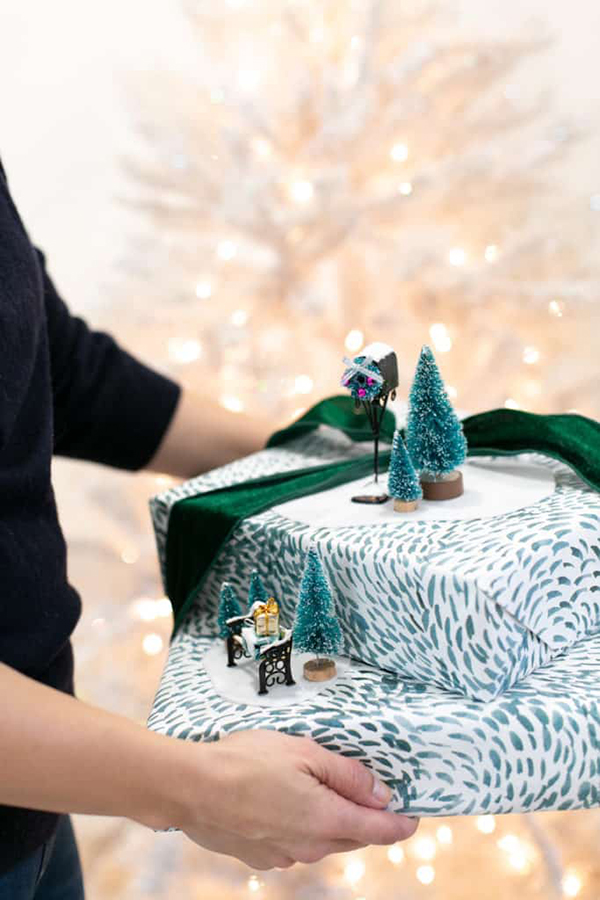 PHOTO CREDIT: LOVELY INDEED
Creating unique winter landscapes is the ultimate crafting and gift wrapping combo.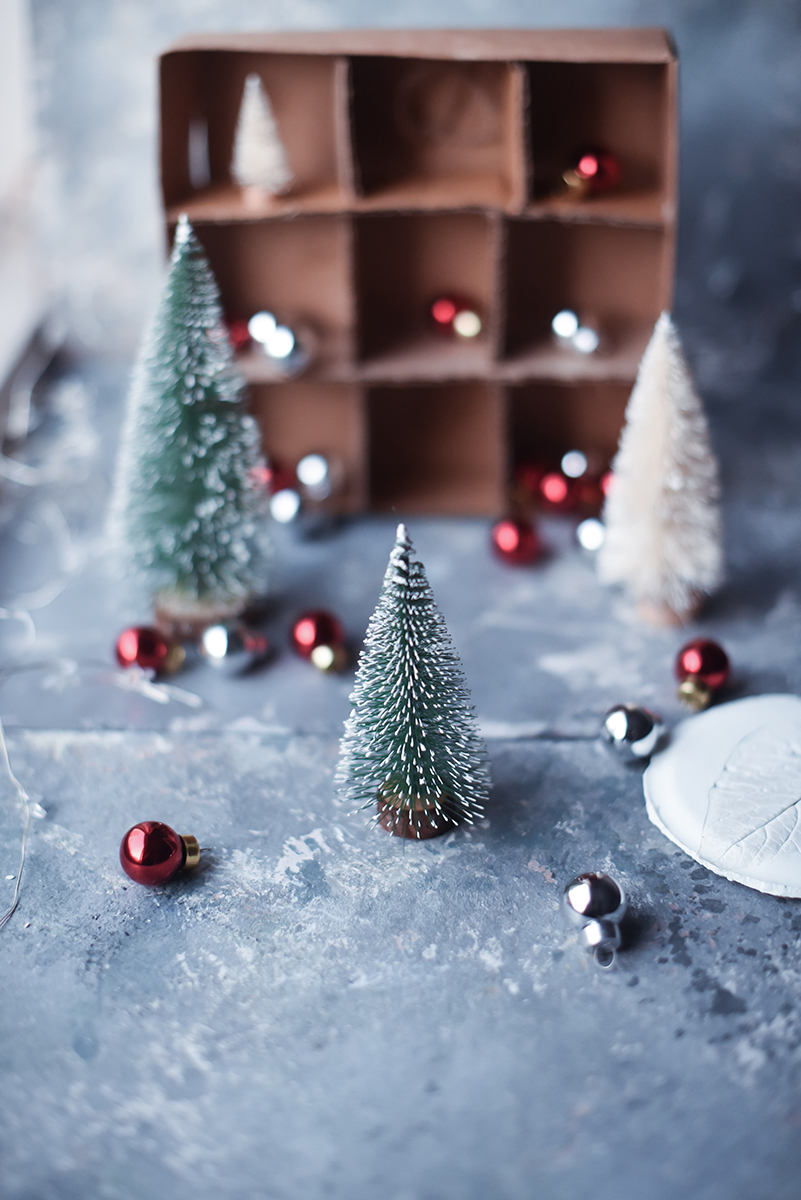 This cute gift wrap idea is one of our favorites for Christmas. Your presents will look so beautiful; you won't want to give them away! Get the full tutorial at Lovely Indeed.
4. Kraft Paper Christmas Gift Wrap
If you're not using a shopping bag and starting from scratch, you'll want to make sure you select thick kraft paper that's not too translucent to avoid revealing the surprise!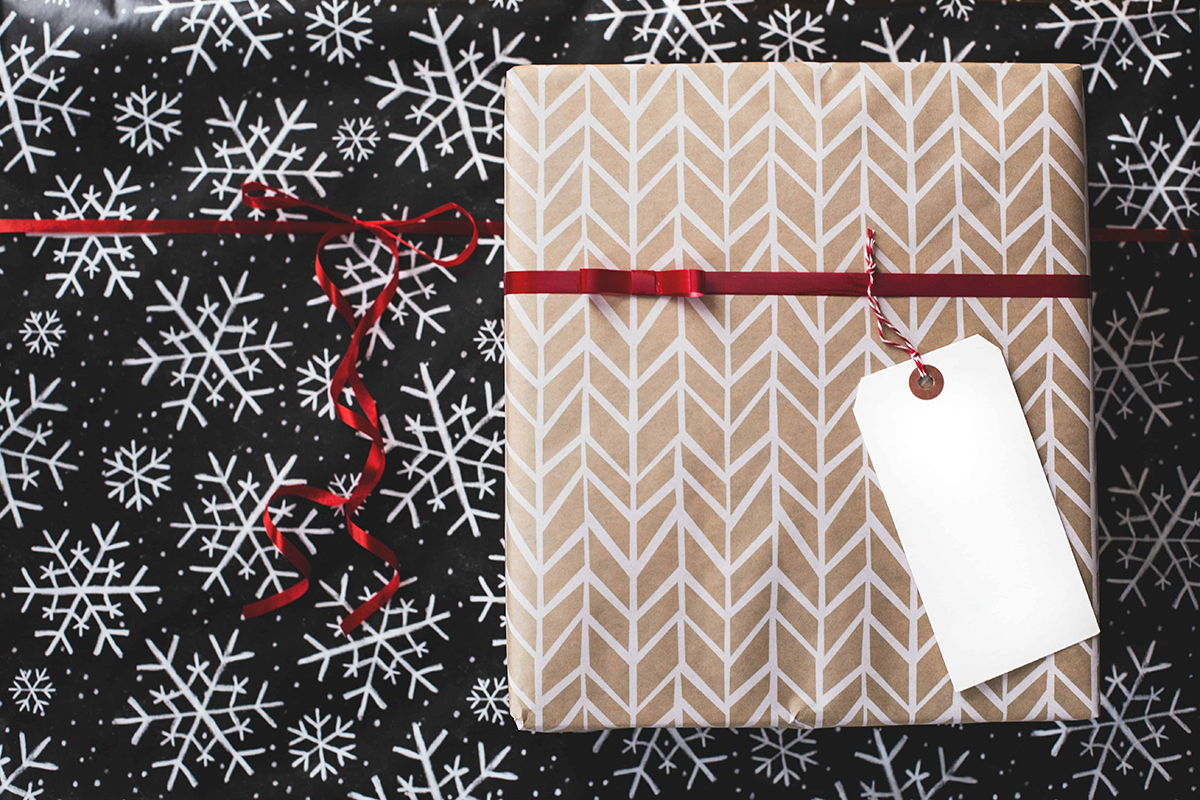 Pro Tip: Ask a family member who enjoys BBQing for some butcher paper because it works just as well! A thick opaque butcher paper will do the job. One side will be matte, while the other will be somewhat glossy, which is exactly what you want.
5. Tea Towel Ties - Eco Friendly Gift Wrap Ideas
Who says that wrapping presents in paper is the only option? Practical items like cute kitchen tea towels, for example, are a terrific eco-friendly alternative to traditional gift wrap. They also double as a second mini present that your loved ones will appreciate.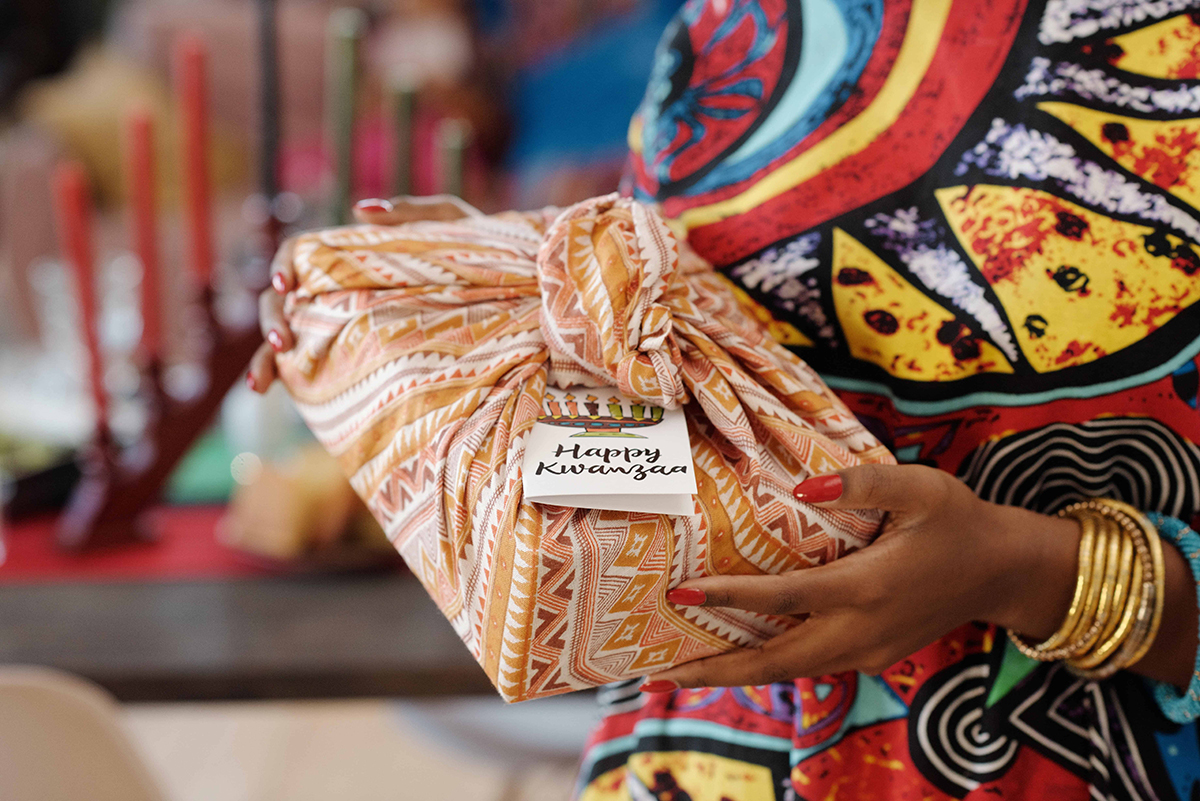 Pro Tip: This gift wrapping option is so simple that you can do it in the car on your way to the Christmas party, and it's also perfect for wrapping odd-shaped gifts such as wine bottles.
6. Painted Paper
Experiment with paint splatters, brush strokes, and geometric lines. There are many ways to personalize your gift wrap using paint, making it an excellent option to express your creativity.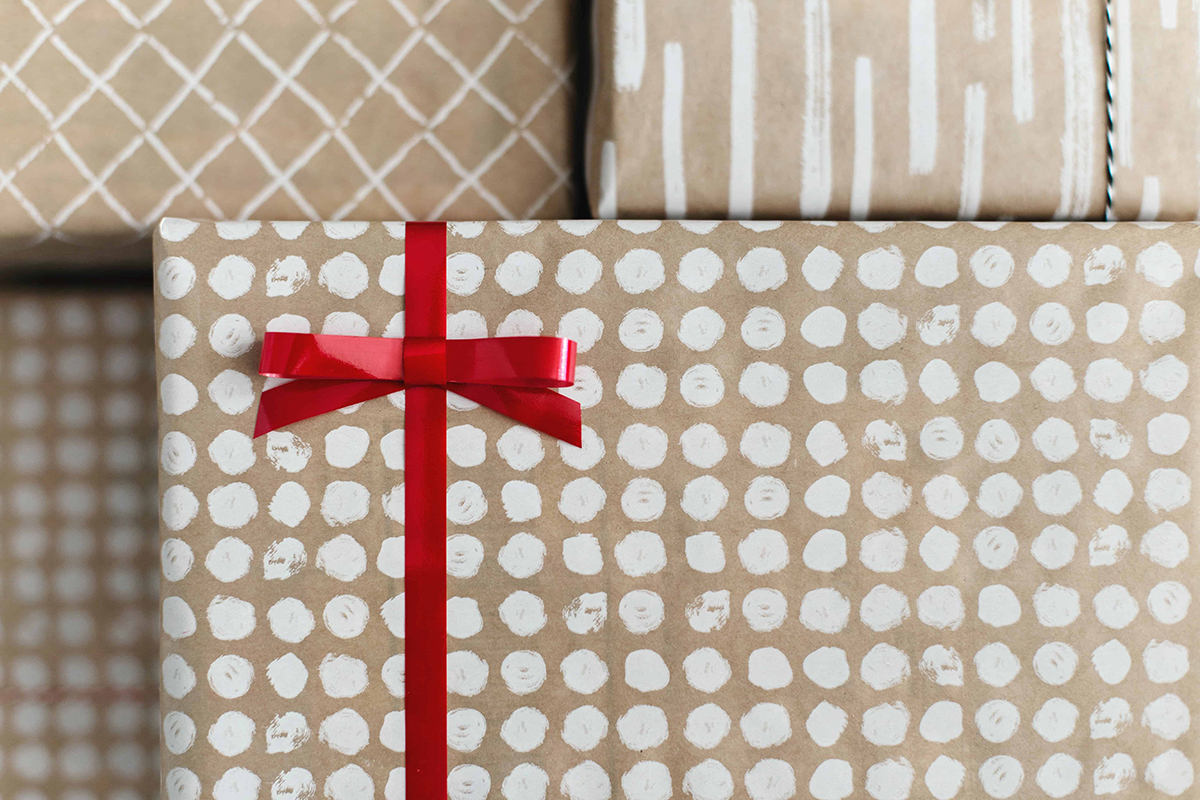 7. Mini Christmas Trees
Make your gift wrap look truly unique by getting creative with natural elements like cuttings from evergreen trees and shrubs. When it comes to cute gift wrap ideas, this one is perfect for Christmas because it's super easy to make, and adds a wonderfully personal touch to any present. Get the full tutorial at A Piece of Rainbow.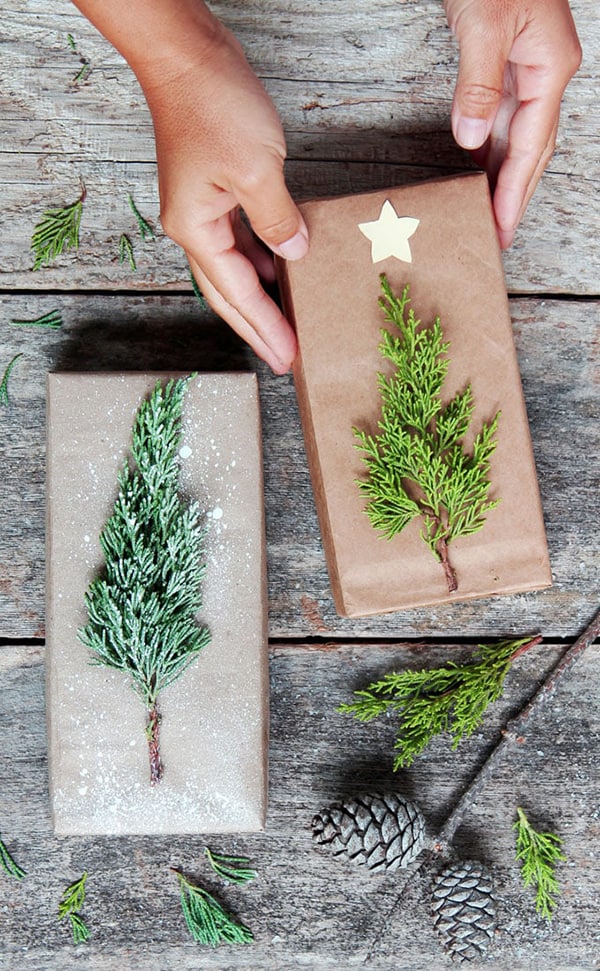 PHOTO CREDIT: A PIECE OF RAINBOW
8. Metallic Detailing
Using a glitzy metallic or silver paint pen is a glamorous way to elevate simple packaging into something really special. Whether you draw geometric shapes, snowflakes, or simple lines on your gift, it's sure to stand out from the crowd.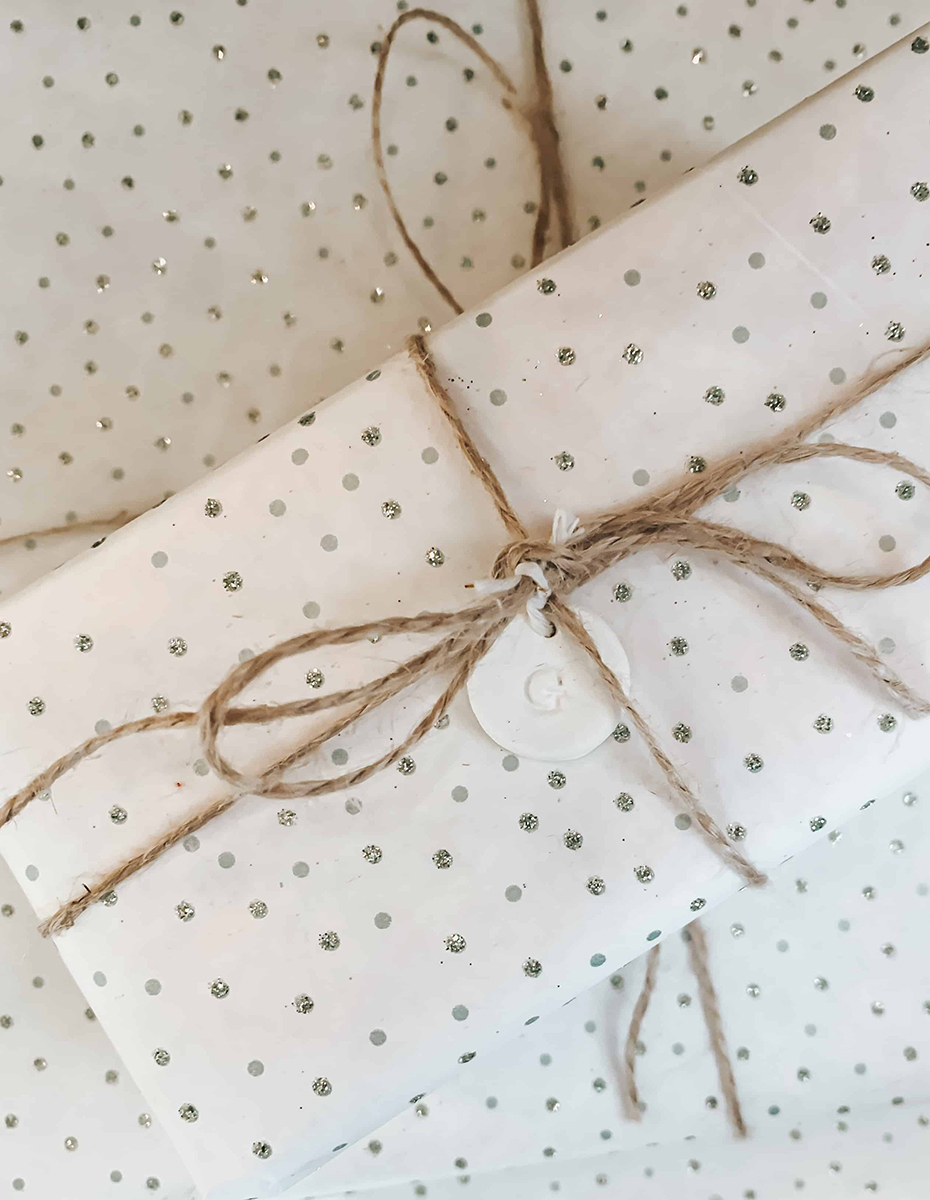 9. Pinecone Gift Toppers
We love pinecones because they add texture and give your gift a classic winter feel. You can easily attach them to any gift packaging with either glue or twine, depending on the look you're going for. They can also be used again as stunning tree ornament decorations for the following year.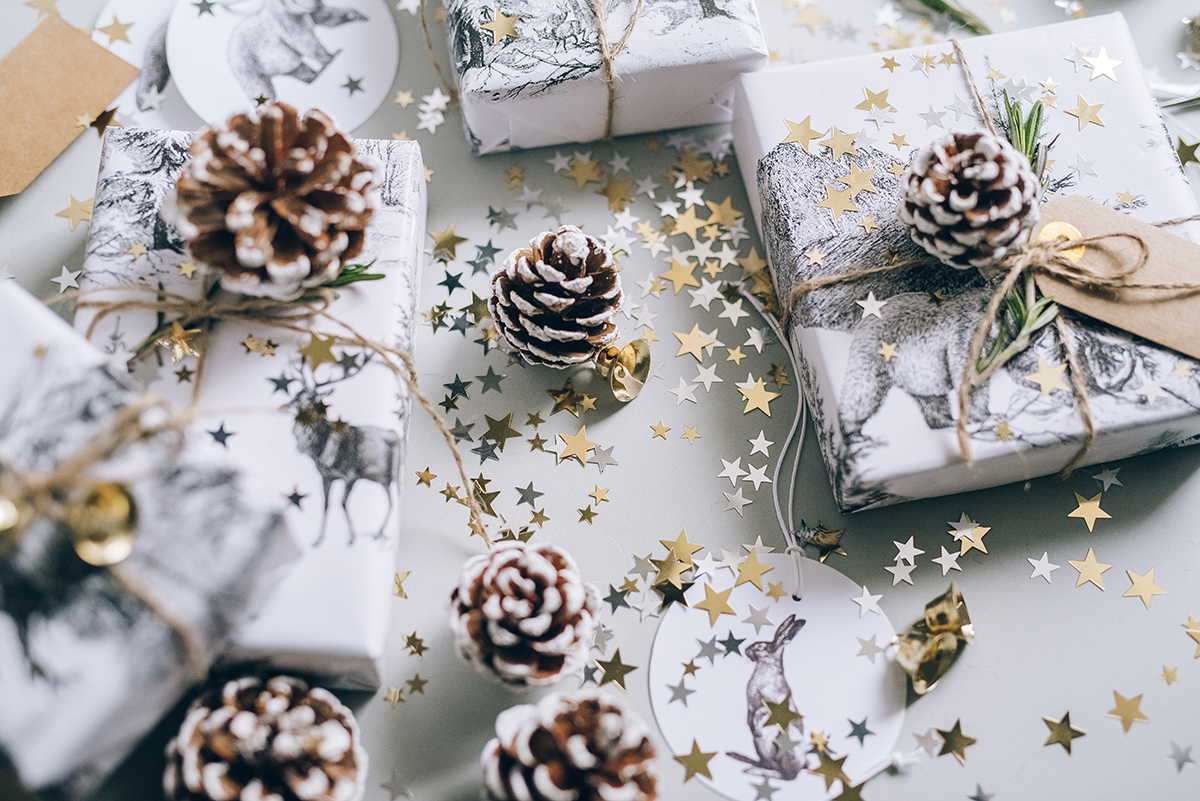 Pro tip: Look for fragrant potpourri around this time of year because it usually includes frosted pinecones with a wonderful holiday scent.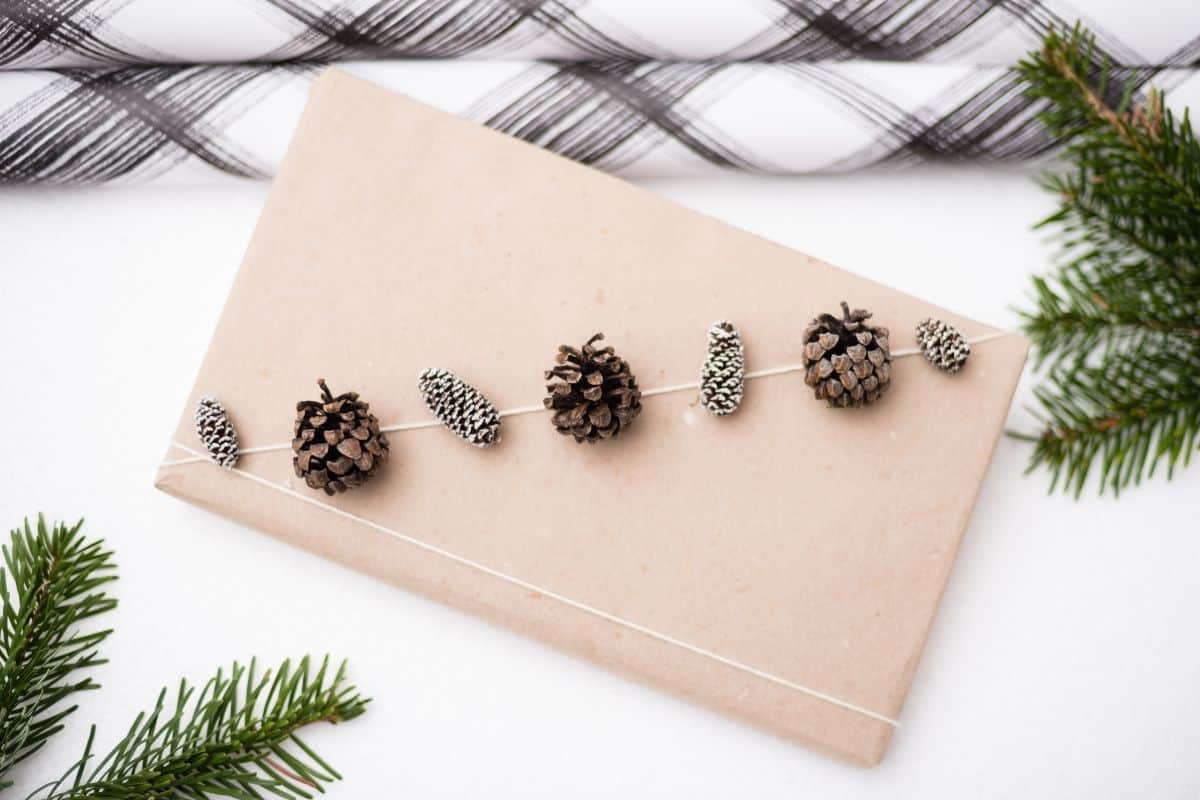 10. Marbled Wrapping Paper
Marble print wrapping paper elevates ordinary gifts into extraordinary modern masterpieces. Experiment with basic color combinations or choose more colorful shades to make stunning geode-inspired gift wrapping for your loved ones.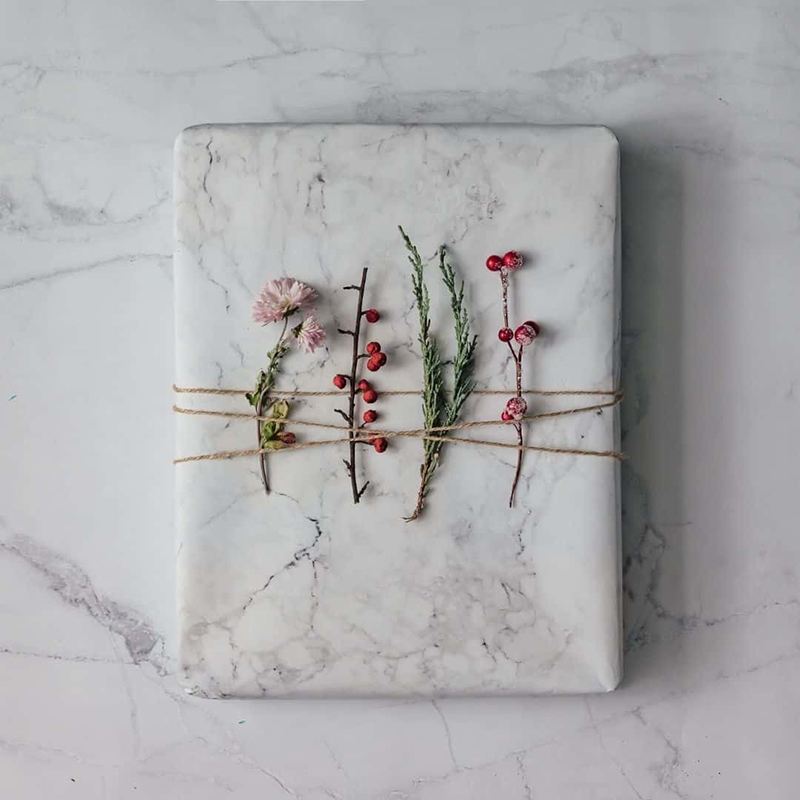 11. Unique Leather Bow
You're sure to wow the crowds with a beautiful leather bow perched atop your present this holiday season. It's a stunning complement that elevates any present to new heights. It's also super easy to make and only takes about 15 minutes to complete. All you need is some leather scraps and a hot glue gun to make a bow like this one, but you can also use felt, paper or fabric once you get the technique down. Get the full tutorial at Crafts Pilot.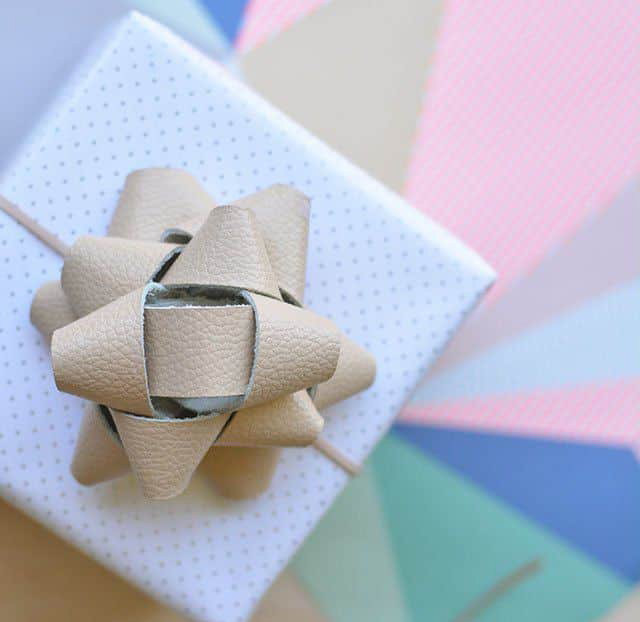 PHOTO CREDIT: CRAFTS PILOT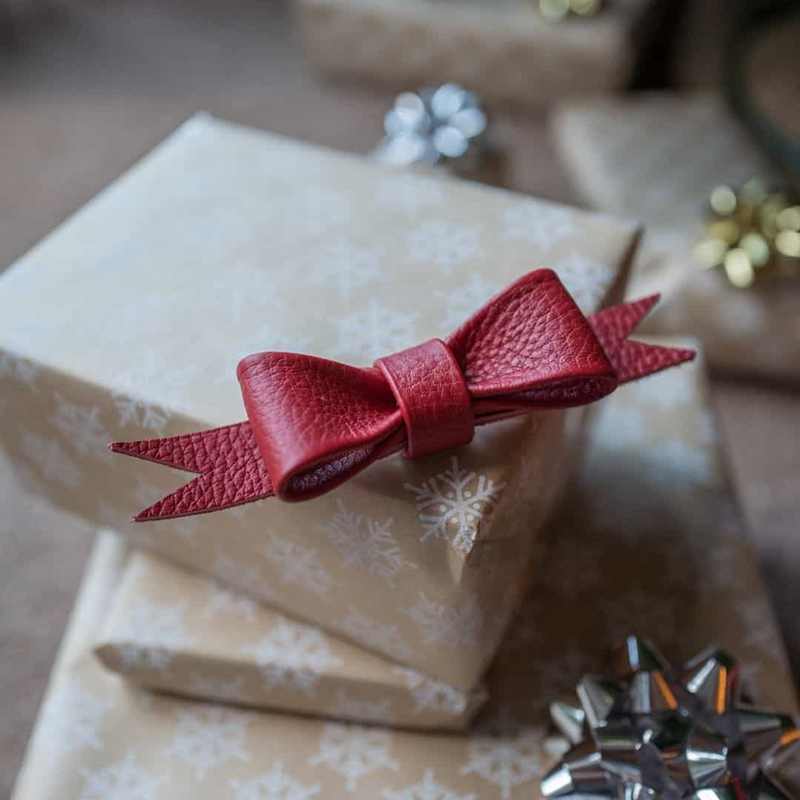 12. Paper Doilies
Using paper doilies to wrap Christmas gifts is a brilliant and lovely concept that is guaranteed to provide the ultimate unwrapping experience. Paper doilies are perfect for giving plain tan kraft paper a cozy vibe.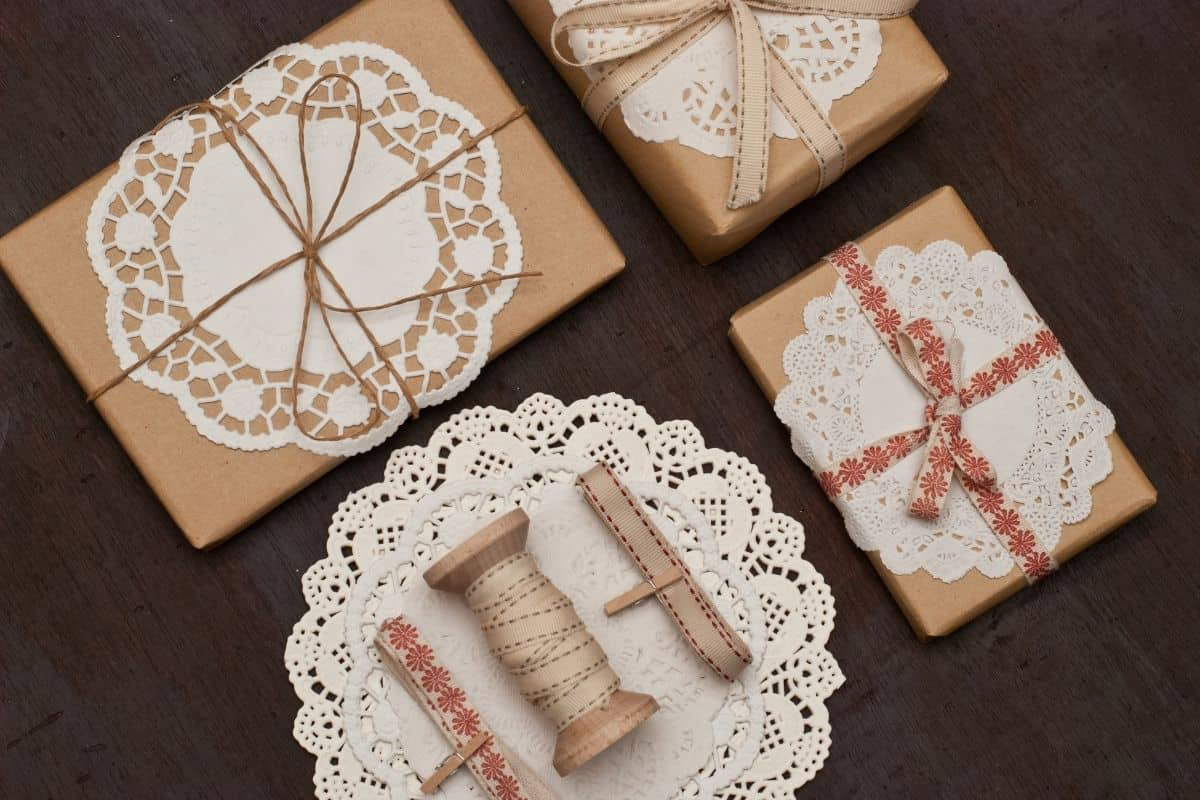 Pro Tip: You can make this cute Christmas gift wrapping idea uniquely yours by decorating your wrapping paper with interesting accents like crochet ribbon or lace.
13. Edible Gingerbread Gift Tags
Give your loved ones a delightful surprise by attaching edible gingerbread gift tags to your presents this holiday season. Get the full tutorial at the Decorator's Notebook.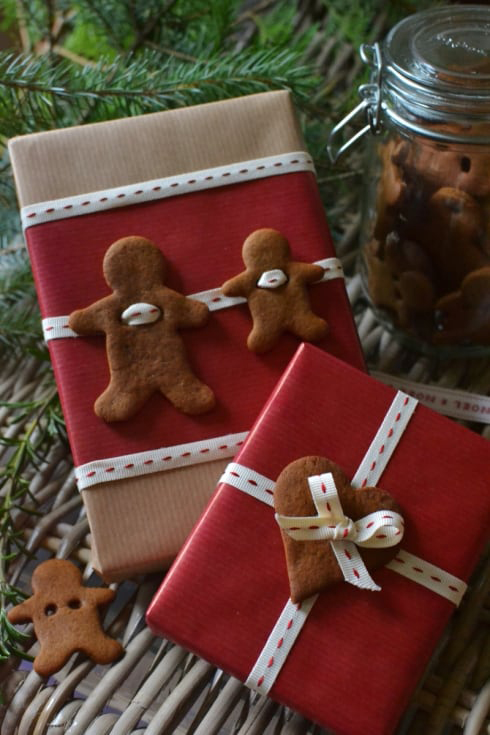 PHOTO CREDIT: DECORATOR'S NOTEBOOK
14. Holly Berry Christmas Embellishments
By using stunning red holly in your gift, you can guarantee that it will be absolutely unforgettable. Add festive cotton ribbon (or twine) and sprigs of rosemary to perk up your kraft paper-wrapped gifts.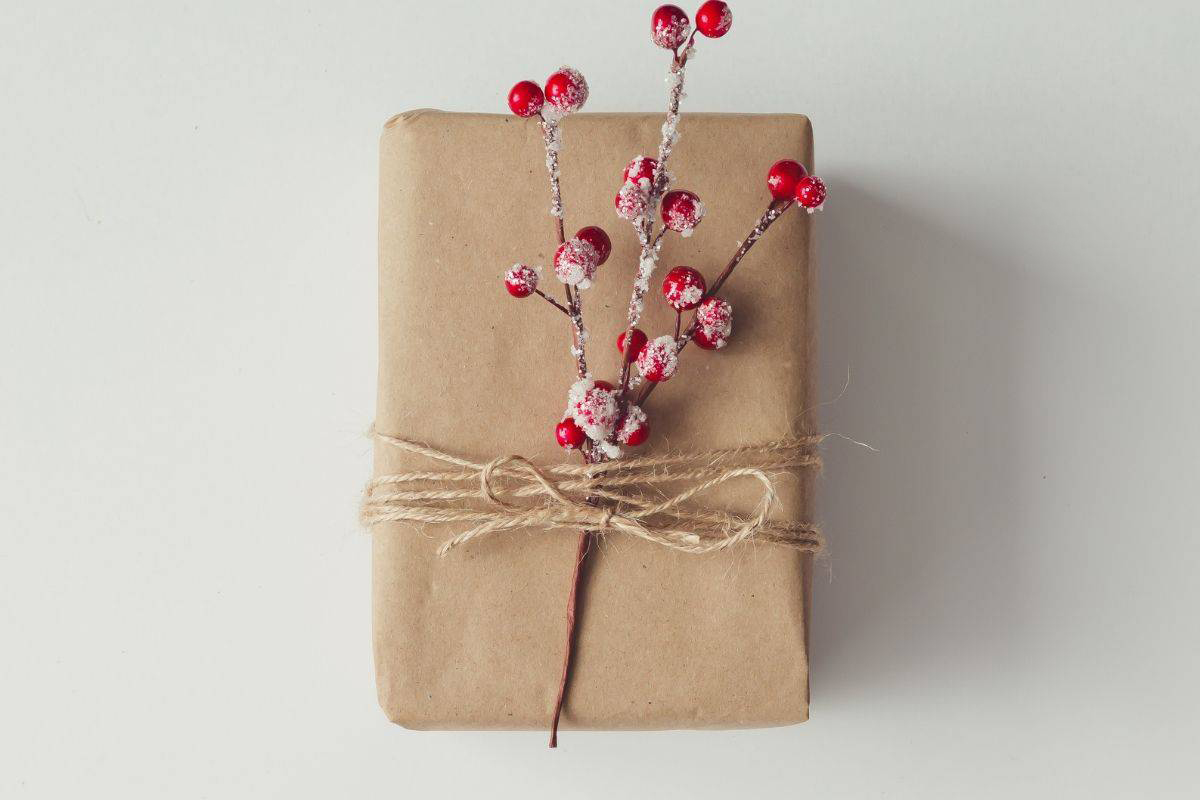 15. Felt Flowers
Felt has a great texture that's perfect for creating cozy gift toppers. By layering vibrant colors on top of one another, you can construct petals for various-sized flowers that will really make your gift wrap sparkle! Check out the full tutorial by Lia Griffith.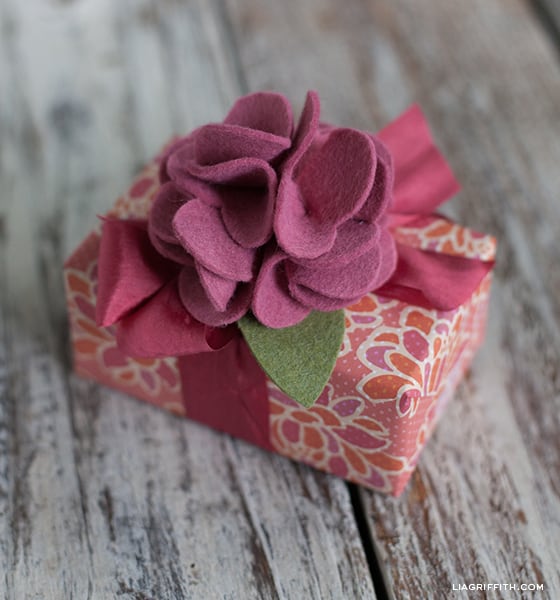 PHOTO CREDIT: LIA GRIFFITH
16. Puzzle Pieces
There's no better way to use your kid's missing puzzle pieces than to transform them into cute gift tags. Paint them with chalkboard paint and write the names of your loved ones on the gift tags to complete the DIY aesthetic.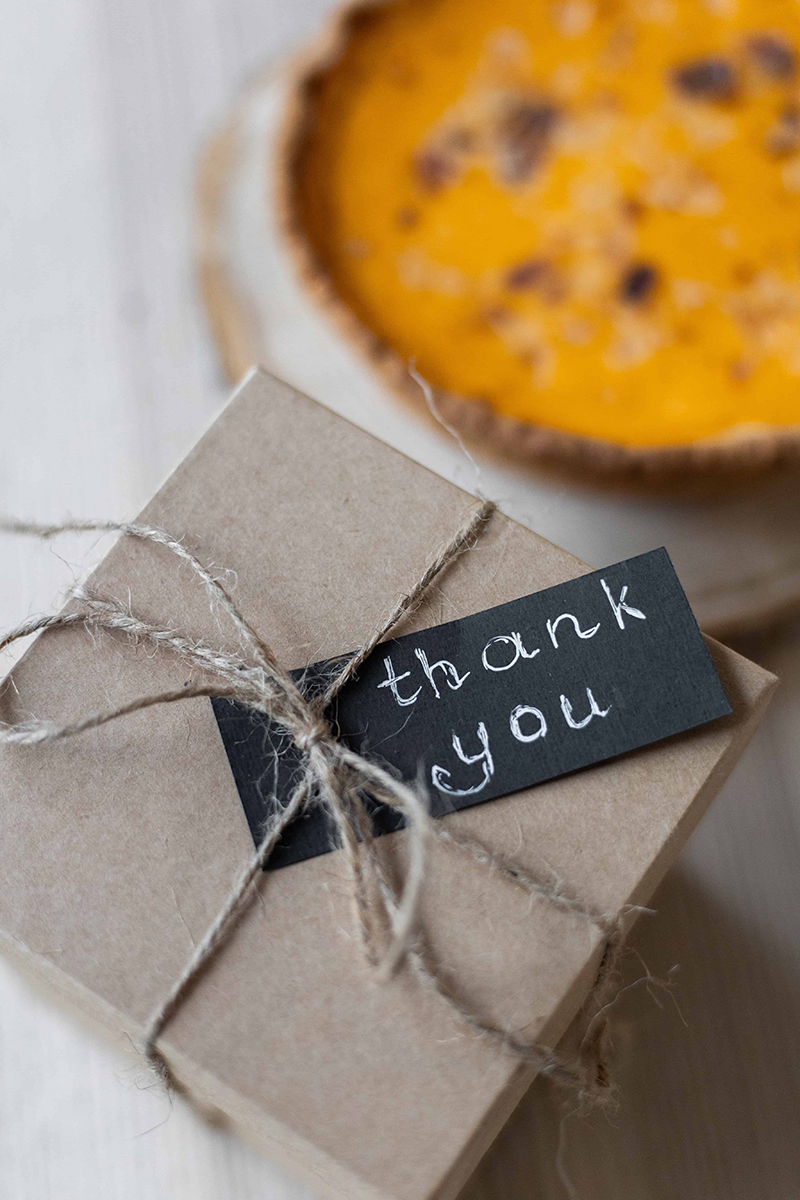 17. Yarn & Pom Poms
Adding pom poms or yarn is one easy way to add a pop of color and make your gift wrap look unique.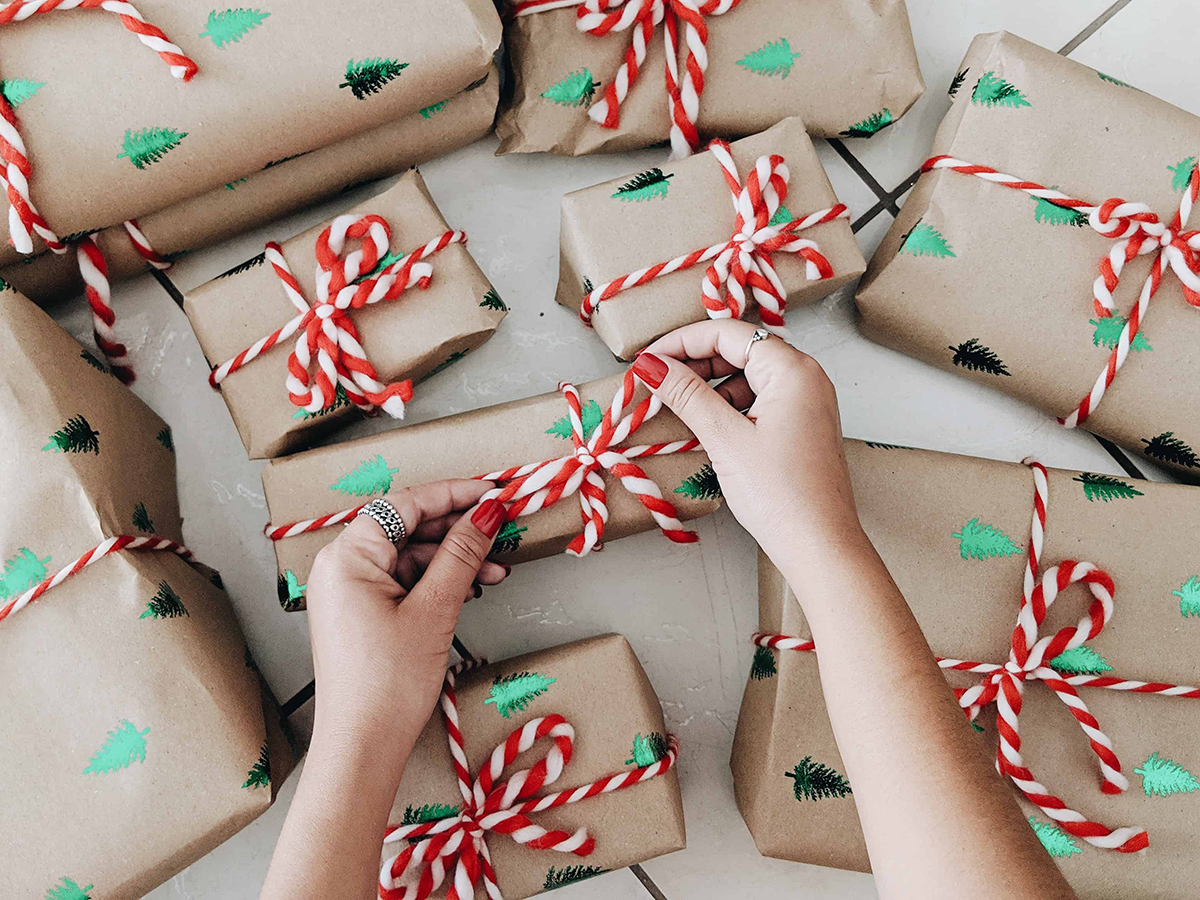 18. Melted Crayons - Creative Gift Wrap Ideas For Christmas
Isn't it amazing what you can do with melted crayons? All you need are crayons and a paper bag to create one of the most unique and creative ways to gift wrap! Get the full tutorial at Sisters, What!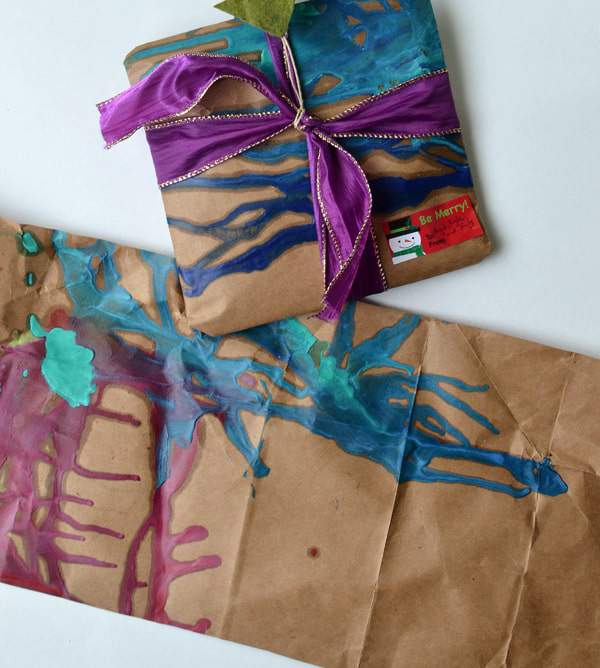 PHOTO CREDIT: SISTERS, WHAT!
19. Felt Wreath Gift Topper
Add a dash of color to those basic gift boxes with a felt wreath decoration. It'll give any gift a unique handmade feel.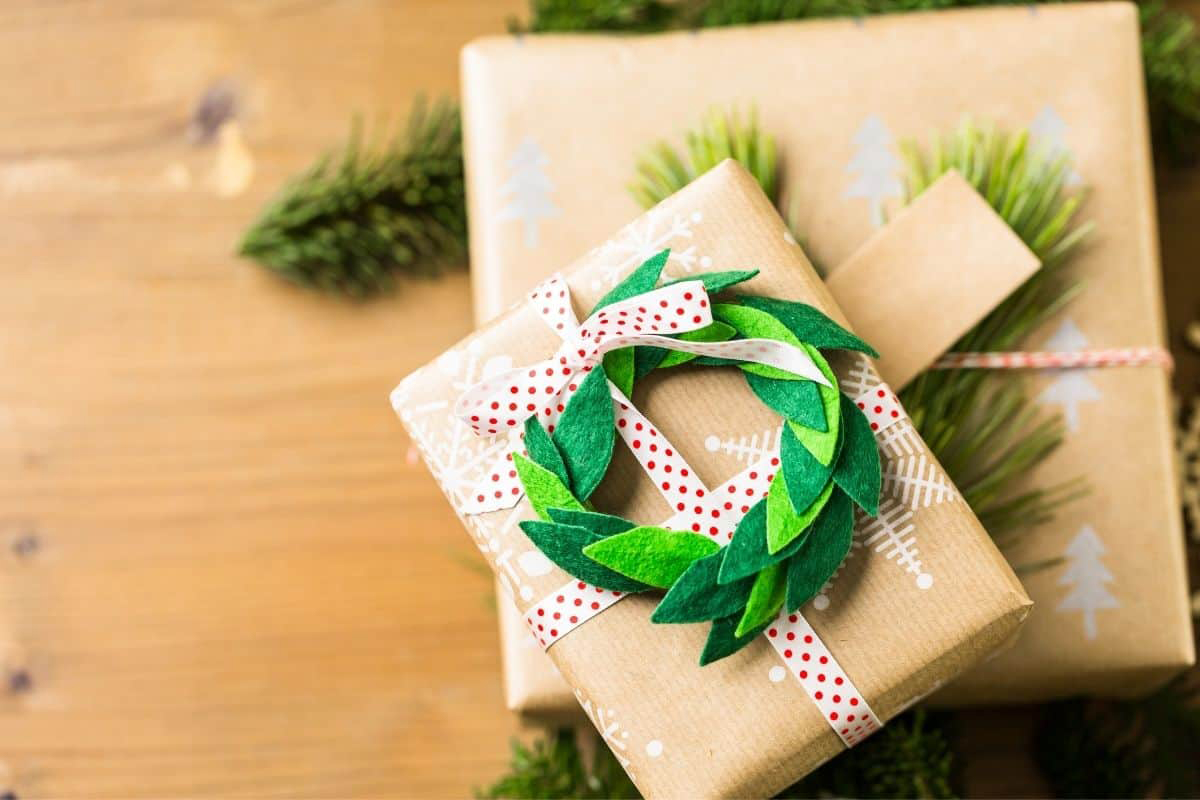 20. Chalk Board Paint
Add some blackboard paint to plain kraft paper to jazz it up a little. You can also paint your gift wrap completely black and doodle on it with white paint markers. Your gifts will look fantastic under the tree! Get the full tutorial at The Lily Pad Cottage.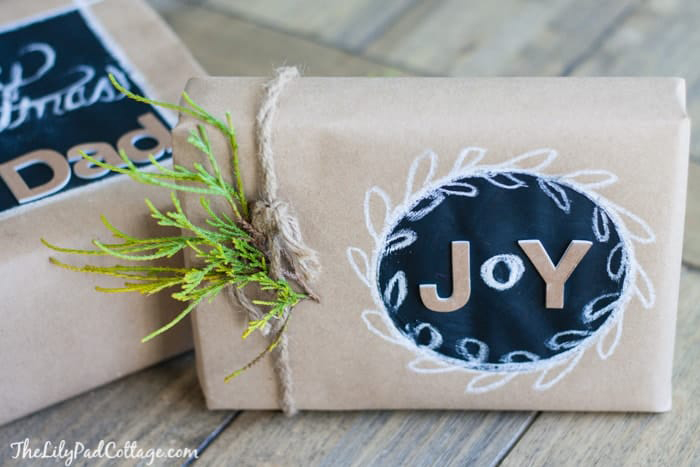 PHOTO CREDIT: THE LILY PAD COTTAGE
21. Jingle Bells
Attaching mini jingle bells to gifts is a fun way to celebrate the holidays. You could also add a contrasting colored ribbon or twine to attach different-sized bells to your gifts before placing them under the tree.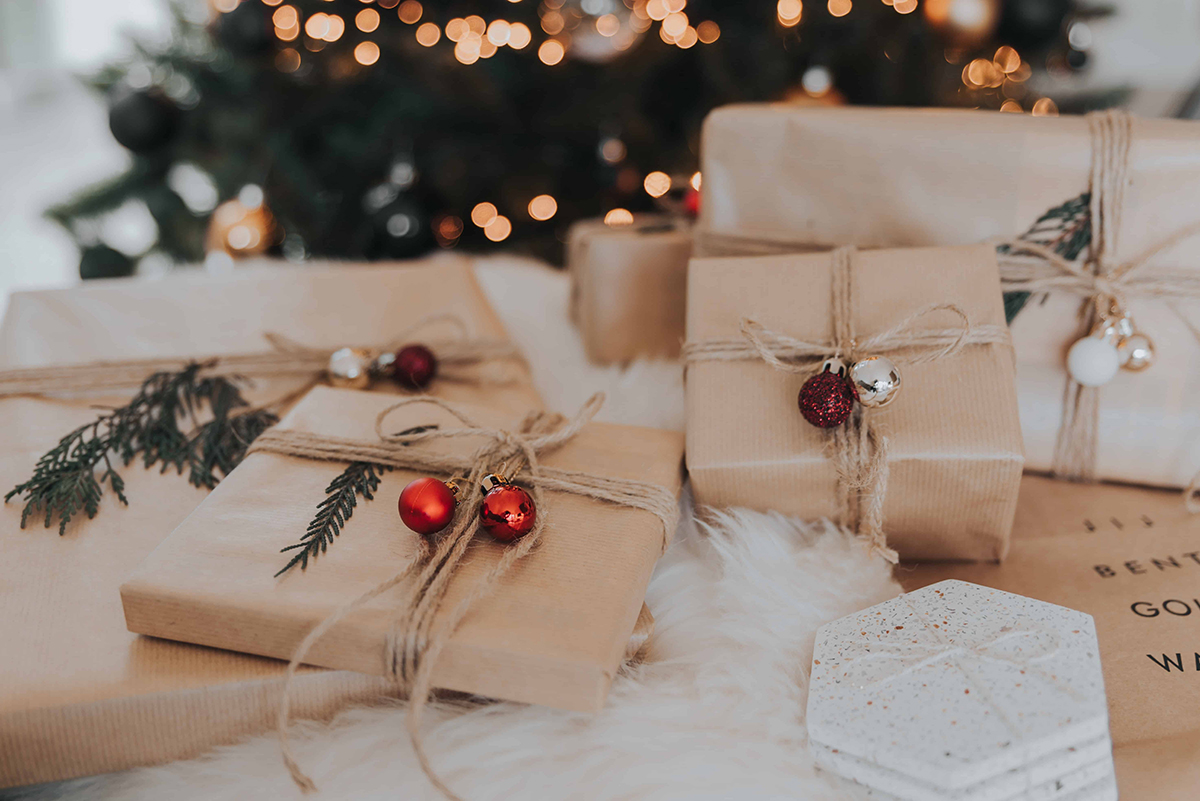 22. Wooden Topper Christmas Wrapping
Wooden shapes such as snowflakes and stars are an excellent way to add an elegant rustic charm to your Christmas gift wrapping.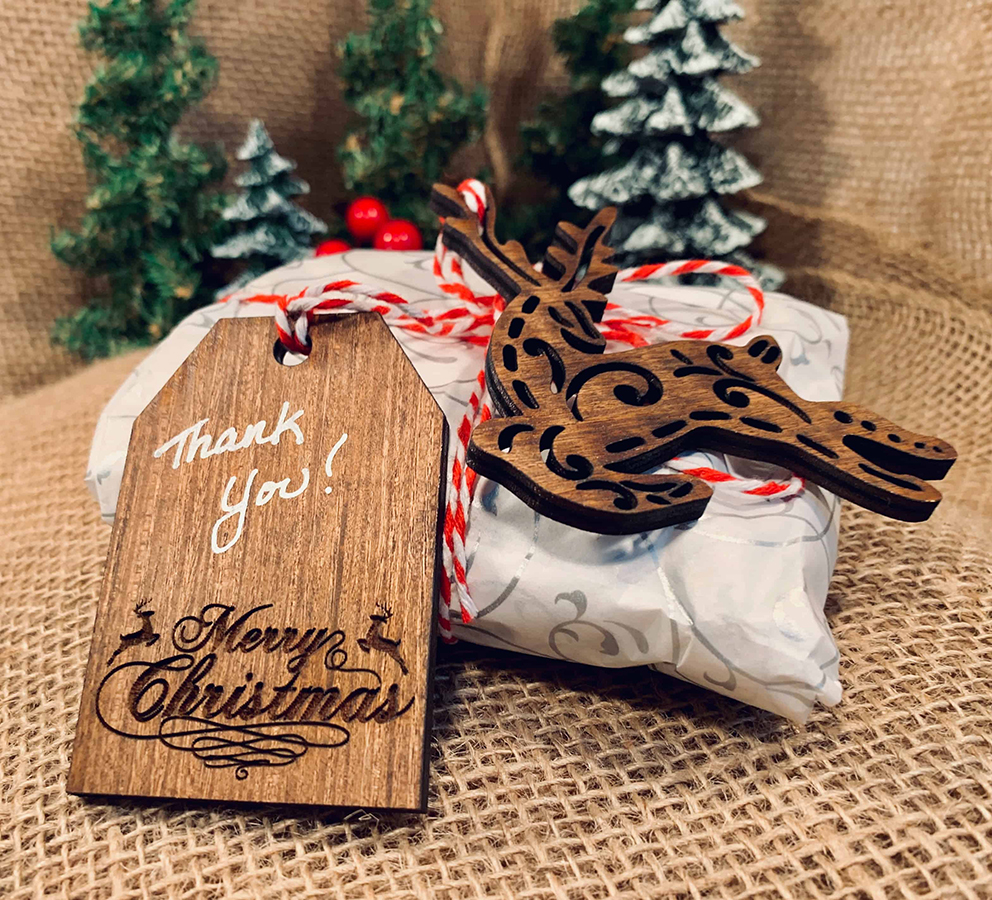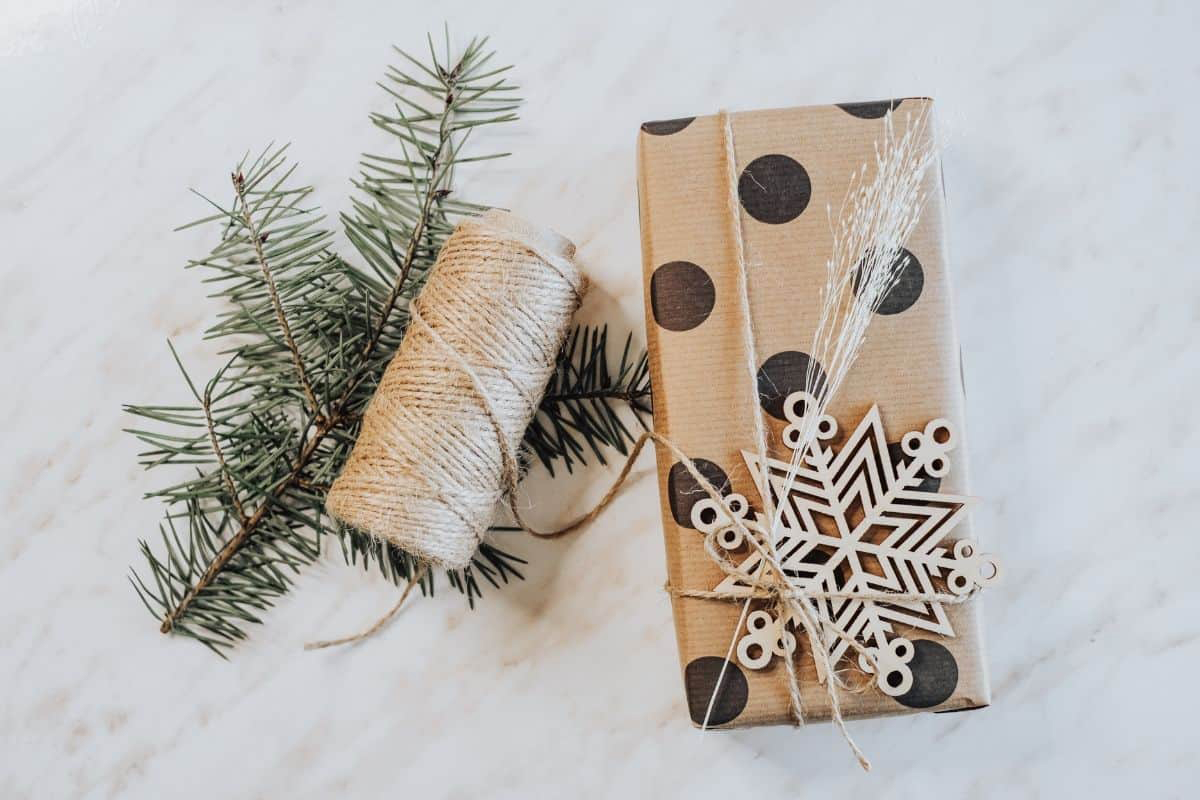 23. DIY Paper Straw Gift Topper
If you've grown tired of using the same old ribbon to decorate your presents year after year, then this paper straw gift topper is for you. It only takes a few minutes to make this fun, inexpensive, and unique gift topper to add to your holiday gifts. Get the full tutorial at Splash of Something.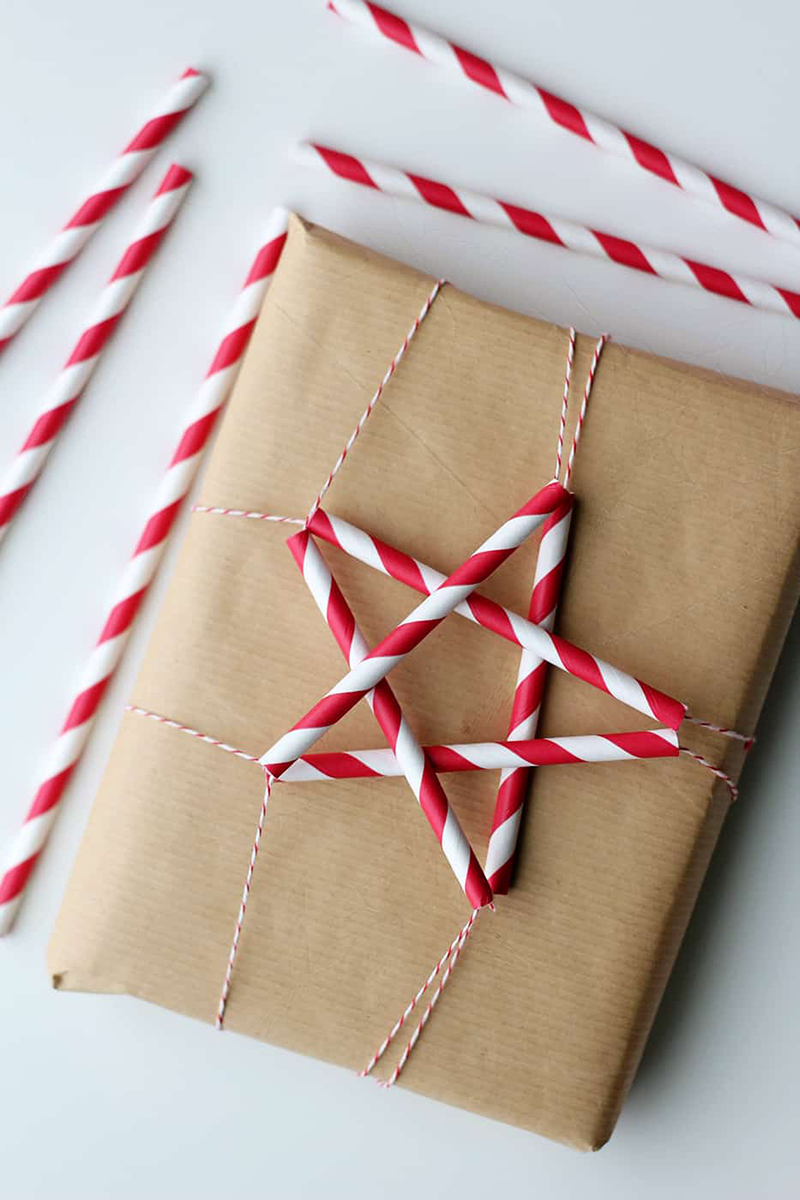 PHOTO CREDIT: SPLASH OF SOMETHING
24. Christmas Ornament Gift Wrapping Idea
Use this idea to keep your Christmas gift wrapping looking sleek and sophisticated. You could also add a little letter sticker to the ball ornament to make your gift tag extra unique.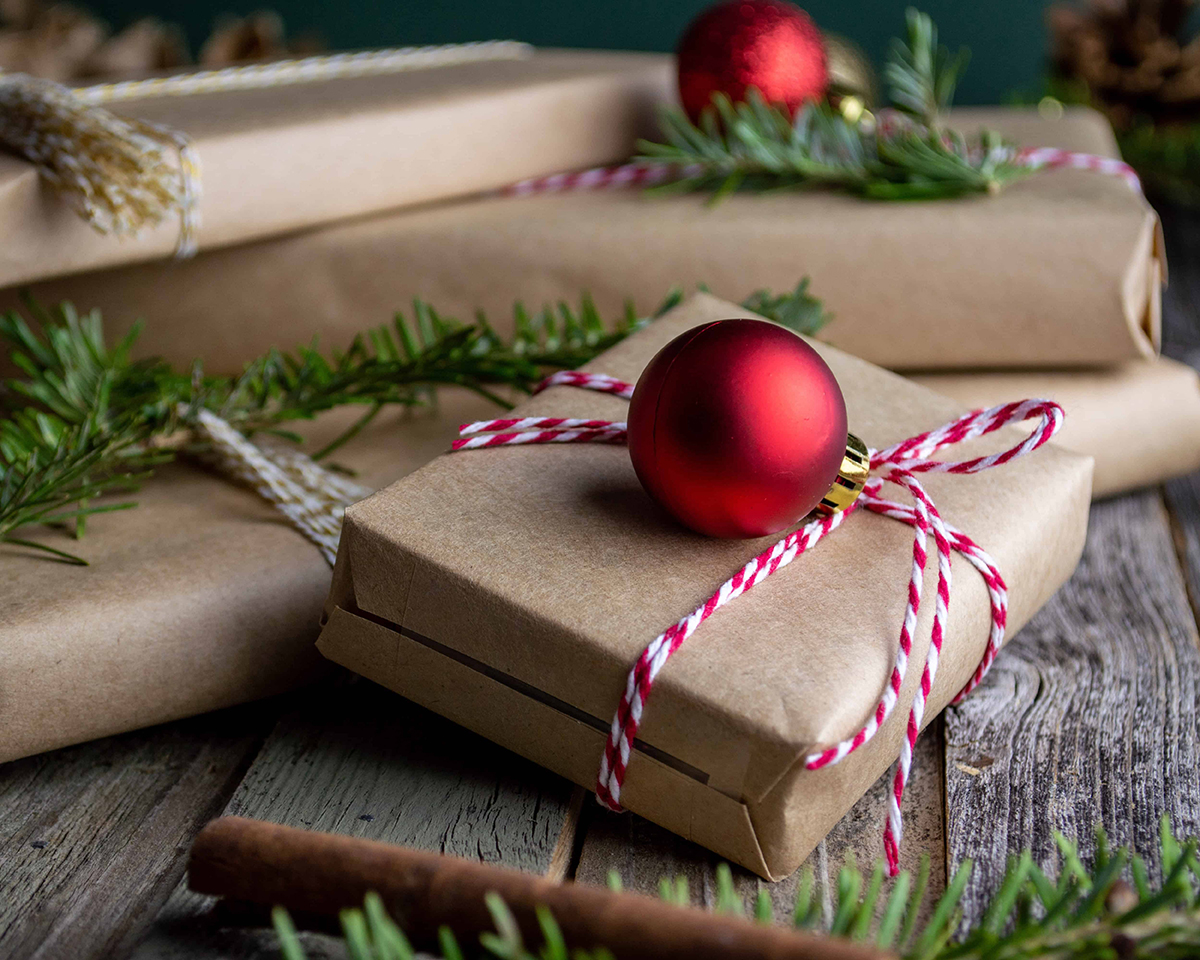 25. Car and Tree - Last Minute Gift Wrap Ideas For Christmas
This creative Christmas gift wrapping idea is perfect for those of us who are pressed for time or have run out of wrapping paper on Christmas Eve and need a last-minute solution. A Sharpie, some brown paper, and some string are all you need to make unique gift wrap that's sure to brighten up your gifts. Get the full tutorial at Growing Spaces.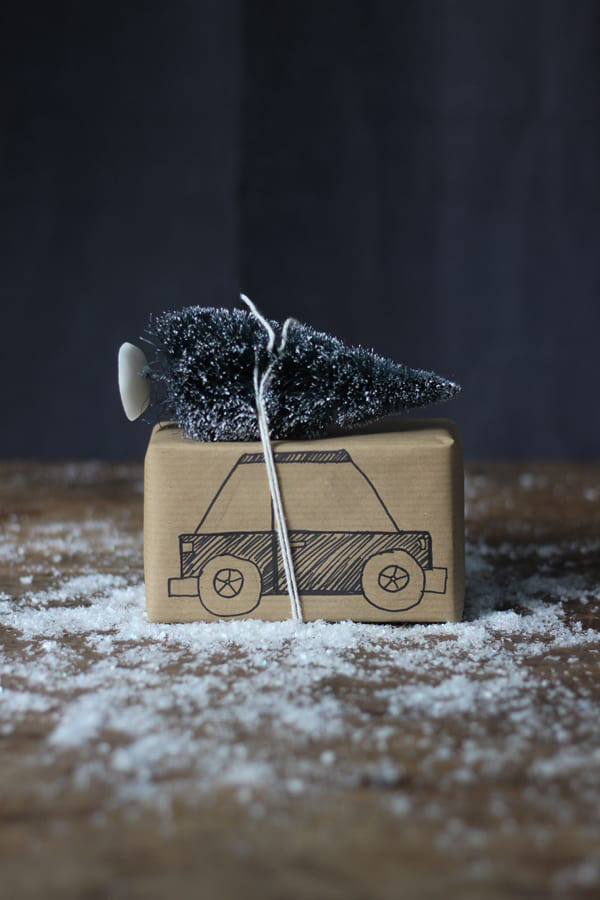 PHOTO CREDIT: GROWING SPACES
26. Cozy Christmas Gift Wrap
Repurposing old sweaters is one of our favorite unique ways to gift wrap because it's an excellent way to reuse everyday items and give them a new life while also making your loved ones' gifts more special this holiday season.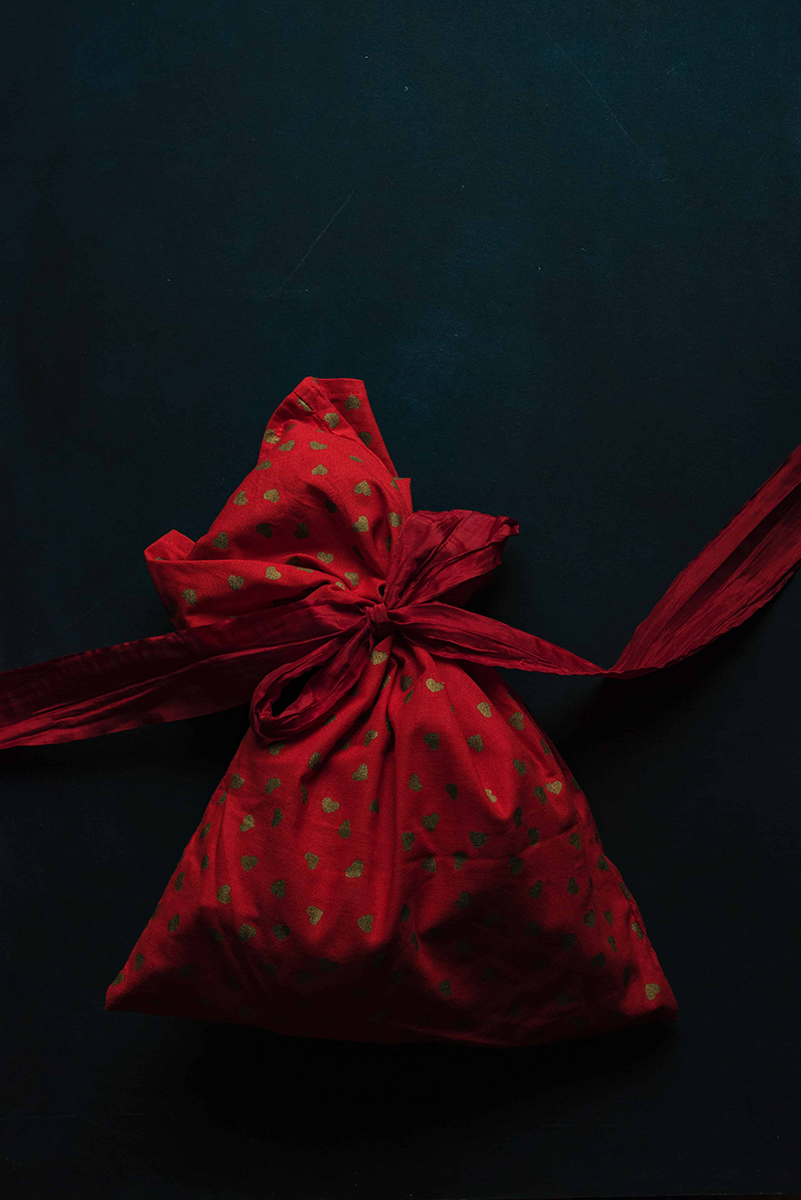 What are some of your favorite cute gift wrap ideas to use this Christmas? Let us know in the comments below.