Are you ready to roll? You may not be a professional sushi chef, but with just a few easy steps, and a dash of creativity your kids can still have a lot of fun creating their very own paper sushi crafts with this DIY activity!
This inexpensive and simple craft is also a great way to teach little ones about different kinds of sushi and Japanese culture. So, let's get started!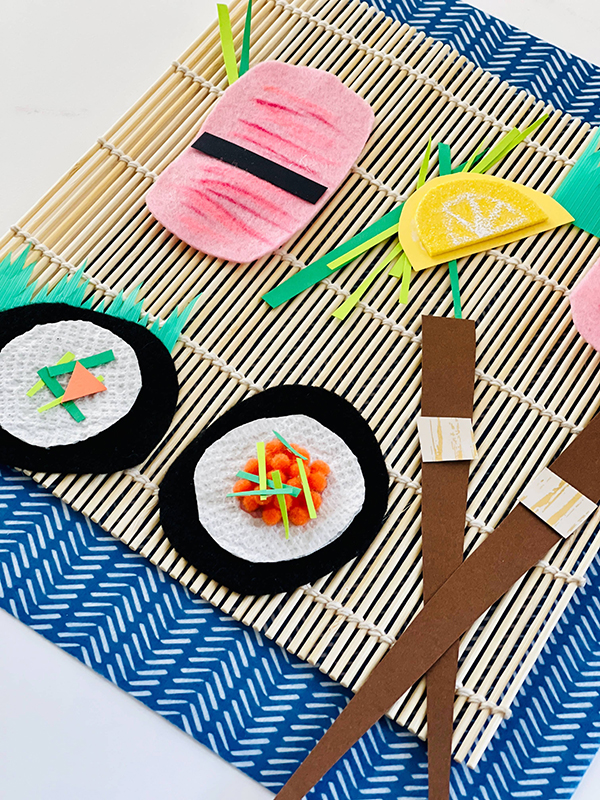 Fun DIY Sushi Kids Craft Activity - Getting Started
Today, we'll be using paper to make our own sushi rolls and nigiri. We'll even add some bamboo shoots to make it extra fancy! It's super easy, just like putting together a puzzle. Don't worry, assembling these crafty pieces is just like putting together the real thing - minus the raw fish and sticky rice. All you need is some paper, bamboo shoots, and a little creativity.
Once you've made your perfect sushi creation, you can proudly display it or give it to a friend as a tasty-looking gift. So, let's get started on this fun and tasty-looking craft project that will have everyone's mouths watering!
Kids DIY Sushi Craft Activity - Supplies
Construction paper or card stock in various colors

White napkin or paper towel

Colored chalk sticks

Small red beads or tiny pom poms

Patterned craft paper (optional)

Felt (optional)

Glitter Foam (optional)
Kids Sushi Craft Activity Instructions:
Step 1: Cut the Greens
Alright, let's dive right into this fun kids sushi craft activity! First, grab some green card stock or construction paper and then cut it into thin strips to make the bamboo shoots for our sushi.
Now, let's take the orange paper and cut it into tiny triangles to create the sushi filling.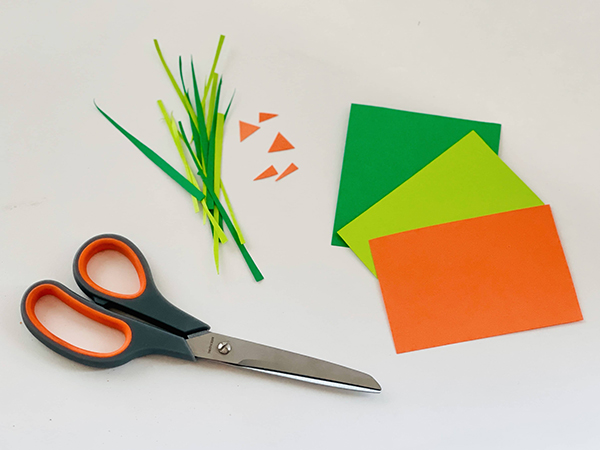 Step 2: Prepare Your Sushi Roll
Let's get started on making our own sushi rolls! First, grab some black construction paper and then cut out two circles for the nori seaweed. If you're feeling creative, you can also try experimenting with different materials like black felt or foam!
For the rice, grab a paper towel or napkin and cut two smaller circles to add some texture. Just make sure they're slightly smaller than the nori circles.
Last but not least, let's make the nigiri bands for your kids sushi craft activity. Simply cut a few thin strips of black paper and you're good to go!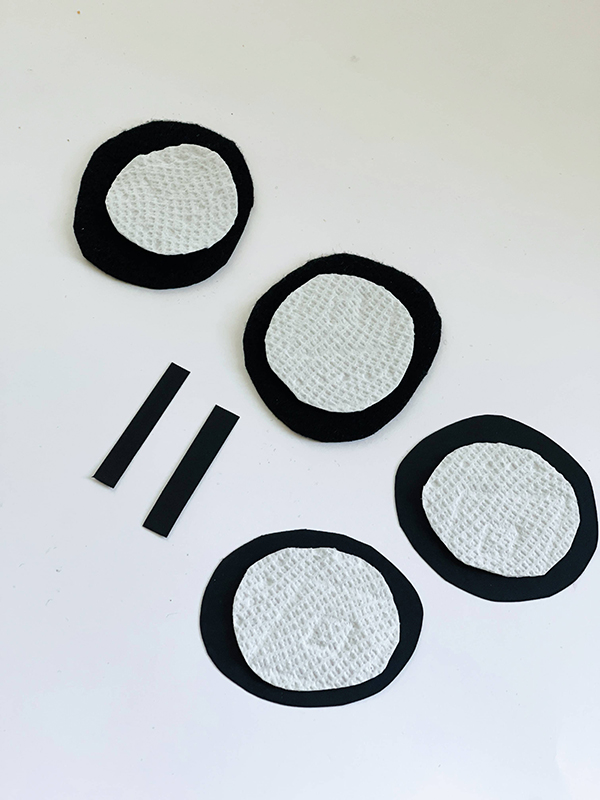 Step 3: Make the Nigiri and Squeeze In Some Lemon
Alright, let's whip up some nigiri! First, cut a few ovals out of your pink construction paper but remember, felt, foam or any other material works just as well!
Then, it's onto the zesty lemon garnish. Cut a semi-circle from your yellow construction paper, roughly the same size as the black circle you made in Step 2. We added some glitter foam to our lemon slice to jazz things up!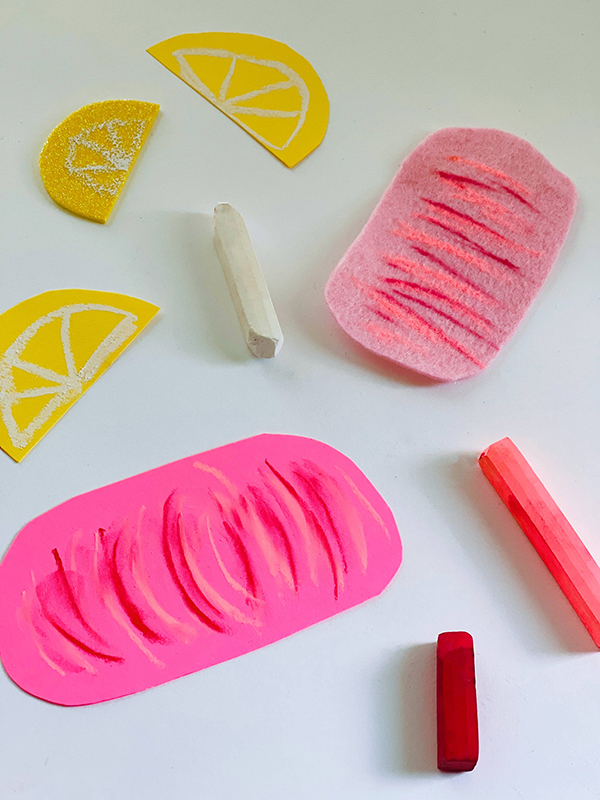 Grab your colored chalk and bring this kids sushi craft activity to life! Draw some realistic lines on the nigiri pieces and lemon slices to add some extra detail.
Step 4: Don't Forget the Chopsticks!
You gotta have chopsticks for this awesome sushi craft activity, kids! Start by cutting two long strips out of brown construction paper and give them pointy tips. Make 'em as thick or thin as you want to match your style.
Then, grab some patterned paper and cut it into small rectangles to glam up your chopsticks and make them totally stylish. Don't be afraid to mix and match colors and patterns to make your chopsticks one-of-a-kind!
Step 5: Assemble the Platter
Alright, let's get your sushi pieces assembled! First, grab those white rice circles and stick them onto the black nori circles. Then, take those orange and green toppings you cut out in Step 1 and attach them to your make-believe sushi rolls.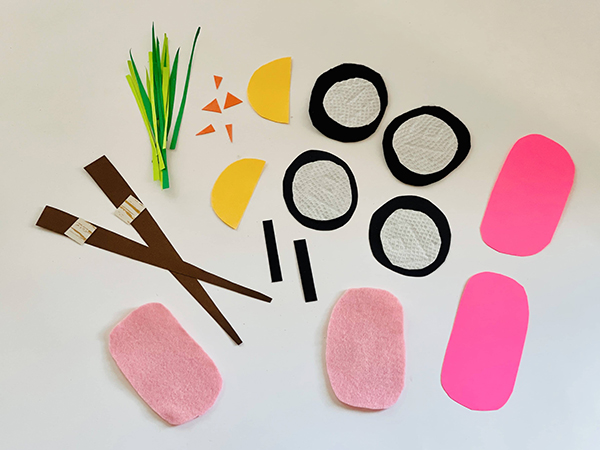 You can also add some tiny red beads or pom poms to make the toppings look like fish eggs.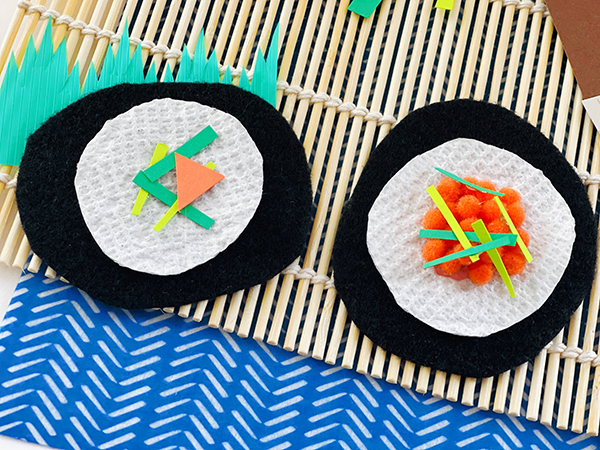 Finally, arrange the paper-made sushi pieces on a platter to create a mouth-watering dish!
Kids Sushi Craft Activity - Final Thoughts
You'll have a blast with this super fun kids sushi craft activity! It's the perfect addition to our Sushi Master Playdough Kit for some interactive restaurant pretend play. It's also a fun way to explore Japanese cuisine and introduce your kids to a new culture.
Feel free to customize the craft with different sushi varieties. But be warned: you might end up craving some tasty sushi after crafting!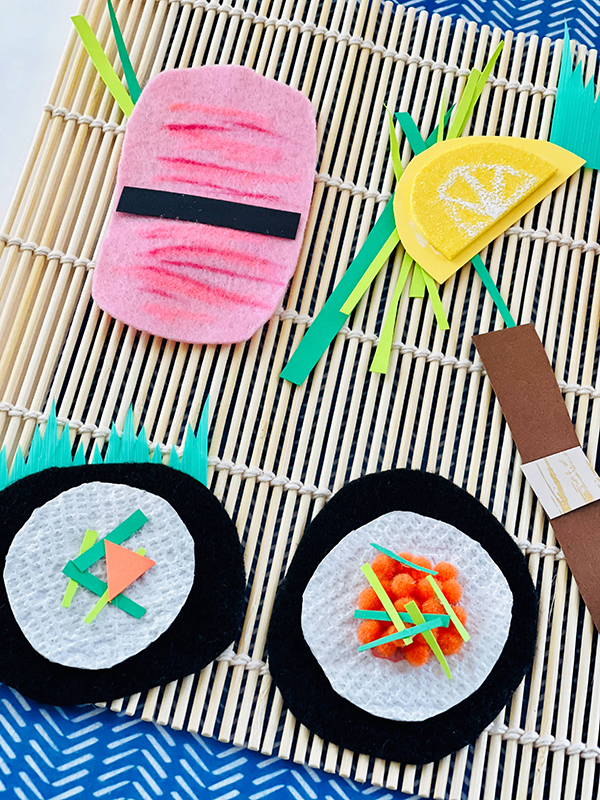 Did you have a blast creating this easy peasy kids craft? Then, don't forget to swing by our blog for a ton more exciting craft ideas that your little ones will absolutely adore!